« GOP Senators Refuse Dick Durbin's Plea to Help Them Confirm Biden's Worst, Most Controversial, Most Unqualified Woke DEI Judges
|
Main
|
Biden's Education Secretary -- Who Enforces Title IX's Demands That Women Get Special Treatment In Sports -- Absolutely Refuses to Define What a Woman Is »
April 18, 2023
Donald Trump, Jr.: We Should End the Boycott Of Our Very Conservative Friends at Budweiser
Donald Trump: Ron DeSantis Must Stop Hurting Our Very Good Friends at Disney
I was going to skip the Donald Trump, Jr. thing in the interests of blog peace.
Until Donald Trump himself made it clear that he's willing to side with leftwing woke corporations if it can help him defeat the man who is obviously his superior in every way.
Donald Trump, Jr. apparently got a call from Budweiser executives who mentioned to him that Anheuser-Busch donates to Republicans... and Trump.
As Michael Knowles points out, almost every corporation has given about evenly to both parties, "greasing the wheels" for a future time when they will need political favors. This doesn't make the corporations "conservative," particularly when they're giving to the parties evenly. Donald Trump, Jr. thinks it's amazeballs that Budweiser is giving "about 60%" to Republicans.
Even if that's true, okay, they're giving 60% to Republicans -- and then giving millions and millions in free transgender propaganda to the left.
This is a win? Cheap date "conservatives" destroy the movement.
Anheuser Busch is scrambling to lull conservatives back to sleep, but only with empty non-statements and empty visuals of Clydesdales and barns. Matt Walsh asks, why would we end the boycott now when it's obviously working, and we're experiencing the closest thing to a win we've seen in the corporate front of the Culture War?
Ah, but of course, if you're a born-and-bred liberal New Yorker, you're not interested in the Culture War. You think that's something that unfashionable Christians bother themselves with.
Then Donald Trump decided that he is willing to partner with the Disney Devil himself if it gets him just some juicy likes on Twitter "Truth" social. He agrees with all the liberals attacking DeSantis that his battle with Disney is merely "a political STUNT" and "unnecessary," because of course liberals always think it's unnecessary for conservatives to fight back in the Culture War.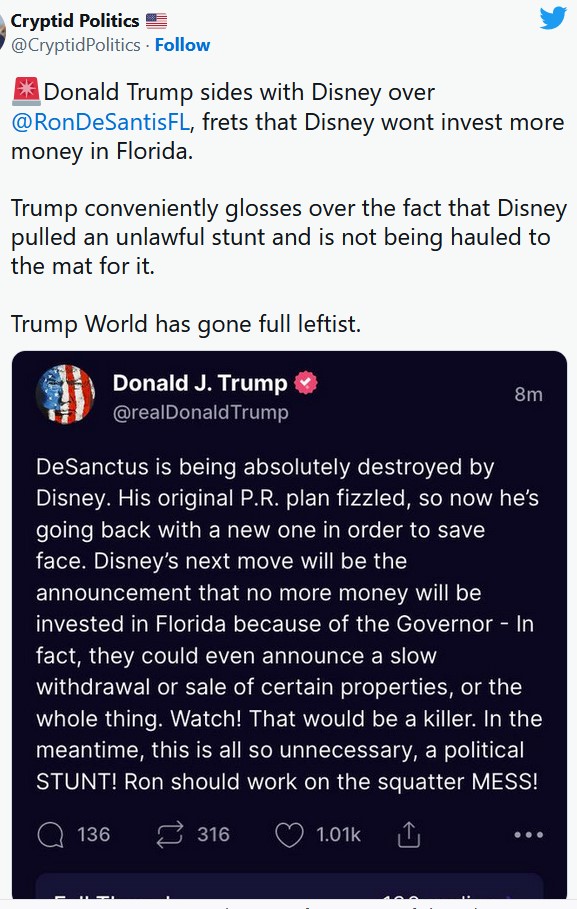 I'm waiting for "Sundance's" analysis about how DeSantis taking on Disney proves that he's a "Managed Principal" owned and operated by the corporate establishment, whereas Trump sticking up for his corporate fwenz proves that he's a Fierce Independent Who Just Wants to Do What's Right.
Let's get this out of the way as well: a pro-Trump PAC has been running Democrat-like ads against DeSantis, accusing him of wanting to cut entitlements.
And also hitting him for sticking his fingers into pudding, instead of putting his fingers where they should obviously be put, into the grody vagina of a porn star.
The Young Turks really loved the Trump PAC's attack on the best Republican candidate:
CNN and Jake Tapper love the ad. Jonah Goldberg calls it "brilliant."

Wait, who's the "Managed Principal" of the global corporatists here?

Entitlement reform is something that gets periodically considered.

Say, you know who else considered entitlement reform and said that cuts to entitlement were "on the table"? Oh right, Donald Trump.
As this pro-DeSantis PAC ad reminds everyone:

Jake Tapper notes -- or claims -- that every budget submitted by Trump called for cuts to entitlements.
Another ad points out Trump's penchant for supporting Democrat-crafted gun control measures, and mocking Republicans for being unwilling to "stand up" to the NRA:
Note that the Young Turks defend Trump there, too. They praise Trump for propsoing some "pretty reasonable" gun control laws.
It's almost as if they support the candidate they know the Democrats can beat or something.
Trump has in fact questioned why the GOP protects the AR-15 from an "assault weapon" ban, saying "I don't know why anyone needs an AR-15."
As president, Donald Trump privately pushed for banning AR-15-type rifles, according to a new report. Trump was -- and is -- a big defender of Second Amendment rights. So the new revelation is surprising that he tried to renew the "assault weapon" ban during his first two years in office.

The news about Trump is buried in a lengthy story in The Washinton Post on Monday about AR-15 style rifles. The report says he tried multiple times in 2018 and 2019 to get support for a federal "assault-weapon" ban.

In the summer of 2019, after back-to-back mass shootings in Dayton, Ohio, and El Paso involving an AR-15-style pistol and an AKM-style rifle, Trump told aides that he wanted to ban AR-15s, according to people present for the statements.

"I don't know why anyone needs an AR-15," Trump told aides as he flew on Marine One to the White House in August 2019, according to a person who heard his comments.

As one former official put it in describing the real estate developer turned politician, "His reflexes were a New York liberal on guns. He doesn't have knee-jerk conservative reflexes."

But Trump was also petrified of the NRA and others taking him on, former advisers said, and heard from a number of advisers that it would be unpopular. Trump ultimately stopped entertaining the idea of working with Democrats on gun control later that year, when he was caught in a scandal over his now-infamous phone call with Ukraine's president.

"F--- it, I'm not going to work with them on anything. They're f---ing impeaching me," Trump said in one Oval Office meeting, according to a participant.
You can say "but that's the Washington Post" but that DeSantis PAC ad has Trump repeatedly declaring on video that he is willing to "stand up to the NRA" and he attacks other Republicans for being "afraid" of the NRA.
Also, the Young Turks video defends Trump, but does so by quoting a 2019 New York Times article which uses NRA head Wayne LaPierre as a source. LaPierre brags that he talked Trump out of supporting Democrat-style gun control laws.

posted by Ace at
01:05 PM
|
Access Comments