« Daily Tech News 18 April 2023
|
Main
|
Mid-Morning Art Thread »
April 18, 2023
The Morning Report — 4/18/23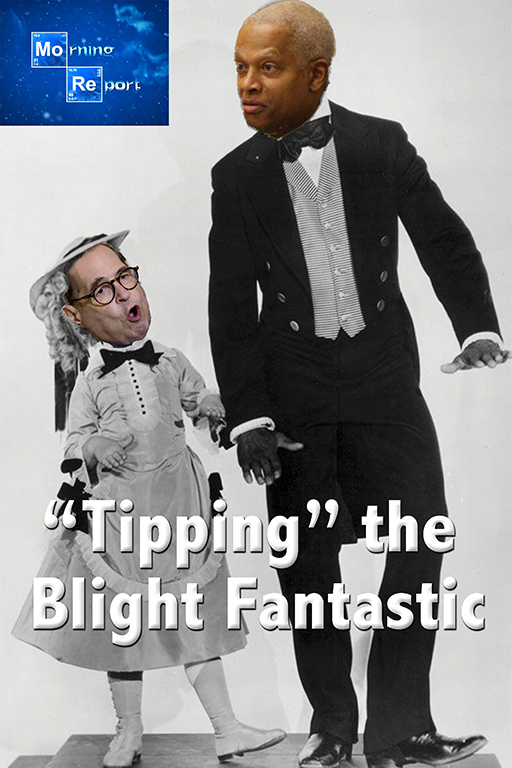 Good morning, kids. So, crime is out of control – or perhaps as a link below pertaining to Portland refers to it as more of a "controlled demolition" of society – and the hypocrisy of the two-tiered justice system is in full view for everyone to see. The GOP's historic penchant for barking out red-meat soundbites while accomplishing nothing of substance, all to keep the campaign contributions flowing, the response from the usual coterie of vermin from the Democrat-Left would be hysterical, were it not such radiant examples of projection.
Here's Hank Johnson, the sub-cretin Jew-hater coming to the defense of Alvin Bragg.


Rep. Hank Johnson (D-Ga.) criticized House Republicans on the House Judiciary Committee for holding a field hearing on crime in New York City, accusing them of trying to "scare" Manhattan D.A. for indicting former President Donald Trump.

The hearing featured New York City residents who were victims of crime and family members of victims who complained that justice was not served in those cases.
Despite that, Johnson called the "Victims of Violent Crime in Manhattan" hearing "a sham."

"It's not about crime in New York. It's an effort to impede and ultimately suppress the prosecution of Donald Trump, and if you don't believe it, then all you need to do is connect the dots. First, Manhattan District Attorney Bragg announces criminal charges against ex-President Trump," Johnson said. . .

. . . "There are too many gun deaths in this country, and that's why I have joined with my fellow Democrats to co-sponsor bills that would ban assault weapons, strengthen background checks, and fund research into gun violence prevention," the congressman said.

"Meanwhile, MAGA Republicans continue to resist even the most basic reforms like universal background checks. If Republicans really wanted to stop violent crime, they would be in D.C. right now working with Democrats to pass commonsense gun legislation," he said.

"Instead, like jack-booted thugs, they've descended on New York City, using crime as their pretext. The MAGA Republican extremists are not interested in gun violence or even knife violence. Republican witnesses who have used their time to criticize District Attorney Bragg has served as props in a MAGA Broadway production," Johnson said. . .

. . . "It is just one more sign that MAGA Republicans are a clear and present danger to our democracy and are actively working to undermine the rule of law, not just federally, but also on the state and local level," the congressman said.
If your blood isn't boiling right now your brain function is somewhere between that of lichen and John Fetterman. To anyone with half a brain, especially the poor and rapidly vanishing working class of New York and every other filthy Democrat-controlled shit-hole across what once was America, they see the results of "progressivism" in the body counts of black youth day after day and now decade after decade. Lives wasted as a result of being turned into political cannon fodder in service of Marxist-Leninism. Period full stop. Or perhaps they don't since they've been voting for their tormenters and abusers 99.5% of the time for the past 60 years. Ironically enough, it was Trump who did more to re-emancipate black America from 2017 until 2020 than any other president in modern history. When he asked them "what have you got to lose voting for me," they found out. Of course, that could not stand. But I digress.
Alvin Bragg. Pfft. While he and his paymasters and overlords are sparing no expense to not only manufacture crimes out of whole cloth with which to completely destroy whatever vestige of the rule of a just and stable law as well as political comity that might yet exist to destroy President Trump, it's a madhouse in America's streets. And if you dare defend yourself, it is you that Bragg will go after, like the bodega owner who committed the sin of killing an assailant in self defense.
Johnson had the fucking temerity to spout this as gangs of youths rampaged through Chicago and South Central L.A. And as disgusting lipid mass Jerry Nadler was spouting almost verbatim the same Ministry of Propaganda tested barbs and talking points, this happened right in his or close to his district.
A man was blasted in the head during a drive-by shooting outside of the Bronx offices of State Assembly Speaker Carl Heastie on Monday afternoon, police and law enforcement sources said.

Heastie (D-Bronx) — one of the three most powerful elected officials in the state and a leading advocate of New York's lenient criminal justice reforms — is believed to have been in Albany for budget negotiations at the time.

At least 10 shots were fired from a white BMW sedan on Gun Hill Road and Fenton Avenue at around 3 p.m., with multiple gunmen believed to have opened fire outside the speaker's one-story district office, sources said. . .

. . . Heastie, the Democratic leader of the state Assembly, has been a vocal supporter of the state's controversial 2019 criminal justice reforms.

The changes eliminated cash bail for most misdemeanor and non-violent felony charges — which critics say has allowed more criminals back on the streets.

Both Heastie and state Senate Majority Leader Andrea Stewart-Cousins (D-Yonkers) had resisted Gov. Kathy Hochul's proposal to give judges more discretion over bail by rolling back a requirement they impose the "least restrictive" standards to ensure people return to court.
That incident is not a one-off. Rapes, robberies, muggings, murder are through the roof in NYC and all over the country in the wake of the Floyd incident in 2020 to not only open the wounds of actual racial division in this nation that were healing quite nicely until the coming of Obama, but to create fresh wounds like Norman Bates in the motel shower with the kitchen knife. White supremacy, institutional racism and a criminal justice system created solely for the purpose of committing genocide against black people – All at the behest of, you guessed it, Donald J. Trump.
If there are any jackbooted thugs, Hank Johnson, it is Antifa and BLM. It's the scum that you and your party created with the coming of the sexual revolution, the women's movement, the black power movement and the destruction of the family by Democrat-Leftist-Progressive policies that have committed the real crime against humanity that you dare accuse us of. They're wilding in the streets because you and yours have given them the green light to do so.

The absolute tragedy is that as risible as these claims from Johnson, Nadler et al are, they have a media working overtime to amplify and legitimize them, while censoring, stifling or otherwise smearing anyone who attempts to speak the truth. Including the victims of these crimes. The Democrats defunded police, decriminalized crime and emptied the prisons and when the inevitable tsunami of destruction swept across the land like a plague, guess who they blamed.
Blacks and the working poor in these neighborhoods and inner cities are in a very real sense of the word victims of organized and/or intentional political terrorism, fomented by the very people they vote for (or have their ballots cast for, willingly or not). And as I pointed out last week, through housing, environmental and other disastrous (for us) social engineering schemes and five year plans, this terrorism is heading out past the blue shit holes into red state America.
CIVIL WAR 2.0: J-6 FBI FALSE FLAG "RIOT" & AFTERMATH, LEFTIST PERSECUTIONS, DEMOCRAT PUTSCH, AMERICAN DISSOLUTION
NOTE: The opinions expressed in the links may or may not reflect my own. I include them because of their relevance to the discussion of a particular issue.
ALSO: The Morning Report is cross-posted at CutJibNewsletter.com if you want to continue the conversation all day.
Follow us on Twitter: @CutJibNews
Follow us on Instagram: @Cutjibnewsletter
TIP JAR : Your support helps keep the lights on and is truly appreciated. Note: We are on Stripe, not PayPal.

posted by J.J. Sefton at
07:45 AM
|
Access Comments