« Mid-Morning Art Thread
|
Main
|
After Three Nights of Rioting and Two Shootings, Chicago's Mayor-Elect Defends the Rioters and Looters
(Updated) »
April 17, 2023
THE MORNING RANT: "Schlitz Happens" - Bud Light & Brand Suicide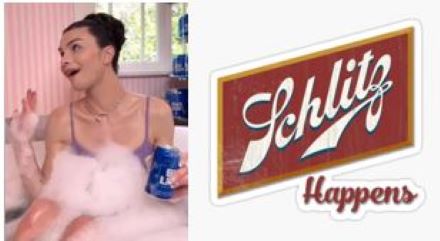 Bud Light is committing brand suicide, and it likely won't recover. The nation's #1 beer brand allowed its VP of Marketing (Ivy League educated, of course) to engage a cross-dressing man who caricatures women to become a face of the product. The Bud Light brand is now toxic, with a sudden, catastrophic drop in sales.
Will the brand come back? It's doubtful. The only question is will it have much collateral damage to the Budweiser brand, or other AB-In Bev (Anheuser Busch) products.
Many pundits are proclaiming that this will blow over and that loyal Bud Light drinkers will quickly return to the product. They point to how consumers promised to boycott woke corporations such as Amazon, the NFL, or major banks, but few actually did. There's a difference, however. Amazon and banks are hard to divorce yourself from. Not continuing as a customer of theirs requires serious disentanglement, and a lot of work to replace. Divorcing yourself from a toxic brand like Bud Light simply requires that you buy a different brand the next time you go to the store.
As for the NFL, there is not a football competitor on Sundays, unlike Bud Light for which there are many alternatives. And even then, the NFL has suffered permanent damage from the national anthem protests. As I pointed out a couple months ago, even though the NFL is still a comparative ratings juggernaut, its viewership has never recovered from insulting its fans, with a permanent loss of 7% of its viewership.
The NFL's peak viewership year was 2015, averaging 17.9 million viewers per game. Then came the kneeling and on-field protests in 2016, with more of it in 2017.

By 2018 viewership had fallen to 15.8 million. It has been creeping up since then, back to 16.7 million for the 2022 season that just concluded.

But comparing 2022 to 2015 still shows a 7% decline in viewership.
Then there is Gillette, which is still reviled for its "toxic masculinity" ad campaign in 2019, which accused its loyal male customers of being bigots and sexual predators. While I may not know any men who permanently quit Amazon or Apple because of its politics, I know many men who permanently stopped using Gillette in 2019 and still despise the brand. Multiply that by a couple million, and Gillette has paid a heavy price. Switching from Gillette to Schick (like switching from Bud to Yuengling) did not involve a messy disentanglement, and Gillette permanently lost a great many long-time customers.
By the way, Procter & Gamble has apparently done a masterful job of scrubbing the internet of market data regarding Gillette. There is an abundance of data online regarding market share of men's shaving products in the US prior to 2019, but I cannot find anything showing Gillette's market share since. (I've contacted P&G's media relations requesting updated Gillette market share information, but they have not responded.)
Later in 2019, after the tremendous blowback to the toxic masculinity campaign, P&G took an $8 billion write down against the value of its Gillette asset.
Since then, I have been reading P&G's annual 10-K reports to the Securities and Exchange Commission, trying to glean any info about how badly Gillette is doing. The only market share P&G references in the 10-K for Gillette is global, not domestic. But as to how Gillette is doing, P&G is being coy, while also setting the stage for another write down for its toxic shaving brand.
"…changes in operating plans or adverse changes in the business or in the macroeconomic environment in the future could reduce the underlying cash flows used to estimate fair values and could result in a decline in fair value that would trigger future impairment charges of the Shave Care reporting unit's goodwill and indefinite-lived intangible assets."
I think my favorite part is how P&G is trying to blame the Russia-Ukraine war for its shave care problems in the US.
Net sales and earnings growth rates could be negatively impacted by more prolonged reductions or changes in demand for our shave care products, which may be caused by, among other things: the temporary inability of consumers to purchase our products due to illness, quarantine or other travel restrictions, financial hardship, changes in the use and frequency of grooming products or by shifts in demand away from one or more of our higher priced products to lower priced products or by disruption in the supply chain or operations due to the evolving Russia-Ukraine War.
Heh. The "prolonged reduction" in demand for Gillette shave care products in the US is due to its insulting ad campaign against men, not due to a regional war in Eastern Europe. But when P&G takes its next big write down for Gillette, it's actually going to try to blame that war.
However, if the impact of the war were to extend beyond its current scope, there could be a triggering event for the Gillette indefinite-lived intangible asset that may cause us to perform an additional impairment assessment for that asset in a future period that may result in an impairment charge.
The closest historic parallel to the current Bud Light crisis may be the implosion of Schlitz beer. That wasn't due to wokeness, but similar to Bud Light, it was due to management insulting their customers and taking their loyalty for granted. In Schlitz's case, they assumed their customers were too loyal and stupid to switch brands as Schlitz executives chose to increase profit by reducing the quality of the brew.
Schlitz was the second largest brewer in the country in the mid-1970s, having doubled its market share from 7% to 14% over the previous 25 years. But its leadership then did what so many bad executives learn in business school, it sought to increase profit by cutting costs and product quality.
How The #2 Beer Company In America Self-Destructed: The Infamous 'Schlitz Mistake,' And What We Can Learn From It
…they tinkered with their brewing mechanisms to get more beer on the market in a quicker time. They did this by speeding up the fermentation process, which they termed 'Accelerated Batch Fermentation,' and it cut their brewing cycle time by 50%.

Not satisfied with this alone, the company also chose to use cheaper ingredients, replacing some fresh hops with dried hops pellets, and adding corn syrup to use less barley.
If all that wasn't bad enough, Schlitz also badly caricatured its typical drinker as a hot-headed, "likes to fight guy" in a weird campaign about trying to "take away my gusto."

Schlitz lost almost half its market share by 1981 and the company was sold in 1982.
Bud Light is the #1 selling beer brand in the USA. Looking back at how Schlitz belly flopped from #2 to irrelevant in a very brief time frame, there is reason to believe that Bud Light's brand suicide may also be irreversible.
The Schlitz story is now a famous case study on destroying a brand. Let's hope that Bud Light's collapse serves as a warning to corporate America about hiring woke managers who are in service to an agenda that is harmful to their employers' products.
Just for fun, let's finish up today with an old commercial featuring Terri Garr explaining how these angry Schlitz drinkers are going to rough you up if you try to take away their gusto.
[buck.throckmorton at protonmail dot com]


posted by Buck Throckmorton at
11:00 AM
|
Access Comments