« The Morning Report — 1/20/23
|
Main
|
Christopher Wray, In Davos, Tells His Fellow World Economic Forum Blofeldians That The Future of Security Is in Government-Corporate Partnerships »
January 20, 2023
THE MORNING RANT: Is the NFL's "Thursday Night Football" Ratings Debacle a Harbinger of Its Future, with an Aging Customer Base in the Age of Streaming?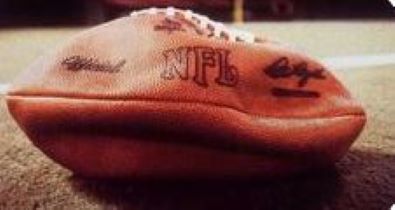 The NFL's Thursday Night Football ("TNF") broadcast moved from Fox and the NFL Network to Amazon Prime for the 2022 season.
Worded another way, prior to 2022, viewers of TNF were able to watch it over the air or as a channel on their cable / satellite package. Now they can only watch TNF via streaming with an Amazon Prime subscription.
It's been a ratings disaster.
In 2021, TNF averaged 13.3 million viewers per game. Per Nielsen, Amazon's 2022 viewership averaged only 9.6 million per game, or more than a 25% drop. Amazon is claiming that actual streaming viewership is more like 11.3 million, which is still a 15% drop since TNF moved to the all-streaming format.
As a result, Amazon is having to compensate advertisers who paid rates based on viewership that was promised to be much higher.
The tech giant has been "scrambling" to make advertisers whole, Business Insider reported this week. That included giving clients inventory on Prime Video streams and other Amazon-owned platforms.
The NFL was apparently intentional about surrendering some of its more mature viewership in its efforts to capture the elusive young "streamers," whom it would seem are disinclined to watch pro football unless it's via a streaming network.
TNF viewers, for example, had a median age of 47 years old. That's seven years younger than the average NFL viewer on legacy networks.
I don't know, but it sounds to me like the average viewer age was brought down to 47 not by increasing the number of younger viewers, but instead by decreasing the number of older viewers.
The median age of NFL viewers is now up to 54 years old, which effectively means that half are 54 or older, which is outside of the famous "25 to 54" advertising demo that drives TV advertising.
Are younger Americans really tuning out the NFL? Yes they are. In significant numbers.
As shown below, from 2011 to 2021, the number of Super Bowl viewers aged 18 to 49 decreased from 52.5 million to 34.3 million – a whopping 35% drop.
The Super Bowl is losing viewers under 50, reflecting how American media has fragmented [CNBC – 02/13/2022]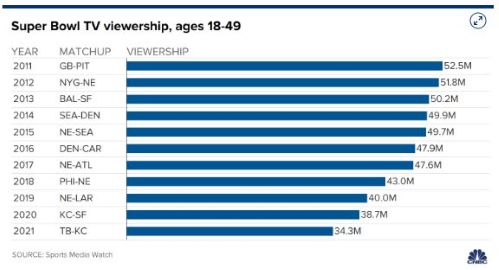 How about regular season viewership? Let's look at a typical fall weekend in the prime of the season - 11/20/2022. The chart below shows a few metrics for each of that weekend's games. Note that right next to the column labeled "VWRS" (for total viewers) is a column labeled "18-49 DEMO." This shows how grim the future looks.
For instance, in the Sunday Night Football game between Kansas City and the LA Chargers, only 4.6 million of the 17.89 million viewers were aged 18 to 49. That's just 26%.
Overall, only 27% of the NFL viewers on that typical weekend were between the ages of 18 and 49. That portends a serious drop in future ratings as the most loyal football watching demographic ages out and isn't replaced.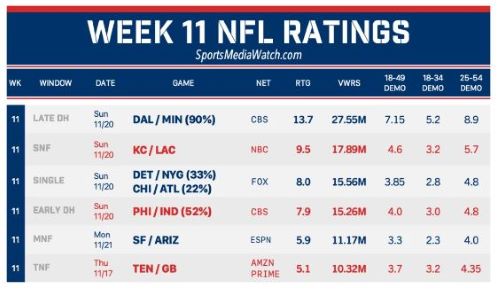 Is the NFL still a ratings juggernaut on TV? Of course it is - when compared to any other single program. But that doesn't change the fact that it is in decline, and that Millennials and Gen Z have not picked up the football-watching habit like previous generations.
Personally, I was a casual fan who quit watching during the 2016 season due to all the kneeling and protesting of the national anthem. So did a lot of others. The NFL is now fully woke, but did that hurt its viewership? Maybe.
Despite all the hype in recent years about the NFL's dominant TV ratings, they're competing in a dying mass market broadcast industry.
Further – and despite the hype - the NFL has still never fully recovered the lost viewership from when it embraced the anti-patriotic protests on its playing fields.
The NFL's peak viewership year was 2015, averaging 17.9 million viewers per game. Then came the kneeling and on-field protests in 2016, with more of it in 2017.
By 2018 viewership had fallen to 15.8 million. It has been creeping up since then, back to 16.7 million for the 2022 season that just concluded.
But comparing 2022 to 2015 still shows a 7% decline in viewership.
One thing you don't hear much of anymore is leftists arguing for the abolition of football due to concussions and CTE. By going woke, the NFL has seemingly inoculated itself against the left's war on football. Maybe running off casual viewers like me was worth it to get the left off its back.
Now the NFL just needs to find a way to attract the Streamers. My recommendation is to make the Super Bowl streaming-only. That'll show their commitment to attracting younger generations.
(buck.throckmorton at protonmail dot com)


posted by Buck Throckmorton at
11:00 AM
|
Access Comments