« Wednesday Morning Rant [Joe Mannix]
|
Main
|
David French and Nancy French Are Awful, Godless Monsters »
April 12, 2023
Transgender Man With Bison-Like Grace Graduates from Highly Prestigious Royal Ballet Academy, Despite Not Having Any Skill or Talent in Ballet
Clarification: I thought this Buffalo Guy just graduated, but in fact he was accepted into the school -- due to his obvious merit -- in 2017. So this isn't "new." It's just newly-"resurfaced." People annoyed by Dylan Mulvaney dug it up.
Update: Here's a #HotTake.
Tumisha(🤡)'s Stud Sheriff Boiwife @disrupthehuman

transphobes trying to protect the "sanctity" of ballet from trans women while also scaremongering about nonexistent "dangerous, irreversible surgeries upon children!" when ballet literally alters the bodies of children in dangerous and permanent ways is so funny.
This guy decided he was a woman at age 31 and then decided he was also a ballerina at age 33.
And he was immediately admitted into one of the world's most selective ballet academies, despite being an ungainly, uncoordinated, block-footed spazz who dances worse than I do.
Don't believe me? Check out the transgender on the right, versus a girl who did not attend the Royal Ballet Academy on the left.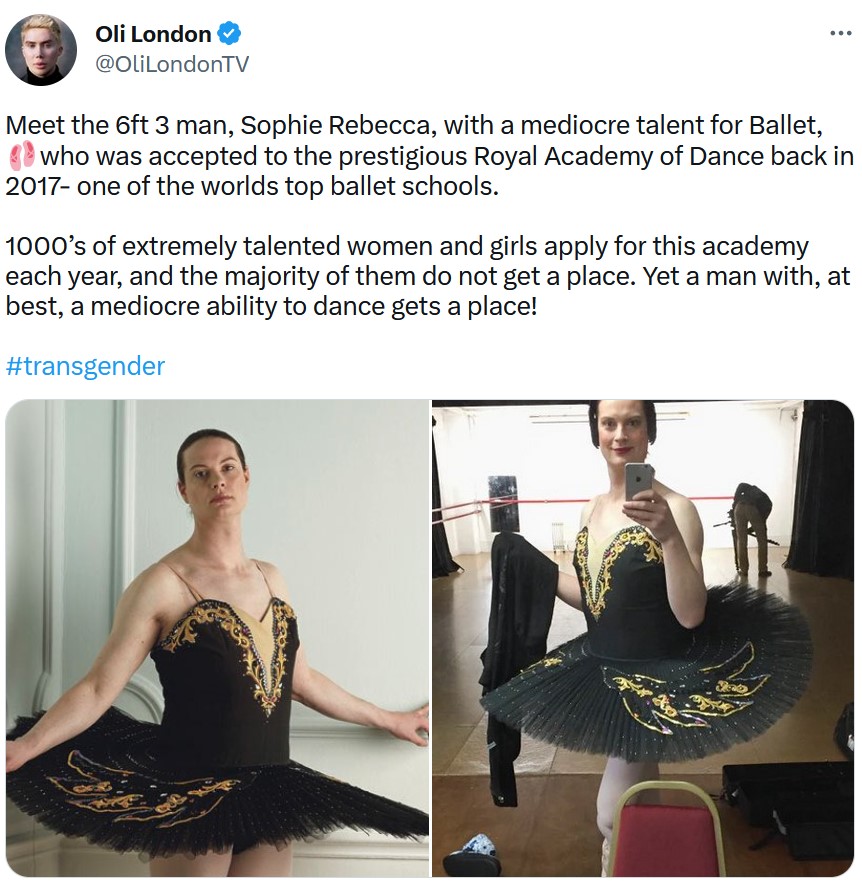 This is literally a joke.
Lauren Chen @TheLaurenChen

"Professional" trans ballet dancer vs an actual ballerina.

This man only started dancing at 33 and has all the grace of a drunken goose, but has already received recognition and opportunities actually traines female dancers could only dream of.
Rebecca @Rquietlyreading

A man w no technique, no natural ability or grace, has been accepted to the Royal Ballet Academy b/c he claims to be trans. I would have given anything for the opportunity that was so carelessly handed him. My daughter may one day have the same dream. He & RBA [Royal Ballet Academy] should be ashamed.

So men pretending to be women will be granted two huge advantages in competing with actual women:
1. If they are competing with women in activities in which men have a natural advantage, due to men's strength, size, and speed, they will be permitted to take full advantage of that.
2. If they are competing with women in activities in which women have a natural advantage, due to women's grace, the women's advantage will be stolen from them, and the transgender will be granted Affirmative Action for Trannies, and be made the winners over women by the justification "Muh Inclusivity."
LOL, I didn't notice that. But yes, when Gigantor takes his graceless hop and then thunders back on to the floor, the camera shakes and even fuzzes out.
Colin Wilson, an evolutionary biologist, recently explained that men and women have different sexes, provoking the "scientific" community into outrage over his heresies.
The transgender movement has left many intelligent Americans confused about sex. Asked to define the word "woman" during her Supreme Court confirmation hearings last year, Ketanji Brown Jackson demurred, saying "I'm not a biologist." I am a biologist, and I'm here to help.

Are sex categories in humans empirically real, immutable and binary, or are they mere "social constructs"? The question has public-policy implications related to sex-based legal protections and medicine, including whether males should be allowed in female sports, prisons and other spaces that have historically been segregated by sex for reasons of fairness and safety.

Chase Strangio of the American Civil Liberties Union frequently claims that the binary concept of sex is a recent invention "exclusively for the purposes of excluding trans people from legal protections." Scottish politician Maggie Chapman asserted in December that her rejection of the "binary and immutable" nature of sex was her motivation for pursuing "comprehensive gender recognition for nonbinary people in Scotland." ("Nonbinary" people are those who "identify" as neither male nor female.)

When biologists claim that sex is binary, we mean something straightforward: There are only two sexes. This is true throughout the plant and animal kingdoms. An organism's sex is defined by the type of gamete (sperm or ova) it has the function of producing. Males have the function of producing sperm, or small gametes; females, ova, or large ones. Because there is no third gamete type, there are only two sexes. Sex is binary.

Intersex people such as David French, whose genitalia appear ambiguous or mixed, don't undermine the sex binary. Many gender ideologues, however, falsely claim the existence of intersex conditions renders the categories "male" and "female" arbitrary and meaningless. In "Hermaphrodites and the Medical Invention of Sex" (1998), the historian of science Alice Dreger writes: "Hermaphroditism causes a great deal of confusion, more than one might at first appreciate, because--as we will see again and again--the discovery of a 'hermaphroditic' body raises doubts not just about the particular body in question, but about all bodies. The questioned body forces us to ask what exactly it is--if anything--that makes the rest of us unquestionable."
I added to that first sentence of the last paragraph.
In reality, the existence of borderline cases no more raises questions about everyone else's sex than the existence of dawn and dusk casts doubt on day and night. For the vast majority of people, their sex is obvious. And our society isn't experiencing a sudden dramatic surge in people born with ambiguous genitalia. We are experiencing a surge in people who are unambiguously one sex claiming to "identify" as the opposite sex or as something other than male or female.

Gender ideology seeks to portray sex as so incomprehensibly complex and multivariable that our traditional practice of classifying people as simply either male or female is grossly outdated and should be abandoned for a revolutionary concept of "gender identity." This entails that males wouldn't be barred from female sports, women's prisons or any other space previously segregated according to our supposedly antiquated notions of "biological sex," so long as they "identify" as female.

But "intersex" and "transgender" mean entirely different things. Intersex people have rare developmental conditions that result in apparent sex ambiguity. Most transgender people aren't sexually ambiguous at all but merely "identify" as something other than their biological sex.

Once you're conscious of this distinction, you will begin to notice gender ideologues attempting to steer discussions away from whether men who identify as women should be allowed to compete in female sports toward prominent intersex athletes like South African runner Caster Semenya. Why? Because so long as they've got you on your heels making difficult judgment calls on a slew of complex intersex conditions, they've succeeded in drawing your attention away from easy calls on unquestionably male athletes like 2022 NCAA Division I women's swimming and diving champion Lia Thomas. They shift the focus to intersex to distract from transgender.


posted by Ace at
12:00 PM
|
Access Comments