« "Anti-Woke" Super Mario Bros. Rings In $377 Million Globally in Five-Day Opening; Is the Film a Disney-Killer?
|
Main
|
Quick Hits »
April 10, 2023
Kamala Harris Flies to Tennessee Not to Meet With Families of Victims of Trans Terrorists, But to Support the Tennessee State House Insurrectionists
Democrats have been pushing for two years to eject from Congress Represenatives whom they false claimed aided and abetted the "insurrectionists."
AOC continues claiming that Representative Gosar should be ejected because he posted a meme from a videogame, in which a samurai, identified as himself, slays a Godzilla-sized monster tagged as Donkey-Chompers. She continues insisting this is a "death threat" and that she feels "unsafe" having to come to Congress with this Meme Assaulter, and wants him expelled so he does not do further Literal Violence.
Keep that in mind as you watch Kamala Harris, the doddering imbecile people pretend is "president," and AOC demand that the Insurrection Leaders who aided and abetted the disruption of the Tennessee State House get their jobs back.
Vice President Kamala Harris visited Nashville, Tennessee on Friday to meet with Democratic lawmakers who have been expelled from the General Assembly.

Harris met with Democratic Reps. Justin Jones and Justin Pearson, two state lawmakers who were removed from the assembly after leading protests on the House floor following the Covenant School shooting.

She also met with groups of young protesters who have protested for tighter gun control following the tragic massacre.

"While in Tennessee, the Vice President will make clear what happened in Nashville, continue to call on Congress to renew the assault weapons ban and ensure that in Tennessee and across the nation, the voices of our young people are heard.," a White House official told Fox News.


The GOP-controlled Tennessee legislature voted to expel Jones and Pearson for "disorderly behavior" after they stormed the Capitol building with anti-gun protesters following the shooting at a Nashville, Tennessee, private Christian school that left three staff members and three 9-year-old children dead.

...


"Today's expulsion of lawmakers who engaged in peaceful protest is shocking, undemocratic, and without precedent," Biden said Friday. "Rather than debating the merits of the issue, these Republican lawmakers have chosen to punish, silence, and expel duly-elected representatives of the people of Tennessee."

As Matt Walsh points out, neither Biden nor Harris have deigned to meet with the families of the victims of the Trans Terrorist.
AOC says that expelling congressmen from the legislature, which is something she's been pushing since she was killed two years ago, is "fascism."
Rep. Alexandria Ocasio-Cortez (D-NY) accused Republicans of stoking "fascism" after the party expelled two Democrat lawmakers in Tennessee for participating in gun control protests that disrupted House proceedings in the state Capitol.

The openly socialist New York Representative shared a video of protesters chanting "fuck you fascists" to Republican lawmakers after they voted to expel Democrat state Reps. Justin Jones and Justin Pearson. Ocasio-Cortez tweeted:

Republicans may think they won today in Tennessee, but their fascism is only further radicalizing and awakening an earthquake of young people, both in the South and across the nation. If you thought youth organizing was strong, just wait for what's coming. Gen Z don't play.

AOC's comment sparked backlash from Republicans, who accused her of either advocating violence or watering down the word fascism.

...

"Because demanding the expulsion of a political opponent from a legislative body is only an "assault on democracy" when the wrong side does it. It's (D)ifferent when they do it," tweeted Club for Growth senior analyst Andrew Follett.

"This is a call for violence from @AOC," conservative actor Nick Searcy tweeted.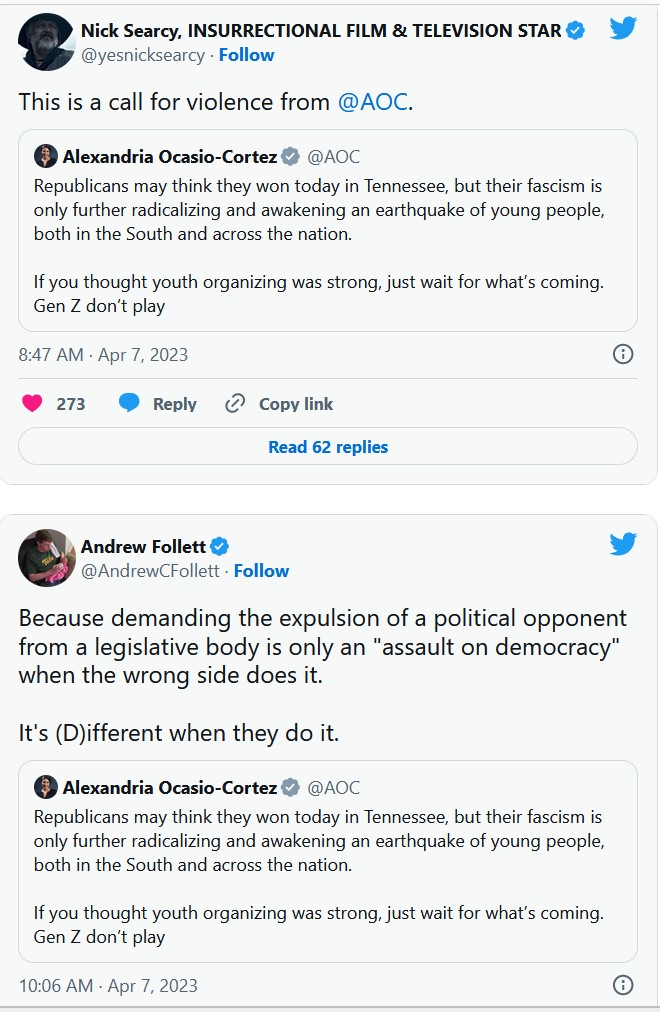 Hate to correct you, Politifact, but it turns out he was indeed an "unauthorized protester"...
I'm sure Politifact will correct its error as speedily as attacked Laura Ingraham for her non-error.

posted by Ace at
05:30 PM
|
Access Comments