« Kamala Harris Flies to Tennessee Not to Meet With Families of Victims of Trans Terrorists, But to Support the Tennessee State House Insurrectionists
|
Main
|
Rube Goldberg Cafe »
April 10, 2023
Quick Hits
Walter Reed Memorial Hospital issues a cease and desist order to Franciscan priests and monks who have provided pastoral services to hospitalized veterans, instructing them that they have contracted with a completely secular organization to provide, um, non-spiritual spiritual support.
They did this on March 31-- just before Holy Week.
Walter Reed National Military Medical Center has issued a "cease and desist order" to Holy Name College, a community of Franciscan Catholic priests and brothers, who have provided pastoral care to service members and veterans at Walter Reed for nearly two decades.

The government's cease and desist order directed the Catholic priests to cease any religious services at Walter Reed National Military Medical Center. This order was issued as Catholics entered Holy Week, the most sacred of days in the Christian faith, in which they participate in liturgies remembering Jesus' passion, and leading the Church to celebrate the Resurrection on Easter morning.

The Franciscans' contract for Catholic Pastoral Care was terminated on March 31, 2023, and awarded to a secular defense contracting firm that cannot fulfill the statement of work in the contract. As a result, adequate pastoral care is not available for service members and veterans in the United States' largest Defense Health Agency medical center either during Holy Week or beyond. There is one Catholic Army chaplain assigned to Walter Reed Medical Center, but he is in the process of separating from the Army.

His Excellency, the Most Reverend Timothy P. Broglio, J.C.D., Archbishop for the Military Services, condemned the move as an encroachment on the First Amendment guarantee of the Free Exercise of Religion. Archbishop Broglio said: "It is incomprehensible that essential pastoral care is taken away from the sick and the aged when it was so readily available. This is a classic case where the adage 'if it is not broken, do not fix it' applies. I fear that giving a contract to the lowest bidder overlooked the fact that the bidder cannot provide the necessary service. I earnestly hope that this disdain for the sick will be remedied at once and their First Amendment rights will be respected."
Deb Heine, Dissident @NiceDeb

It's also HOLY WEEK, the most sacred days in the Christian faith, and you clowns issued a CEASE AND DESIST order to prevent Catholic priests from providing religious services at Walter Reed National Military Medical Center. #SHAME
Biden announces that he is running for president, but says he's not ready to announce that yet.
Wait, what?
President Joe Biden said Monday he intends on running for reelection in 2024 but he is not ready to make a formal announcement about his plans.

"I plan on running, Al, but we're not prepared to announce it yet," Biden told NBC-TV "Today" show co-host Al Roker.

Biden, 80, has said in private conversations that he is "definitely running," but he does not plan on launching his campaign until this summer, according to CNN.

The president may face difficulties being reelected, however.

A CNN poll last week found less than one-third of respondents said the the Democrat president deserved to be reelected.
NeverTrump just felt the smallest, most pathetic surge of blood into their sadcocks.'
I'm not the kind of guy to kink-shame, but David French's kink is shameful.
Grandpa Ice Cream is turning to "social media influencers" to tout his agenda of hyperinflation, depression, mental illness and suicide for children, and murderous anarchy.
Dylan Mulvaney and all the other "women" getting all the corporate sponsorships should be able to put a nice shine on that for him.
The Biden administration is tapping prominent TikTokers and other social media influencers to help court young voters as the Democrat gears up for reelection, according to a report.

The digital strategy team for President Biden is connecting with hundreds of influencers across the country who would promote the 80-year-old's record in the Oval Office to help draw in voters, ages 18 to 29, who don't already follow the White House or the Democratic Party on various online platforms, Axios reported.

The effort is reportedly spearheaded by staffer Rob Flaherty, who will lead four digital staffers in the White House and was named assistant to the president, which has the same rank as the communication director and press secretary.

Reaching young voters is so critical to Biden that social media influencers -- who are unpaid -- could have their own briefing room inside the White House to work in-person or remotely, according to Axios.

...

The White House also reportedly plans to connect with influencers who have local followings when Biden travels to a certain state.


...

The move could help counteract the huge following former President Trump, who is running for president in 2024, has on some social media platforms.

That'll work.
Biden has restored America's place in the world so hard that Macron is urging Europe to distance itself from the degenerating madhouse called "America."
Slamming recent comments by French President Emmanuel Macron, who appeared to advocate a distancing of Europe from the U.S., Sen. Marco Rubio (R-FL) called to clarify whether other European nations stand by Macron's position and to readjust our alliance in accordance.

In a roughly two-minute clip, Rubio began by citing Macron's comments to reporters after visiting China, including his stance that Europe should "break away" from the U.S. and "not depend on the dollar," as well as the need to avoid conflicts "that are not their[s]" such as the one over Taiwan.
I know that Boomer Cons like Maro Rubo reflexively get huffy whenever anyone says anything bad about America, but this is just prudence. America is, under the left's hostile take over, a stinky, drug-addicted transsexual homeless bum with schizophrenia and tendencies towards extreme violence. Only an idiot would want to buddy up to such a smelly lunatic.
Hey NeverTrump -- is Biden all that you dreamed of, and more?

The Washington Post featured an "expert" and climate activist (aren't they really the same thing, when you think about it?) who says we must stop using... bathroom tissue.
This guy is about as psyched to have a machine squirt water up his a**shole as I expect the average man associated with the Washington Post to be.
Climate Coach

You need a bidet, but not for the reason you think

Advice by Michael J. Coren
Climate Advice Columnist

Okay, blow my mind, Twink.
"This is not no regular toilet bowl," gushes DJ Khaled on Instagram, fawning over a new toilet that rapper Drake sent to his home. "This is the most amazing toilet bowl I ever seen in my life."

The Neorest NX2 toilet is a $21,181 porcelain throne. Designed by the Japanese company Toto, it features a remote control, heated seat, deodorizer, night light, and, as DJ Khaled says enthusiastically, "water that splashes up" after you're done.

In other words, it's a very pricey bidet. Khaled's paean may be the high-water mark of the bidet's profile in American pop culture -- so far. Once viewed as an overseas oddity, the bathroom fixture has exploded in popularity over the past three years. Retailers report sales leaping tenfold during the pandemic, and remaining strong
The vast majority of Americans still exclusively use toilet paper, though. For many, the bidet remains a fusty porcelain basin vaguely associated with the French. But the technology has evolved. Multibillion-dollar incumbents like Toto, as well as newcomers such as Tushy and Luxe, have stormed the U.S. market, along with a flood of cut-rate manufacturers on Amazon. Bidets that promise to work with almost any toilet are now within reach of every American: Simple versions can be had for just $30.

For the world's northern forests, that's great news. The pines, birches and aspens that fringe the Northern Hemisphere are a primary source of virgin pulp to make toilet paper, particularly older, mature trees with longer fibers that manufacturers want to create an ultrasoft texture.
Here, let me be a coach to you: You spend way too much time thinking about your asshole and how to better pamper it.
The Washington Post, it should be noted, has been aggressively pushing bidets for years and years.
In the UK, they're pushing the opposite imposition: You must use less water when you go to the bathroom, which I guess means "more paper."
Unless they just want The Commoners walking around with shit and piss on them.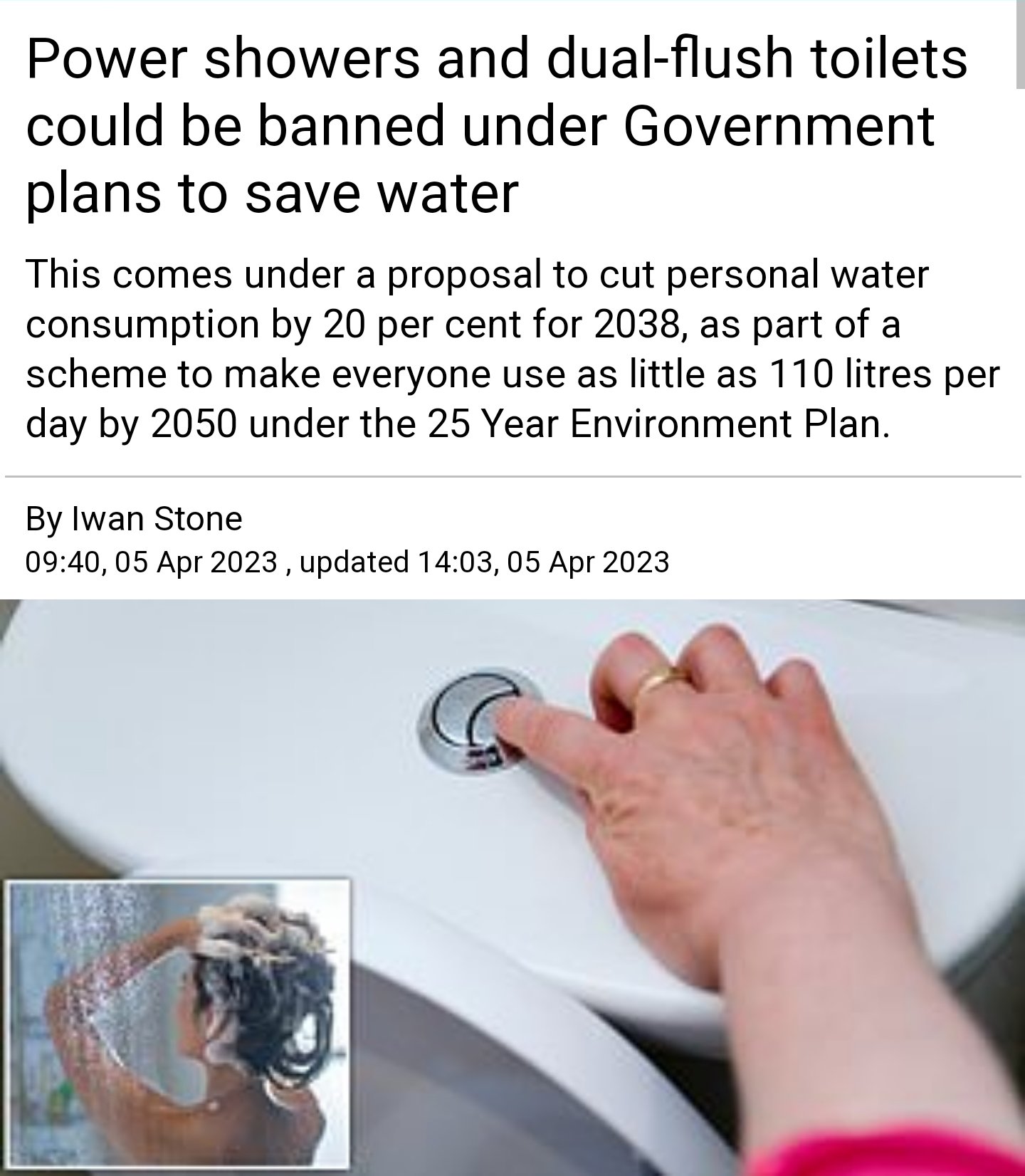 But that is the goal, isn't it? Only The Regime and its favored client groups will be permitted to use energy, use toilets, or eat meat. Everyone else will eat bugs and shit in the woods. We have to conserve resources so that The Regime may use them.
BTW, here's a little flashback to remind you of the very high quality "experts" the Washington Post cites: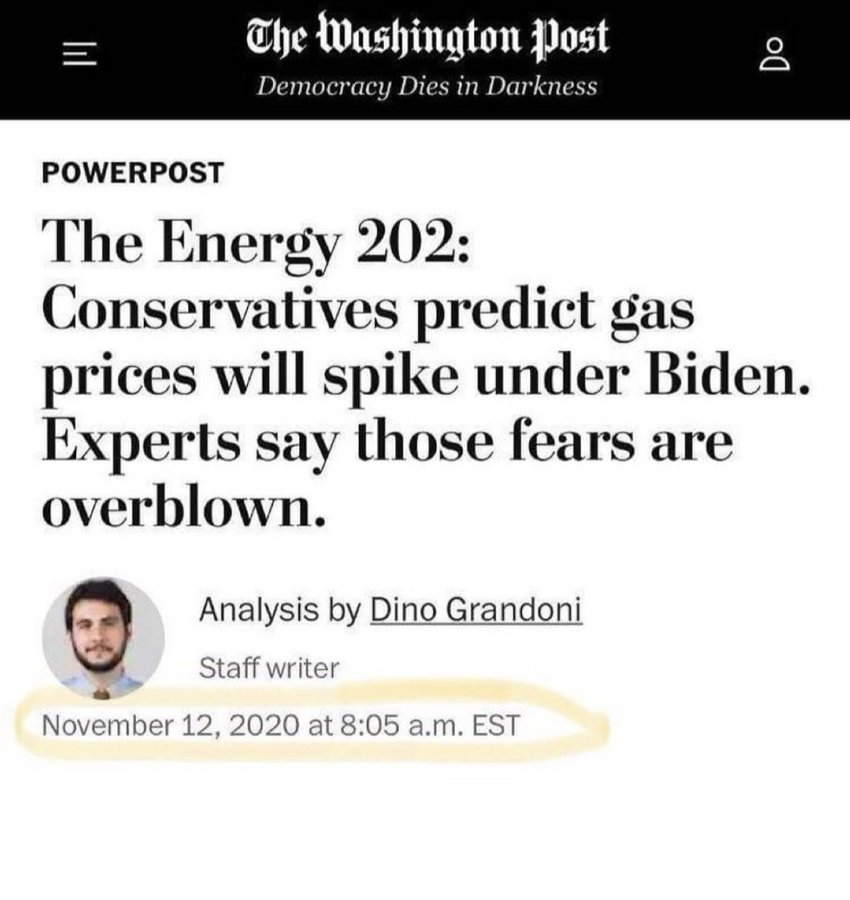 Muh Normzzz:
Mary Katharine Ham @mkhammer

Tell me more about comportment and norms and decorum and such right after you're done making fun of the speculative scent of a public official's vagina.

posted by Ace at
06:30 PM
|
Access Comments