« Trump Arraignment
|
Main
|
Is This Something? »
April 04, 2023
Chinese Agent Biden Chuckles Over Trump's Indictment
Soros Prosecutor Alvin Bragg Now Speaking

You and your dirtbag son will be in prison if there's any justice.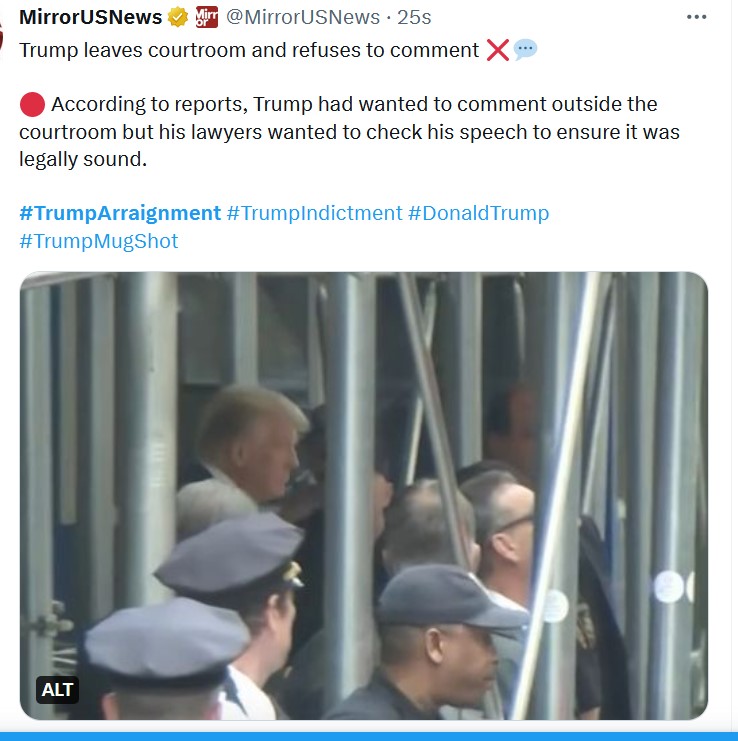 Bragg just made it clear that the "34 charges" are just repetitions of the same charge. He's charging him for signing documents making the same representation.
Holy carp. I just read the indictment.

Each count is for a different check the Trump Family Revocable Trust wrote to Cohen from February 2017 to December 2017.

THIS is all they have?
Posted by: AZ Hi Desert
He's saying it's illegal to make payments to a lawyer claiming they're for legal services, if they're really for some other purpose.
Interesting -- so we can expect Hillary Clinton to be frog-marched into jail, huh?
Nick Arama's guess that the "34 felonies" are just the same "felony" 34 times is right. As I said before, I expect these charges to be massively duplicative, charging and re-charging and re-re-charging for the same few acts.
But I want to re-up my comments from Saturday when I said this "charge stacking" is likely what would happen. Prosecutors can try to charge as many things as they can, even if those charges only pertain to one incident. So let's assume for the moment in this alleged "falsification of business records" charge, that Trump had to file a form that had signatures or initials on the same form multiple times. Each signature/initial could be counted as a potential charge, even if it's all on the same form and just one incident. So if you had a 34-page form with signatures or initials on each page, you could potentially make 34 charges out of it. We'll know when we see the real indictment to see precisely what they are talking about. It's also a bit of flooding of the jury, all they would have to agree to is one to convict. This increases that possibility.

But I think this is mostly about making Trump look bad to the public and the potential jury pool. It's about having people go "34 charges!!!" and say how awful Trump is, when it all may apply just to the one matter. It's trying to make the turkey of a case look like it's something more than it is by buffaloing people with the number. I think it's more evidence of the bias in this matter, as this shows Bragg trying to throw everything and anything against the wall to try to make something stick when what he truly has is a legally pathetic case.

Then the report says that they're Class E felonies. That's the lowest felony. As we noted, he's already may be bootstrapping this matter by taking what would be a misdemeanor ordinarily and trying to make it a felony. But that raises questions about how he's charging that, if it's truly a federal crime (and thus not properly charged here in New York), and if there are statute of limitations issues that he's trying to get around in this endeavor. As I wrote, Trump's attorney has already said he's going to move to have the case dismissed. Those issues and others may factor into any such motion, depending on what the indictment shows on Tuesday.
We'll see what Soros' pet society-destroyer has to say about it.