« Chinese Agent Biden Chuckles Over Trump's Indictment
Soros Prosecutor Alvin Bragg Now Speaking

|
Main
|
In Wake of the DCCC Illegally Purloining Republican Veterans' Confidential Military Records, The Veteran Administration's Tech Chief Met With the Head of the Democrat Congressional Campaign Committee. Who Is Also His Wife. »
April 04, 2023
Is This Something?
Palate cleanser.
Here's the trailer for Renfield.

I don't know. It seems cartoony and super-heroey.
I do love Nicholas Cage but... eh.

Speaking of being tired of cartoons and superheroes, Warner Bros. goes to the bottom of the barrel for a character no one really likes, the third incarnation of Blue Beetle.
So the character is just Cyborg again -- a minority teenager who gets an upgrade from alien technology which sometimes conflicts with his human will.
And Cyborg is lame.
And also, they give the suit the power to "make anything you can imagine." Congratulations, you just also stepped all over Green Lantern.

Yes that's the kid from Cobra Kai. I like him. But I don't like the dirtbag racist George Lopez, who seems to have a co-starring role.
Warner Bros. continues destroying their own brand by having George Lopez announce that their most popular and lucrative character, Batman, "is a fascist."
Brilliant. Working in some "Defund Batman" agitation.
Warner Bros. got some great validation from Twitter Weirdoes who will never even consider paying money to watch this movie: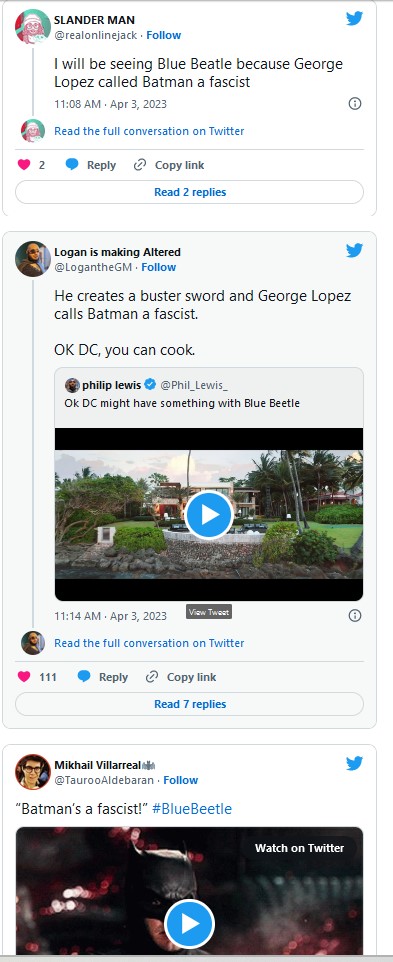 ...while alienating the actual audience for this movie with another self-destructive "we had so much fun emasculating our male heroes" advertising campaign.

posted by Ace at
04:28 PM
|
Access Comments