« Weekend Hobby, Craft and Bodging Thread
|
Main
|
Saturday Overnight Open Thread (4/22/23) »
April 22, 2023
Saturday Evening Movie Thread 04/22/2023 [TheJamesMadison]
The Producer


Most of this post comes from information I gleaned from the book
The Genius of the System: Hollywood Filmmaking in the Studio Era
by Thomas Schatz.
In the absolute most basic sense, the producer's job is to supply money to a movie production. This is why independent productions tend to have so many producers because the money comes from so many sources. So, some banker supplies $15,000, and he's a producer in the credits now. However, with money comes the ability to control a lot if one so chooses. A producer, even up to a studio executive, could supply the cash and walk away, waiting for the opportunity to use his tuxedo at the film's premiere. However, producers often decide to involve themselves in the production from early on through to the ends of post-production. These can be positive or negative influences on a film based on the relative strengths of the particular producer, the working relationships between producer and the rest of the creative team, among other things.
Hollywood was built by producers mainly. The studio executives of places like Universal, Warner Brothers, MGM, and Fox were the ones putting up the money in that sparsely populated piece of California real estate, bringing in talent, and organizing the selling of finished product to the independent theaters that the studios didn't own outright. There were a host of producers who helped build up Hollywood from the Laemmle family at Universal to the Warner brothers and David Zanuck at WB, to Louis B. Mayer at MGM. Two, in particular, I think, represent the two extremes of what is called the creative producer: the producer who does involve himself in the nitty gritty of the production itself but has the creative chops to actually make good.
The first would be Irving Thalberg, famous for essentially creating the studio system when he moved from Universal Studios to MGM, and the second would be David O. Selznick, the independent producer who spent several years at several studios, lastly MGM, before striking it independently and making
Gone with the Wind
, among other films.
Irving Thalberg


Irving Thalberg came to California in 1919 as part of the small entourage Carl Laemmle Sr. brought to Los Angeles as potential replacements for the current management at Universal Pictures. Only 20 years old at the time, he had impressed the elder Laemmle in his time in the New York office to the point where, after the visit was done, Laemmle offered complete run of the studio to the young man.
He was only at Universal for three years. It was a tumultuous period nonetheless as he fought with Erich von Stroheim on a pair of productions (most notably
The Foolish Wives
which Stroheim had nearly lost control of through his profligacy). The culmination of his work as producer was helping to shepherd the silent
The Hunchback of Notre Dame
under the direction of Wallace Worsley. The irony is that the production of
Hunchback
was one of the key reasons for the split between Thalberg and Laemmle Sr., and it was the exact kind of movie that Lammle's son, Carl Laemmle Jr. would try to turn into standard Universal product a few years later: the extravagantly set literary adaptation with a horror bent. Thalberg left the studio a few months before
Hunchback
was finished, sending out feelers to the studios of the time and getting the kind of bite he wanted in terms of control and salary from Metro Pictures at the behest of studio head Louis B. Mayer.
Within a few years, Metro had purchased Goldwyn Pictures and added the second M to the company name and become MGM. In the time it took for all of that to happen, though, Thalberg had set out to make practical a model of studio filmmaking that would become known as The Studio System.
The Studio System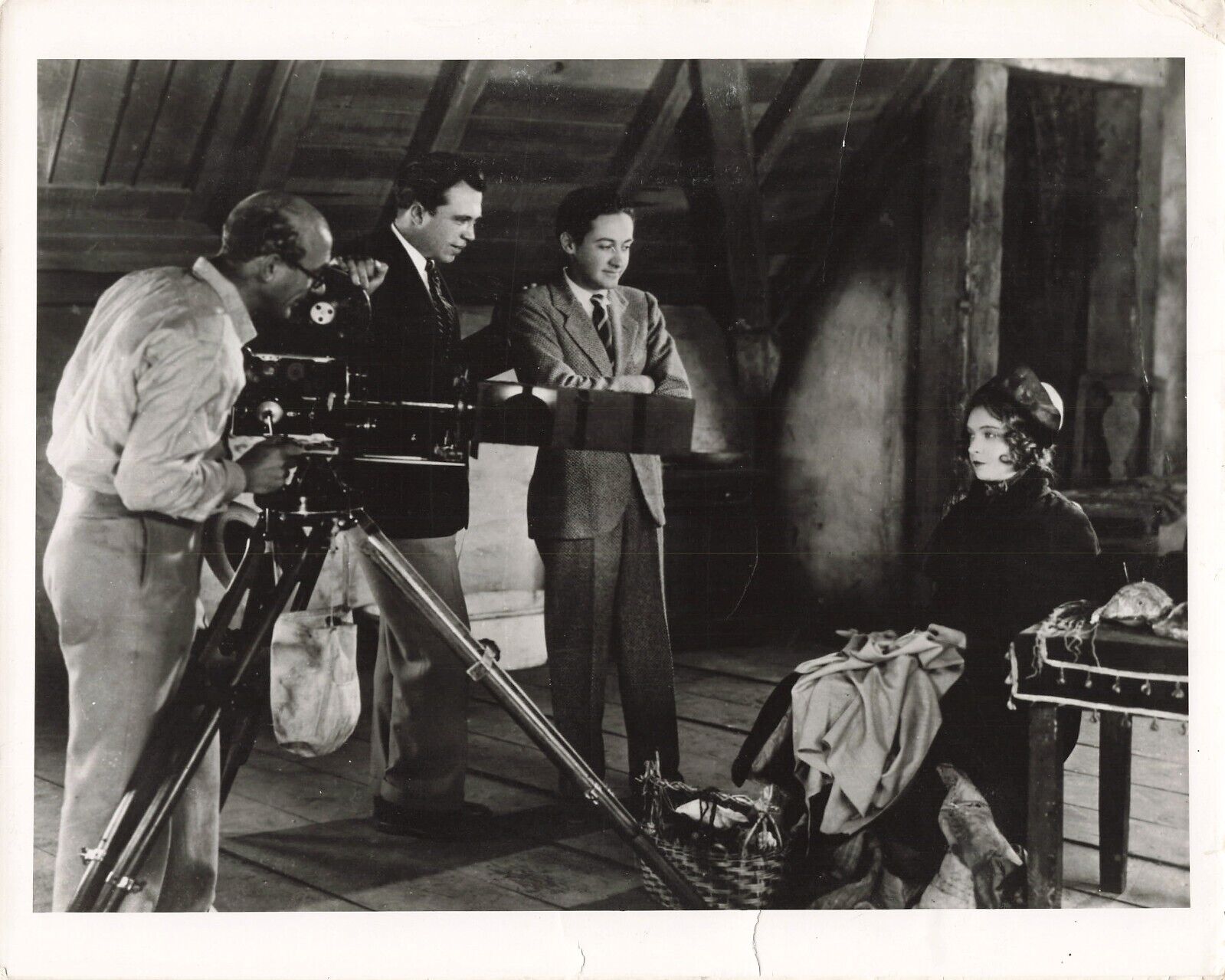 Modernization was all the rage in the 1920s, and Hollywood, an industry town only about a decade old, was no different. The young Irving Thalberg, given complete control over production, set out to apply the ideas of the assembly line from Henry Ford into filmmaking. It was never going to be an exact match. If it were, each movie would simply be the same as the last, but Thalberg understood the applied model's limits as well as its strengths. He couldn't make interchangeable parts for every little thing, but he could make the talent as interchangeable as possible.
This was easy to accomplish with technicians and tradesmen like set builders, costume designers, or prop makers. There's artistry involved, but they were artisans with easily transferable skills. Writers had specialties. Some were good at domestic melodramas, others at costume dramas, others still at Westerns. Some where good with structure, and others were good with dialogue or, at this point, intertitles. Directors were similar. Some where good in one type of movie, and others were good in other types of movies. It was about finding people's strengths and apply them in ways that kept them busy, making the most of their contracts, and producing films at as constant a rate as possible, building in efficiencies of scale.
One side of this effort was the creation of the star system. Where most of the rest could be accredited to Thalberg first and foremost, the star system was more of a co-effort between Mayer and Thalberg since Mayer was typically closer to the acting talent than Thalberg who spent more time in writing conferences and with editors in post-production. Stars had been a thing since before narrative films gained credits, but the MGM effort was to fold the idea of the star into the assembly line. It was ultimately about typecasting. One of the big early stars at MGM was Greta Garbo, and Greta Garbo was never in a movie about poor rural Americans dealing with action. She was always a glamourous European in romantic entanglements with other actors of similar bents like John Barrymore. The idea was that if you saw Greta Garbo's face and name on a movie poster, you would know exactly the kind of film you were going to go see. The elevation and devolution of actors from supporting players to stars and back was always an imprecise effort at trying to explain why some films were hits at the box office and others weren't (Katharine Hepburn went from box office poison to one of America's biggest stars, and there's no real explanation for it).
These are the key pieces to how MGM ran. The producer (either Thalberg himself or one of a handful of producers that he hired to think like him) picked the project, assigned the writing talent to hammer it out into a script (often going through several drafts to be handed off to another writer or several, many time with writers who never got on-screen credit), assigned the directors and stars, and then decided if reshoots were necessary (they were a very common thing under Thalberg as he tried to make the best films he could). Being, essentially, the brainchild of Thalberg, MGM's product ended up fairly uniform in taste, essentially defining MGM's house style as glamourous, handsome, and star-studded attractions of good taste. Films like
Grand Hotel
and
The Mutiny on the Bounty
are key examples of the kind of films Thalberg was trying to make, that defined what MGM was for more than a decade.
Thalberg ended up dying in 1936 at age 37 when he contracted pneumonia on a vacation with his wife. His influence was so great upon the industry that the place shut down for his funeral and the Academy of Motion Pictures Arts and Sciences has an award called the Irving Thalberg Award that they give out only when they feel like someone is deserving of it, rewarding the key contributions of major producers. From 2011 to 2018 the Academy didn't award it to anybody.
David O. Selznick
Selznick has some interesting crossovers with Thalberg, especially since they were contemporaries. Selznick was married to Thalberg's partner's daughter, making him the son-in-law of Louis B. Mayer. When Thalberg became very sick in 1933, forcing a temporary stay from work, Mayer actually replaced Thalberg with Selznick (and Walter Wanger). However, Selznick was never like Thalberg. Thalberg was a great company man, happy to work in the background of the studio he worked for (he has one on-screen credit for
The Good Earth
despite working on dozens across his career), but Selznick was the opposite. His name had to be front and center of everything. From his time at RKO through Paramount and finally at MGM, his name is evident on every movie he worked on within the system. The son of Lewis J. Selznick, a film producer, he was already second generation in an industry less than fifteen years old when RKO made him head of production in 1931.
He moved from studio to studio, always rankling at the amount of freedom he had (or didn't have), always looking for the better deal with more liberty to make the films he wanted his way. After his brief stint at MGM, he formed Selznick International Pictures where he made a series of films, irritating almost every director he hired because, if his scheduled allowed and he wasn't meddling in another movie of his, he would meddle endlessly to form and reform a picture to his own tastes. The culmination of this early period is
Gone with the Wind
.
Who is the author of
Gone with the Wind
? In most normal circumstances, I think it'd be fair to lay that claim on the credited director, but the production of the adaptation of the Margaret Mitchell novel is less clearcut than that.
Gone with the Wind
was Selznick's baby, and he nursed it for years, buying the rights in 1936 for $50,000, and steadily working his way through draft after draft, all while eyeing the perfect talent for each role. He used his vast connections in the industry to borrow major stars from MGM (Clarke Gable) and WB (Olivia de Havilland and composer Max Steiner) while signing an exclusive contract with Vivien Leigh. He replaced original director George Cukor (who had managed the pre-production under Selznick) after three weeks of filming with Victor Fleming (the credited director). The one constant through all of this was Selznick.
His massive pair of successes in
Gone with the Wind
and the first American film from Alfred Hitchcock,
Rebecca
, actually ended Selznick International Pictures because it was not set up as a normal studio, meaning that Selznick owed income taxes on all of the money he made. He bypassed this by folding the company and putting the cash into another, but his success had exhausted him so he mostly just lent out his bevy of contracted talent to other studios, along with selling properties and scripts he had developed. He did produce again, of course, most notably
Duel in the Sun
, but he never saw the same kind of success again, especially when the studio system that he relied on so heavily for loan outs of talent as well as for studio space began to buckle with the end of the post-WWII boom in 1946-47.
I also find it kind of funny how people hold up
Gone with the Wind
as a grand example of the studio system when it was an independent production with some co-financing from MGM (part of the agreement on lending out Gable).
Gone with the Wind
was the work of a maniacal independent producer who couldn't fit his excessive visions in the more limiting space of studio politics and filmmaking. He had to break out and make his own at his own scale, on his own terms, and at his own pace.
Legacy
Irving Thalberg did so much legwork in creating the system that allowed Hollywood to flourish through the late 1920s and 30s, even during the Great Depression. Under his leadership, MGM was the sole studio to never run a loss in the 1930s, producing high quality, expensive films that the American people loved to go see, even when financial times were hard. David O. Selznick learned the ropes from his father's connections but also his whirlwind tour through the upper echelons of three studios, building the relationships and knowhow to strike out on his own and do it well.
These two men are two of the key models of what a producer is supposed to be in film. On the one hand, you have the company man who can walk into a script meeting and help iron out problems before moving into an editing bay and suggest reshoots, that he'll approve and get funding from the New York office for. On the other, you have the producer with big dreams who can't work in the stuffy system itself and must create outside of it. The company man, and the independent. Together, along with hosts of others, they helped build Hollywood through the 1920s, 30s, and 40s, setting the stage for some of the best that Old Hollywood had to offer.
Movies of Today
Opening in Theaters:
Evil Dead Rise
Beau is Afraid
Movies I Saw This Fortnight:
The Student Prince in Old Heidelberg
(Rating 4/4)
Full Review
"This is the first Lubitsch film that I've completely and totally loved. I wouldn't change a single frame in the whole thing." [
YouTube
]
Lady Windermere's Fan
(Rating 3.5/4)
Full Review
"This is Lubitsch's best film so far in his career. That it falls just shy of greatness is a tad disappointing, but he really did the best with what he had." [
YouTube
]
The Love Parade
(Rating 4/4)
Full Review
"It's an early triumph of the medium of sound film, and it shows that Lubitsch was more than just a witty filmmaker. He was a technically accomplished one as well." [
YouTube
]
The Smiling Lieutenant
(Rating 4/4)
Full Review
"This is Lubitsch as the world knows him, and it is wonderful." [The Criterion Channel]
Trouble in Paradise
(Rating 4/4)
Full Review
"Funny, touching, surprisingly taut in places, and all around funny, the film is one of pre-Code Hollywood's most enjoyable farces." [The Criterion Channel]
Design for Living
(Rating 3.5/4)
Full Review
"This is more of a confection from Lubitsch than his other confections that have a bit weightier character stuff to build off of, but the character stuff is solid enough and the Lubitsch Touch is on grand display at the same time." [The Criterion Channel]
The Merry Widow
(Rating 4/4)
Full Review
"The big dance numbers, the charismatic performances, the comic timing, and the light tone all combine together in such a unique way that it's a challenge to do more than point at it and say, "Isn't it grand?"" [PLEX]
Bluebeard's Eighth Wife
(Rating 2.5/4)
Full Review
"It's amusing pretty consistently, heavily helped by the charming leads in Cooper and Colbert, but Lubitsch is simply not operating at the same level here as he did in things like
The Smiling Lieutenant
or
The Merry Widow
." [Library]
Contact
Email any suggestions or questions to thejamesmadison.aos at symbol gmail dot com.
I've also archived all the old posts
here
, by request. I'll add new posts a week after they originally post at the HQ.
My next post will be on 5/13, and it will talk about the directing career of Ernst Lubitsch.

posted by Open Blogger at
07:44 PM
|
Access Comments