« Trump Indicted
|
Main
|
Every Cat Is a Star Cafe »
March 30, 2023
Quick Hits
Hollywood has what Experts are calling an "Elizabeth Warren situation."
Hollywood's top Native American producer is a fake, activists claim

One of Hollywood's leading Native American figures is being accused of faking her claims of Cherokee heritage, The Post can reveal.

Award-winning Heather Rae, 56, serves on the Academy of Motion Pictures' Indigenous Alliance, previously headed up the Sundance Institute's Native American program and claims "my mother was Indian and my father was a cowboy." Multiple prior news reports have also cited her as having a Cherokee mother.

But a watchdog group called the Tribal Alliance Against Frauds is now demanding the Academy and the producer drop her "false claims" while activists insist she's at best 1/2048th Cherokee.

The group accuses her of profiting from usurping "real American Indian voices and perspectives" and being a fraudulent so-called "Pretendian."
1/2048th? That's even less Indian extraction than the highest possible estimate of Elizabeth Warren's "Indian heritage," 1/1024th.
White Leftist Women posing as Indians like Elizabeth Warren use the whole of the minority set-aside -- nothing goes to waste.
China and Brazil have agreed to stop using the dollar as a medium of exchange in trade with each other.
China and Brazil have reached a deal to trade in their own currencies, ditching the United States dollar as an intermediary, the Brazilian government said on Wednesday.

The deal, Beijing's latest salvo against the almighty greenback, will enable China, the top rival to US economic hegemony, and Brazil, the biggest economy in Latin America, to conduct their massive trade and financial transactions directly, exchanging yuan for reais and vice versa instead of going through the US dollar.

"The expectation is that this will reduce costs... promote even greater bilateral trade and facilitate investment," the Brazilian Trade and Investment Promotion Agency (ApexBrasil) said in a statement.
The US has long benefited from being the world's "reserve currency." Now, thanks to Biden, the world is looking to ditch the dollar.
The Indian and Russian governments are in talks to reinstate a rupee-ruble ledger for the first time since the Cold War.

The deal would allow firms in both nations to do business without the use of US dollars, which is the primary international trade currency.

Even our former allies the Saudis are considering dedollarisation.
Saudi Arabia is in talks to sell oil to China and be paid in yuan, according to the Wall Street Journal.

For nearly 50 years, the world's top oil exporter has traded crude exclusively in US dollars.

Relations between Saudi Arabia and the US have deteriorated under the Biden administration.
I'm not clear -- is this still the "America is back, baby!" promised to us by NeverTrump, or not?
The basket-case Woke Military is reducing every standard in sight to get their recruitment numbers up.
Basic training without yelling: Army recruits get 2nd chance
Mustn't have any yelling. It's so triggering!
Last August, Daysia Holiday decided to try one more time to join the Army.

She'd taken the academic test and failed three times. So, when she was offered a slot in a new Army prep course to help improve her scores and qualify for basic training, she jumped at the chance.

Seven months later, Pvt. 2nd Class Holiday is a proud graduate of Army basic training, and is finishing her advanced instruction at Fort Lee, Virginia, to become a power generation specialist who will maintain engines and other equipment for the service.

Holiday is an early beneficiary of the new program, which gives lower-performing recruits up to 90 days of academic or fitness instruction to help them meet military standards. In place for only eight months, it is already making a significant difference for both the Army and those who want to serve in it.

So far, 5,400 soldiers have made it through the prep course since it started in August at Fort Jackson, South Carolina. That's an important boost since the Army fell dramatically short of its recruiting goals last year, due to low unemployment and general wariness about military service. And at least one other military service, the Navy, took notice and is setting up a similar course.

...


Gen. James McConville, Army chief of staff, told a House committee on Tuesday that students in the program are improving their academic scores and losing 4% to 6% of their body fat.

"We're really giving them discipline," he said. "They're getting in shape. We're giving them a head start. So when going into initial military training, where they were at the lowest category, they're actually excelling and in some ways exceeding the standards -- becoming the student leaders."
Sounds like a semi-successful effort. If remediation helps, okay.
But maybe we wouldn't need Remedial School for recruits if you hadn't decided to turn military service into Woke Joke and made the primary recruiting pool view the military service as dishonorable and for weirdoes and crazies.
Have you considered that?
Speaking of Woke Jokes, NPR is laying off 10% of its staff, about 100 people, as it faces a loss of $30 million in revenue.
On Thursday, NPR disclosed that they were stopping production on several podcasts as part of a larger series of cutbacks the nonprofit news organization has been forced to make as they confront a decline in revenue projected at $30 million.

According to the Washington Post, this week "the Washington-based audio and digital-news organization began laying off about 100 employees, or 10 percent of its staff."

The employee layoffs mark one the most significant staff reductions in the company's 53 years of operation.
I can't wait to defund this. But I guess I'll have to -- fake "Republicans" will protect it forever, because their wives love listening to NPR on their way to have tolerated seual affairs with their yoga instructors.
David Hogg was whining that people arguing with him on Twitter about guns were sending him memes as evidence. What does this little femmy ertard expect on Twitter? And I'm sure he was tossing out fake stats from gun control groups as his very researched case.
This caused people to send this little Tragedy Dickrider even more memes.
Like this: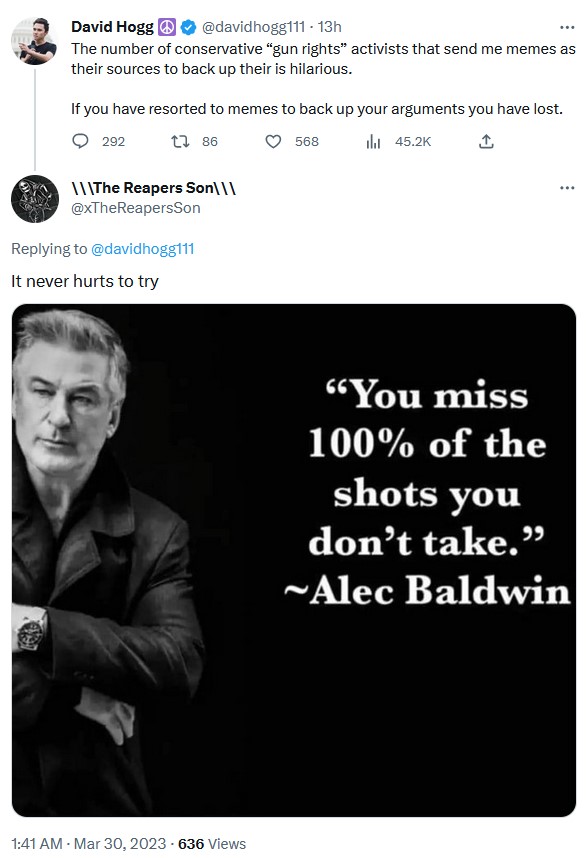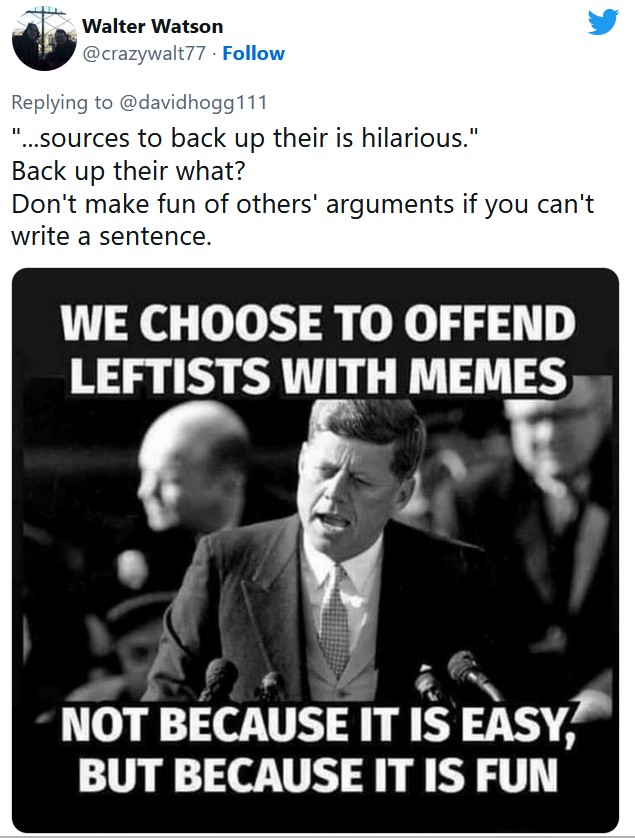 Biden again makes a bad joke and laughs, this time when asked if the Nashville shooting was a hate crime:

Have our Civic Norms been restored yet, NeverTrump?
Don't worry -- leftists are permitted to be violent in their takeovers of capitol buildings.
Shocking moment trans activist physically BLOCKS Texas senate's sergeant at arms from taking the mic as trans woman compares lawmakers to NAZIS over new bill criminalizing drag shows for kids

Loren Perkins, a transgender woman, was speaking at the Texas capital on Thursday against anti-drag bills when she compared lawmakers to Nazis

Perkins went over her two-minute public speaker time and was about to be cut off by a senate sergeant before another activist jumped in to block him

A viral video of the encounter has garnered more than 5 million views of the activists working together to speak out against proposed anti-drag laws

By Vanessa Serna For Dailymail.Com

This is the shocking moment an LGBTQ activist blocks the Texas senate's sergeant in arms from taking the mic from a trans speaker - who compared lawmakers to Nazis as they consider criminalizing drag shows.

Loren Perkins, a transgender woman, appeared at the state capital on Thursday to provide public comment on a few laws that would prohibit drag performances in the Lone Star State.

Perkins was seen in a viral video on TikTok with more than 5 million views speaking to lawmakers past her two-minute speech mark as a security guard identified as Austin Osborn approached her from behind.

Before Osborn reached her, another activist rushed in front of the sergeant to avoid him from interrupting Perkins before she finished. The two were seen in a physical altercation as Osborn grabbled with the activist.

Merrick Garland commits further impeachable perjury:
"We may never know the motive," they vowed.
They always vow that we may never know the motive when they know exactly what the motive is, and are covering up for the violent lunatics that make up the Democrat Coalition of the Mentally-Ill and Murderous.
Shut the fuck up, Dum-Dum:

posted by Ace at
06:48 PM
|
Access Comments