« Ripley's Hero: Adam Kinzinger Was On Board of Advisors to Alleged Pro-Ukraine Group That Scammed People Out of Millions of Dollars and Is Now Under Federal Investigation
|
Main
|
Jen Psaki on Her New MSNBC Show: Ron DeSantis Is a Hypocrite Because... He Wants to Defend US Borders But not Urkainian Borders »
March 27, 2023
Women's Rights Activist Posie Parker Physically Assaulted by Trans Extremists at a Speech in New Zealand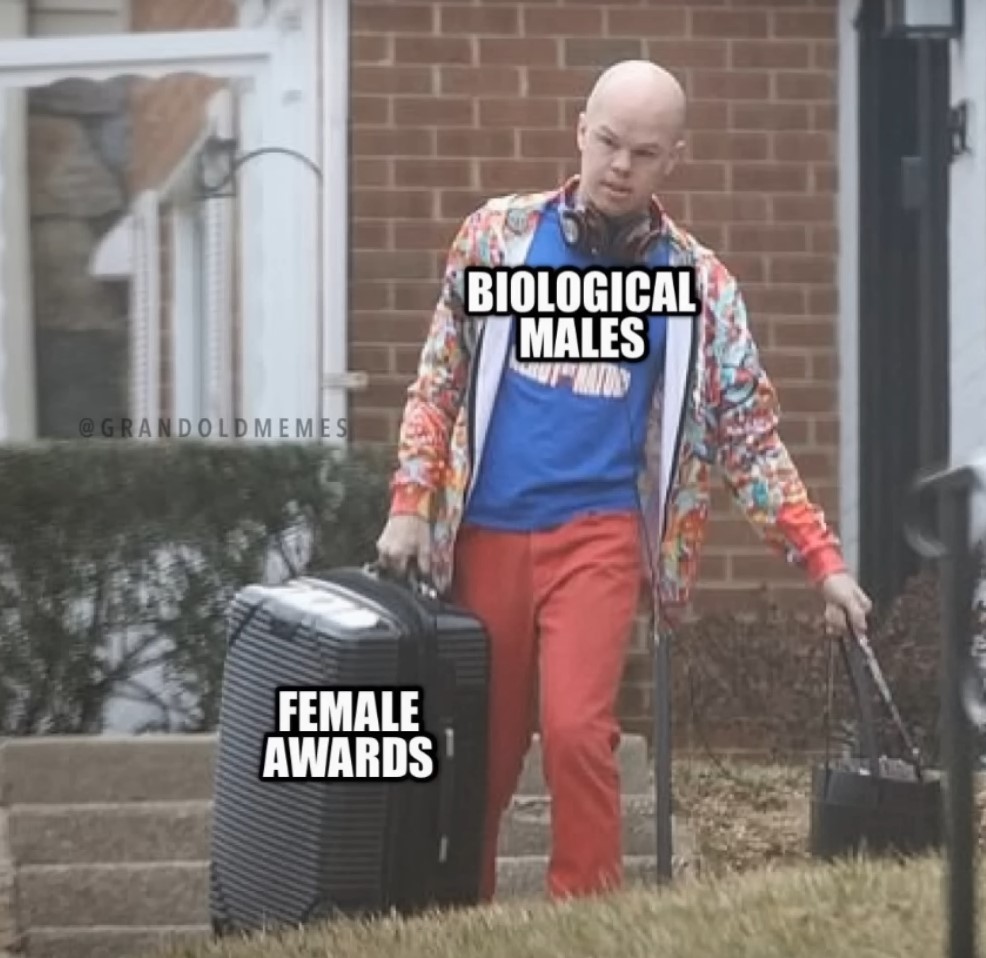 Respecc all women
except the actual women
SkyNews calls her an "anti-trans activist." They also called the physical attacks on her "an altercation," not specifying who was altercating and who was being altercated.
Enemy comms. Isn't Sky another Rupert Murdoch fake-conservative venture?
Note that Posie Parker's real name is Kellie-Jay Keen-Minshull.
Anti-trans rights campaigner Kellie-Jay Keen-Minshull has hit out at New Zealand after fleeing the country following an altercation at one of her rallies.

The British activist, who also goes by the name Posie Parker, has been conducting a "Let Women Speak" tour of Australia and New Zealand.

She was holding an event at Auckland's Albert Park, where her supporters were vastly outnumbered by counter-protesters chanting "go home Posie, go home".
The anti-trans activist was outnumbered by thousands of counter-protesters.
Note they're calling the uninvited disruptors "counter-protesters." Parker was not there as a "protester" -- she was giving a speech after having secured legal permission to be there.
They are attempting to cast this just as a fight between "protesters" (Posie Parker) and "counter-protesters" so that the casual reader will come away thinking "both groups have the right to protest, right?"
But only one group was there to "protest." One group was there to hear a speaker they wanted to hear.
The counter-protesters, many of whom held signs emblazoned with messages of support for trans youth, managed to drown out Ms Keen's voice when she took to the rotunda at Albert Park.
Again, what as Posie "protesting"? She was giving a speech -- but she was prevented from doing so by trans extremist disruptors.
When she appeared on the stage, the anti-trans activist had juice, water and eggs flung at her.
She "had" these things "flung at her."
Was it the trans extremists who active-voice threw objects at her? Who can say. All we know is that passive-voice Things Were Flung.
In fact, she had them flung at her. She insisted on them being flung at her.
She assaulted herself, you see.
Here she is, being hustled away by a cordon of police protecting her from the mostly peaceful trannies, after having assaulted herself:
Eliana Rubashkyn, an intersex and trans activist, dropped a litre of tomato juice on Ms Keen's head, which she said represented the blood of "our people".


She told the media after the altercation that she had attended the event to "stop the hate against our communities".

"New Zealand needs to stand up in front of the world and say this is not welcome here. We protect trans people."

...

Upon leaving the event, she demanded to be taken to a police station citing fears for her life.

She took to Twitter hours after the event concluded, slamming the country as "the worst place for women".

I get to leave the worst place for women I've ever visited and they live there," she wrote.

"I will forever be indebted to them. We will not stop fighting until they are safe to live in their own land. I'm so sorry I couldn't do more."

She said she had left New Zealand on the advice of police, who "genuinely believed" she was lucky to be alive.
Trans/gay extremist group "Aukland Pride" denied that there had been any violence at the speech, claiming this was a "baseless rumor" and "urging" media not to report on what trans extremists had done.
Warning them, they mean -- the same can happen to you if you report the truth.
Auckland Pride @AucklandPride

Tāmaki Makaurau demonstrated its values today and stood up to the vile anti-trans hatred of Posie Parker.

The thousands of Aucklanders who came out to stand in solidarity with trans communities sent a clear message to Parker that intolerance will not be tolerated here.

Parker's subsequent withdrawal from her Wellington event demonstrates the power of community organising and solidarity in showing her that her hateful views are not welcome here.
She fled for her life, protected from violent trannies and trans "allies" who were buffeting the police cordon protecting her.

Or as you say, she "withdrew" become of "community organizing."


Auckland Pride unequivocally stands by peaceful protest as a means of counter protest, and does not endorse any physical violence, regardless of the extent of injury caused.
You're endorsing it here.
There is a narrative quickly taking hold amongst anti-trans groups and individuals that Parker abandoned her event because of violence from our community.

We reject this narrative. We are of the firm belief that the demonstration of unity, celebration, and acceptance alongside joyous music, chanting, and noise of 5,000 supporters was too loud to overcome and the reason for her departure - and not the actions of any one individual.

We also reject that there was any further physical threat from our community towards Parker. This is a baseless rumour that is being perpetrated by those who feel defeated by the events of today. We urge the media not to repeat these allegations without evidence.
J.K. Rowling @jk_rowling

There are multiple videos of Kellie-Jay being assaulted. Women have become used to lies, threats of violence and outright denial of reality, but if you imagine anyone feels 'defeated', think again. Your men's rights activists showed the world exactly who they are. #LetWomenSpeak
She was also disrupted in Australia.
A female (?) Australian senator rushed the podium from behind Parker. Thankfully, she (?) was taken down by police.

posted by Ace at
01:07 PM
|
Access Comments