« The Combination of Covid Infection + Covid "Vaccine" Actually Damages the Body's Immune Response, Study Claims
Plus: GAINZZZ
|
Main
|
Sunbathing Seal Cafe »
March 24, 2023
Quick Hits
Trump warns of "death & destruction" if he's indicted.
I think he just set himself up for the next prosecution.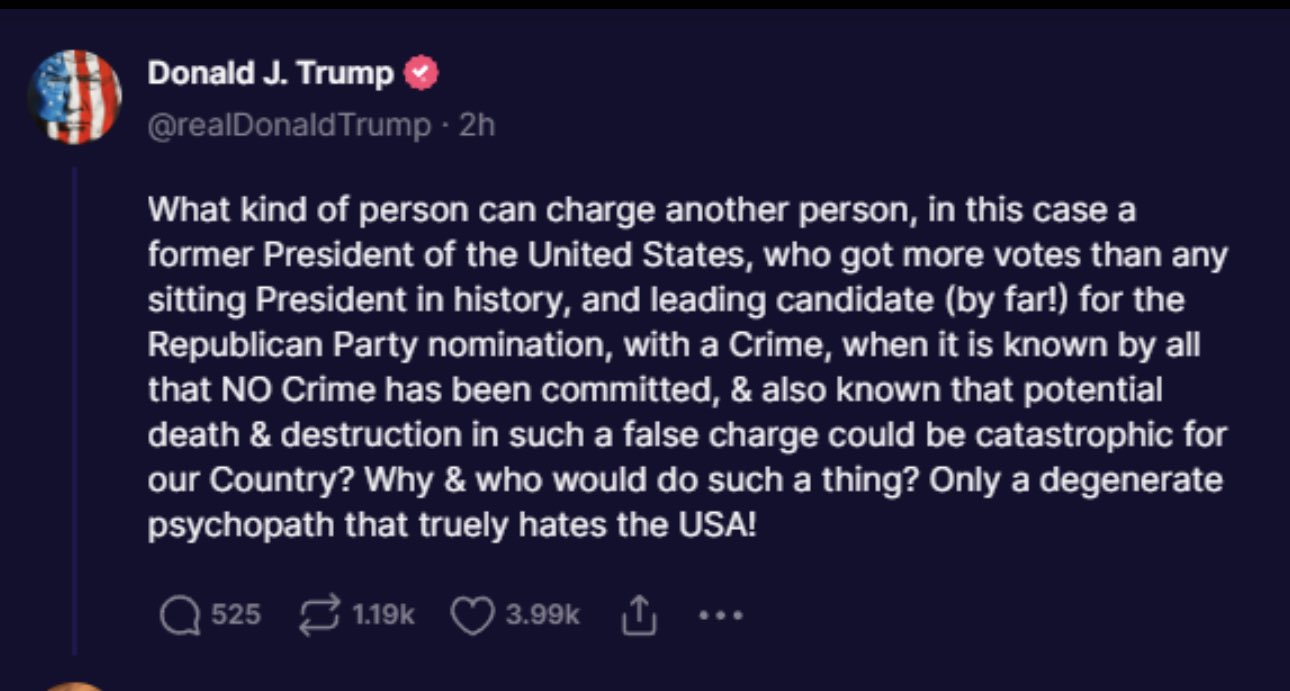 I've mentioned the possibility that Democrats are driving us all towards violent conflict, too. But it's a different when a political leader talks this way. A second-tier blogger's warning is just a warning; a political leader talking about this sounds like he's commanding his troops.
I really do think he just guaranteed himself an indictment here -- just to f*** with him -- and possibly another charge for incitement. And of course the Soros prosecutor will bring that charge.
Trump has been through an awful lot. An awful lot. The Deep State betrayed America to undermine and eject a candidate they did not give us permission to elect. As much as we feel the unfairness and treachery of this, Trump must feel it worse.
That said, Trump is not bearing up well under this pressure. Unless he really intends to lead a violent overthrow of the US government -- and as far as that goes, I'm listening -- he needs to stop with this crap that just gets him and his supporters into trouble without doing anything positive for them.
And of course the left will play this hoax powder to the hilt.
Russian email accounts sent several hoax bomb threats to the Soros-backed communist DA, so the media will be shrieking about "RUSSIAN INTERFERENCE IN MUH TRIALS" all week.
We're now so respected on the world stage that Iran has been launching Rockets of Friendship and Approval at our troops for hours. Thanks, NeverTrump!
Via bonhomme.

Kevin McCarthy is now almost as popular with Republicans as Trump is. Mitch McConnell is not.
House Speaker Kevin McCarthy (R-CA) has moved into rare political space, reaching an approval rating higher than typical for a top party congressional leader and challenging former President Donald Trump's approval among Republicans.

With a 52% favorability overall and 71% among Republicans, McCarthy has erased whatever it was that some House conservatives didn't like about him during the drawn-out, four-day, 15-ballot speaker election controversy in January.

...

In a Rasmussen Reports survey, McCarthy maintained a 52% somewhat to very favorable rating and 36% unfavorability among all likely voters. With Republicans, his 71% favorability towers over his 18% unfavorability.

Trump, meanwhile, holds an equal 52% favorable rating, but 44% of all likely voters disapprove. And among Republicans, 77% view Trump favorably to 22% who don't.


McConnell's.... favorable rating is 31% to 60% who view him unfavorably, and Rasmussen said just 32% of Republicans view him somewhat or very favorably.

The military defends woke diversity training, claiming it helps soldiers feel seen.
Top military officials in the Biden Administration recently attempted to defend far-left "diversity" training in the military, claiming that such sessions make all soldiers feel more "included."

As the Washington Free Beacon reports, Air Force Chief of Staff General C.Q. Brown gave an interview for Defense One defending the practice of diversity training, claiming that "when people join our military, they want to look around and see somebody who looks like them."

"They want to be part of a team, and feel like they're included," Brown added.

Brown praised the practice for its alleged efforts to build "cohesive" teams for all service members, "no matter their background."

Similarly, General David Berger, Commandant of the Marine Corps, claimed that he has seen "zero evidence" of any negative impact from such left-wing policies when it comes to the end result of making stronger Marines.

House Republicans are currently attempting to cut funding for such far-left practices in the military; other examples include a program in the Army for training soldiers on how to use "gender pronouns," and a similar training video for the Navy discussing pronouns and "safe spaces."
Earlier this week I wrote a post stating that TikTok could download people's information, even if they've never used TikTok. But I left out the article making this claim. It's here.
Cybersecurity company Feroot Security released a new report last week claiming TikTok can mine data and track people even if they have never used the social media app before.

TikTok, owned by Chinese company ByteDance, uses trackers called pixels to retrieve "tons of information," according to the report obtained by Fox News. This information includes usernames, passwords, credit cards, banking information, and personal health details. The pixels can pick off data from any website containing an embedded TikTok video, the report claims. Even if the TikTok app is deleted, it will continue to collect and transfer data.

ByteDance is required to submit any data collected by TikTok to the Chinese government. "Therefore, your data can be shared with the Chinese government and used to spy on you or spread misinformation about the American people," Fox News explained.
Went to the Onion for the first time in 20 years. Bottom of the shit barrel doesn't even describe it:

------------
Conservative Historian Claims Diversity Ultimately Doomed Third Reich

...

"Sadly, had Hitler and his Nazi generals not been so obsessed with the ideals of diversity, equity, and inclusion within their institutions, the Third Reich as we know it would still be around today," said Reed, adding that Nazi Germany would have easily defeated the Allied forces and conquered all of Europe had it not been so focused on making people of all races, genders, and sexualities feel included, valued, and safe.
---------------

Posted by: ...
Random FBI name generator, courtesy of Lithiated GP. He came up with a good one: "Chance Blanton." Reminds of me of Steve Martin's reveal of his real name.
Fruit Roll-Ups is forced to issue statement for the benefit of our increasingly stupid youth that the plastic wrapper is not actually edible, despite claims made on TikTok.
Snack brand Fruit Roll-Ups has forewarned people on TikTok to not eat the plastic that the fruit leather is wrapped in after someone on the platform claimed that the plastic is edible.

The video is one of several TikTok clips making the rounds about unique ways to eat the classic snack. In one, users freeze the Fruit Roll-Ups for an icy and sweet treat.

Others are even putting a chunk of ice cream in the fruit leather's center for a brain-numbing delicacy.

The fruity label debunked a user on TikTok recently -- named hollyberry09 -- who stated that it was perfectly fine to eat the plastic when the snack is frozen.
Hillary's running!
Not really. But she frightens you with that nightmare.


Minneapolis stopped building roads and poured money into trains, attempting to force drivers to take the train.
The trains have never been used much, but 20 years after being built the light rail is a cesspool. Literally: homeless people regularly pee and take dumps on the trains.
Leftists always wonder why Americans won't support public transportation or public pools like they do in Europe. Well, this is why: We know these things are not being built for the use of the taxpayers. We know every leftist "public" project isn't built for the public, but for the homeless drug addicts and criminals.
The Regime is worried that Bidenflation combined with inflation-fighting will crash the banks and steal their ill-gotten millions away. What else can account for Elizabeth Warren the Socialist Squaw calling for the government to backstop the deposits of millionaires?

posted by Ace at
06:37 PM
|
Access Comments