« Judge Allows Lawsuit To Proceed Against Biden Administration for "Coercive Censorship," Pressuring Social Media Companies to Censor Stories About Covid-19 and Hunter Biden's Laptop
|
Main
|
China Could Be Harvesting All of Your Personal Data Through TikTok -- Even If You Don't Use TikTok »
March 21, 2023
Former San Francisco Police Commissioner to Victims of Street Crime: Drop Dead, Snowflake P!ssbabies!
A tech entrepreneur wrote a series of tweets to San Francisco mayor and Tony Toni Tone fan London Breed -- when Tony Toni Tone comes to town, you have to ignore the mask mandates you yourself impose on the population and just feel the music move you, masklessly -- about his employees' car being smashed into. Not only was $10,000 in gear stolen, but their passports as well.
I believe "an offsite" just means an offsite job. I think he means a House Call for a sick computer network, if you will.
Snehal Antani
@snehalantani

A teammate visiting San Francisco for an offsite called me frantically last night. After dinner at Fisherman's Wharf they came back to a smashed car window and 2 stolen backpacks. $10K in gear lost, passports gone, etc. #SanFrancisco


"Laptop bags were in the trunk, nothing visible from the street", a typical description of a smash & grab, yet thieves were able to find the specific car and knew to pull the rear seat down and reach into the trunk... how?

I explained, "these aren't homeless ransoming smashing windows. These are professionals using blue tooth scanners to find laptop bags. And idle iPad, Bose headphones, etc all emit Bluetooth"

"And let me guess, it was the rear window facing the street, because thieves drive up to the car, open their door, then smash+grab. A witness must be directly behind the thieves RJ see anything, all other views are blocked"

My teammate said his companion was on the phone with the police, to which I said, "they don't care. Maybe they'll show up in a few hours, they'll likely make you go to the station, but this happens thousands of times per week"

So now I need to include a pre-visit security brief to people traveling San Francisco. This is a big reason I'm hesitant to open an office in the city versus keeping a remote team and occasionally meeting up at a location to whiteboard

And my teammates will be scarred forever, being robbed hits you at your core, especially when it's thousands of dollars of loss. There is no downtown recovery without an aggressive push for safety @LondonBreed

The next mayor will win by running on a simple platform: 1, safe neighborhoods; 2, Clean Streets; 3, great public schools
Responding to this was John Hamasaki, a former police commissioner. He quit that post to run for DA against Chesa Boudin. He got 46% of the vote, so he's not a fringe guy, at least to San Franciscans.
You'd think that San Fran's former police commissioner and would-be district attorney would be sympathetic to a crime victim, and join his call for San Francisco to #DoBetter.
You'd be wrong. Completely wrong.
In fact, he tells this guy that crime is central to the experience of living in the city of San Francisco, and the crime victims must be whiny Suburban Pissbabies to be upset their car was broken into and their passports stolen.
Note that these employees are obviously non-US citizens, note, to be carrying their passports with them. So now they're in a foreign country without their passports, and will have to go through a bureaucratic nightmare just to get copies issued, nevermind the coming identity theft.
But Jon Hamasaki's response to this employer is: Tell your f*ggot employees that if they can't handle a little Multicultural, Enriching Street Crime, then go back the suburbs, pussies.
No seriously, that's what this former SF police commissioner says.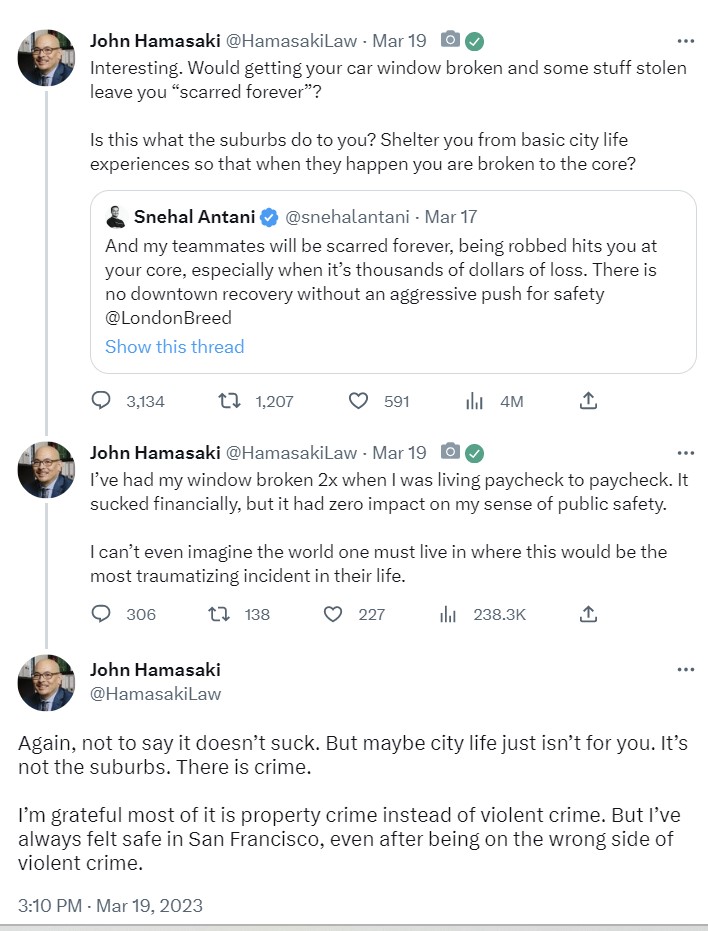 Let the cities die. Let nature run her red course.

posted by Ace at
04:33 PM
|
Access Comments