« Libs of TikTok's Book Event in New York City Cancelled Due to Credible Threats; Latitia James' Government-Sponsored Drag Queen Strory Hour for Children Goes Off Without a Hitch
|
Main
|
Full Bloom Cafe »
March 20, 2023
Quick Hits
Georgia Democrats are not happy that Stacy Abrams has announced her intention to run again for governor, and grift more money, and lose, and then claim she won, and grift more money.
Via FoxNews:
However, AJC's Greg Bluestein reported that several Democrats are not excited at the prospect, writing, "But interviews with more than three dozen Democratic officials, party leaders and activists suggest she may not have the same unified support she enjoyed after her first defeat to Kemp in 2018."

"Like many other Democrats, [Chair of Monroe County's Democratic Party Yvonne] Stuart praised Abrams' work mobilizing voters and laying the groundwork for the party's 2020 gains. But she said she worried that Abrams lost partly because 'she fell into the trap of becoming too much of a celebrity' in between her campaigns," Bluestein wrote.

Stuart said, "I do believe there might be another charismatic Democrat that can take us all the way in 2026."

Remember when the leftwing propaganda media kept running video of "packed" hospitals early in the pandemic? And when people who knew something said that that kind of overflow was routine in hospitals, because they choose to keep themselves understaffed for the sake of profitability? And so that being at 90%+ capacity was quite normal, and in fact their whole business plan?
So who was right?
Well: 15 Days to Stop the Spread, Baby!
EXCLUSIVE: 24 hours of HELL in top NYC hospital: Patients left lying in hallways, urine soaked floors and staff incapable of providing answers for desperate family members - as city's healthcare system is stretched to breaking point

A woman rushed her mother to the Mount Sinai Hospital on Madison Avenue on March 8 because she suspected the 67-year-old was having a stroke

This was ruled out within 10 minutes - but then a nightmarish day for the cancer sufferer and her daughter began as they were left waiting in limbo at the ER

'Every corner was filled with people,' she said, describing trash littering the floor, urine pots kicked over and homeless people seeking treatment left ignored
Amazon is laying off another 9000 people, bringing its layoffs just since the beginning of the year up to 27,000.
The job cuts would mark the second largest round of layoffs in the company's history, adding to the 18,000 employees the tech giant said it would lay off in January. The company's workforce doubled during the pandemic, however, in the midst of a hiring surge across almost the entire tech sector.
These companies made absurd profits during the lockdowns -- and they hired a lot of people they only needed for that period of lockdown, too.
A lot of people were making $175,000-per-year salaries who would not have made anything like that except for the Regime's decision to lock us all in our houses.
And -- Outrageous! Google is laying off people, and even laying them off while they're on "medical leave"!
Would you believe that Google's mass firings from January are still going on? Google's reported mishandling of its biggest round of layoffs ever has employees up in arms, and they're doing everything from walking out on the job to sending angry letters to management.

First up, European Googlers are just now being laid off due to the January announcement. Reuters reports that more than 200 workers were laid off from the Zürich, Switzerland, branch of the company this week. The employees at that office walked out for a second time in protest of the move and even offered to take pay cuts or reduce working hours to stave off the job cuts. Google's layoffs seem driven by a desire to placate the stock market, though, so it's no surprise that these offers fell on deaf ears.
I think they like when people walk off the job: They're just telling Google "fire me next."
...


Current and former employees feel Google is being cruel in how it's treating employees who were on medical or parental leave during the layoffs. CNBC reports that Google has decided to not honor pre-approved leave for laid-off employees. Some Googlers formed a group called "Laid off on Leave," which is attempting to get Google to honor its previously agreed-to timelines for employees going through major life changes.

Making Google honor its previous leave agreements isn't just about employees getting paid when they have medical or family issues; it's also about having continual medical care when they need it most. ...

While employees' severance packages might come with a few more months of health insurance, being fired means instantly losing access to Google's facilities. If that's where a laid-off Googler's primary care doctor works, that person is out of luck, and some employees told CNBC they lost access to their doctors the second the layoff email arrived. Employees on leave also have a lot to deal with. One former Googler, Kate Howells, said she was let go by Google from her hospital bed shortly after giving birth. She worked at the company for nine years.

So Google is required to keep people on staff just to pay their medical bills?
Why, it's almost as if they're being forced to be a for-profit company, instead of just a Guaranteed-Work Program for minorities, trans people, and the dim-bulb daughters of wealthy upper class families!
Maybe you guy shouldn't have made those "A Day in the Life of a Google Development Person" TikToks you did, in which you advertised to Google's shareholders that there was so little work for you to do that you could literally attend two meetings in a day, and spend the rest of your day in the spa or playing foosball or drinking organic teas.

New York will permanently lower math and reading standards for students, because Democrats are just so devoted to education and just so good at it, too!
From the Times-Union: Stupidity is the "new normal."
New York will make it easier for students to reach "proficiency" on state math and English language arts tests, calling last year's lower scores the "new normal."

A scoring committee that reports to the Board of Regents said Monday that they must take into account the results of last year's tests for students in grades three through eight. Some schools posted shocking results -- in Schenectady, no eighth grader who took the math test scored as proficient. And the scores for the third through eighth grade tests throughout the state were much lower in 2022 than in 2019, a result no doubt of the absence of in-person learning during the first year and beyond of the COVID-19 pandemic.

The committee handles all scoring, not just this year's changes.

And keep in mind: New York's previous standards weren't exactly up there with Japan's or Korea's, either.
And now they're even lower. Because the leadership and main body of our teacher corps just wants to talk about their own pronouns and get validation from children that they're not getting from their fathers, and because they were lazy and status-grubbing and demanded to "teach from home" like the white collar workers they envy.
Jonathan Haidt points out that kids' mental health has really declined. John Sexton at Hot Air:
Jonathan Haidt has a forthcoming book on this topic titled Kids In Space: Why Teen Mental Health is Collapsing which should be out next year. The gist of his argument has two basic parts. The first is that there is lots of evidence showing a growing mental health crisis among teens, especially teen girls. There doesn't seem to be a lot of disagreement on that point. Last month the CDC released data which also found teen girls are having a very tough time.

"If you think about every 10 teen girls that you know, at least one and possibly more has been raped, and that is the highest level we've ever seen," said Kathleen Ethier, director of the CDC's Division of Adolescent and School Health, who said the rise of sexual violence almost certainly contributed to the glaring spike of depressive symptoms. "We are really alarmed," she said...

Almost 3 in 5 teenage girls reported feeling so persistently sad or hopeless almost every day for at least two weeks in a row during the previous year that they stopped regular activities -- a figure that was double the share of boys and the highest in a decade, CDC data showed.



The other part of Haidt's argument is about the cause. The data seems to suggest that this crisis is relatively new. The numbers indicating mental health problems seem to take off around 2011-2012. That's when indicators of depression and self-harm among teens started to rise. Haidt believes that's because the crisis is tied to the adoption of smartphones and social media.
Sexton quotes the New York Time's viciously partisan Michelle Goldberg, who previously claimed that girls were just committing suicide more because -- get this -- Because Trump, but then finally looked at the actual data and saw that the inflection point for rising suicidality/depression/chronic stress began in the Age of Obama, 2011-2012, and then also realized, Say wait, Trump wasn't on little girls' minds then...
Sexton quotes Matthew Yglesias, who says that this does have something to do with politics: Specifically, the left's embrace of catastrophism (the claim that every negative thing is a catastrophe that will destroy the world or Literally Genocide Trans People, etc.) and permanent victimhood as a status symbol.
I think the discussion around gender and the role of social media is an important one. But I also don't believe that liberal boys are experiencing more depression than conservative girls because they are disproportionately hung up on Instagram-induced body image issues -- I think there's also something specific to politics going on.

Some of it might be selection effect, with progressive politics becoming a more congenial home for people who are miserable. But I think some of it is poor behavior by adult progressives, many of whom now valorize depressive affect as a sign of political commitment.
Sure seems like leftwing people are very, very mentally ill. More than half -- 56% -- of liberal women aged 18-29 report that a medical professional has told them they have a mental illness. That's more than double the rate of conservative women.
Also note that they younger people are, the more mentally ill they are.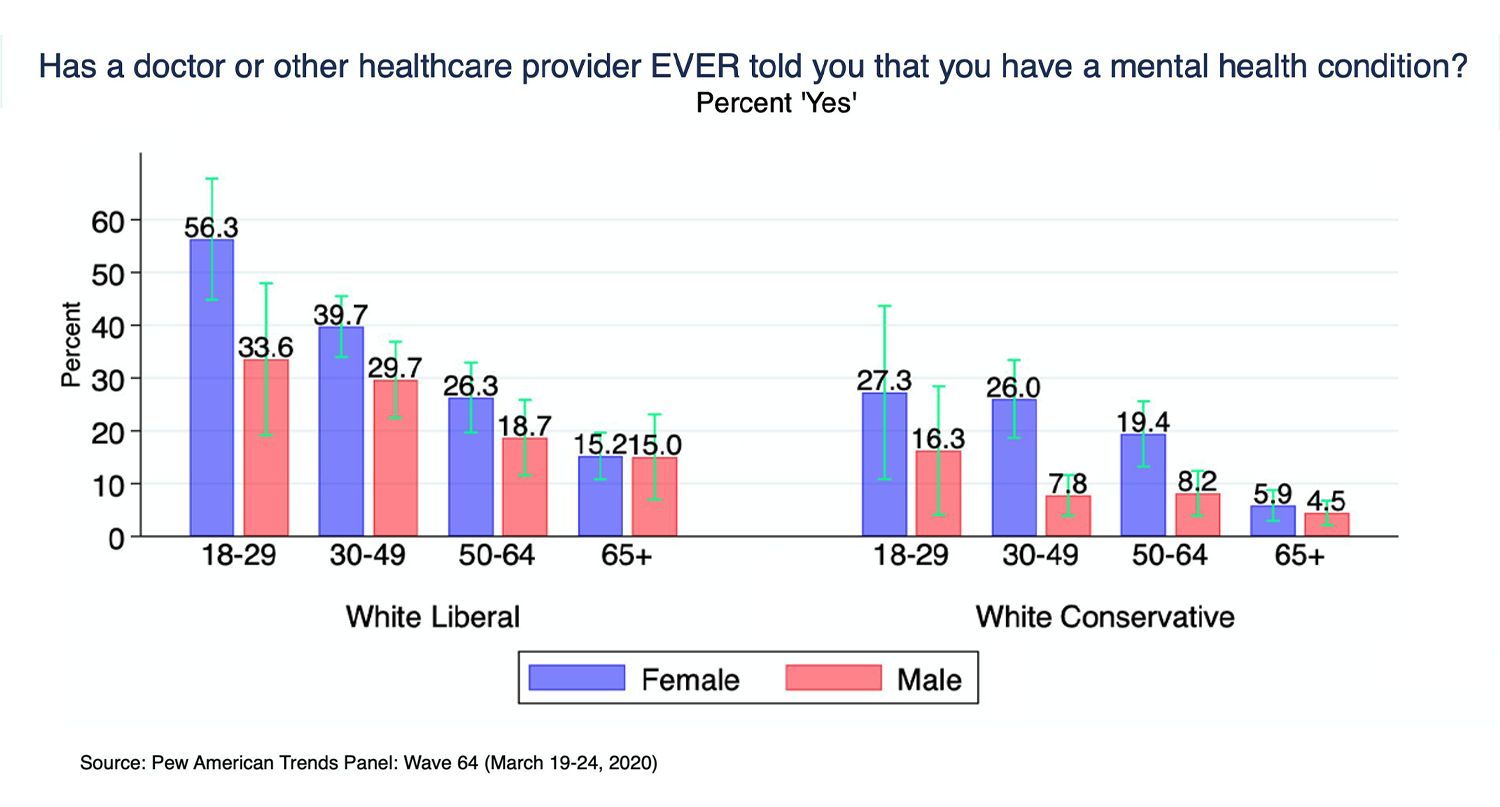 Don't blame Trump -- blame Greta Thunberg.

Jordan Peterson veers between being a total cvck and being so based that you worry about him.
He linked the below with his own comment, "prosecute them all" or words to that effect.

posted by Ace at
06:35 PM
|
Access Comments