« Mid-Morning Art Thread
|
Main
|
The Democrats Want a Civil War and They Might Wind Up Getting One »
March 20, 2023
THE MORNING RANT: 20th Century "Think Tank Conservatism" Cannot Save Our Cities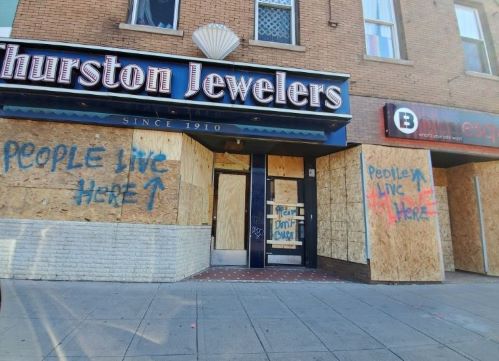 Is lawless anarchy in major American cities the "limited government" that libertarian-leaning conservatives have been promoting for decades? If not, what is the conservative prescription to rescue our failed cities?
Christopher Roach had a great piece at American Greatness a couple weeks ago. It was about Chicago specifically, but it discussed in broader terms how Koch/CATO-style "small government" offers no solutions to the anarcho-tyranny in our major cities.
Before I get to Roach's piece, I'll mention that this is something I've previously covered, and as much as we conservatives may take some schadenfreude in watching cities suffer from their far-left policies, this country cannot survive if our major cities are all dystopian wastelands. We need to offer a conservative alternative. Here's a snippet of what I wrote a few years ago.
It's An Opportune Time for Municipal Conservatism [Buck Throckmorton – 11/23/2020]
It used to be that Democrat mayors and city councils were all about jobs programs, generous salaries and benefits for municipal employees, and a smorgasbord of services for residents. In exchange, the taxes and corruption of the power structure was tolerated, but citizens always felt they could rely on a certain level of policing and civil order. Republicans, by contrast, offered "limited government" and lower taxes, and they were routed at the polls for decades.

With our major cities now boarded up and in ruins, this is an ideal time for Republicans to assert a "municipal conservatism" that our dying cities are desperately in need of. But the worn-out, libertarian, anti-government Republican platform of old will not fix the anarchy that has overtaken our cities. Heck, the left's demand to abolish the police could itself be defined as "anti government."

What Republicans need to offer is city services done right: Policing; Patriotism; Cleanliness; Safety; Usable parks; Schools that teach the "Three Rs"; Anti-vagrancy; Pro-small business; Pro-church; Pro-America. The opportunity is huge because Democrats now oppose all of those building blocks of civilization.

Sure, let's go ahead and promise to clean up the graft, to eliminate full-retirement for 50-year-olds, to reduce red tape, to replace pensions with 401ks, etc. But above all else, let's promise and deliver a return to civil order in our cities. There is a huge demand for it.
Mr. Roach is making similar arguments.
Chicago Needs Liberty, But Order Too [American Greatness – 3/05/2023]
Chicago and Lightfoot indirectly illustrate a real problem with the "think tank" crowd who form the heart of Conservatism, Inc. All of these Koch-funded outfits, the Catos and AEIs, are libertarian-leaning. They counsel that big government is the problem, which is obviously true some of the time, with examples ranging from Chicago's once-stringent gun control regime to the voluminous and burdensome Code of Federal Regulations.

But this is not the whole story or even the major obstacle today in America's cities. There are also serious deprivations of liberty imposed by crime and disorder. If you do not feel safe at night going to the store, shopping, or getting on the train, you are not really free. It does not matter that this threat does not come from the government, but, in those cases, from government's absence.
An absence of citizen-controlled municipal policing simply means that the policing of the streets is turned over to gangs and criminals. Is that the small government that Koch and Cato argue for? Is releasing criminals without bail the liberty that Koch and Cato adore?
Much of modern government has the quality that Sam Francis described as "anarcho-tyranny." Extreme restrictions and chaotic anarchy exist side by side.
In unpoliced paradises such as Chicago, the criminals enjoy a libertarian existence free of government interference, while the law-abiding must endure a web of restrictions and mandates to navigate modern life.
For those seeking to live "within" the system, a million rules and procedures keep them in line, whether it is vaccine mandates, parking tickets, gun control, various taxes, or endless paperwork. You wouldn't want to lose your cushy corporate job, professional license, or ability to see your kids, would you?

At the same time, those who have already encountered the criminal justice system enjoy a certain kind of outlaw freedom.
Rudy Giulani in his tenure as New York City mayor showed us what can be done to restore failed cities. People like me were sometimes critical of him for not being enough of a small-government conservative. I was wrong. More and more I realize how remarkable his tenure was as a municipal conservative.
20th Century conservative political cliches about small government are irrelevant now. Let us hope that in some failing city, be it Chicago, or Philadelphia, or wherever, there is a bold politician who will shake up municipal politics like Giulani once did, but updated for the pathologies of the 2020s and beyond.
[buck.throckmorton at protonmail dot com]


posted by Buck Throckmorton at
11:00 AM
|
Access Comments