« Critical Consciousness
|
Main
|
Ace of Spades Pet Thread, March 25 »
March 25, 2023
Gardening, Puttering and Adventure Thread, March 25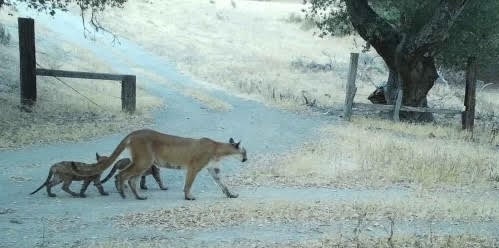 Happy Spring, everybody! I hear that there is still some cold weather in parts of the country. Around here, in Central California, we have some road closures from flooding, but it's not raining today!
Sometimes someone in The Horde has some excitement in the yard or garden. Usually not this much excitement:
Two pics of what I can only assume is the same lion with her cubs taken about 7 months apart. The second pic, I would not want to mess with that mama lion. I also feel sad for them, they are covered with foxtails.

From:CaliGirl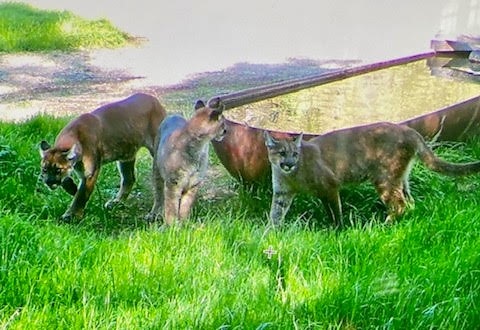 *
Edible Gardening/Putting Things By
From By-Tor is competing again:
Entries for the LA County Fair Culinary competition are ready. Last year I won with jerky and pickles. This year I'm trying with apple butter and sauerkraut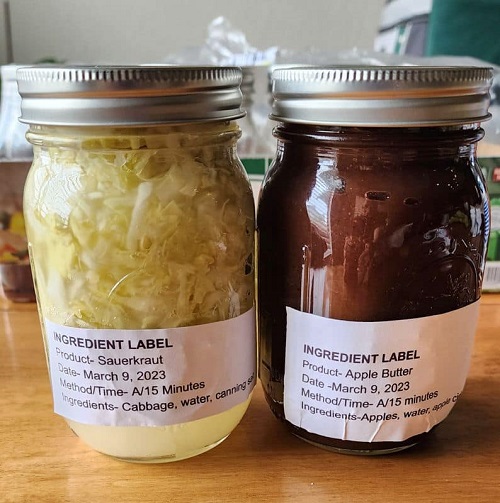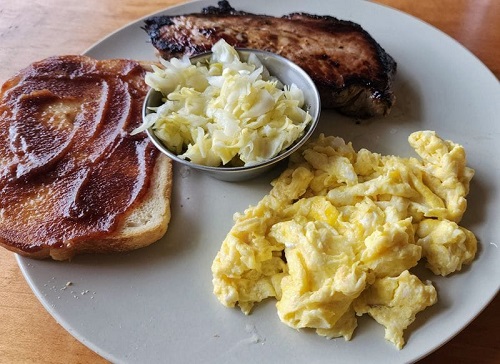 Later,
I turned in two jars of sauerkraut to the LA County Fair, which left me with 5 pints, which I canned today.

It goes well with a veggie omelette and sourdough toast with homemade apple butter.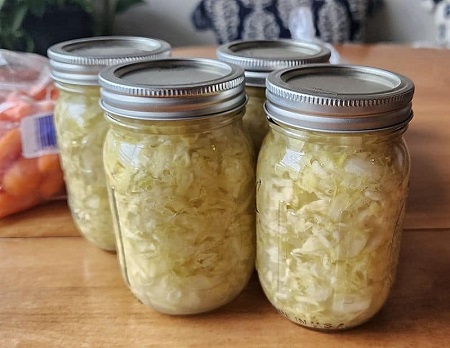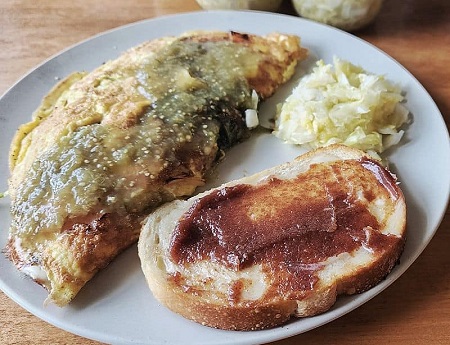 Looks good. Hoping for some fair ribbons!
*
I think the following information is from By-Tor's early experimentations with saurkraut, maybe last year, a recipe and tips:
There are a million versions online and on YT. I have tried several- this one is easy and works.

Shred a large head of cabbage minus the core with a knife or food processor. Put it in your biggest bowl. For a large head of cabbage sprinkle 3 tablespoons of non-iodized salt ( use canning salt, kosher salt or sea salt) on it. Let it sit 20 minutes then crunch it up with your hands, squeezing out as much water as you can. Repeat in another 15 minutes or so. Dont throw out the water!

Put the cabbage and water you have made into some sort of airtight jar or tub or food safe bucket with a lid. Leave at least an inch or so at the top.

Make a 2.5% salt water brine, which is 25g of salt per 1000ml, or to keep it simple, about 2 tablespoons salt ( non-iodized) dissolved in a quart of hot water. Top off your cabbage with the brine, put the lid on, and leave alone. In about 3 days it will start turning a light brown. In about 6 days it will taste like sauerkraut. In two weeks it will be really good. I eat some out of the fermenter every day when I am making it.
If you see white specks or film on top, don't panic; it's not mold, it is harmless Kahm yeast. Just scoop it off. There is a 99% chance you will see this. You should briefly take the lid off your container every day or to to let out any CO2. Top off with brine as needed.

When you think it is done ( 3 weeks is about right) you can water bath can it in mason jars, store it in your fridge for months in jars, or freeze it in containers or bags. I usually put one jar in the fridge without canning it, then can the rest. I'm not a huge fan of freezing; better to store your excess in your garage fridge where it will be fine for a year or more, but will probably be gone before that.

Hope this helps. Let me know if you try it.
Later:
Sauerkraut update- fermentation in jars was going along fine, but due to air getting in I was getting daily spots of yeast on the surface. It's called kahm yeast. It is safe to eat, and harmless, and isn't spoilage, but it does impart a sweet, yeasty flavor that doesn't go with sauerkraut. You can skim it off but that gets old. It is very common in fermented vegetables.

Solution- sealed lids with airlocks. Those can be had on Amazon but I chose to use a local business. Where would you get airlocks and such? At your local homebrew store. . . They hooked me up with a nice 2 gallon fermenting jar, a one gallon jug I will use for pickles, and airlocks.

The kraut is basically done but I like it more sour so I'm going to let it ferment another week or two.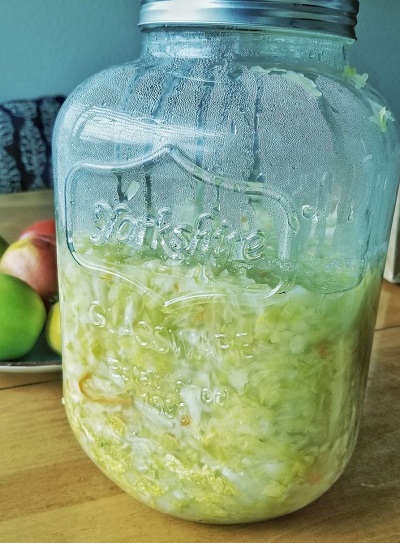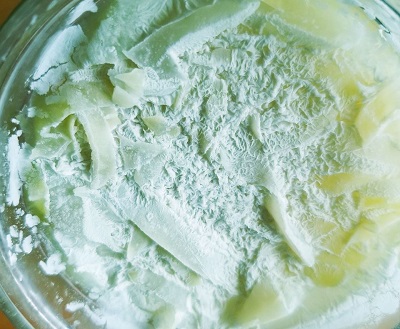 Ah, Nature
*

Gardens of The Horde
For a while there I lived in an apartment that was cement-bound. Well, cement and asphalt.(and brick and stone). This is how I addressed that situation, by placing a planter on either side of my door:


In the pic on the left, you see how the sweet potato vine looks like it's climbing? I had trained it to go up to the side of my door.

I also hung a couple of those impatiens bags on either side of my windows. It really did help to alleviate all that masonry. It just felt stifling without the greenery.

kallisto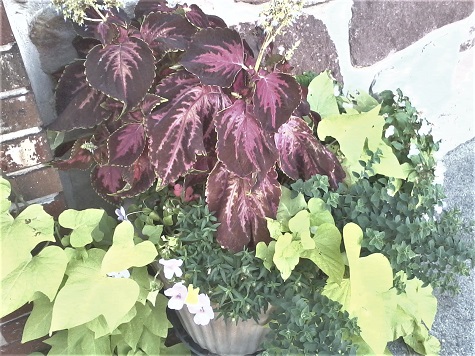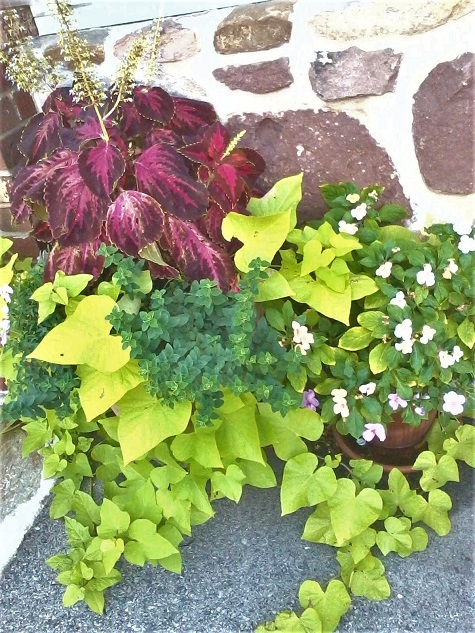 They are lovely. I can imagine that they made a real difference to the larger environment. I tweaked the color saturation a little to make up for your phone transmission difficulties. Didn't turn out the same on both photos.
Kallisto also sent in a link to some lovely USPS spring flowers that persevere through the snow, issued in October of last year. Have you seen them?
*
Hope everyone has a nice weekend.

If you would like to send photos, stories, links, etc. for the Saturday Gardening, Puttering and Adventure Thread, the address is:
ktinthegarden at g mail dot com
Remember to include the nic or name by which you wish to be known at AoSHQ, or let us know if you want to remain a lurker.

Week in Review
What has changed since last week's thread? Saturday Gardening, Puttering and Adventure Thread, March 18

Any thoughts or questions?
I closed the comments on this post so you wouldn't get banned for commenting on a week-old post, but don't try it anyway.

posted by K.T. at
01:26 PM
|
Access Comments