« THE MORNING RANT – Monday 02/27/2023
|
Main
|
Leftwing Propaganda Media: Now We Want Access to All the January 6th Video, Too »
February 27, 2023
ICYMI: DOE Determines Covid Leaked From China's Wuhan Bat Virus Lab, Which Was So Obvious That Everyone Except the Technocratic Non-Elite Have Known It For Years
Instapundit: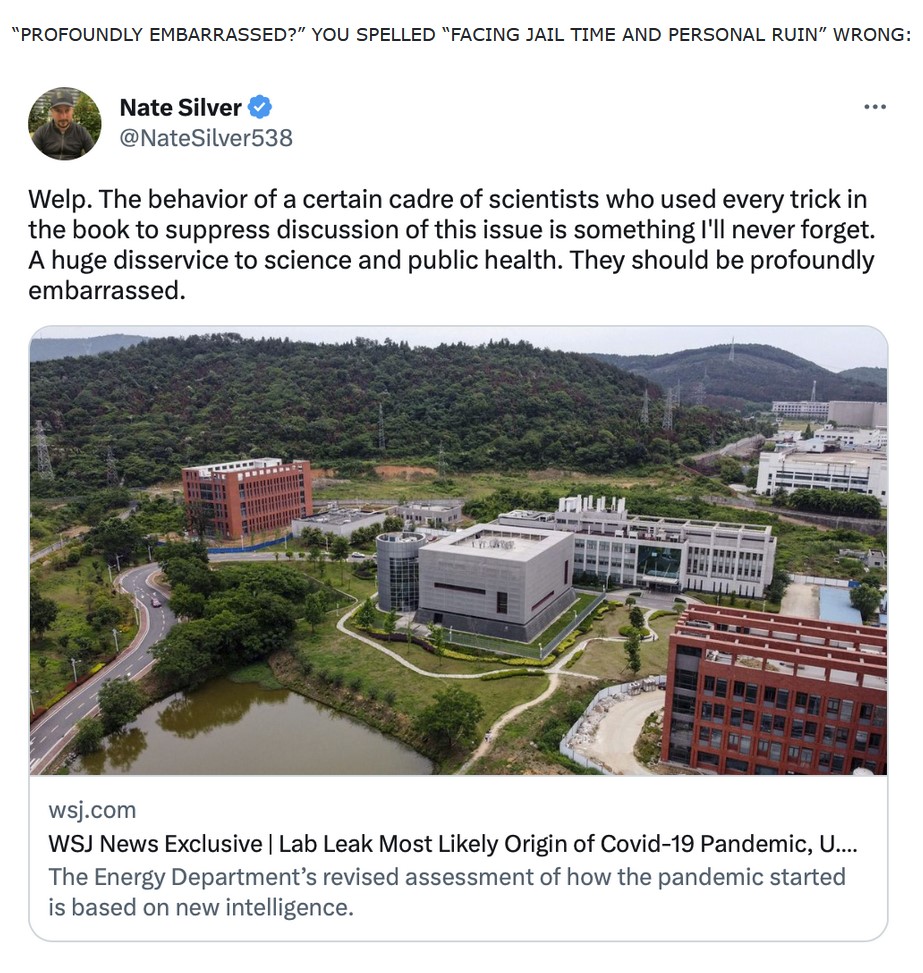 The Wall Street Journal reported this morning that the Department of Energy now believes, or now admits to knowing, that the Wuhan Flu came from the Wuhan bioweapons lab that designed it.
JJ Sefton wrote this morning:
The junta, in its own quiet sort of way, has basically admitted what we've suspected for the past three years and was more or less confirmed since then by independent and unimpeachable sources that the General Tso's Sicken, also known as Chinese COVID-19 did in fact originate in a Chi-Com level 4 bioweapons lab in Wuhan, and not from a wet market conveniently located next door.

The Wall Street Journal reported on Sunday the Energy Department's revised assessment of the pandemic's origins is based on fresh intelligence noted in an update to a 2021 document by Director of National Intelligence Avril Haines' office.

The WSJ further states while the investigation is ongoing, more authorities are coming to the lab leak hypothesis however there is as yet no unanimous decision:

The new report highlights how different parts of the intelligence community have arrived at disparate judgments about the pandemic's origin. The Energy Department now joins the Federal Bureau of Investigation in saying the virus likely spread via a mishap at a Chinese laboratory.

Four other agencies, along with a national intelligence panel, still judge that it was likely the result of a natural transmission, and two are undecided.

. . . Sen. Tom Cotton (R-AR) doubled down on questions addressing the origins of the Chinese coronavirus as far back as 2021, noting the lab leak hypothesis was "always reasonable" but quickly denounced as a conspiracy theory by "reporters & activists in white lab coats. . . "

. . . U.S. officials reportedly have declined to give details on the fresh intelligence and analysis that led the Energy Department to change its position.

They added while the Energy Department and the FBI each say an unintended lab leak is most likely, they arrived at those conclusions for different reasons, the WSJ concludes.

...

Meanwhile, another Deep State stooge, Jake Sullivan, was talking out of both sides of his ass when asked about this:



"One of the things in that 'Wall Street Journal' report which I can't confirm or deny, but I will say the reference to the Department of Energy, President Biden specifically requested that the National Labs, which are part of the Department of Energy, be brought into this assessment because he wants to put every tool at use to be able to figure out what happened here," he responded. "And if we gain any further insight or information, we will share it with Congress and we will share it with the American people. But, right now, there is not a definitive answer that has emerged from the intelligence community on this question."

Translation: "We're going to find the miscreant at the Department of Energy and arrange a dinner date with him/her and Jeffrey Epstein. On the menu will be fish wrapped in flak jacket a la Luca Brasi."

For those keeping score at home, Jake Sullivan was a prime conspirator in the Hillary Clinton bought and paid for Russia collusion hoax. In any case, you have to marvel on the one hand of the sheer deviousness and criminality of these people, yet at the same time, their absolute incompetence at the jobs they are given and sheer stupidity in keeping all their schemes in the air.
David Sacks @DavidSacks

Why is this story so important? It shows:

1) unelected government officials have huge power to pursue dangerous agendas.

2) rather than holding them accountable, corporate media cover for them.

3) tech censorship ends up promoting rather than suppressing "disinformation."
This was always so obvious that professional idiot and longtime non-funny person Jon Stewart even grasped it: If there's a lab in Wuhan that specifically collects bat respiratory viruses and then mutates them so that they can infect humans, and then a bat respiratory virus which has mutated so that it can infect humans breaks out in Wuhan with the first cases being detected just two blocks from the lab which collects bat viruses which collects bat respiratory bat viruses and then mutates them so that they can infect humans, then it is obvious that this virus did not "evolve naturally," but was in fact created by the Wuhan lab which collects bat respiratory viruses and mutates them so that they can infect humans.
There's a principle in tort law where you don't have to prove negligence but can infer from circumstances -- res ipsa loquitor. "The thing speaks for itself."
What we're talking about here is a giant, obvious case of The Thing SCREAMING For Itself, with the media and the Technocratic Non-Elite attempting to deafen us all to the screams by screaming even louder.
Lot of screaming from the media this weekend:

posted by Ace at
12:21 PM
|
Access Comments