« Food Thread: Hanger Steak? Steak Hanger?
|
Main
|
Sunday Overnight Open Thread (2/27/23) »
February 26, 2023
Gun Thread: End of February Edition!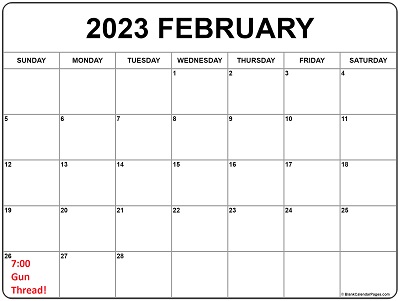 Howdy, Y'all! Welcome to the wondrously fabulous Gun Thread! As always, I want to thank all of our regulars for being here week in and week out, and also offer a bigly Gun Thread welcome to any newcomers who may be joining us tonight. Howdy and thank you for stopping by! I hope you find our wacky conversation on the subject of guns 'n shooting both enjoyable and informative. You are always welcome to lurk in the shadows of shame, but I'd like to invite you to jump into the conversation, say howdy, and tell us what kind of shooting you like to do!
Holy Shitballs! How in the ever-loving Hell did it get to be the end of February?! Oh, and a special Gun Thread Thank You to those submitting content for tonight!
PSA: The 2023 NoVAMoMe will be June 10th. Mark your calendars and stay tuned for registration details!
With that, step into the dojo and let's get to the gun stuff below, shall we?

******
As promised, I have consolidated the reloading series into a single
PDF document which can be found here
. If you have trouble with the download, or simply forget the link later, send me a message and I will email you a copy.
I haven't had much of an opportunity to proof-read the final version, so please let me know if you see any glaring format or content errors. Thanks!
******
First up, our pal and most excellent shooter
RI Red
shares a bigly excellent test of .22 Long Rifles and cartridges.
.22 Rifle Musings - RI Red

I was a little disappointed a few weeks back to discover that my 60-year-old Sears, single-shot bolt action .22 rifle was not the (imagined?) tack-driver of my youth. Heck, it even had 12 "micro-grooves" for accuracy, instead of the normal 6 or 8 lands and grooves. What gives? What to do? Well, how about a shoot-off? So, off to the range with five .22s - Sears, 1970 Mossberg semi-auto (with the fold-down fore-end that made it feel like a Tommy Gun!), Ruger 10-22, Ruger Precision Rimfire, and Christensen Ranger.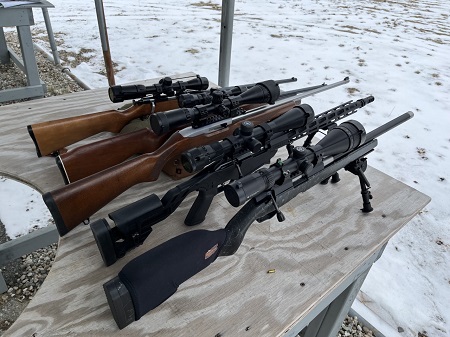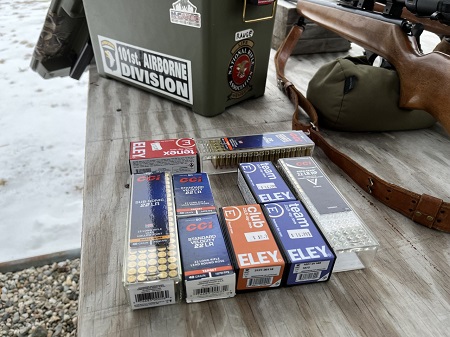 Ammo tested was CCI Subsonic, CCI Standard, CCI MiniMag, Eley Club and Eley Team.
Rules: each rifle got at least 5 fouling/spotter rounds, then 5 for score, all at 50 yards.

Conditions: 27F, light spotty wind, a few snowflakes. Yes, I had the range to myself. Yes, I reloaded magazines inside my Jeep.

Results: Sears is "L" on left, Mossberg is upside down "L" on right, center is fouling, spotting. Ammo in order listed above, CCI Subsonic, CCI Standard, CCI MiniMag, Eley Club and Eley Team.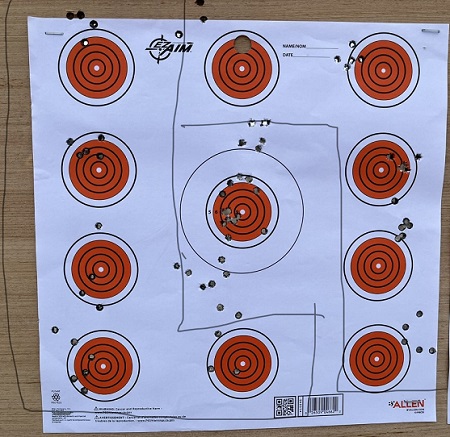 10-22 on left, RPR on right, etc.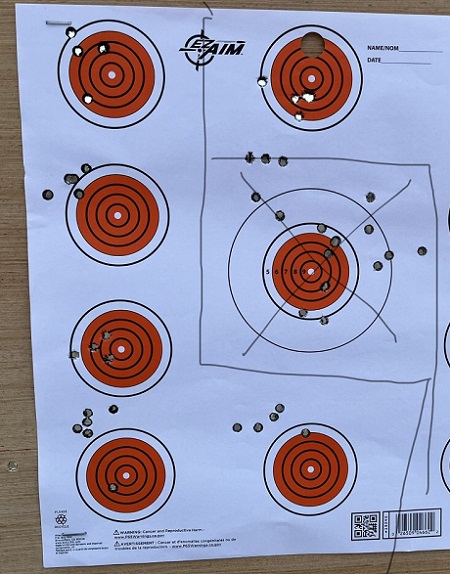 Christensen Ranger - left column, etc.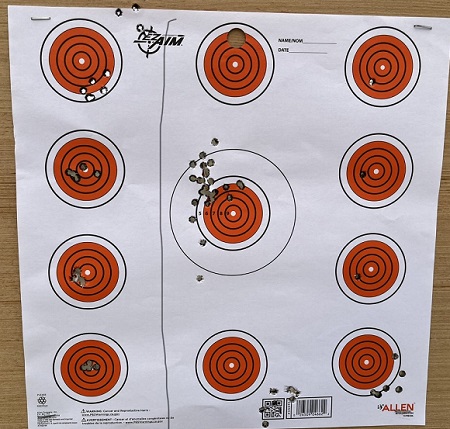 ***


Table of Rifle Results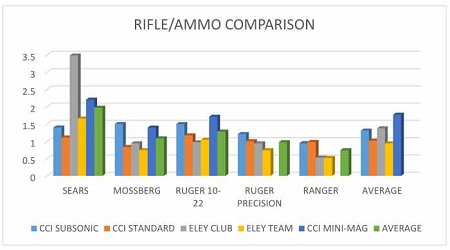 ***


Table of Ammo Results not including Sears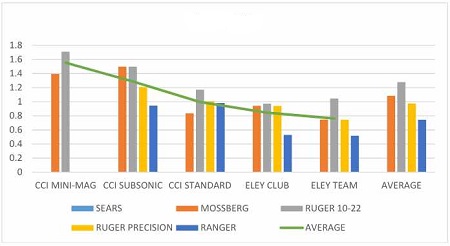 Rifle Winner: The Christensen Ranger. All ammo under one inch, best around 1/2 inch. This is my prime Aspirin Shoot gun, with the RPR next.

Rifle Loser: Sears boltie. Nothing under an inch and some wide departures. You will see in the second graph that taking this rifle out of the lineup resulted in a much more normal distribution for the rifle/ammo combinations.

Ammo Winner: Eley Team. This is my competition round at the moment, since Eley Match is in short supply. Just found and ordered 10 boxes of Match for over $250.00 delivered. Ouch.

Ammo Loser: CCI MiniMag. While definitely more powerful, that is the problem – it starts out supersonic, then loses accuracy when it slows down going through transonic. None of the other ammo starts out supersonic. Notice that I did not fire this ammo through my two competition rifles.

Biggest surprise: The Mossberg I bought used in 1972 shot better than my stainless-steel-barreled Ruger 10-22. But with only a 7-round magazine and a tendency to stove-pipe brass, I'll stick with the 10 to 25 round capacity and reliability of the 10-22, and yes, I went online to start ordering some accuracy upgrades. The nice thing about the 10-22 is that it is the "most popular .22 of all time" and that there is a huge after-market.

Executive summary: Yes, the Sears of my youth is just not very accurate. Boo-hoo. But it is a great trainer for new shooters. And it still occupies a special place in heart.

Next: I think I'll do it all over again when the temperature is 80F.
And this, guys and gals, is how its done! I think RI Red's middle name must be logical and methodical because he's not out there guessing at answers, but rather is setting up a test plan, recording and then evaluating results. Very, very nicely done!
******
Next, our pal
Scuba_Dude
went to the range and files this report:
Went to the range on Presidents day to dust the cobwebs off since I have not shot since the October TXMoMe. I also wanted to start testing guns meant for conceal carry. First up in this series is the Sig Sauer P365XL in 9mm. The gun felt very comfortable in my hands. It was a little snappy but controllable. You can see when I went to 10 yards the accuracy dropped dramatically.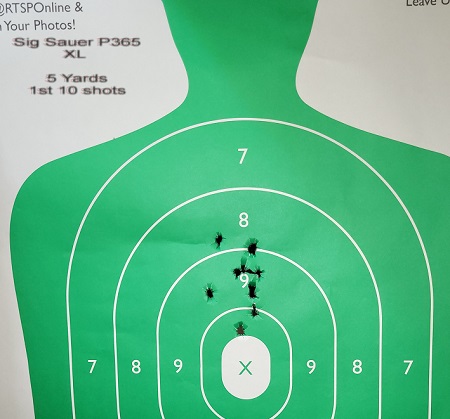 1st 10 rounds at 5 yards.
2nd picture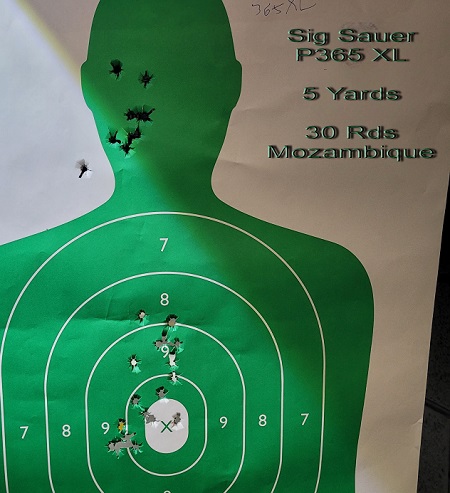 30 rounds Mozambique drill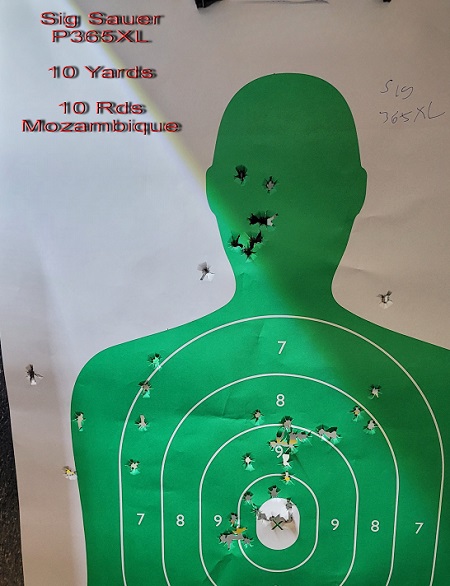 10 rounds Mozambique drill
Then I went to my gun. Sig Sauer P226 Legion RX in 9mm. All in all I was quite pleased with the 5 yard shooting but you can see me fall off when the distance was increased. And this was static shooting. No moving or rapid fire.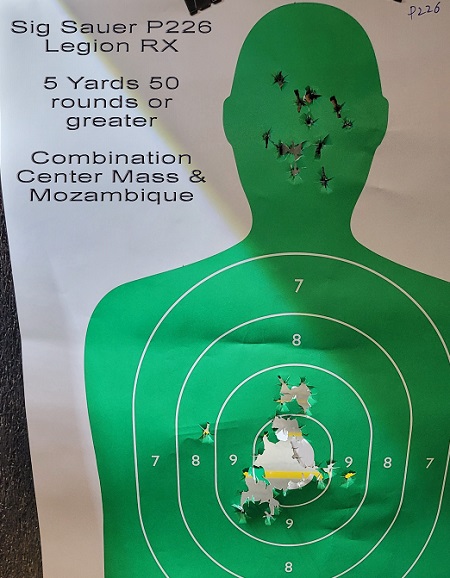 around 20 rounds center mass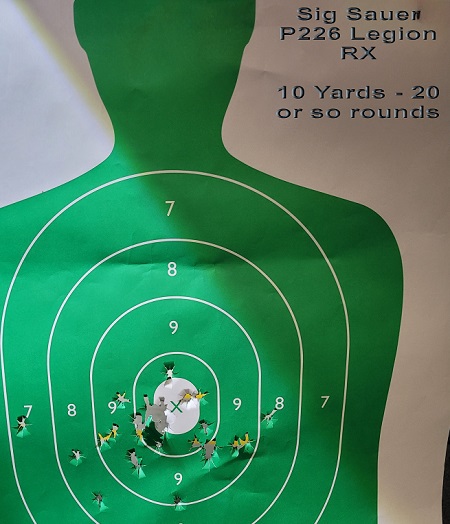 10 yards - 20 rounds Center Mass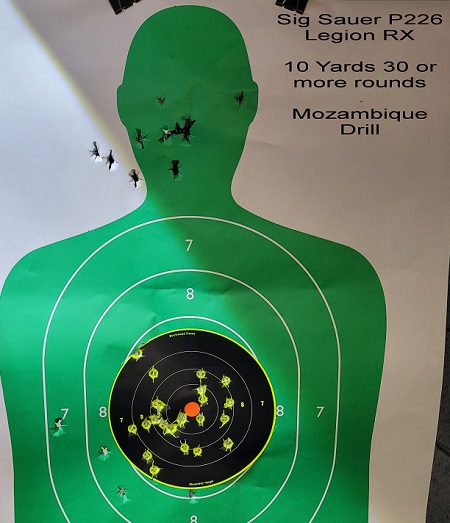 10 yards 30 rounds or more doing Mozambique Drill
Thank you and nicely done, Scoob! Did you borrow or rent the Sig P365? I am a huge proponent of taking notes and saving targets for later analysis. Based on his results, what things would you recommend he work on next time? Also, what could be done to make the data collected more useful? HINT: Use more targets with fewer shots on each.
******
Next, our pal and good-cooker
CBD
shares a new ammo retailer recommendation.
I used AmmoSeek to find some ammo for my new rifle (6.5 Creedmoor), and came across American Elite Ammo. I am used to several days...sometimes a week or more before I receive ammo from these on-line sellers. They are in a ferociously competitive segment of the industry and my guess is that they pack and ship when they have a full day of work, 100% load, or whatever. But these folks shipped the same day, got my additional New Jersey ID from me with a quick email, and the whole transaction took two days! The ammo was packed very well and the price was excellent.

It is a pleasure to do business with folks like this, and it makes me think that good old American business sense hasn't completely disappeared.
Thank you, CBD! I have added the link to recommended ammo suppliers, below!
***
CBD also shared the following video on cleaning brass to go along with our series on reloading. A CBD two-fer!
******
Cozy Cave Status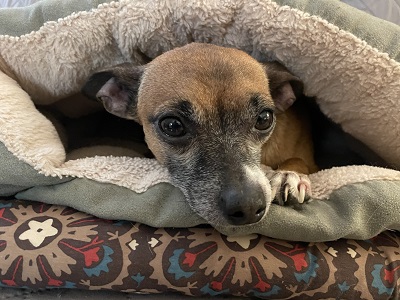 For those of you following the WeaselDog and FSJ saga, who has the Cozy Cave tonight? Fun Size Joe has the Cozy Cave! What the ever-loving hell is a Cozy Cave you ask? Why, it's none other than the greatest small dog or cat bedding invention in the history of the planet of the Earth!
******
Fun or Crazy?
Offered without comment.
******
Musical Interlude
Here is Bubbles with a lesson on playing
Liquor and Whores
at your next family sing-along.
******
Gun Basics 101
New video from the She Equips Herself gal! This week's video is on, well, I'm not exactly sure - but it's SEG!
******
Cigar of the Week

This week we feature the Liga Privada as reviewed by Cigar Aficionado. Weasel may have to check these out!
******
Here are some different online cigar vendors. You will find they not only carry different brands and different lines from those brands, but also varying selections of vitolas (sizes/shapes) of given lines. It's good to have options, especially if you're looking for a specific cigar.
Cigarsinternational.com
Cigarpage.com
Famous-smoke.com
Cigarsdaily.com
Neptunecigar.com
Smallbatchcigar.com
Bobalu Cigar Company
Cigarbid.com
A note about sources. The brick & mortar/online divide exists with cigars, as with guns, and most consumer products, with respect to price. As with guns - since both are "persecuted industries", basically - I make a conscious effort to source at least some of my cigars from my local store(s). It's a small thing, but the brick & mortar segment for both guns and tobacco are precious, and worth supporting where you can. And if you're lucky enough to have a good cigar store/lounge available, they're often a good social event with many dangerous people of the sort who own scary gunz, or read smart military blogs like this one. -rhomboid
Anyone have others to include? Perhaps a small local roller who makes a cigar you like? Send me your recommendation and a link to the site!
******
Ammo Link-O-Rama
I'm really very seriously not kidding around anymore. Buy Ammo
AmmoSeek - online ammo search tool
GunBot - online ammo search tool
SG Ammo
Palmetto State Armory
Georgia Arms
AmmoMan
Target Sports USA
Bud's Gun Shop
American Elite Ammo NEW!!
***Mail Bag***
This week's mailbag entry is from our pal Roger. Good one!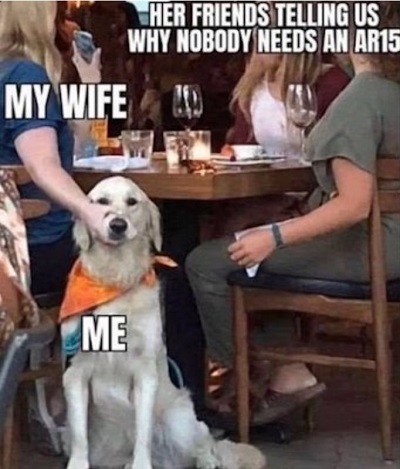 ******
Please note the new and improved protonmail account gunthread at protonmail dot com. An informal Gun Thread archive can be found HERE. Future expansion plans are in the works for the site Weasel Gun Thread. If you have a question you would like to ask Gun Thread Staff offline, just send us a note and we'll do our best to answer. If you care to share the story of your favorite firearm, send a picture with your nic and tell us what you sadly lost in the tragic canoe accident. If you would like to remain completely anonymous, just say so. Lurkers are always welcome!
That's it for this week - have you been to the range?


posted by Weasel at
07:00 PM
|
Access Comments