« The Morning Rant: Minimalist Edition
|
Main
|
"The Bitch Woman With Her Own Agency Is Dead Napping With Gaia:" Report Claims That Publisher Is Bowlderizing James Bond Novels, Removing Incidents of Supposed "Racism," "Misogyny" »
February 28, 2023
Ant-Man 3 Suffers Marvel's Second-Biggest Second Weekend Box Office Drop; Industry Shill Variety Asks, "After 'Ant-Man 3's' Second Weekend Box Office Collapse, Should Marvel Get Concerned?"
But wait I thought everyone pointing out that Marvel's Woke agenda was driving away the audience was an Alt-Right Whyte Supremacist RUSSIAN AGENT or something.
Variety is an industry rag so this is still an industry shill article.
It's notable they're asking the question, though.
"Ant-Man and the Wasp: Quantumania" took a sizable hit in its sophomore outing at the box office. Ticket sales for the third Marvel movie starring Paul Rudd's subatomic hero were down 69% from its $105 million debut, resulting in the biggest second-weekend drop in the franchise's history.

That fall has inspired plenty of debate among analysts and experts: Is the film's performance a blip or an inflection point in Hollywood's biggest property? The answer is likely somewhere in between, according to senior Comscore analyst Paul Dergarabedian.

...

In other words, its second-weekend turnout of $32 million is not exactly encouraging this early into its theatrical run, but let's see where ticket sales end up by the time "Quantumania" leaves the big screen.
They said the same thing about Black Panther 2: Wakanda Forever -- "let's wait and see, it might leg it out and wind up surprising u.
It disappointed big time.
The first Black Panther made $1.3+ billion worldwide, the sequel made $858 million. Sure, that's money, but almost all of the Marvel movies make money... so far.
They're just making less and less of it.
I think the standard prediction for a Marvel blockbuster's performance is 2.5 times its initial worldwide opening. They don't have legs; most of the fans come out to see it opening weekend.
(Note the $100 million figure being mentioned is the domestic take; the 2.5x figure would just give you the likely final domestic take. You'd have to figure in the international take too to get the total take.)
...

"I don't think it's a big deal," says Jeff Bock, an analyst with Exhibitor Relations. "It had the biggest opening of the series, by far, which makes up for any drops."
He's an industry shill. And he's saying it had the biggest opening of the Ant-Man series, which is the poorest-performing Marvel series, bar none.
Note there may be poorer-performing Marvel standalone movies, but none that went to series.
The article notes that many of Marvel's latest movies have had similar second-weekend drops, nearly as high as Ant-Man 3's 69%, and still made $700-800 million.
...


Yet those movies -- with the exception of "Black Widow," which was released day-and-date on Disney Plus -- earned at least $760 million and as much as $955 million by the end of their theatrical runs. There's an argument that Marvel hasn't been appealing beyond its target audience, but that target audience sure is dependable. No other franchise, dozens of films in, has managed to come close to that kind of consistency.

"The loyal fans are going to show up no matter what," Robbins says. "The increasingly front-loaded nature and, occasionally divisive reception, of some of their recent films might not necessarily be worrying to the brand overall as long as the core fanbase remains."
Maybe. But the casual normie audience that would show up and blow these movies' box office up is gone.
"You aren't going to always get a grand slam," says Bock. "But Marvel is hitting more home runs than anyone."
How many grand slams have they had since Endgame? Only one -- Spider-Man: No Way Home. Technically that was a Marvel co-production with Sony. And that was with Spider-Man, the biggest or second-biggest comic book character in the world, and also with the You Can Only Do This Once stunt of bringing back two previous Spider-Man actors to appear with the current one. I'm not sure they're going to excite the normies to see the next one when he's just fighting the Rhino again or whatever.
Some are saying that it's embarrassing that Ant-Man 3 was in a dogfight for the number one spot with an R-rated goofball exploitation horror flick, Cocaine Bear. Point taken, but I don't know how much of a dogfight it is -- Ant-Man 3 made $32 million, which is crap for its second weekend, and Cocaine Bear made $23.1 million. Sure, they're in the same church, but in different pews.
Still. I get why they're saying that. Why was there even a chance Cocaine Bear could beat the opening movie of Marvel Phase 5, and the introduction of Marvel's big Thanos-substitute villain for the next two phases?
TheWrap notes that Marvel will have to adjust its expectations.
Even as the grumblings that the Marvel Cinematic Universe is past its prime have gotten louder, the opening weekend of "Ant-Man and the Wasp: Quantumania" has shown that Hollywood's top franchise is still a dependable hit machine. At the same time, the sub-$1 billion global totals MCU films have earned in the past year are likely to be the norm if the new movie's poor Chinese launch is a sign of things to come.

How far "Ant-Man 3" goes over the next month will say a lot about Marvel's ability to create charming superheroes that audiences want to see over and over again, regardless of critics' reviews. The studio's new releases continue to struggle against word of mouth that falls short of the effusive praise the MCU consistently got prior to "Avengers: Endgame."

...

"Quantumania" has garnered scores from critics and general audiences that nearly match the franchise lows posted by "Eternals" in fall 2021, with a 48% critics score on Rotten Tomatoes, a B on CinemaScore, and a 3.5/5 score among general audiences on Comscore/Screen Engine's PostTrak. But despite this, "Quantumania" has earned Marvel Studios its fifth straight $100 million-plus domestic opening with a $105 million three-day/$120 million four-day launch, beating the $71.2 million opening of "Eternals" and the $75.8 million opening of "Ant-Man and the Wasp" in 2018.


This likely leaves "Quantumania" with a global total in the $600 million range, around the neighborhood of the $622.6 million of "Ant-Man and the Wasp." That will be a decent result for this film considering the box office record of "Ant-Man" and the new normal studios face where Chinese revenue is merely a bonus rather than a reliable pillar for $1 billion-plus global totals.
Making nearly as much money as movie released in 2018 isn't such a great thing, given inflation, and also given that this is being sold as a must-see movie that sets up the entire Chain of McGuffins of the next two Marvel phases.
Note this article was published before Ant-Man 3's second weekend box officer returns were out. However, that level of box office fall is typical for Marvel movies, even if Ant-Man 3's was a bit worse than even most of the recent movies' fall-offs, and anyway, these estimates are based on the first weekend's box office.
I just heard that Ant-Man's global take for the first weekend was $196 million so the 2.5x would suggest a less than $500 million total global haul.
But if "Quantumania" shows that MCU goodwill is shielding this franchise from truly flopping, it also shows that most installments going forward shouldn't expect the soaring highs of the pre-pandemic years. MCU fans are as devoted as ever, but casual audiences may skip films that don't hit "must-see" status.
The article points out that the MCU's intricate cross-connected continuity used to be its greatest strength. People might see a movie they weren't interested in just because they were invested in the greater meta-story and wanted to see all of the parts of it.
But now, with so much bad Marvel TV and movies, people are skipping a lot of it -- they have to, who can watch all this crap? -- and so they can no longer follow the interconnected Marvel meta-story. They no longer know who this hero or that villain is. They no longer know what this McGuffin sets up or why this Whatzit matters.
(Spoiler warning: None of it actually matters.)
I've heard people complain, for example, that Dr. Strange 2 was not a sequel to Dr. Strange, but a sequel to the WandaVision TV show, which most people hadn't seen. And so a lot of people didn't know what was going on when the Nice Witch Girl they knew from the Avengers movies showed herself as a crazed villain in the first fifteen minutes of the movie and howled about lost children that they'd never known her to have.
But just as all this interconnection used to draw people in to see marginal movies, now it might be pushing people away from seeing them, "turning what has been the MCU's greatest strength into its Achilles' heel."
Apparently now understanding that Marvel is making too much poorly-made crap and people just don't want this quantity of poorly-made crap, the apparent Alt-Right Whyte Supremacist Kevin Fiege has announced a new strategy at Disney Marvel, and will be producing poorly-made crap on a more deliberate schedule so as not to glut the market with so much poorly-made crap at once.
According to a new report, in light of the plummeting interest of the studio's Disney Plus-specific output and the overall struggling health of the platform itself, Marvel is cutting back -- way back -- on the frequency of their streaming specific releases.

This news was first brought to public attention on February 16th, courtesy of The Hollywood Reporter.

Per their insider sources within the company, in light of studio head Kevin Feige's recent declaration to Entertainment Weekly that they would be both spacing out and scaling back their streaming release schedule so that each project can "get a chance to shine," Marvel will be making themselves scarce in the coming year.

Many shows were planned for 2023, and now only two are still confirmed to be running.
Personally, I think that She-Hulk was the straw that broke Disney Marvel's back. I think that was what addicts call "hitting rock bottom," when you can't hide your addiction from yourself any longer, when you can't cover up all the harm and self-destruction you're doing.
They have a related story:
Kevin Feige Reveals Marvel Will Cut Back On Disney+ Shows After No Marvel Series Cracked The Top 15 Streaming Shows Of 2022
Cuttingly, Amazon's bloody superhero parody show The Boys is at number 11 on the original series list.
I mentioned that The Marvels is being delayed for the fifth time, this time pushed back from its summer release to November. Oh well, summer's not a big time for blockbuster movies, now is it?
Captain Marvel was so poorly received she isn't even getting her own sequel. Captain Marvel 2 is now The Marvels, and she's sharing the spotlight with two other characters, Ms. Marvel and some other person who was introduced in, oh right, Wandavision. I forget what she's called now. In the comic books she was the original female Captain Marvel. She was black, so racist Marvel had to replace her, of course.
Here's the poster they released. Some have noticed a... subliminal sort of feminine vibe to it. A gynecological vibe. Do you see it?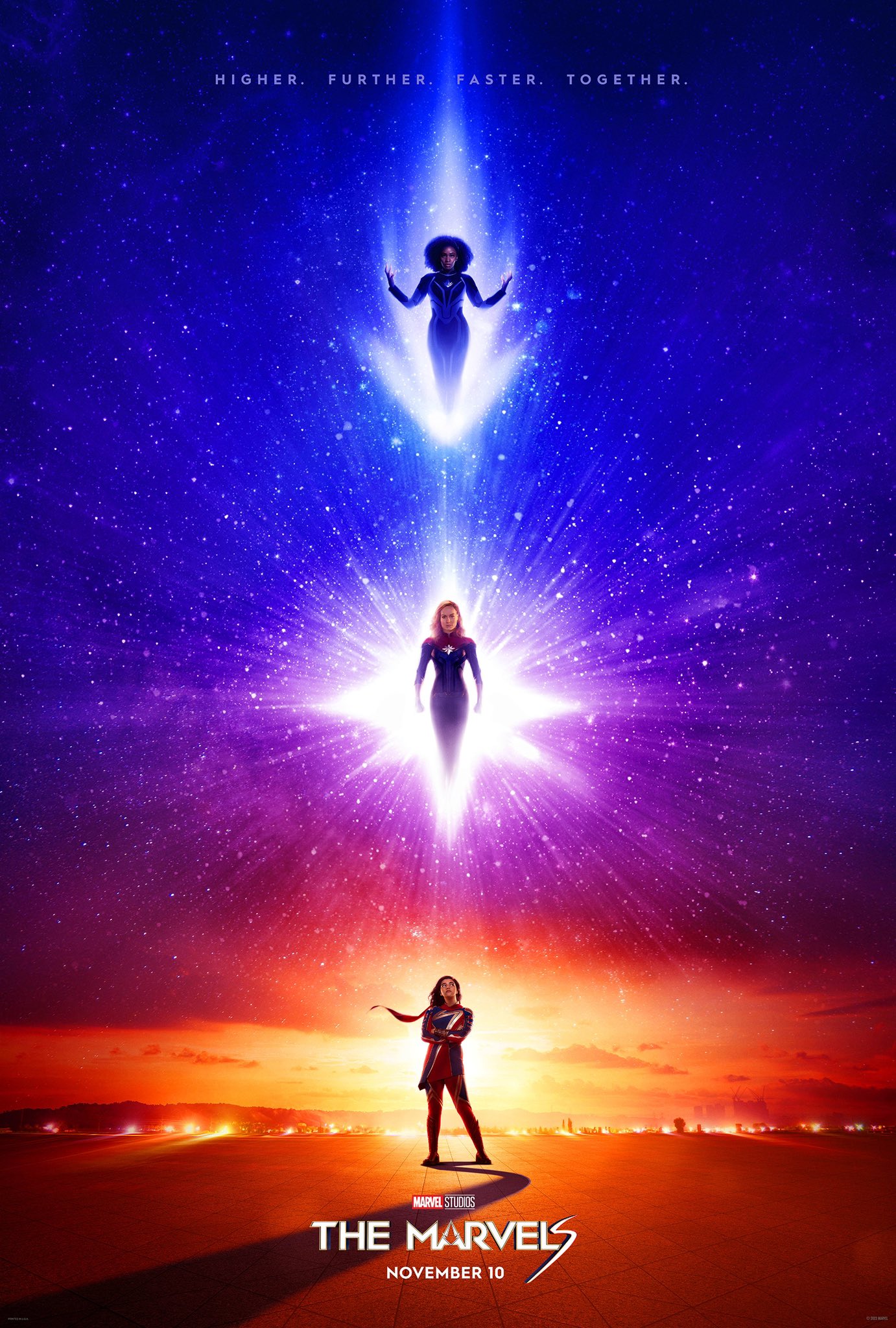 Now, I don't really see it, but others have noticed that this arrangement of the three characters inside their halos sort of looks like a woman's bozo button, hoo-ha, and fartclam.
Adding a couple of lines to the poster makes this clearer.
Light content warning for Nerdrotic's juvenile addition to the poster, because it does kind of turn the poster into a semi-dirty picture: Here's the image, if you dare.

posted by Ace at
12:05 PM
|
Access Comments