« Democrats Have Just Two Big Concerns About 2024:
1. Joe Biden
2. Kamala Harris
|
Main
|
G-Forces Cafe »
February 17, 2023
Quick Hits
The Associated Press @AP

BREAKING: Kentucky's Supreme Court has refused to allow abortions to resume in the state, rejecting a request to halt enforcement of a near-total ban on abortion that has largely been in place since Roe v. Wade was overturned.
If you read this and immediately thought, "That doesn't sound likely, I bet the AP is lying to me again," then give yourself a warm clap on the opposite shoulder, you understand that AP's business model is simply lying about literally every single fact.
Abortion access in Kentucky remained virtually shut off Thursday after the state's highest court refused to halt a near-total ban that has largely been in place since Roe v. Wade was overturned.

Kentucky's Supreme Court, which was weighing challenges to the state's near-total ban and a separate one that outlaws abortion after the sixth week of pregnancy, sent the case back to a lower court for further consideration of constitutional issues related to the more restrictive ban.
The sixth week of pregnancy? So any woman who misses her period still has at least two weeks (actually four, most of the time) to take a pregnancy test and schedule an abortion if she's determined to get one?
Bans "nearly all" abortions, huh?
These people aren't merely pro-abortion -- they're specifically pro-late-term-abortion. They want the babies as big and developed as possible before going in with the scalpels and vacuums.
David Strom awards AP the prize for most blatantly partisan headline of the week.
A poll finds that 53% of voters don't feel as if Biden "cares about voters like me."
AP spins this poll thus: Biden governs out of love, but some stupid ingrates just don't appreciate it.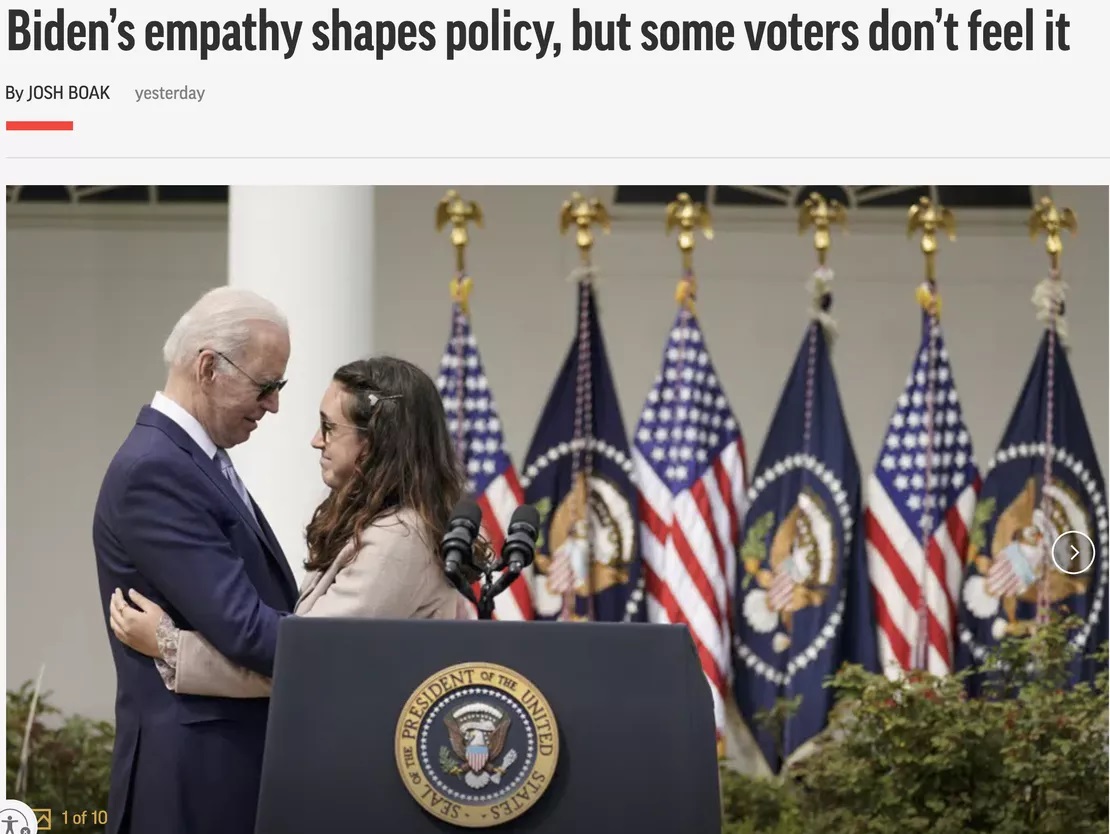 This is Obama-level bias again. The media was always claiming that Obama was too moral, too pure, and too intelligent for the public to see it. His successes were too enormous and simultaneously too subtle for the ugly, stupid masses to appreciate.

Shock: Romney will support a Democrat if Trump is the nominee.
Like every other liberal Democrat masquerading as a conservative Republican.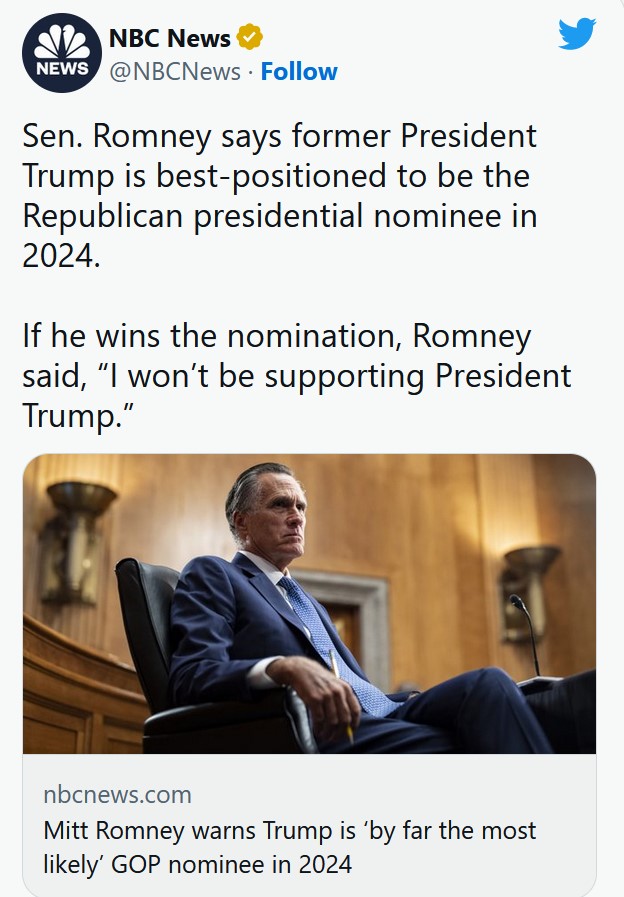 A Pre-Kindergarten tacher claims the idea of "childhood (sexual) innocence" is a myth, and even toddlers aren't too young to be indoctrinated into leftwing cult doctrines about gender, sexual orientation, and sex generally.
A pre-kindergarten teacher and early childhood professor repeatedly attacked the idea of "childhood innocence" and claimed that early childhood teachers should introduce children to gender ideology at the youngest ages, Fox News Digital found.

William "Willy" Villalpando works at Santa Ana College in California where he teaches early child development. He also indicated on his Instagram that he is a pre-kindergarten educator.

Fox News found documentation that Villalpando worked in the Rialto Unified School District pre-k division from 2016 through at least June 2021, the latest date California updated teacher's records. It was unclear whether Villalpando continued to work at the district for the 2022-23 academic year, and they refused to respond. When Fox News reached out to Villalpando's Rialto district email address it was not returned to sender.

"There is a common mythology that children live in this world of pure innocence, and that by introducing or exposing them to the real-world adults are somehow shattering this illusion for them. Therefore, there is a banning of topics and issues that children should not be exposed to, as if they are not experiencing them already."

On another occasion, he said, "I'm tired of the 'Childhood Innocence' argument... Stop blaming a phenomenon that doesn't exist."
"Blaming"? Did you mean "citing" or "claiming" or "arguing for"?
You're a teacher, huh?
He went on to attack the idea that children shouldn't be exposed to "sexuality," claiming that "such a view is a very white, Christian, upper-class, cis-gendered, and hetero-centric."

"Not talking about Queerness in the Classroom, is NOT Letting Children be Children. It's Telling Those people They Do Not Deserve to Exist," he said in September 2021. "Kids are never too young."

"Let's work to deconstruct some of our own biases. (Adults incorrectly link discussions on sexuality and gender as equating to discussions about sex.)," the early childhood educator said.

...

He said in a November 2022 podcast of "Rainbow Parenting" that "we have so many people who tell us that this is inappropriate stuff we can talk about. And so I'm like, hey, no, we can't talk about this."


The teacher went on to say that if parents didn't have the conversations with kids, it was up to teachers to foster classroom environments that "may make others uncomfortable."

"Children who are exposed to environments with more fluid understandings of gender, are more likely to understand that gender is fluid."

He added that educators should talk to little kids about queerness even if parents have avoided the topic.
"Willy" calls himself "Mr. Willy" online-- his handle is mrwilly_prek. That's Pre-K.
No big deal, Mr. Willy just wants to have a rap sesh with your kids about sex behind your back.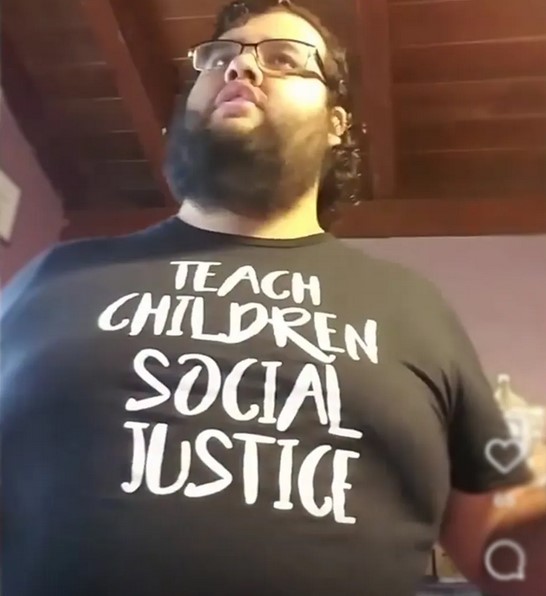 "[C]hildren are exploring and understanding gendered association before they say their first words," he said.

"Around 3 to 4 months old, infants [sic] show a sex and gender preference in who they look at."

"At 3 years old, a child can label their perceived gender identity," he said. "By 4 years old, children have a stable sense of their gender identity and have assumptions and beliefs of what they can and cannot do based on their gender (i.e. dolls are for girls, cars are for boys)."
You just want to have little secret rap seshes with kids about gay sex, even if their parents don't want you to, huh, "Willy"?

This is yet another example of one of these woke teachers who have a very basic degree that isn't even specialized in any subject matter field -- just "education" itself -- once again asserting that he is essentially a board-certified psychiatrist specializing in child development.
We've seen this repeatedly from teachers, dubbing themselves Honorary Pediatric Psychiatrists and recruiting kids into gay clubs who they think might be gay. And "transitioning" children behind their teachers' backs.
Other teachers in California have raised the topic of gender ideology in their classrooms.

A California teacher named Olivia Garrison bragged about helping students hide their social transitions from parents. Fox News Digital found that Garrison, a 9th grade history teacher, worked at Del Oro High School located in the Kern High School District.

Social transitioning is a first step for transgender children. It entails adopting new names, pronouns, changing their clothing and getting haircuts to match a preferred gender expression.

The New York Times reported, "Olivia Garrison, a history teacher in Bakersfield, Calif., who is nonbinary... has helped students socially transition at school without their parents' knowledge."

"My job, which is a public service, is to protect kids... Sometimes, they need protection from their own parents," Garrison told The Times. She did not immediately respond to a request for comment.
These grade-school teachers, who are barely more educated that the little ones we insanely trust them with, know better than parents -- they have a Bachelor's Degree in Education, after all!
These people are lunatics. They are mentally ill.
And we're trusting them with young children, because it would be "mean" to say, "You're mentally ill and unfit to instruct children."

The Department of the Interior is offering "eco-grief counseling" to employees who grieve the cutting down of a tree.
The website ecoanxiety.com states, "Ecological grief refers to the feeling of sorrow and mourning at the current and projected future loss of our natural environment and the impacts of climate change. It implies a level of acceptance that such losses have become inevitable. By emphasising [sic] grief and sorrow, this term implies that what has gone can't be recovered, and that we're coming to terms with the loss."

According to the Washington Examiner, the Department of the Interior's U.S. Fish and Wildlife Service is offering eco-grief training to employees who are struggling with climate and ecological issues. During the training, participants will be able to define their eco-grief and be given a chance to examine their emotions and tools to cope. The training is currently available in the Southwest region. The Washington Examiner had this quote from the announcement about the class:

This 4-hour workshop seeks to normalize the wide range of emotional responses that conservationists experience while empowering participants to act while taking care of themselves. The workshop is intended for those experiencing ecological grief and for those who wish to support them.

Rep. Pete Stauber (R-Minn.), who sits on the Natural Resources Committee, called the class a waste of taxpayer money. He stated, "While taxpayer dollars are spent on this woke class in a university faculty lounge, the very same agency is uplisting the Northern Long Eared Bat to endangered and overburdening America's rural communities, Sadly, this is just another example of the Biden administration putting woke politics above doing their jobs or helping rural America."
The Fish and Wildlife Service is also forcing employees to attend LGBT events wearing rainbow patches on their uniforms.
And they're forcing kids to wear Rainbow Pride religious garb in Australia.
Remember when the LGBTQABCD was an appeal for live and let love liberalism? Those day are long gone., and the tolerant folks have gone fascist. They continually try to impose their views on others, and now six-year-olds in Australia have been given an ultimatum to either wear rainbow shirts or sit out a high-profile kids' soccer game.

Next week, children will play during the halftime of an A-League pro match between Melbourne Victory and Adelaide. That is, they'll play only if they bow down and wear the rainbow shirt. Those refusing to go along with the rainbow power move will not play in front of a large crowd.

...

It's always the children that lefties go after. They're the easiest marks.
IN: Bake the cake, bigot.
EVEN MORE IN: Display our Holy Symbols, Bigot.
"Mx." Sam Brinton being peppered with questions -- like, "Why would you want a lady's dirty clothes?" -- while leaving his court hearing.
One reporter asked if he was interviewing to get a job in Democrat Governor Tim Waltz's administration. Good question.

posted by Ace at
06:48 PM
|
Access Comments