« First-World Problems...
|
Main
|
Gun Thread: Edition After The Super Bowl Edition! »
February 19, 2023
Food Thread: Perfect Recipes Are The Enemy Of Good Food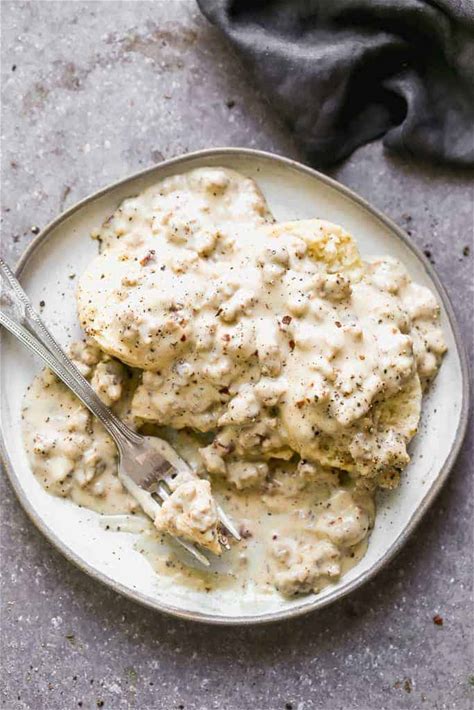 [Biscuits & Gravy: maybe the ugliest and most delicious food on the planet]
There are about 63 trillion recipes available for every food imaginable, and most of them are recycled from a previous recipe with some minor change...or no change at all! That is not to suggest that there aren't fantastic recipes and cookbooks out there. There are, and I use them all of the time.
But most cooking done by most people has time constraints and financial constraints and utensil constraints. We can't make perfect dishes every day, and my bet is that most people don't want to spend that much time on their food, even if they could.
There is something to be said for good...not great...cooking.
Those perfect dishes served up by celebrity chefs on their TV shows are the product of lots of behind-the-scenes effort by their production crews and sous chefs and food artists and lots of dishwashing and even more free stuff from the cooking products manufacturers.
But who wants to cook that way? Sure, special occasions deserve special effort, but Tuesday night's dinner? Nope.
Last night I made a roast chicken which was sort of a blend of two good recipes. I took the easy parts from both, and the meal took about five minutes to prepare.
Was it perfect? No. I used the onions and garlic from the bottom of the pan to top the chicken, and it made the nice crispy skin not so crispy. And it certainly wasn't beautiful, but it was delicious; my goal was not to make a perfect crispy roast chicken, it was to make a nice simple dinner.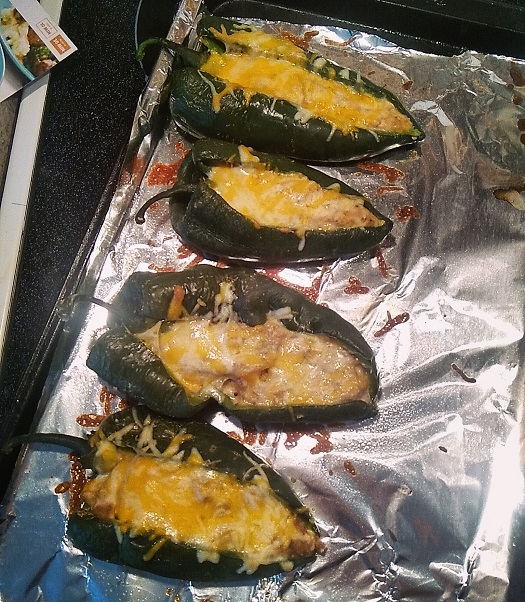 [Messy stuffed poblanos that seem to be missing stuff, but are probably quite tasty!]
So what's the point? Don't agonize over every little and probably unnecessary step in some overly-complicated recipe...just use your best judgement and make a tasty meal. There is no law that says you can't modify it to your demands.
Well...except maple syrup on French Toast! That IS prohibited by law.
[I will be around in fits and starts...there is a birthday to celebrate! (in addition to J.J.'s]
******
Misanthropic Humanitarian is trolling me again. This week he sent me an article about coffee pods, from the perspective of an amazingly pompous, virtue-signalling, hipster douchebag asshole. This incredible idiot reviewed coffee pods not for the quality of the coffee, but for their social credit score measured by the ability to compost them.
Moderately priced hotels, medium-size offices, car dealerships that claim to offer excellent customer service: These are the places I typically pod coffee in the wild. And yes, the machines are also ubiquitous among a not-so-picky set of coffee drinkers that range from recent college graduates to hurried, older professionals, but the bottom line is that single-serve coffee machines do not have a great reputation, either for coffee that tastes good or coffee that is environmentally friendly to make. But I'm always ready to try machines that bring pod coffee convenience while working to change that reputation.
[no link...it's in "Epicurious," and they are shit]
What an asshole! And stupid to boot. I'll bet that the sum total of all pods thrown into the world's garbage stream would take up a couple of thousand cubic yards of landfill if compacted. That is a triviality, and speaks to the unimportance of the writer's thoughts. I'll bet he drives an electric car, whose batteries did far more environmental damage than coffee pods.
I am very particular about my coffee, and have found that those pods aren't the best when it comes to making a large, strong coffee in the morning. But I have had good coffee from them, and once quite recently was in a hotel that had an espresso machine that pumped out great stuff from the pods.
But the obvious demand for coffee made with pods is the important thing. Just because I don't like many of them doesn't mean they aren't worthwhile. They certainly are quick and convenient! And that is a big deal in hotels and offices and car dealerships. Who does this turd think he is? Maybe he should try to understand the joys of a market economy and just shut the fvck up about stuff he doesn't like, but that many people find useful.

******
It is gratifying to find people with similar and highly refined taste. Coblogger Buck Throckmorton was on vacation recently and sent me these lovely photos of the glories of Gulf Coast oysters.
Wife: So, how many oysters do you aspire to eat this vacation?

Me: All of them.

I explained to her that I consider Oysters Rockefeller to be a vegetable dish, or possibly a salad, because of the spinach, so I can still have oysters as my entree too.

She asked the waitress if oysters could be added to my key lime pie!

He gets it.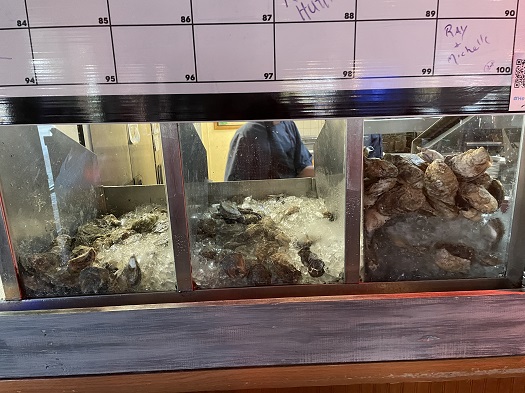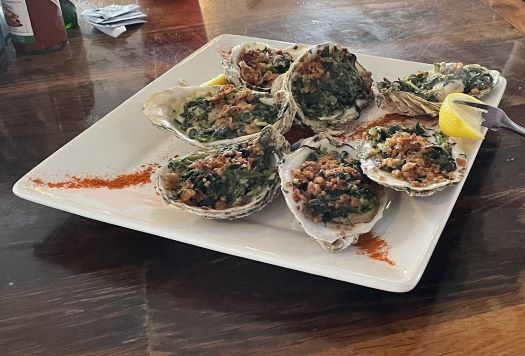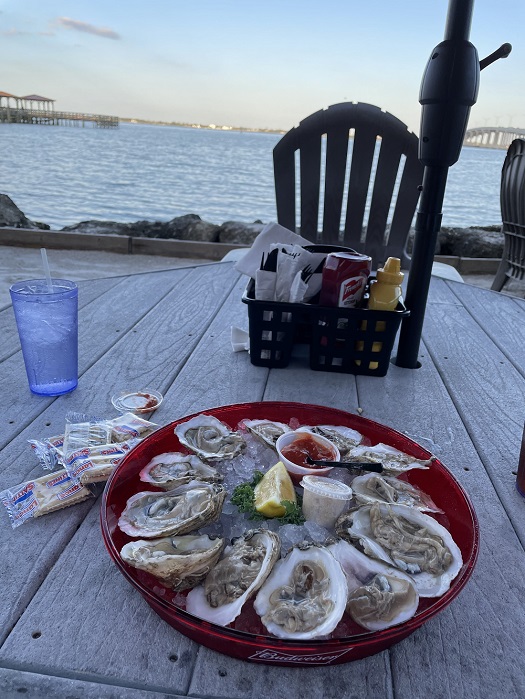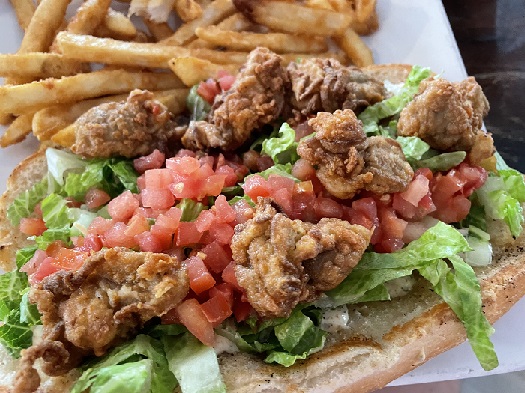 As much as I love raw oysters, a good Oysters Rockefeller is a glorious thing. And fried oysters on a sandwich is hard to beat.

******
I am a garlic fiend. I love the stuff, and it is in most dishes I cook. But it is surprisingly difficult to find good quality garlic, and I have noticed that a fair amount of the stuff comes from China, and I simply will not buy it.
I need to grow it, but as far as I can tell it takes a long, long time, and I needed to start about four months ago. But next fall I am all in on growing it!
And here is a commenter with some good advice!

Snow valley garlic. Priest lake Idaho.

Beautiful garlic multiple varieties. For seed or eating.

Posted by: Derak at February 12, 2023 05:45 PM (3jkTt)
Pricey too, but good garlic is amazing compared to the commodity stuff, so it might make sense for all of you garlic eaters out there!
******
Longtime commenter "IrishEi" went to a famous local deli recently and sent these awesome photos. Our older brat (a trencherman) has been to the place and confirmed the ridiculously large portions. He also said it was good!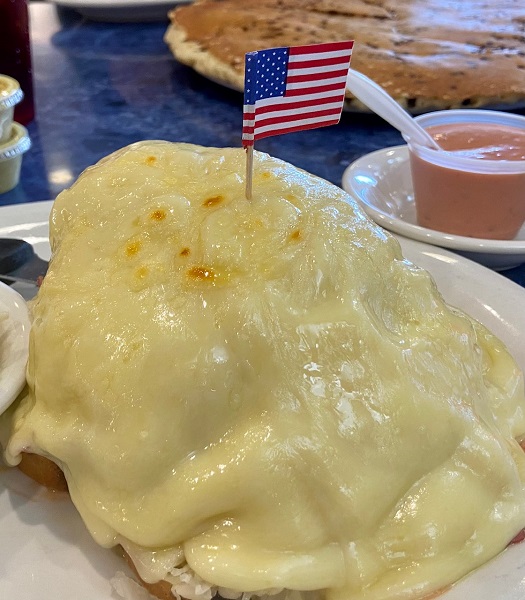 [That's a Reuben buried under all of that cheese]
On our way back from NYC this afternoon, stopped at Harold's New York Deli in Edison, NJ to treat my youngest son to lunch. I hadn't been there in a long time, and son had never been there. Found out today that nothing's changed, and the portions are just as massive as ever. He wasn't too hungry so just ordered the chocolate chip pancake. Wish I could show his face in this picture when it arrived--pancake was 16" across and nearly an inch thick, but surprisingly light and fluffy. Took home the leftover portion in a pizza box! I got the Junior Reuben which would easily feed a family of four (the picture doesn't do it justice.) Best part of all--a 33 oz. chocolate egg cream made with Fox's U-Bet of course! Took home the Black & White Cookie and a Linzer Tart, each of which was 8.5" across.

Despite the gimmicks, the food is actually very good. There are much better pictures on Yelp (Harold's website is horrible.) In all, it was a fun afternoon. The place is best enjoyed with family and friends as everything is sized to share.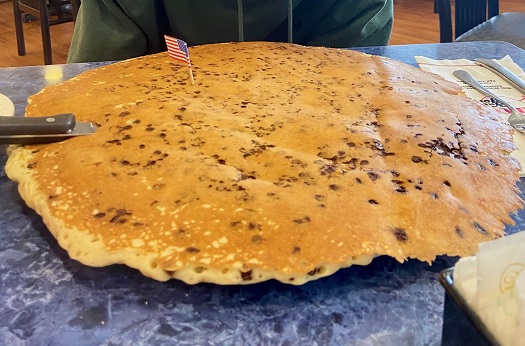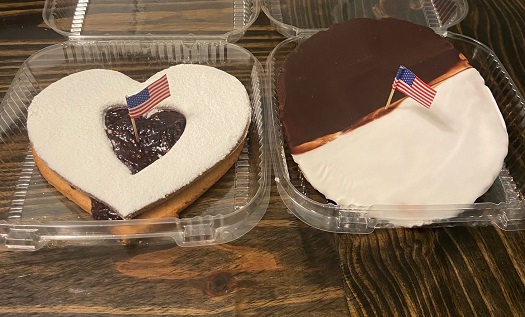 I love the flags. I am going to go to this place just for that.

******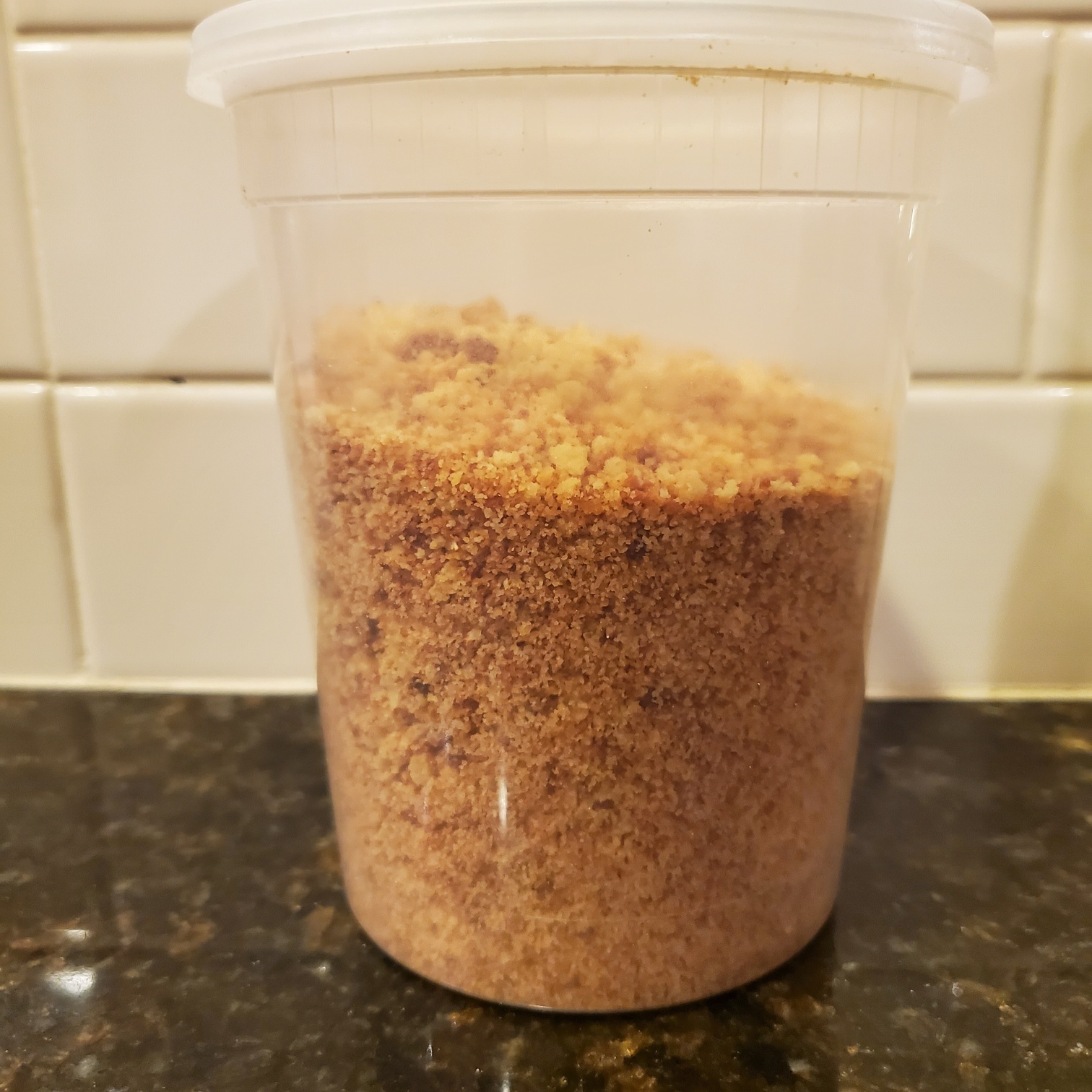 I made some corn bread for a fantastic chicken/tomatillo/hominy stew, and we didn't eat it all before it got a little dry. So I made corn bread crumbs. To what end I have no idea! Anybody have any ideas?
Fried oysters maybe?

******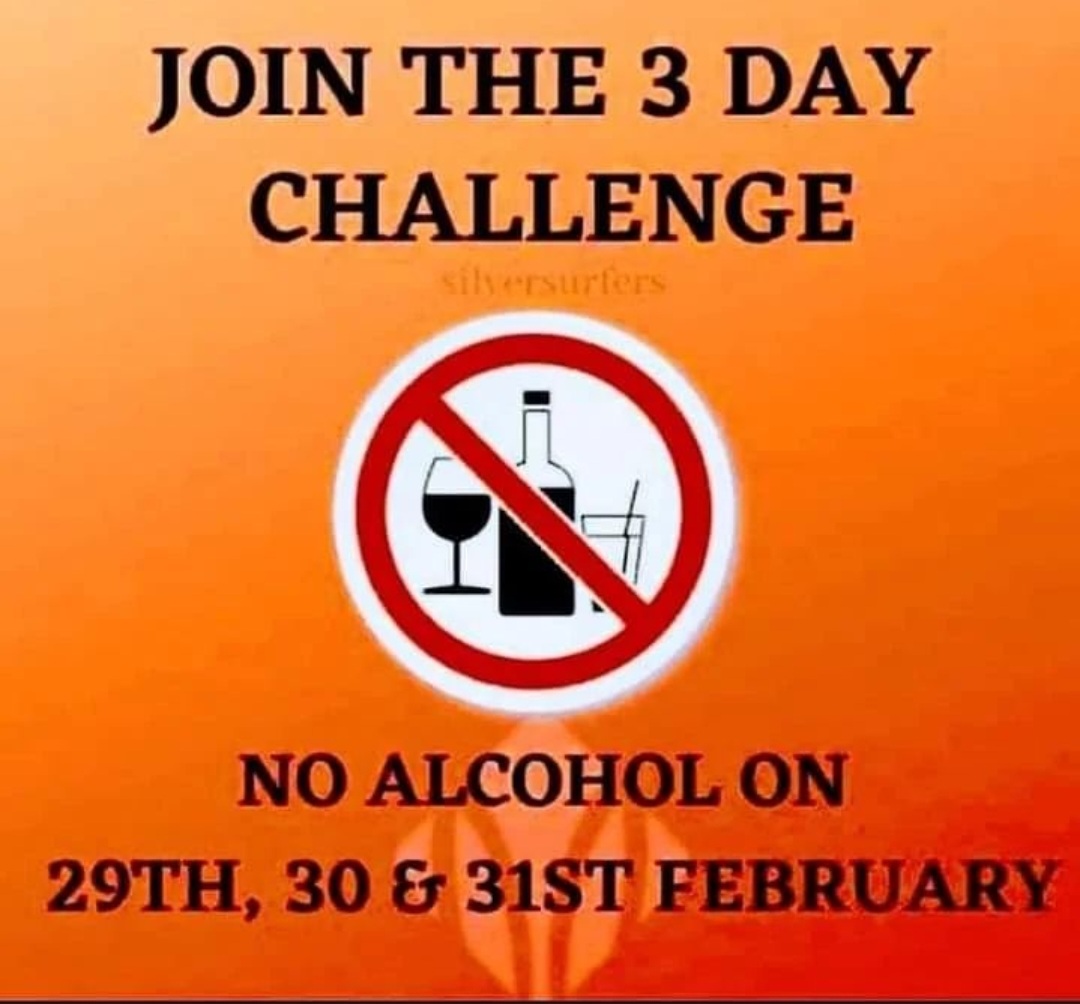 ******
Just send me oysters. Lots of oysters, and I will provide special dispensation for those without taste who insist upon maple syrup with their French Toast. And pork rib roasts from the front end of the pig where all the good and fatty meat lives, carrots that don't taste like stalky chalk, spare bottles of Van Winkle Special Reserve 12 Year Old Bourbon, an herb garden that actually produces herbs (but no basil!), well-marbled NY strip steaks and elk backstrap to:
cbd dot aoshq at gmail dot com.
And don't think that the rest of you are off the hook with maple syrup and French Toast: I'm still watching you! And I am watching you perverts who shake Manhattans and keeping a list for the Burning Times.

posted by CBD at
04:00 PM
|
Access Comments