« Food Thread: Perfect Recipes Are The Enemy Of Good Food
|
Main
|
Sunday Overnight Open Thread (2/19/23) »
February 19, 2023
Gun Thread: Edition After The Super Bowl Edition!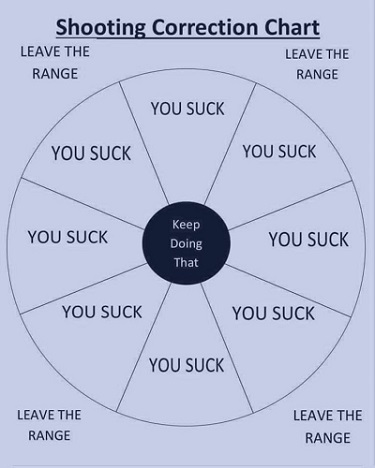 chart courtesy TDSOBVO
Howdy, Y'all! Welcome to the wondrously fabulous Gun Thread! As always, I want to thank all of our regulars for being here week in and week out, and also offer a bigly Gun Thread welcome to any newcomers who may be joining us tonight. Howdy and thank you for stopping by! I hope you find our wacky conversation on the subject of guns 'n shooting both enjoyable and informative. You are always welcome to lurk in the shadows of shame, but I'd like to invite you to jump into the conversation, say howdy, and tell us what kind of shooting you like to do!
All-righty guys and gals, following long standing Gun Thread tradition, the Edition After the Super Bowl Edition is going to be brief and rely heavily on recycled content so Weasel can get some work stuff done this weekend. I hope to get back to regular GT content next week, and if all goes well and the weather cooperates, then I will be headed to the farm next week for a few days!
Sunday Eve Update: I'll be dropping in and out of the comments this evening as I wrap some things up work-wise.
With that, step into the dojo and let's get to the gun stuff below, shall we?
******
Just one more installment of the reloading series, Part five-o, is down below-o. A couple of you have expressed interest in having the material in one place as a reference, and I will try and have everything in a single document ready by next week which I can either email on request or put on the web for download.
***
A word about the shooting analysis chart above. Every single shooter had a first day on the range, and every single shooter has days where they wonder why they bother shooting at all. Yer ol' pal Weasel is no exception, and anyone who tries to tell you otherwise is full of poo. Do not be discouraged by a bad shot, or a series of bad shots, or even an entire day of bad shots. It happens, and it is what you do with that experience that matters. I'm not talking about some kind of Sun Tzu business on being the bullet, but rather using information from poor results to affect future outcomes.
If you're having a bad day, stop and try and determine why and then don't do that anymore. Unfamiliarity with a new gun or sight picture? New ammo? Too much or not enough caffiene? Socks too tight? Distracted by range babes? When you stop and think about it, there are a lot of things that can cause the bullet to go someplace other than exactly on target, you just need to figure out what thing, or number of things, is causing you trouble.
First, stop what you are doing and calmly assess the situation. If you're shooting poorly, then shooting poorly really fast isn't going to help matters much. Has anything changed from the last time you were shooting besides the results? I like to preach about consistency and repetition and fundamentals. Has it been six years since you have been to the range? What about your grip mechanics, sight picture and trigger squeeze? All good there? Try putting up a fresh target and focusing on each element one at a time, and if something feels weird or uncomfortable, then really focus on that and see if matters improve.
If you have been shooting for an extended period, then take a break. Go outside and run around in circles or something. Maybe you've had enough fun for one day and it's time to head home and save your ammo for another day. Just remember what caused you trouble and work on that first the next time you go back to the range. Take notes while the particulars are fresh in your mind so you have something to work on next time. Unless you're really a mess, most of the errors are the result of mental mistakes and shouldn't be tough to solve. Approach things logically and methodically and go s l o w l y at first, speed and accuracy will come with practice! I promise!
******
Guns of the Weasel
I didn't have a Horde owned gun in the inbox to feature this week, so you'll get another look at one of mine.
I've been thinking about getting a scoped .22 for plinking down at the farm, and recently found this little dusty and unloved gem. It's a Colt Colteer 1-22, around 25,000 of which were made between the late 1950s and early 1960s. It's now the only gun I have which doesn't have a serial number, required by the Gun Control Act of 1968. The scope is a Weaver B4 made in El Paso, Texas around the same time. It's a great little single-shot rifle and one whole hell of a lot of fun to shoot! When I go to the farm with my shooting buddy between the two of us there are a fair number of weapons to choose from. Guess which one we end up shooting the most? Go ahead, guess! Yep - it was the little .22 plinker. We set up a few steel plates at 100 yards and have a great old time just plinking away!
A .22 rifle isn't going to win you the Badass of the Day award at the range, but for the simple joy of shooting they're hard to beat and can often be found for as little as $200. When was the last time you spent an afternoon shooting cans on a fence at pennies per round? If you ever have a chance to get one, grab it!
******
Roy Chapman Andrews
And now a look at a famous explorer and adventurer, Roy Chapman Andrews
(wiki)
(Society)
, and Savage Sporting Arms advertisement from yesteryear sent in by our pal
WTM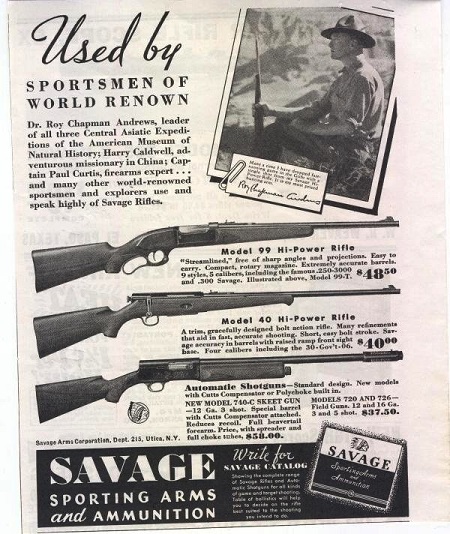 What an amazing individual! Was he the inspiration for the Indiana Jones character? Some sources say he was.
Thanks for sharing WTM!
******
Range Reports and Gun Pics Needed!
You know what you get for Gun Thread content when you don't send in range reports and pictures? You get pickle factory tour videos. That's what you get.
Know what else you get? Videos on making Korean Bamboo Flutes, that's what you get.
Know what else you get? Videos on making tiny adjustable wrenches (which is pretty cool, actually), that's what you get.
Get the hint? I really don't want to use threats, but I have MIME videos. Do you want to see mime videos? I don't think that you do.
******
Reloading 101 Pt. 5: Assembly!! - 5/08/2019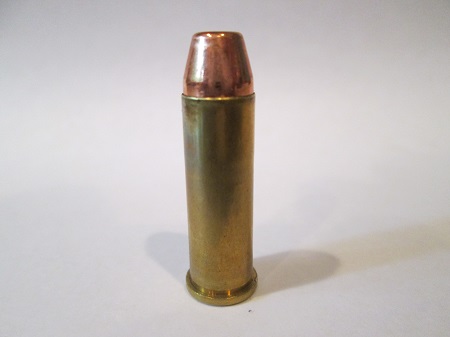 .38 Special of Dubious Manufacture
As mentioned above, the long Gun Thread reloading series nightmare is nearly over! Rejoice! Well, not so fast there, buckaroos, we still have to put the pieces together, so let's get on that, shall we?
******
There really isn't much to say about the assembly process, and it's probably simpler than you would expect once you correctly setup the dies. Size and prime the case, add the powder and seat the bullet. That's really about it. What I'd like to do in this section is to offer a few tips and things I've learned over the years.



Buy a reloading manual and read the damn thing. The first section of any manual will contain the step-by-step reloading process (with pictures!) followed by suggested load information by caliber.


Confirm any new load from one or more published sources and be skeptical of anything you read on the internet.


Setup your reloading bench away from noise and distraction. Do not try and watch TV or engage in conversation while you are reloading. Work with ONLY one powder on your bench at a time.


When things are set up correctly, each step is completed smoothly and without exerting a large amount of force on any of the tools. If you notice a change in the physical effort required to complete a step, stop and investigate.


Work in batches. I will size 50 or 100 cases, then prime them, then add powder and finally seat the bullets.


Practice making several dummy rounds until each die is properly adjusted, and critical dimensions are verified, before you begin making loaded ammunition.


Keep a book of reloading notes. Powder charge, primer, bullet, expected velocity and later performance notes.


Always note the caliber, date, powder type, charge weight and bullet weight on a note in your ammo storage box to identify the load


Link to reloading gear setup and adjustment PDF: Download file


Sizing and Depriming
The sizing step sets the case to the proper dimension and pops out the spent primer. It's also an opportunity to inspect the brass prior to loading. Look for cracks and splits in the brass or any other abnormality, including a flattening of the old primer which indicates excessive pressure.
Gun Thread Reloading Test: Who can spot the problem with this fired case?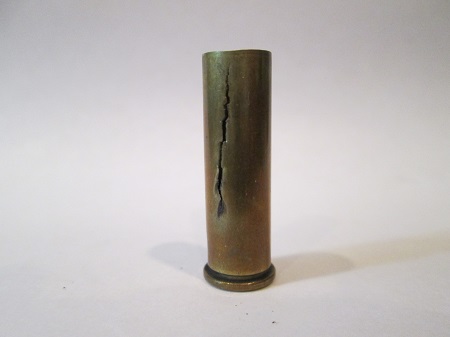 Near disaster from the Weasel private collection
Simply place a cartridge into the shellholder and cycle the press. The amount of sizing will vary based on the chamber, but a change of .003" - .008" is about normal. You will feel a slight resistance as the case enters the die and the ram reaches its uppermost position as the handle begins to cam over. Repeat until the desired number of cases are sized and de-primed.
Fired unsized case: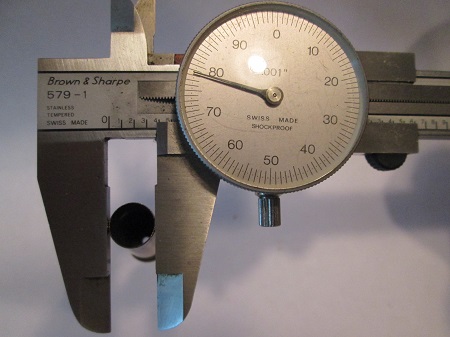 After firing and before sizing -.3785"
After running through the sizing die we get:


After sizing - .3735"
Expander Die
The expansion step very slightly flares the case mouth to accept the bullet. Avoid oversizing as this leads to premature case wear and failure. When cycling the press on the expansion die you will feel about the same resistance as in the earlier sizing step as the ram reaches its uppermost position. Adjust the expander plug up or down until a bullet will just begin to seat in the case mouth without force. Repeat until the desired number of cases are processed.
Priming
Confirm the size and type of primer to be used and inspect the primer pocket for excessive carbon buildup or other abnormalities. Loosening of the primer pocket is a sign of overpressure. The cycling of the priming tool should be accomplished smoothly with a slight resistance as the primer is firmly seated. When properly seated the primer will sit even with, or very slightly below, the case head. Repeat until the desired number of cases have been primed.
Powder
Double check that you are using the correct powder. Never work with more than one powder on the bench.
Run several charges through the powder dispenser, checking each on your scale until the amounts dispensed are consistent. The cycling of the dispenser arm should be smoothly performed at the same speed each time. I dispense powder into a pan about every 10th cartridge and check the weight for consistency. If a variance is noted, investigate back to your last weight QA check. I prefer to dispense powder into 50 cartridges, and then seat the bullets all at once.
Bullet Seating
Visually inspect the powder levels of all cartridges in the reloading block. This is your last chance to avoid a squib load or worse, a double charge. It is a good idea to make a number of dummy rounds (no powder or primer) as you setup the die until you are satisfied with the seating depth and crimp. Again, the press should cycle with a very slight resistance as the bullet is seated and crimped into place. You can use commercial ammunition as examples. The now completed round should drop freely into the cartridge case gage and not stick out either end.
After Shooting
One thing we haven't discussed until now is case cleaning. The brass cartridges become dirty with powder residue and must be cleaned. There are different ways to accomplish this, and I use a vibrating tumbler filled with crushed walnut media. I have never seen the reason to spend a ton of money on the process and am satisfied with just getting the grime off of the brass, not making it look brand new. I de-prime my brass first, then tumble for an hour or so. Care must be used to inspect each case after tumbling for walnut grains stuck in the flash hole. The tumblers retail around $75 - $100. One tip - the crushed walnut must be changed periodically. You can extend it's life by removing crud from the bowl if you toss in a dryer sheet with the brass which collects a lot of the gunpowder residue. PRO TIP: Source the crushed walnut media from a pet supply place, not from a gun supply place. You'll get an enormous bag at a fraction of the cost.
Do you like shiny things? If you're really, really serious about clean brass, here's an informative article on using stainless steel pins as a cleaning media.
Congratulations! You've just freed yourself from the tyranny of Big Ammo by undertaking an enjoyable and productive hobby. Please use common sense. If something doesn't feel right, it probably isn't, and should be investigated until you understand what is going on. Do not replicate any loads until you have independently verified the powder type and charge weight in a published source. Trust me, there is always a bigger idiot out there somewhere, and you do not want to find them discussing their "secret" formula on the internet. If you run into problems or have any questions, feel free to drop me a line.
I'd like to take this opportunity to thank all non-reloaders for indulging me as I've rambled on about reloading these last few weeks. I appreciate your patience!
******
On a reloading related note, we have the following from a
Lurker Who Prefers Not To Be Named
regarding components.
One to consider, King Shooter's Supply and PC Bullets. I have dealt with the company for years, in person and mail order. Great people and product!

Something to consider for those who want the advantage of reloading, without the work. Look at commercial reloaders and manufacturers. I had Kings do reloading when I lived in PA as well as Dallas Reloads and Bullseye while in TX. All have done great work, and are great people.
Thanks for the tips, Lurker!
******
Musical Interlude
Here is Dizzy Gillespie from 1947.
In the early 80's I saw Dizzy Gillespie perform in a very small club that held maybe 50 people. I wasn't planning on it, but happened to walk past the open doors on my way home as the show was about to begin. The cover was low and beers were inexpensive, so for about $20 I was able to see one of the greats. Amazing.
******
Gun Basics 101
Day 12 of 12 Days of Carry video from the She Equips Herself gal! In this week's video SEH gal makes cookies!
******
Cigar of the Week
This week we take a look at the Padron 1964 Anniversary Series. Not bad at around $15 each for the Cigar Aficionado 2021 Cigar of the Year with a score of 97!
From the CA review:

Box-pressed and attractive, it starts with a woody, nutty core that gradually becomes more complex. Notes of hazelnut are uncannily precise and segue into a rich, opulent smoke of cocoa bean that settles onto the palate like the fine confections of a chocolatier. The draw and burn are perfect and the cigar's only flaw is that it ends.
At $15 each it's near the top of the range of what I'm willing to spend, but I just might give these a try. What do all y'all think? What's your price range?
******
Here are some different online cigar vendors. You will find they not only carry different brands and different lines from those brands, but also varying selections of vitolas (sizes/shapes) of given lines. It's good to have options, especially if you're looking for a specific cigar.
Cigarsinternational.com
Cigarpage.com
Famous-smoke.com
Cigarsdaily.com
Neptunecigar.com
Smallbatchcigar.com
Bobalu Cigar Company
Cigarbid.com
A note about sources. The brick & mortar/online divide exists with cigars, as with guns, and most consumer products, with respect to price. As with guns - since both are "persecuted industries", basically - I make a conscious effort to source at least some of my cigars from my local store(s). It's a small thing, but the brick & mortar segment for both guns and tobacco are precious, and worth supporting where you can. And if you're lucky enough to have a good cigar store/lounge available, they're often a good social event with many dangerous people of the sort who own scary gunz, or read smart military blogs like this one. -rhomboid
Anyone have others to include? Perhaps a small local roller who makes a cigar you like? Send me your recommendation and a link to the site!
******
Ammo Link-O-Rama
I'm really very seriously not kidding around anymore. Buy Ammo
AmmoSeek - online ammo search tool
GunBot - online ammo search tool
SG Ammo
Palmetto State Armory
Georgia Arms
AmmoMan
Target Sports USA
Bud's Gun Shop
***Mail Bag***
This week's mailbag entry is from our pal That SOB Van Owen. Good one!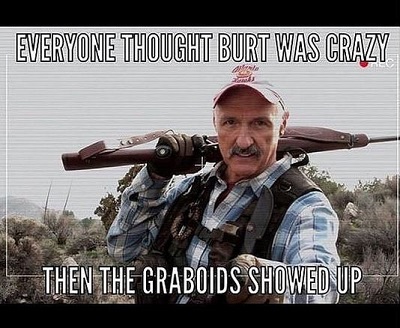 ******
Please note the new and improved protonmail account gunthread at protonmail dot com. An informal Gun Thread archive can be found HERE. Future expansion plans are in the works for the site Weasel Gun Thread. If you have a question you would like to ask Gun Thread Staff offline, just send us a note and we'll do our best to answer. If you care to share the story of your favorite firearm, send a picture with your nic and tell us what you sadly lost in the tragic canoe accident. If you would like to remain completely anonymous, just say so. Lurkers are always welcome!
That's it for this week - have you been to the range?


posted by Weasel at
07:00 PM
|
Access Comments