« NYC Mayor, Who Loves Illegal Aliens, Sends His Undocumented Friends on a One-Way Bus Ride to Balmy Canada;
Canada, Which Also Just Adores Illegal Aliens, Tells Him to Stop
|
Main
|
In 23 Baltimore City Schools, Exactly Zero Students Are Able to Do Math at Grade Level »
February 14, 2023
JK Rowling Threatens to Sue a Death-Threat Spewing Drag Queen; Extracts (Insincere) Apology
This drag pyrsyn previously called for JK Rowling to be burned at the stake. Rowlings did not report him for this colorable death threat. The drag pyrsyn claimed the call to violence was "metaphorical."
The drag pyrsyn then went on to suggest he was behind getting a pro-gay activist, Fred Sergeant, suspended from Twitter -- because this pro-gay activist was turning a bit sour on transgenders' maximalist and lunatic demands.
According to John Sexton, the drag pyrsyn then threatened to have his "solicitors" sue Twitter to reimpose the ban.

The drag pyrsyn, JJ Welles, deleted his tweets, but JK Rowling screencapped this one, in which, referring to her, he blows off his own call for violence as "hyperbolic metaphor" and then says that Rowling "is a nazi or has views that align with them."


JK Rowling is now fed up, and says that if this shman is siccing lawyers on zis enemies, maybe she would like to play too.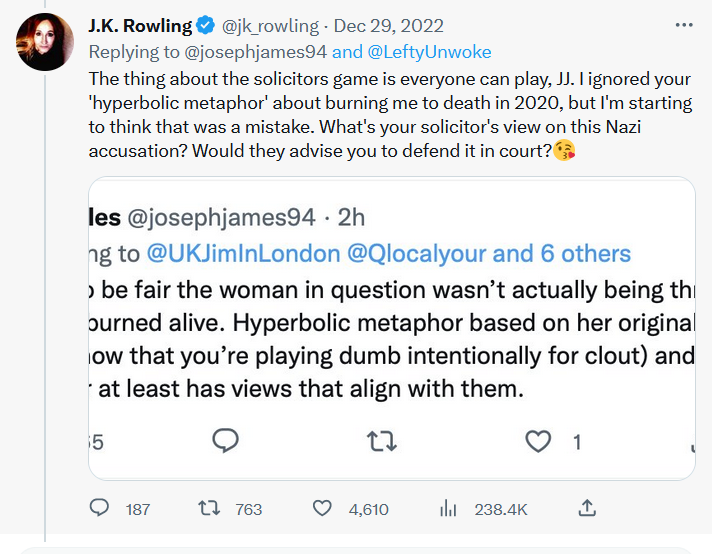 Unstated: JK Rowling has very well-paid lawyers, and this drag queen bugman has lawyers who are only not well paid, but in fact entirely non-existent, as he's another repulsive dead-end brokeass failure living out a curated fantasy life on Twitter that he cannot afford to live in the real world.
At that point, JK Rowling announced that she had called her lawyers and would now sue this ugly little parasite into dust.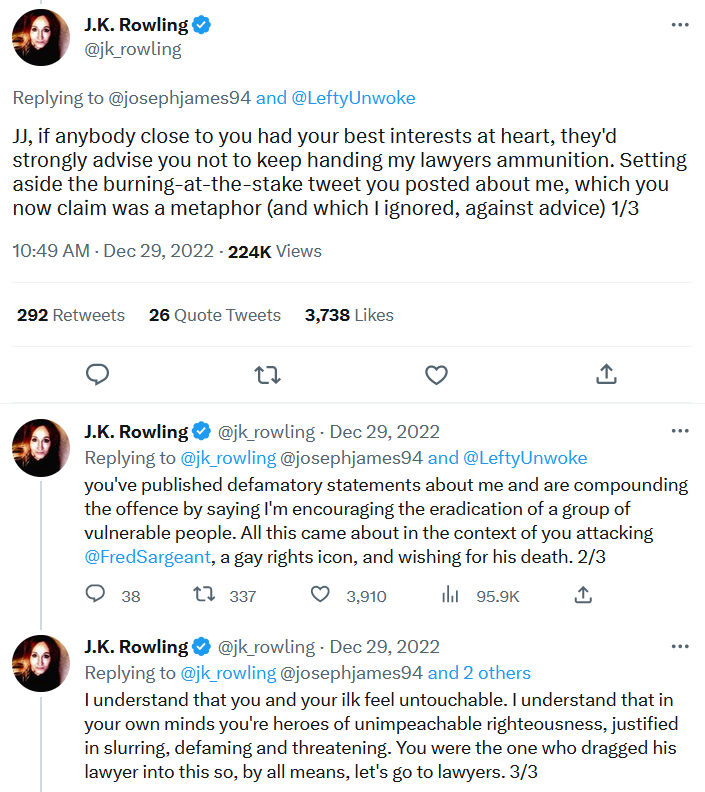 The drag pyrsyn's lawyers seem to have advised shim that shem would lose in court.
Prompting the deletion of the Nazi defamation, and this insincere apology: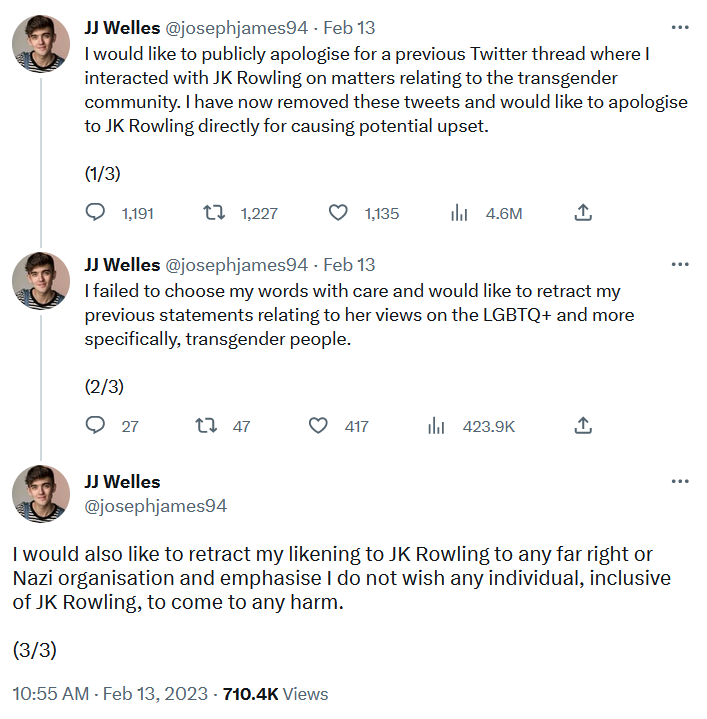 That apology is of course insincere, which is a plus. I'm tired of these extremist criminals forcing everyone else to apologize -- it's time to start making them issue forced apologies every other day.
It's time to give them the gift of Coerced Speech.
Of course, it's hard to work this in America, which has a rule regarding defamation: If you defame someone and you're leftwing, it's not defamation but merely "protected opinion," but if you defame someone (or tell the truth about them) and you're on the right, well then, in that case it's not opinion but a defamatory fact and you're liable for the libel.
Still, I think we all must be more litigious, starting GiveSendGo donation drives, if needed, to pay for lawsuits. Ethan Van Sciver said, "Ignore them when you can, sue them when you can't."
Lawsuits are expensive for them, too. And you never know what discovery may disclose.

posted by Ace at
03:34 PM
|
Access Comments