« Quick Hits
|
Main
|
Beat the Iron Flower Cafe »
February 24, 2023
MSNBC Wants You to Know, Again, That Getting In Shape Is White Supremacist Terrorism
The Navy Erase Physical Fitness Failures From Sailor Records
Plus: GAINZZZ
MSNBC says that being in shape is Whyte Suprrrremacy, and just like that, the Navy erases physical fitness failures from sailors' records.
Sailors with a physical fitness assessment failure on their record will receive a clean slate that will allow them to remain in the service, under a new Navy policy unveiled Thursday.

The shift is part of a Navy-wide campaign aimed at improving accessions, retention and attrition so the service can hit its end-strength goals for 2023, according to Rear Adm. James Waters III, director of military personnel, plans and policy.

"This is connected because it clearly affects attrition, right? It will reduce attrition if we do not separate sailors based on past PFA failures," Waters told reporters Wednesday. "But it came about through all of the analysis for this campaign plan, through a recognition that we don't want to punish sailors because gyms were closed during the pandemic. We don't want to disadvantage sailors."

The policy, which the Navy labeled a "one-time reset," means all active duty sailors and those in the Navy Reserve who want to remain in the Navy and advance will now have zero PFA failures prior to 2023, allowing commanding officers to reinstate retention and advancement recommendations. The policy does not apply to other programs that evaluate past PFA failures, including officer commissioning programs, selection or screening boards, and special duty screenings.
The " " " President " " " NeverTrump swore would "restore our precious norms" continues to drive good men out of the military, to the point where the US Navy is forced to suspend its 185-year-old "No Fat Chicks" rule.
And what is going on with society? Why is everyone getting sicker and fatter every single year?
MSNBC says "Because we're fighting white supremacy, that's why."
This article was first published last year -- maybe I did a GAINZZZ post on it -- but MSNBC is so proud of its scoop that it tweeted this out again last week.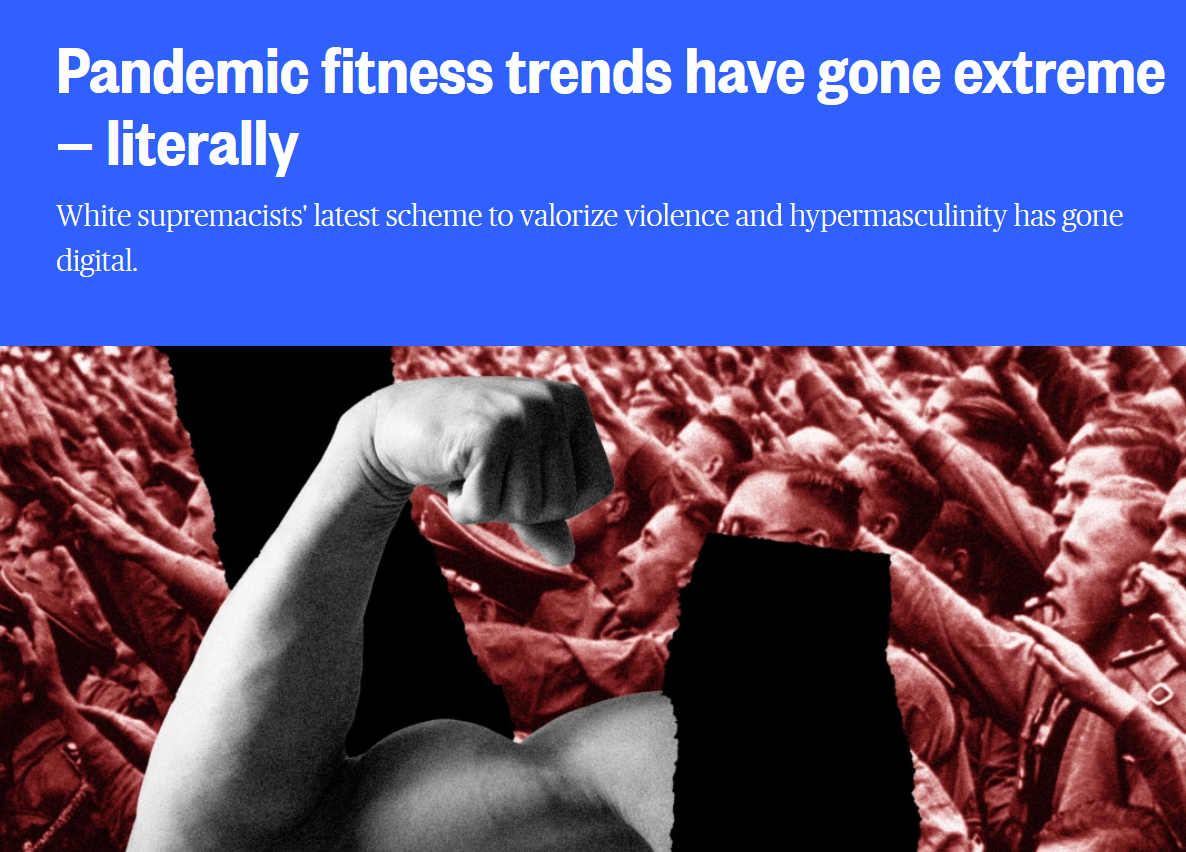 Subtle. Quality "journalism" as usual, MSNBC.
It appears the far right has taken advantage of pandemic at-home fitness trends to expand its decade-plus radicalization of physical mixed martial arts (MMA) and combat sports spaces.

Earlier this month, researchers reported that a network of online "fascist fitness" chat groups on the encrypted platform Telegram are recruiting and radicalizing young men with neo-Nazi and white supremacist extremist ideologies. Initially lured with health tips and strategies for positive physical changes, new recruits are later invited to closed chat groups where far-right content is shared.
Note this is a single incidence of this -- and one only claimed by partisan "researchers" like herself -- but she decides this single instance is enough for a panic porn "trend" piece.
One is not a trend.
Oh, but she does have more than one example!
Like... you know who else liked getting into shape?
Physical fitness has always been central to the far right. In "Mein Kampf," Hitler fixated on boxing and jujitsu, believing they could help him create an army of millions whose aggressive spirit and impeccably trained bodies, combined with "fanatical love of the fatherland," would do more for the German nation than any "mediocre" tactical weapons training.

In more modern times, far-right groups have launched mixed martial arts and boxing gyms in Ukraine, Canada and France, among other places, focused on training far-right nationalists in violent hand-to-hand combat and street-fighting techniques.
Yes, in some countries, there might be "far right" groups who train in street violence, because the leftwing extremist groups like antifa have been training in violence for decades.
It's not just about white supremacy, of course.
It's also about Toxic Masculinity.
The intersection of extremism and fitness leans into a shared obsession with the male body, training, masculinity, testosterone, strength and competition. Physical fitness training, especially in combat sports, appeals to the far right for many reasons: fighters are trained to accept significant physical pain, to be "warriors," and to embrace messaging around solidarity, heroism, and brotherhood. It's championed as a tool to help fight the "coming race war" and the street battles that will precede it.

...

With recruitment now moving from physical gyms to chat rooms, livestreamed fights, tournaments, festivals, and even combat sports video games, we're seeing extremist fighting culture being combined with an entertainment culture that already valorizes violence and hypermasculinity.
The article by this Disgusting Fatbody admits, for a single paragraph, that exercise is actually good for you, and has other benefits beyond preparing you for the Race War.
Then she's back to this goonery:
For those of us working to find better pathways to reach at-risk youth, understanding the ways that far-right groups recruit and socialize youth -- in ways that go well beyond rhetoric and ideas -- is crucial. It's critical that leaders, including parents, physical trainers, gym owners, coaches and others in the fitness world understand how online grooming and recruitment can intersect with spaces that we generally think of as promoting health and well-being. The realm of online fitness now provides a new and ever-expanding market for reaching and radicalizing young men; and it requires our targeted focus and resources to try and stop the cycle.
We need informers in every gym.
I was just kidding about her being a Disgusting Fatbody.
What she is, really, is more like a Mandroid: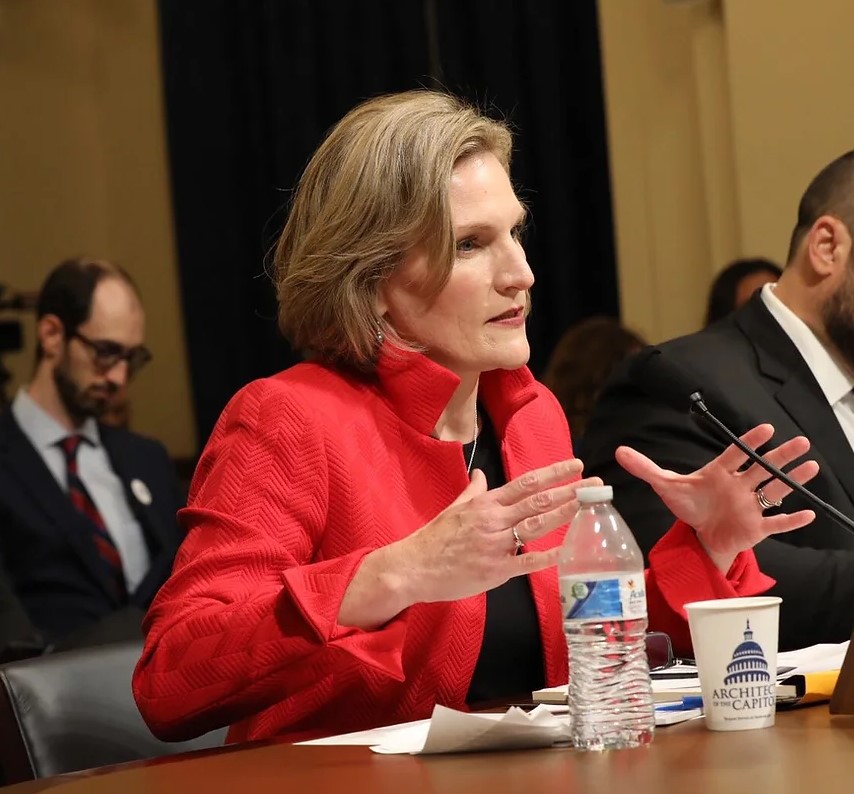 It's not only the "far right" who are being recruited for self-defense and MMA training, of course.
I know that's laughable, but seriously, antifa is a dangerous terrorist group whose members routinely carry deadly weapons.

You will not be surprised to discover that Cynthia believes that everything she doesn't like is "disinformation," "hate," and "extremism."
This is just what she wrote at MSNBC. But she writes "lots of places," she brags in her Twitter bio.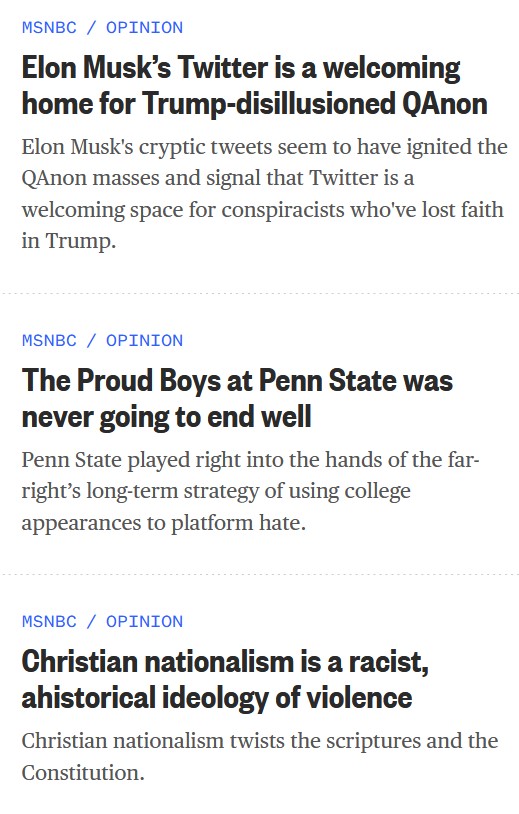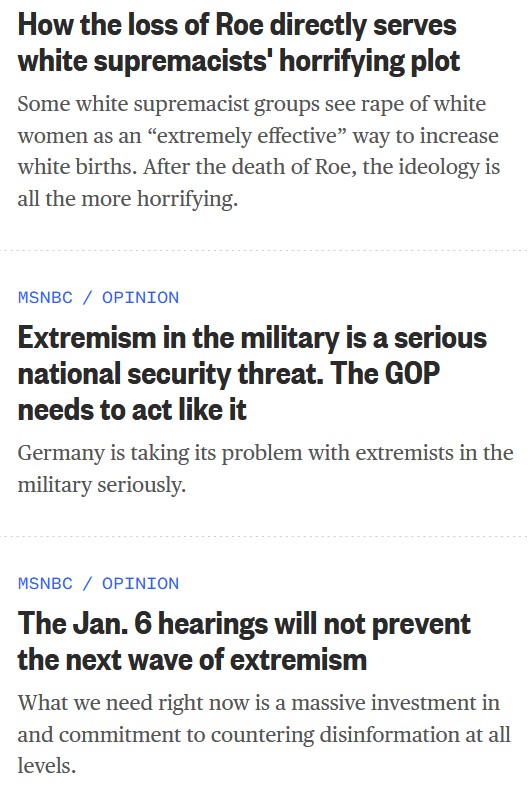 I need to get on this endless "Extremism Researcher" grift gravy train.
I think I'm going to start entrapping you guys, and then getting the FBI to pay me to spy on you.
So... any of you guys like Trump? What about guns? You like guns, right?
Do you ever get any "funny ideas" of things you can do with your guns?
Hang on I'll send you a link to my Fed Trap Site, I mean my Patriot Discord Server.
Meanwhile, she has got me absolutely chomping at the bit to do some Alt-Right Bench Presses and some QAnon Squats. Everytime I hit a new PR I'm going to scream "RELEASE THE KRAKEN, BIIIIITCH!!!"
This was a great piece by her: How the internet supercharged white supremacist homeschooling.
It's like she's writing her articles from a Mad Libs of leftwing paranoias.
How the internet supercharged white supremacist homeschooling Extremists using homeschooling education to spread white supremacist ideology is becoming a growing problem.
It's such a growing problem, in fact, that her article only names a single Ohio couple as using homeschooling as a cover to push white supremacy.
Yeah, she's counting on lefties not bothering to read the article, but to just retweet it based on the headline.
And she's right to count on that: Lefties never read the article.
Earlier this week, news outlets Vice and HuffPost wrote of an Ohio couple who had created a neo-Nazi-themed homeschooling channel, "Dissident Homeschool," to distribute elementary school lesson plans to a group of 2,400 subscribers. Interested parents can download antisemitic and racist lesson plans to teach Nazi ideology, along with anti-LGBTQ+ videos and other hateful content.

By the spring of 2020, 5.4% of families were homeschooling at least one child -- a number that more than doubled, to 11.1%, by the fall of 2021 during the height of the pandemic.

The story draws attention to a strategy that has long been key to white supremacist groups: indoctrinating their children through curriculum designed to teach white supremacy, while keeping them out of what they see as the brainwashing multiculturalism of public schools. The school superintendent of the Ohio city where the neo-Nazi homeschooling curriculum is being used noted that the district "vehemently condemns" the resources, and the state's department of education is now investigating the neo-Nazi homeschool network.
The "network"?
You haven't established that it's more than two people.
This reminds me of that last article -- the one where you had a single instance of an alleged "right wing" group "recruiting" people into MMA, and you claimed it represented a Growing Menace.
...


Homeschooling as a strategy to indoctrinate children into white supremacy is nothing new -- although the phenomenon represents a tiny minority of homeschooling families.
Oh so it's not a "growing problem." So you lied.
Here she gets at her real problem: She does not want anyone allowed to educate their children. All "education" must come from the agents of the state.
Many states subsidize homeschooling with public funds through voucher plans. But few have serious mechanisms to ensure kids are protected from harmful, antidemocratic or hateful content taught at home....


But the vast majority of families who homeschool, according to a 2022 report from the National Center for Education Statistics, say they do so because of moral or religious reasons. This means that values are the most important factor driving choices to homeschool. In light of the egregious actions of the Ohio-based neo-Nazi curriculum channel, it's worth at least asking what safeguards are in place to ensure that the values families teach at home are ones that reinforce and support U.S. democracy, its institutions, and an inclusive society more broadly.
What values do you want to insist children be indoctrinated in, Cynthia?
It wouldn't happen to be the gay agenda, would it?
It's especially ironic that in a moment of so much moral panic about what kids are reading in school, what books are allowed in libraries, or what public school teachers are allowed to say about race, racism, or LGBTQ+ identities, we completely ignore the millions of kids who are only learning what their parents deem relevant. With record-breaking growth in antisemitism, hate crimes, documented spikes in misogyny and anti-LGBTQ+ hate and more, we can't assume that every adult is equipped to teach in ways that promote tolerance, respect, and social cohesion.

There's a reason why Germany, some 80 years after the Holocaust, does not allow homeschooling: because they see the state as having an obligation to teach democratic citizenship and socialize children in ways that lead to the rejection of antisemitic and extremist ideologies. This approach recognizes that individual families are not always equipped to help their children build resilience against online propaganda and conspiracy theories -- or, like in the case of the Dissident Homeschool group, they might deliberately teach things that run counter to inclusive democracy.
So there you go.
How are your GAINZZZ? Mine are poor. I've been doing my routine a lot, a combination of hiking and occasionally running, but I'm not progressively challenging myself. I'm just doing the same thing over and over, and it's not really challenging me, so I don't have GAINZZZ.
Tell me about yo' GAINZZZ. And, as usual, any BOOKZZZ or PROJEXXX or PLANZZZ.

posted by Ace at
06:29 PM
|
Access Comments