« Microsoft Bing's AI "Sidney" Argues With Reporter, Getting Belligerent and Insulting -- and Playing the "Hitler" Card
|
Main
|
MSNBC Wants You to Know, Again, That Getting In Shape Is White Supremacist Terrorism
The Navy Erase Physical Fitness Failures From Sailor Records
Plus: GAINZZZ »
February 24, 2023
Quick Hits
Mike Lindell says he will sue Kevin McCarthy for sharing the January 6th video only with Tucker Carlson. He wants a peek too.
My Pillow CEO Mike Lindell says he plans to sue Speaker Kevin McCarthy (R-Calif.) for providing Fox News host Tucker Carlson with exclusive access to footage from the Jan. 6, 2021, attack on the Capitol.

Lindell told Steve Bannon's "War Room" podcast on Thursday that his streaming platform Lindell-TV plans to sue McCarthy, claiming the Speaker violated the First Amendment's freedom of the press provision and the Fourteenth Amendment's Equal Protection Clause.

The Trump ally said Lindell-TV is "injured by not having access" to the tapes and that the Speaker's decision represented discrimination.

You know, there is some slight danger that the video could reveal something like camera placements which could, possibly, "compromise security." It's laughable to think that a professional journalist like Tucker Carlson wouldn't be sensitive to that and redact frames that would expose that. Which makes the leftwing scaremongering about it -- the claims that Tucker Carlson is going to, and they did claim this, actively assist "terrorists" to breach the Capitol "again" -- completely risible.
But the possibility does exist. So you I can understand McCarthy wanting to restrict the release to someone who he can count on to avoid releasing anything that might be a security problem, and not just to anyone and everyone.
I can also understand McCarthy doing what every politician does: Delivering a friendly news outlet an exclusive scoop.
So what is Mike Lindell doing?
Does he think that he's the guy to find The Evidence in the video? That his Big Brain can find it, unlike the slacker morons of Tucker Carlson's staff? Like he found The Kraken?
Oh wait, no; he thinks that Tucker Carlson is part of the cover-up.
"We're not gonna sit back and let that happen," Lindell told Bannon, former White House chief strategist. "Why does just Fox get this? So they can cover it up even more? It's disgusting. All of us, including War Room, we all need to see what's on those tapes, and we need to see all of them."
I can understand thinking Fox might be part of the cover-up; Tucker Carlson, not so much.
I guess if he really wants to pressure Fox for access he could just boycott the network as advertising on it; MyPillow is a major advertiser on the much-boycotted Fox, of course.

This guy seems more and more like a complete flake and liability. "Having good intentions" isn't enough if you're a clod.
Jonah the Whale is just a Democrat now, obviously, laughing at anyone who thinks that defeating a Democrat candidate for president is important: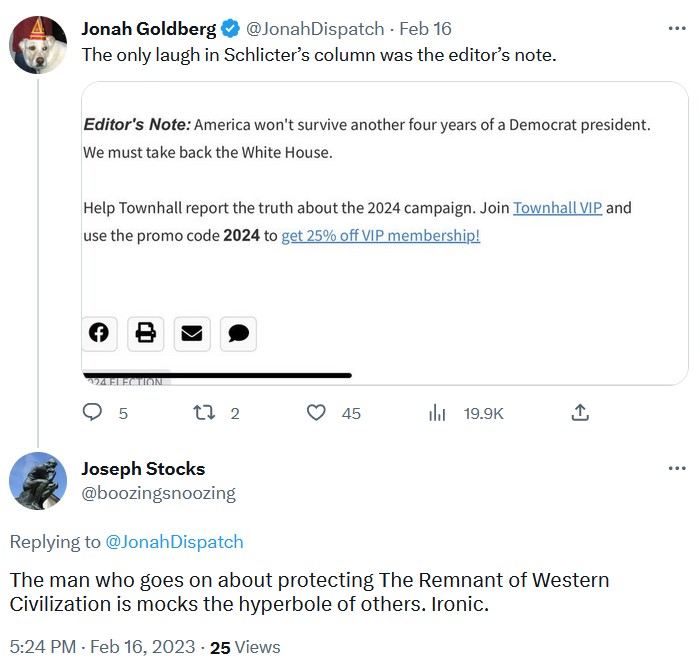 That's a good point, and yet another example of Jonah the Fat Whale's unending hypocrisies. He giggles at the idea that America might be at risk if we re-elect Biden -- and yet this flappy-titted sonofabitch has been screaming about the Catastrophism of Trump, crying that democracy is dying and we must try to resuscitate it from the small "remnant" that is still vital, for the last seven years of his grifting, morbidly-obese life.
All of my Prediction of Doom and Woe are Totally For Real You Guys; all of yours are just silly.

Greg Price got retweeted by the White House Deputy Press Secretary Andrew Bates, who crticized him.
So Greg Price then changed his twitter name to...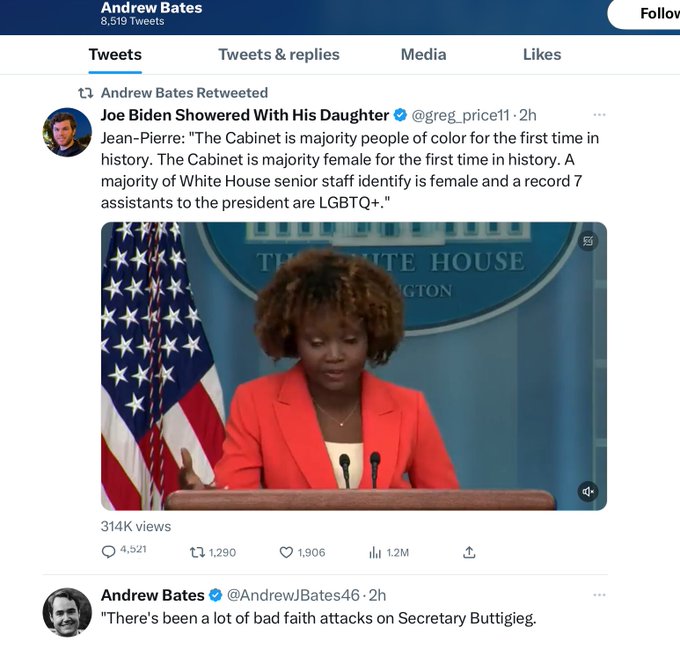 So now the Deputy Press Secretary has retweeted "Joe Biden showered with his daughter."
I saw someone say that Bates can't delete the tweet, because the Federal Records Act forbids federal official from deleting their tweets. But this is just a retweet -- can't he undo that? I dunno. I bet he's going to undo it. The Democrats do not obey the law under the best of circumstances.
Check out the terms of Alec Baldin's release on bond for his " " " alleged " " " negligent homicide:
The judge said he could only have limited contact with witnesses as was necessary to finish filming the movie Rust or related business regarding the film. But, Baldwin was not allowed to discuss the shooting incident with any of the witnesses. That's to prevent him from potentially preparing, colluding with, or threatening the witnesses.
He's probably done as much colluding with the witnesses as is possible already.
This is going to be tougher for him:
Baldwin was also prohibited from consuming alcohol and possessing any weapons, including firearms. That could turn out to be a problem for him, if he then is seen consuming alcohol.
LOL. Yeah I'm sure Baldwin can totally lay off the sauce for a year and a half or two years.
As for "possessing firearms" -- presumably he'll have to handle firearms while completing his movie. Is that forbidden? Or will they just use fakes this time?
I guess they'll just use fakes. Even if he's not forbidden from holding a gun. Guns and Alec Baldwin together would bring a very downer mood to the set.
The prosecutors also dropped an enhancement to the negligent homicide charge -- an enhancement due to the crime being committed with a firearm, which would have increased the sentence from a maximum of eighteen months in jail to a minimum of five years.
I think that's right. I hate Baldwin, but I also hate overcharging. The problem is that the enhancement is plainly designed to apply to the commission of a crime in which a firearm is used. But there is no predicate "other" crime here-- the crime here is mishandling of the gun itself. It wasn't a crime to have a gun on the movie set; the crime consisted entirely of handling the gun negligently. It's not like he did the one crime on top of another crime, as the enhancement presupposes. He just did the one crime.
So while the DA probably could have twisted the intent of the statute to overcharge Baldwin, I think she did the right thing by respecting the common sense intention of the law.
Jack McCoy was presented as a hero on Law & Order for constantly twisting the law beyond what it plainly meant or was intended to mean, playing stupid word games about what a word could mean so that he could "cleverly" charge "the bad guys" with a law they obviously were not guilty of violating. He wasn't a hero, he was a villain. He was the bad guy.
People are entitled to know what the the law actually is before they're charged with violating it, and allowing DA's to do violence to the plain meaning or intent of a law violates that right. It's allowing them to essentially craft post-hoc bills of attainder on ad hoc bases as they wish. Depending on if they really dislike the defendant.

The Heartland Institute, at RedState: Big Tech is claiming they were innocent of censorship, because the government ordered them to do it.
Meanwhile the government is claiming they're innocent of censorship, because Big Tech volunteered to do it.
fter years of Big Tech censoring conservatives, enforcing Chinese and Biden administration COVID-19 lies, and colluding with the Biden administration to advance other leftist narratives, Big Tech lobbyist Carl Szabo published a recent op-ed criticizing the federal government for censoring conservatives. Szabo's op-ed is even more hypocritical given that this is not the first time that Big Tech has tried to gaslight Americans on its far-reaching censorship agenda.

In his op-ed, Szabo claimed the federal government "coerced" Twitter executives to censor content -- as if Twitter didn't wholeheartedly jump into bed with the Biden administration to do so.

"Because of the Twitter files," Szabo wrote, "we've learned that agencies we trust like the FBI and the FDA, as well as the White House, blocked discussion of Hunter Biden's laptop, promoted the Russia collusion hoax and blacklisted a Stanford doctor for warning that COVID lockdowns would harm children. Such actions have serious consequences on individuals and society as a whole."

Really? Big Tech never suppressed, censored, and blocked elected officials, university professors, medical doctors, and major media entities on their platforms independent of government coercion?

It wasn't the FBI or anybody else who de-platformed such experts and blocked political speech -- it was Big Tech itself. The Twitter Files exposed Big Tech's multifaceted unilateral action to censor conservatives long before -- and in many cases, independent of -- any assistance by the federal government. Now that Big Tech has been caught red-handed, its corporate lobbyists are trying to gaslight us into thinking Big Tech was simply a victim of the federal government strong-arming them. They want us to believe they never had any intention to censor conservative speech or any other speech. That notion is counterfactual and preposterous.

We now have two co-conspirators -- Big Tech and the federal government -- seeking to avoid culpability by blaming each other for their mutual transgressions. The federal government cannot lawfully abridge free speech, so it claims it merely "suggested" particular censorship actions that Big Tech later decided to pursue. Big Tech claims it never had any desire to censor conservatives but did so only because the federal government strong-armed them to. Both are lying. Big Tech was already censoring conservative speech on a regular basis before the Biden administration came to power, and the Biden administration subsequently and doggedly used a willing and eager Big Tech to become the censorship arm of the federal government.
Idaho college killer Brian Kohberger had a picture of one of the victims on his phone, according to a report from People.
However, it's not clear if he had these pictures on his phone before the killings, or after, when they became widely known.
By the time of Kohberger's arrest, pictures of Madison Mogen, Kaylee Goncalves, Xana Kernodle and Ethan Chapin were ubiquitous -- and People's unnamed source reportedly did not specify whether the pictures had been taken by the suspect, when they had been taken, or if they were ripped off social media.

"He had more than one picture of her," the source told the magazine. "It was clear that he was paying attention to her."'
Media: All Hail Biden! All Hail Emperor Biden! All Hail Biden, Ultimate Hero!

ChatGDP, what does White Fragility look like in actual practice?

Don't let your children get woke.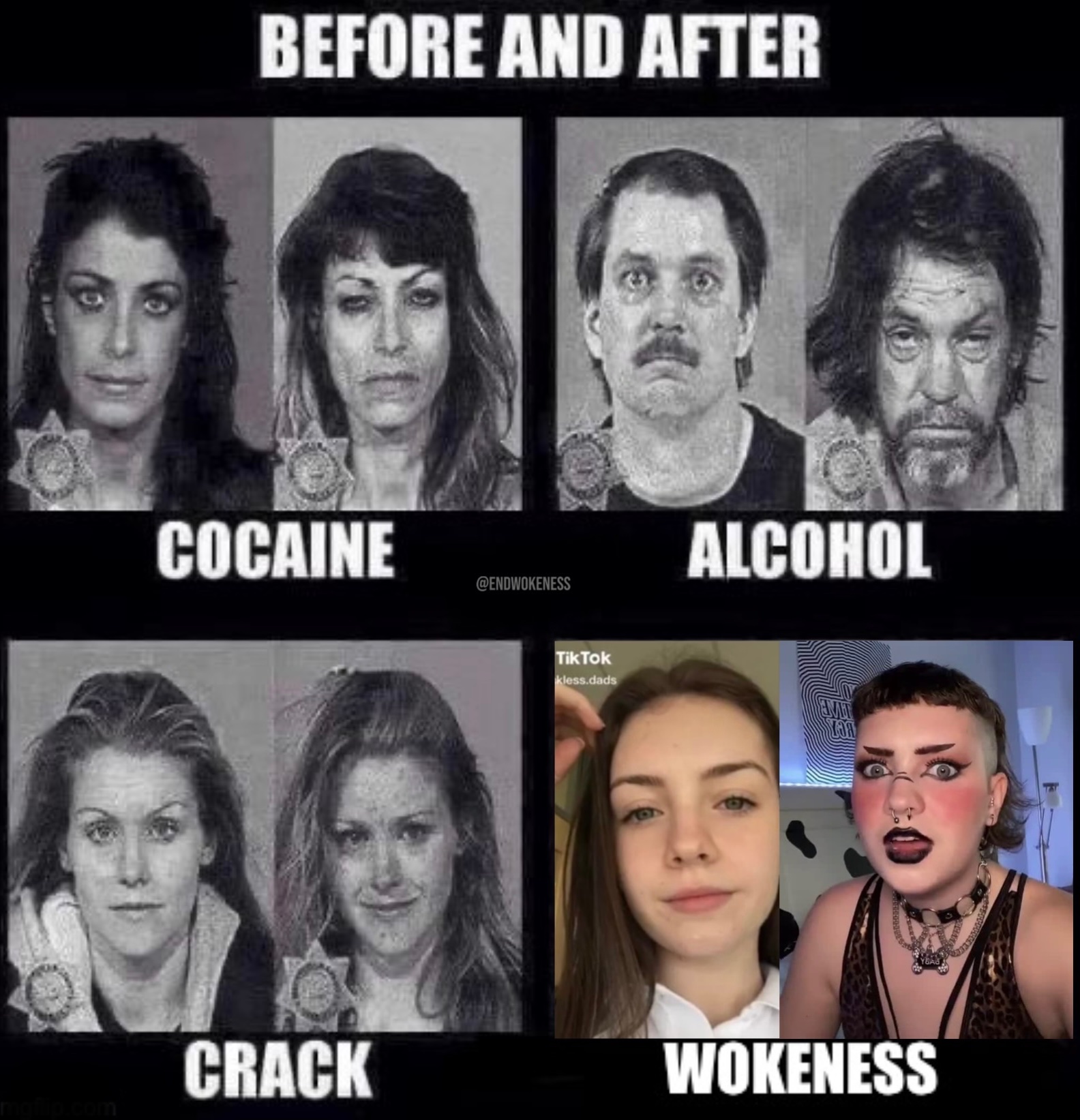 posted by Ace at
04:58 PM
|
Access Comments