« Insurrection: Trans Extremists Break Into Oklahoma State House With Intent of Stopping Democratic Vote on Law
|
Main
|
From Earth to Heaven Cafe »
February 07, 2023
Quick Hits
Charles Gasparino @CGasparino

BREAKING: In a report to clients (reviewed by @FoxBusiness) @StrategasRPsays "We expect @POTUS to announce his candidacy following his State of the Union" speech tonight, underscoring sentiment of top Wall Street players that the prez will seek re-election more 345pm @LizClaman

The pro-life activist targeted by the corrupt and brutal Regime will be present at the SOTU.
RepScottPerry @RepScottPerry

Privileged to welcome my SOTU guest, Mark Houck, an innocent victim of @POTUS's reprehensible abuse of power, whose only "crime" was to use his God-given constitutional rights to protect his family, faith, and way of life. @POTUS should see the faces of those he seeks to destroy.
If that's supposed to intimidate Biden, it won't work. Biden can't even recognize his homewrecker whore of a wife any more.
Biden reportedly offered Russia 20% of Ukraine to end the war.
[I]t appears that Joe Biden might have been willing to play appeasement games with Vladimir Putin, according to a report from the Swiss newspaper Neue Zürcher Zeitung (NZZ). NZZ said CIA director William Burns went to Moscow on a secret trip and offered Russia 20 percent of Ukraine to end the war. 20 percent of Ukraine would be about the size of the Donbas region that Russia claims. The Washington Post reported that last month, Burns had met with Ukrainian President Volodymyr Zelensky in Kyiv. Supposedly the deal was submitted in January.

The offer didn't go over well with either Ukraine or Russia. One would imagine that Ukraine was not too happy with being sideswiped by the deal.

Kyiv reportedly shut down the proposal "because they are not willing to have their territory divided" while Russian officials said they "will win the war in the long run anyway," reported NZZ, which has been described as the Swiss newspaper of record.

Sean Savett, the deputy spokesperson for the National Security Council said the report was "not accurate." That's an interesting remark because they didn't say "completely untrue" -- not accurate can mean there's one part of the report that isn't true but the rest is substantially true. If the WaPo report is to be believed, why then did Burns go to meet with Zelensky if there wasn't something afoot?
Does this mean he's an Agent of Putin? Because I'm told that any action that threatens to end the War in Ukraine must be a Putin initiative.
A Canadian "model" -- note that anyone can call themselves a model, so don't expect her to be goodlooking or even human-looking -- had one of her two 10Kg (22 pounds) breasts implants explode, leaving her with just one oversized fake "uniboob."
I would recommend that you refrain from clicking on this link to see what she looks like, but I know my warnings will fall on deaf ears.

Donald Trump continues attacking DeSantis.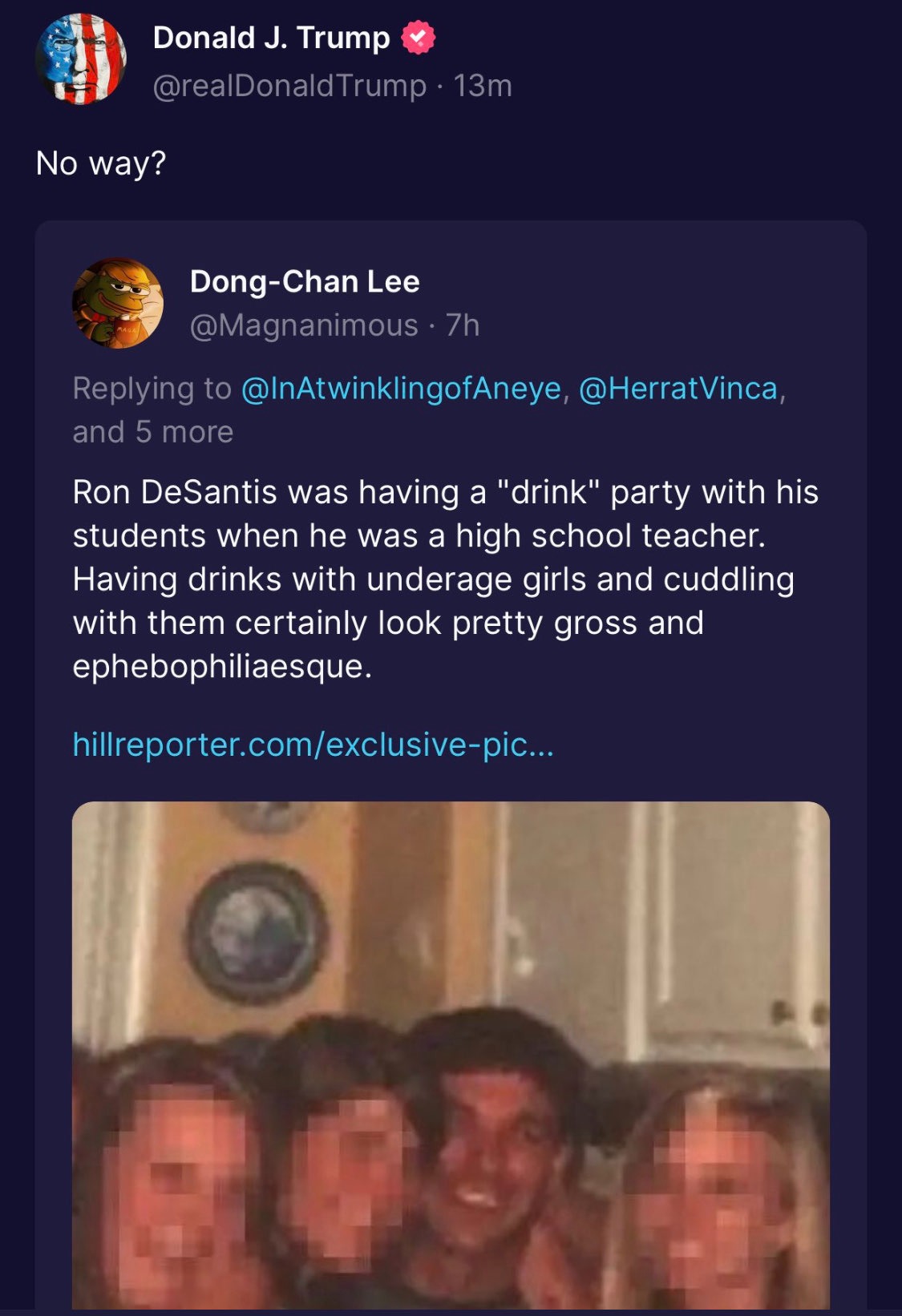 There's not even any confirmation that's DeSantis. It's also not a crime to stop by a student's get-together.
Well, I mean, Trump is known to be without any sexual scandals at all, so this is a potent line of attack for him, and not at all desperate and weak-looking.

Sexually confused 14-year-old Goth Girl announces her blocks on Twitter:
Adam Kinzinger #fella @AdamKinzinger

I muted @elonmusk. I couldn't handle the rage injection every time he tweeted

posted by Ace at
06:20 PM
|
Access Comments