« The Morning Rant: Minimalist Edition
|
Main
|
Ilhan Omar Booted Off Foreign Affairs Committee, Claims She Was Targeted Because She Is a Muslim and an Immigrant, and Not Because She's an Antisemtic Terrorism Apologist (and Immigration Fraudster) »
February 02, 2023
Hunter Biden Finally Admits the Laptop Is His as He Asks His Dad's Praetorian of Leftwing Federal Prosecutors to Investigate Steve Bannon and Rudy Guiliani for Trying to Get a Newsworthy Item to the News Media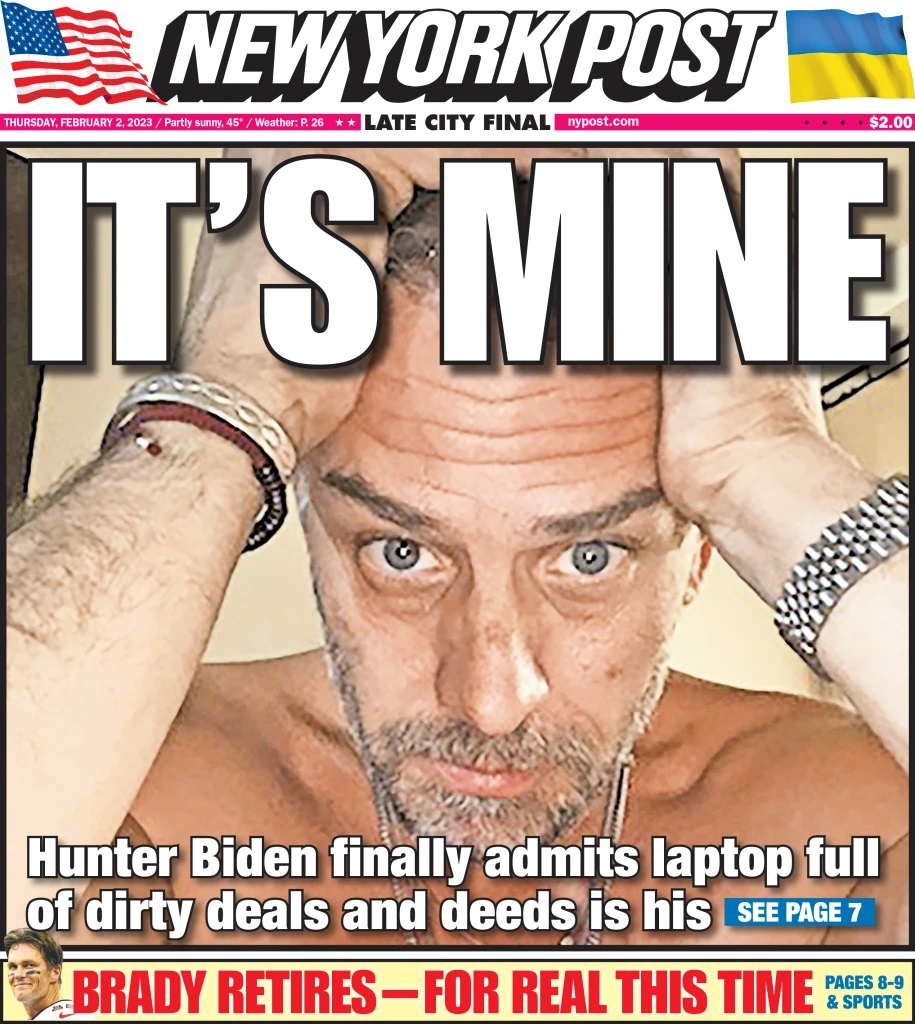 Opening question: Will the remaining network dead-enders, like CNN, ABC, and Chuck Todd's MS/NBC, finally admit the laptop is real, now that Hunter Biden admits it?
Opening answer: No of course not. They'll play up the "Steve Bannon and Rudy Giuliani #hacked Hunter Biden" angle while playing dumb about the fact that this allegation confirms the laptop is real.
Hunter Biden FINALLY admits infamous laptop is HIS as he sends letters to prosecutors demanding investigations into Trump allies Steve Bannon and Rudy Giuliani for peddling hard drive to media

Hunter Biden's lawyers are asking the Justice Department to open a criminal inquiry into some of former President Donald Trump's top allies over his laptop

Lawyer Abbe Lowell asked the DOJ to probe Steve Bannon, Rudy Giuliani, Giuliani's lawyer and the owner of the Wilmington computer store

Hunter Biden never consented to having his personal information from the laptop shared, Lowell argued

Hunter Biden is going on the offense with his lawyers now asking the Justice Department to investigate former President Donald Trump's allies, who peddled his laptop's hard drive to media outlets in the run-up to the 2020 election.

The first son's lawyer Abbe Lowell asked the DOJ to probe former Trump strategist Steve Bannon, campaign lawyer and former New York City Mayor Rudy Giuliani, Giuliani's lawyer and the owner of the Wilmington computer repair shop, John Paul Mac Isaac, who obtained the laptop in April 2019.

Using passages from Mac Isaac's book, American Injustice: My Battle to Expose the Truth, Lowell notes that Mac Isaac sent a copy of the laptop data to Giuliani's lawyer Robert Costello who turned it over to the ex-mayor, who at the time was pushing discredited theories about the younger Biden.

'This failed dirty political trick directly resulted in the exposure, exploitation and manipulation of Mr. Biden's private and personal information,' the letter said. 'Politicians and the news media have used this unlawfully accessed, copied, distributed, and manipulated data to distort the truth and cause harm to Mr. Biden.'

The letter is the first time Hunter Biden has acknowledged it was his data that was found and distributed to members of the news media.
You may wonder how Chuck Todd can possibly continue maintaining that the laptop might not be Hunter Biden's and instead an exquisitely detailed RUSSIAN FORGERY, giving that Hunter Biden's own lawyer is demanding that people be prosecuted for sharing his "private and personal information."
Don't worry -- that's why the lawyer included the word "manipulated" in his letter. He suggested that Hunter's data was then "manipulated" to give Chuck Todd the cover to claim that while maybe the data was gotten from Hunter's laptop, it was subsequently "manipulated," altered, and counterfeited by RUSSIAN HACKERS.
Working with Steve Bannon and Rudy Giuliani, obviously.
You may wonder: Is Chuck Todd really enough of a lying degenerate partisan hack and soulless cvnt to attempt to push that new cover story?
And to that question, I can only answer with an image.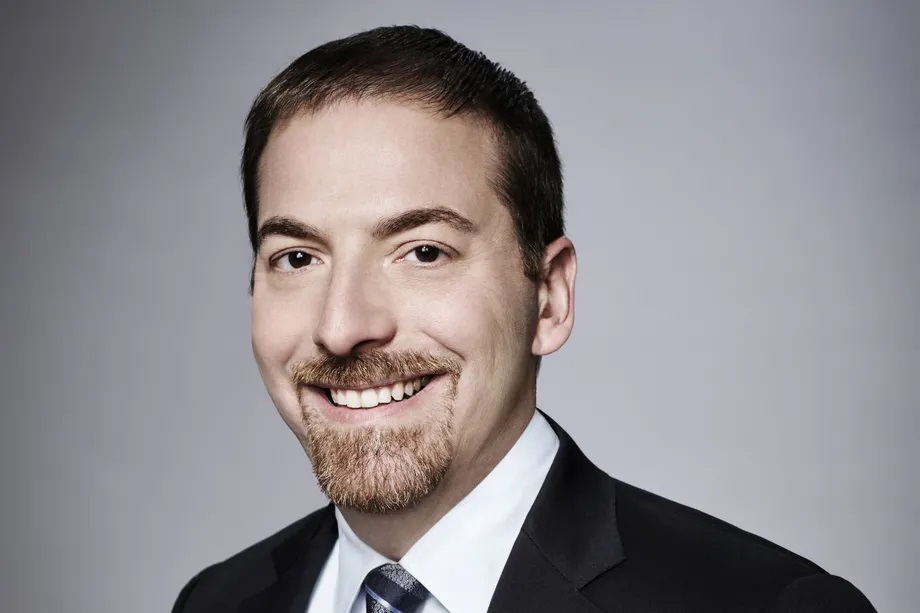 This lawsuit is being organized and funded by Kevin Morris, Hunter Biden's "sugar brother," the man who paid off his $2 million in outstanding tax bills... for some reason.
This "sugar brother" also lied his way on the set of the "My Son Hunter" film, to spy on the actors and filmmakers and get pretextual interviews with them.
It was a scene straight out of a film noir: A glamorous Hollywood writer flies in his private jet to a small Balkan enclave posing as a documentarian to gather information on a group of actors and filmmakers in the midst of shooting a biopic about Hunter Biden.

But the star of the surreal scenario that took place last fall in Serbia was Los Angeles-based lawyer Kevin Morris, a friend of Hunter's who is now being accused of "spying" on the set of "My Son Hunter."

The film, which is highly critical of Hunter for allegedly selling influence to foreign companies while his father, Joe, was vice president, is produced by husband-and-wife documentarians Phelim McAleer and Ann McElhinney.

"On set, a man named Kevin Morris arrived and told us he was working on a documentary exposing Hunter's corruption," a tweet from the official "My Son Hunter" site declared on Tuesday. "He told us he was a retired lawyer associated with South Park. We allowed him and his crew to interview us, cast members, and film on our set."

In fact, Morris is a successful lawyer and big-money Democratic Party supporter who has become Hunter Biden's newest fixer and "sugar brother," allegedly loaning the president's son $2 million to help pay off his overdue federal taxes. In addition to the loan, Morris, 58, has become the architect of the legal and media strategy of the president's beleaguered son. The lawyer, who counts Chris Rock and Matthew McConaughey among his celebrity clients, is also a prolific fiction writer of two novels and a collection of short stories.
Morris was also instrumental in Hunter Biden's new transformation into an "artist" selling his "artworks." To anonymous Chinese buyers, naturally.
Over the past two years, Morris has helped Biden, a self-taught artist, forge a deal to market his paintings, which are priced between $50,000 and $500,000 apiece. Morris has also paid Hunter's monthly living expenses in Los Angeles, according to the New York Times. The Hollywood attorney even found a high-powered literary agent for Biden, 52, when he was writing "Beautiful Things," a 2021 memoir that chronicles his drug and alcohol addictions. Biden was so grateful for Morris' counsel that he included him as part of "the outstanding team behind this book" on the acknowledgments page of his memoir.

In fact, both Morris and Biden are represented by the same agents -- Aevitas Creative Management -- which looks after Morris' own works, the novels "All Joe Knight" and "Gettysburg," and the short story collection "White Man's Problems.
Boy, this Democrat activist sure has an unreasonably high level of interest in moving money into Hunter Biden's accounts.
It was Morris who tipped the media a few weeks ago that he and his "sugar brother" were plotting an "aggressive" legal strategy against the people telling the truth about Hunter Biden.
Turns out that legal strategy is begging Daddy to direct his corrupt Regime bastards to put the people telling the truth about Hunter Biden in prison.
Letters were also sent by Hunter Biden's lawyer on Wednesday to the Justice Department's National Security Division and the IRS.

...


The House Oversight Committee will commence hearings next week on Hunter Biden's alleged influence peddling, and claims he cashed in on ties to his then-vice president father to rake in millions from foreign companies, Rep. James Comer (R-Ky.), the chairman of the panel, told the National Press Club on Monday.

Ziegler, who worked as an aide to Trump trade adviser Peter Navarro and has published the laptop's data on his Marco Polo USA website, told The Post on Wednesday that the letters were a "desperate attempt" by the Biden family to get the spotlight away from "their crimes."


...

"With respect to the letters from the president's son pleading with his daddy's agencies to target those who expose his blatant criminality, Kevin Morris did not get a lot of bang for his buck," Ziegler told The Post, referencing Hunter Biden's fixer and "sugar brother" Kevin Morris, who allegedly lent the president's son $2 million to help pay off his overdue federal taxes and has become the architect of Hunter Biden's legal and media strategy.
Of course Hunter Biden ran to the Regime mouthpiece the Washington Post to get his spin into print.
Hunty and Kevvy are threatening to sue Tucker Carlson as well, obviously:
Matt Viser @mviser


Hunter Biden's lawyers today also sent a letter to Tucker Carlson and Fox News demanding that they correct falsehoods from his recent show, or risk a possible defamation lawsuit.
The Regime Apologist Newsletter doesn't bother reporting which statements are claimed to be "falsehoods," almost certainly because they don't want to alert their plunging readership to the allegations against Hunter Biden at all.
But this bit of Regime Apologism by Nazi scion and Regime Narrative Enforcement Hauptmann Glenn Kessler may provide a clue.
This regards Hunter Biden's email in which he stops talking about cooking crack and banging Russian whores to suddenly offer up a magisterial exegesis about Ukraine and its upcoming elections -- a bafflingly cogent bit of prognostication from a man who admits he was high out of his mind on crack and many other drugs at the time.
A prognostication that reads and awful lot like his Daddy gave him some classified CIA analyses of the Ukrainian political situation that he could use to impress his "business" partners, which he then cribbed for his own analysis.
Pish-posh, says the son of a Nazi.
All that was just open source intelligence.
Except... a lot of classified analyses are based on open source intelligence. Or are you pretending not to know that, Nazi Scion?
Laptop email suggests Hunter Biden read newspapers, not classified documents

Analysis by Glenn Kessler

...

The timing of the vice president's trip [coincidentally, to Ukraine, just before Hunter offered his cogent take on Ukrainian politics] has given rise to speculation that his son had access to his father's pre-trip briefings.

Hunter Biden has had a checkered life, marked by substance-abuse problems. But he is also a graduate of Georgetown University and Yale Law School. One can presume he acquired some research skills at those institutions. He was also well-connected, with contacts he could draw on for information.
Yes, one of those contacts would be his fucking father, who just got briefed on Ukraine's political situation.
In the email he refers to possibly hiring a firm to provide information "that's not available through a Google search and some phone calls" -- suggesting that that is what he relied on for writing the email.

For nine years, The Fact Checker was diplomatic correspondent for The Washington Post. I've seen my share of backgrounders, State Department cables and even the odd classified document. Far from being especially sophisticated, Hunter Biden's email appears to be largely the product of diligent reading of recent newspaper and magazine articles.
Sure. And Hillary Clinton made a fortune as a neophyte cattle futures speculator while First Lady of Arkansas "just by reading the Wall Street Journal."

Your daily reminder that NeverTrump supported the candidate supported by the Regime to restore honor and integrity to America.

posted by Ace at
12:00 PM
|
Access Comments