« Hunter Biden Finally Admits the Laptop Is His as He Asks His Dad's Praetorian of Leftwing Federal Prosecutors to Investigate Steve Bannon and Rudy Guiliani for Trying to Get a Newsworthy Item to the News Media
|
Main
|
Top January 6 Investigator Admits They Determined That The FBI Could Have Stopped the "Insurrection," But Did Not.
And Also, That the Committee Downplayed and Buried This Finding In an Appendix, and Kept It Out of the Public Hearings Entirely. »
February 02, 2023
Ilhan Omar Booted Off Foreign Affairs Committee, Claims She Was Targeted Because She Is a Muslim and an Immigrant, and Not Because She's an Antisemtic Terrorism Apologist (and Immigration Fraudster)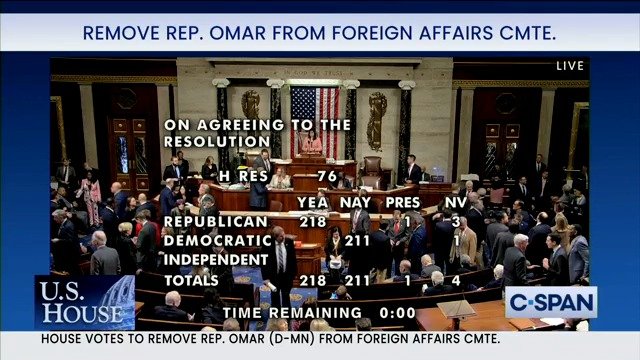 Although three Republicans, including Nancy Mace, were threatening to vote to keep her on the sensitive committee, whose members see classified documents about foreign countries (terrorist-harboring countries, for example), in the end, only one Republican failed to vote to exclude her from the committee, instead voting "Present."
Had the three Republicans carried out their cvckish virtue signalling threat, Omar would be on the Committee, because the Republicans can only afford to lose four votes in any vote, and one Republican is currently absent due to ill health.
But she's gone:
RNC Research @RNCResearch

BREAKING: After years of unapologetic antisemitism and a startling lack of judgment on foreign policy, Democrat Ilhan Omar has been removed from the House Foreign Affairs Committee.

Every Democrat opposed it.
Fellow terrorist whore Rashida Tlaib got misty-eyed over Ilhan Omar, and then Ilhan Omar claimed she wasn't getting booted due to her frequent outbursts of antisemitism and terror apologism, but because she's Muslim and an immigrant.
AOC, who died on January 6, returned to Congress as a ghost to yell and shriek and claim that a Congressman "threatened her life."

Weird how no one ever quotes what this "threat" was. And I know the left claims that "f*** you" is a "r@pe threat," and "kill yourself" is a "death threat."
Pretty much whenever you're disagreeing with leftists, you are Literally Threatening Their Lives and Causing Them Physical Harm.
Update: blaster reminds us what this "death threat" was. It was another meme, a computer game meme.
Oh AOCs threat on her life was a retweet by Paul Gosar of a video with Gosars face on the body of someone with AOCs face on another and the Gosar character decapitates the AOC character. That video was done after some verbal own that Gosar had of AOC.
Yeah total death threat. Just like the "Trump bodyslams CNN" meme was a "threat of violence."
RNCResearch documents Ilhan Omar's frequent resort to antisemitic tropes, like Israel has "hypnotized the world" and the claiming that support for Israel is "All about the Benjamins, baby."

This terror simp also routinely claims that the US and Israel are guilty of warcrimes when they counter-attack terrorist groups. And she claims that Hamas and the US (and Israel) are morally equivalent and should both be brought to "justice" for their terrorism.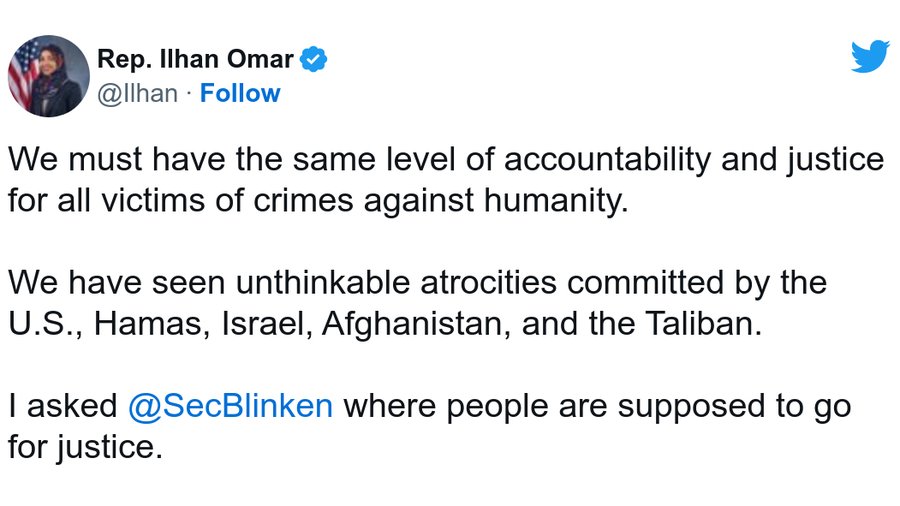 Now I personally don't think people should be #cancelled for borderline "tropes." But the left does.
She also engages in terror minimization or terror denial, saying, for example, that "some people did something on 9/11." Not only is she refusing to acknowledge the full horror of 9/11, but she's also playing along with a common terrorist meme that it wasn't extremist jihadist Muslims who carried out 9/11 -- but the Jews.
Did she intend that? Given her general pro-terror sympathies, I'd say yes, she did intend that. She doesn't want to break the Jihadist Omerta and admit jihadists, not Jews, did 9/11.
I'm not buying her claims that every time she says something antisemitic or pro-terrorist, my gosh, she just had no idea it could be taken that way!
And also: You just can't offer rhetorical cover to terrorist groups like Hamas or the Taiblan and get to read classified intelligence about those selfsame* terrorist groups. You. Just. Can't.
So this terror-bitch got to go.
Last weekend, Ilhan Omar, who has been in this country since she was six years old (if I remember right -- and wow has she not mastered the English language after all this time), claimed she didn't know that saying Jews were all about money was an antisemitic trope, and boy she sure is grateful to the ADL and other leftwing Jewish political groups for "educating" her on these complex issues.
* My first ever use of "selfsame." Just wanted to cross that off my Bucket List. I'm glad you were all here for it.

posted by Ace at
01:10 PM
|
Access Comments