« Daily Tech News 31 January 2023
|
Main
|
Mid-Morning Art Thread »
January 31, 2023
The Morning Report — 1/31/23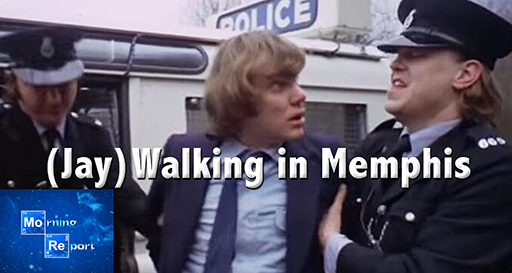 Good morning kids. So, in looking at this hideous Tyre Nichols situation in Memphis, it reminds me of the story about the kid who goes on trial for murdering his parents, and then pleading with the court for mercy because he's an orphan. In this case, after begging for mercy, he blames the real guilty party: society.
Tadarrius Bean and Demetrius Haley both joined the MPD in August 2020 after education qualifications to become an officer were dramatically lowered two years prior. The department nixed the required associate's degree or 54 college credit hours for recruits in 2018 due to a lack of applicants.

"They're desperate. They want police officers," retired NYPD detective Mike Alcazar told the Post. "They're going through it, they check off some boxes, saying, 'Ok, they're good enough, get them on. . . "

. . . Bean and Haley were also hired during the summer of the George Floyd riots, a global protest movement organized by Black Lives Matter in response to the death of Floyd in Minneapolis police custody. The protests spread to more than 2,000 cities across America, causing more than $1 billion in property damage and killing at least 25 people. Such a movement, whose main mantra was "defund the police," significantly damaged police morale.

According to a June 2021 survey by the Police Executive Research Forum (PERF), the rate of retirement at police departments rose 45% in 2020 compared to the previous year, with a 20% increase in resignations. The hiring rate also dropped by 5%.

Simply put: police officers were quitting at unprecedented rates across the country to escape such a hostile environment, and departments were struggling to meet minimum staffing requirements. This coincided with a massive crime wave across America's major cities."

So at that very moment you're hoping you can put police out there to try to deal with crime, you're seeing the workforce shrinking with an unprecedented number of retirements and resignations," PERF's Executive Director Chuck Wexler told NPR.

While a shortage of recruits is no excuse for relaxing hiring standards for cops, it is a product of disastrous dynamics the Black Lives Matter movement and leftist elites have cultivated. There is a lot of power and money in stoking fears of racism and hatred. And it is all done at the cost of the safety of the American public, most especially black Americans like Nichols.
You know, in a way, "society" really is to blame for Nichols horrific death. American society turned upside down and inside out for nearly 50 years by something known as The Great Society. Everything that is wrong with America, or whatever the hell nation this has been transmogrified into since the last thing it looks like to me is America, can and should be blamed on Democrats, Leftists and the RINO flunkies who have profited and continue to profit off these nation-killing bloodsuckers.
Munchausen's by progressivism – so perfect an expression I wish I'd thought of it. Beat the host to near unconsciousness with a lead pipe and then ride in to the rescue with multi trillion dollar government programs that only succeed in flatlining him. Then, blame someone else for it. Isn't this the story of race relations and black America?
Look, there is absolutely ZERO excuse for what these cops did to Tyre Nichols, with the caveat that we still don't know the whole story of how he wound up on the receiving end of a murderous beating. It cannot be, as the racial arsonists and propagandists will no doubt insist that it was solely based on his melanin content. And that because the cops who did this were black were part of a white-controlled system and so, QED, they, too, are de facto white.
Funny how no one ever has the stones to ask these bastards the question, "Well if America is a white supremacist nation where black people have zero chance to ever get ahead, how do you account for Barack Obama and Oprah Winfrey? Either they are too stupid to realize they're Uncle Toms or they are willingly working for the masters."
OR, the premise that America is a white supremacist nation where black people have zero chance to ever get ahead is complete and utter horseshit. Again, as I postulated yesterday, something that is so obvious and true yet people insist on believing their lying eyes. Is there racism? Can individual people be racist? Yes and yes. But nowhere in history has a society ever gone through what it did to try and eradicate the evils of the past, and some in the present, to try and build a more perfect union. And the fact that we are a multi-ethnic and multi-religion society makes the fact that we achieved what we have achieved in so short a time that much more miraculous. And "exceptional."
The unforgivable crime is those who have sought, and are indeed on the cusp of, absolute power have spent nearly one hundred years putting us at each other's throats so as to gain that power. Look at this Critical Crackpot Race Theory poison. Aside from distorting and perverting historical facts, the essence of the whole enterprise is to define America by it's flaws and the "original sin" as it were of slavery, not by the fact of how we as a people have tried and continue to try to overcome our flaws.
So Psaki-psircling back to Munchausen's by progressivism, the Left destroyed the police and made life unbearable for cops in uniform and for potential candidates to join the force. DEI (D-I-E) dictated that skin color, gender, sexual deviance and everything under the sun EXCEPT actual competence would be the criteria for hiring. And when even those candidates were not around, the bottom of the barrel was scraped. As it obviously was in Memphis. So, the race hustlers got the cops they wanted, and when yet another black male "who was just turning his life around" dies at their hands, it's still the fault of white supremacy and America as founded. Self-licking Ice Cream Cone Status: [x] Licked.
Meanwhile, in another part of the forest, while everyone is getting all worked up over another victim of Democrat-Leftism, there's the other side of police incompetence. Except this time, it really is political terrorism.
In the span of a few weeks, not only did authorities release all relevant videos, the five officers were arrested, investigated by a grand jury, indicted on second degree murder charges, and fired by the Memphis Police Department.

Transparency and justice, to the extent it ever will ease his family's grief, came quickly for Tyre Nichols.

That is not the situation for four Donald Trump supporters who died on January 6, either wholly or partially due to the actions of Capitol and D.C. Metropolitan police officers on duty that day. More than two years after the fact, body worn camera footage is only slowly being released at the criminal trials of January 6 defendants. (Only D.C. Metro police are required to wear body cameras.)

And the Department of Justice, unlike the city of Memphis, is making it nearly impossible for the general public to access the very limited trove, which has been uploaded to a platform created to house all digital evidence for the department's "Capitol Siege" investigation.

But the unedited video—the government has produced cherry-picked clips from otherwise protected recordings to bolster the regime's "insurrection" narrative in the media and in court—so far documents what I described last week as the worst incident of police brutality since the civil rights movement. Footage from just three D.C. Metro officers revealed how police wantonly and, in some cases, viciously attacked American citizens exercising their rights to protest at a government building. Cops used an arsenal of munitions, including rubber bullets, flashbangs, stinger balls, and massive amounts of chemical gas against protesters assembled on Capitol grounds. . .

. . . And what about releasing the body-worn camera footage of Lila Morris, the D.C. Metro officer who repeatedly struck Rosanne Boyland with either a baton or stick on January 6? Newly released open source footage shows a horrific scene after her beating as protesters attempted to resuscitate her as other officers looked on.

Body cam footage of Morris' colleague, Officer Terence Craig, indicated he was in the lower west terrace tunnel when the attack on Boyland occurred. "She's fucking dead! This is on you, motherfuckers!" one man screamed at the officers. "This is the woman you killed, you fuckers!"

But where is Morris' body cam video or that of other officers near her on January 6? Surely Rosanne Boyland is entitled to the same level of transparency and accountability as Tyre Nichols, since she too was pepper sprayed and beaten—where is #JusticeforRosanne hashtag?

According to testimony by Robert Contee, then-acting chief of the Metropolitan Police Department, more than 1,000 of his officers were at the Capitol on January 6. Quick clips of a handful of officers, including Daniel Hodges, who repeatedly referred to Trump supporters as "terrorists" during his public testimony to the January 6 select committee in 2021, have been used to garner sympathy and stoke outrage.

If it's acceptable to make public small segments of body camera footage from selected officers, then the Department of Justice and D.C. Mayor Muriel Bowser should order the release of all footage on an accessible platform for the American people to see for themselves.

After all, Tyre Nichols isn't the only victim entitled to the truth.
Except, Julie Kelly (which I know you know), some victims are more equal than others. While all this is going on, the DOJ has responded to Jim Jordan's demands for documents pertaining to Joey Sponge-Brain Shits-Pants' crimes: FOAD.
When it comes to law enforcement, the fish stinks from the head. We're becoming both a lawless society and one where the book is thrown at those who refuse to knuckle under. A book? Hell, the entire library.
CIVIL WAR 2.0: J-6 FBI FALSE FLAG "RIOT" & AFTERMATH, LEFTIST PERSECUTIONS, DEMOCRAT PUTSCH, AMERICAN DISSOLUTION
NOTE: The opinions expressed in the links may or may not reflect my own. I include them because of their relevance to the discussion of a particular issue.
ALSO: The Morning Report is cross-posted at CutJibNewsletter.com if you want to continue the conversation all day.
Follow us on Twitter: @CutJibNews
Follow us on Instagram: @Cutjibnewsletter

posted by J.J. Sefton at
07:35 AM
|
Access Comments