« Sunset in the West
|
Main
|
Ace of Spades Pet Thread, February 4 »
February 04, 2023
Saturday Gardening, Puttering and Adventure Thread, Feb. 4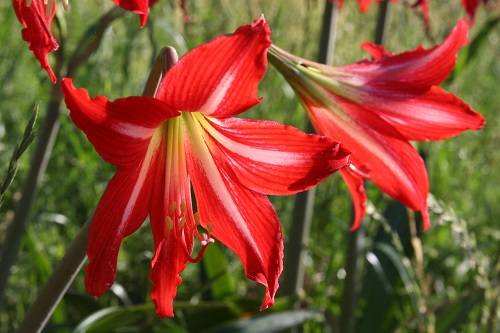 Hardy Amaryllis: Hippeastrum x johnsonii
Happy Saturday, everybody! Indoors or outdoors today?
In the comments on Christmas Eve, we had a question about transplanting Amaryllis gifts to the garden. Some of these, particularly the ones with smaller multiple blossoms, will do well in some frost-free locations, blooming in sping. But there is one "hardy amaryllis" (not true amaryllis or lycoris) which does well somewhat further north. From the University of Arkansas Extension Agency:
The hardy amaryllis is a hybrid between H. reginae and H. vittatum. The first species is found in a wide swath of Brazil and Peru while the second is from Peru and probably accounts, depending on how high up the mountain it was collected, for the winter hardiness of the hybrid.

The hardy amaryllis grows 18-24 inches tall with four to six blooms produced on a stout, hollow scape that pushes from the bulb. Individual flowers are to 5 inches across, slightly fragrant and bright red with a central white stripe down the center. Blooms usually appear in late spring.

Leaves are to 2 inches wide, to 2 feet long and bronze colored when grown in the sun. The foliage yellows and dies in late summer. In milder areas, it may reemerge in the fall and overwinter unscathed through the winter but in colder climes it will freeze to the ground. The bulbs are smaller than the typical forcing amaryllis but increase quickly, resulting in a colony of plants if left undisturbed for a number of years.
Lovely. Wonder if you could get some variations by growing seedlings?
*

Edible Gardening/Putting Things By
Hey KT,

I came across a resource for unique cucumbers, especially Armenian cucumber types that like the heat which is good for me. I ordered a couple of varieties to try.

These are from the Cucumber Shop online. I ordered a Carosello Leccese Striped variety. It is "An ancient variety still cultivated near Gallipoli Italy. Variations in vine and fruit length ensure long harvests of 4-6 inch cylindrical fruit with light flesh developing mottled dark bands exhibiting superb juicy crisp texture and flavor with a sweet aftertaste."

And I also got a Farcussa. "Still grown in and around Carloforte,Italy, this light slender tortarello-type cucumber exhibits bands of dark splotching. Brought by Tunisians to Sardinia sometime after 1541, these heat loving vines produce a continuous harvest of long beautiful fruit."

I am excited to try them this year. I will let you know how they go. I thought others in the horde might not have heard of this place either and might want to try.

WeeKreekFarmGirl
Of course, this type of cucumber is actually part of the melon family.
My friends gave me a snake Armenian cucumber a few years ago and I thought it was a bit "slimey" or a bit viscous? I hope these aren't like that! I did not enjoy it. I grow a few different Armenian cucumbers which I enjoy but I am hoping that these are crisp and sweet and delicious. I will let you know!
I grew a snake Armenian cucumber once, too. I didn't think it was very productive, and I thought it was too sweet and not real crisp. Pretty though.
The Cucumber Shop guy also has a blog. He says the Striped Armenian (Serpent) comes on late, after the light Armenian Cucumber plants have died back. There is a dark Armenian cucumber, too.
He got some varieties of Melon-Cukes from a guy in Arizona when he was first becoming interested in growing cucumbers.
Here is an interview (text or podcast) with the proprietor of the Cucumber Shop about the Melon-Cukes (his shop also carries regular cukes). Detailed and interesting: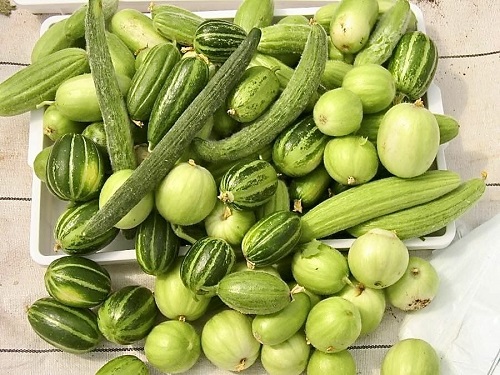 Here are a couple of excerpts:
Jay: Well, so I do read a lot of scientific works because there's not a lot out there about these. And then I also have a variety from India that's completely different, this cucumber bleeds red sap. And it's just wild. It's pretty neat. And it's actually a cucumber melon like these others. But that one's really neat.
How would your family react to a red-sapped cucumber?
What's his favorite?
Jay: So I love the Striped Carosello Leccese, that's my favorite. I love to go back to that every year. And that's my standard for quality in everything else.

One of the neat ones I have is a Facussa [above] that one's out there. But the striped Armenian or painted serpents are good for later in the fall. They're pretty cold-tolerant and disease-tolerant.

But one of the takeaways is these are not necessarily the next superfood or anything, but they're easy to grow. They're gentle on the soil, they're not hard to grow like tomatoes. For some people, tomatoes can be hard, but they're fun and they're delicious. There's a reason why ancient people grew them and kings wanted them year round and things like that. They're fun and they're delicious and they're great. And if you're looking for something new and fun to try out, look into Carosello, they're great.
So, perhaps WeeKreekFarmGirl has made some good choices!
If you are planning on saving seeds, you need to have only one open-pollinated real cucumber variety and one melon or melon-cuke blooming at a time (unless you hand-pollinate and isolate). Saving seed from a hybrid specialty melon is an especially bad idea. Ask me how I know.
There are a few commercial regular cucumbers which are open-pollinated and also disease-resistant. If you are looking for emergency supplies, keep an eye out as you review catalogs. Some of them are in the pickling section, but a few are all-purpose.
*
Snacking Idea:
Hass avocados are in the markets right now. Had enough guacamole? Try thin slices with cucumber and your favorite seasonings on the toasted bread of your choice. Or get fancy and schmoosh the avocado up with roasted garlic. if you like.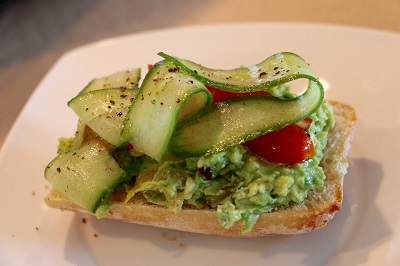 If anyone is interested in growing avocado trees, check the particulars first. There are things you should know . . . .
*
NEWS
From America's Newspaper of Record, The Babylon Bee:
Mom confident that family is prepared for WWIII now that the tomato plant has sprouted
KANSAS CITY, MO -- A local mother expressed relief and finally sat down to rest from her marathon session of doomsday preparation, confident that her family was now ready to endure the upcoming outbreak of World War III because her tomato plant had sprouted.

"I wasn't entirely sure we were ready for the new War to End All Wars," said Lacy Smith. "But now that the tomato plant has officially sprouted, it's pretty safe to say we've got things covered. We are now a self-sustaining family and can face the coming nuclear holocaust with the knowledge that we won't starve! I love homesteading!"
Anybody else feeling safe now with some seedlings sprouted?
*
Farming
The World Ag Expo is coming up, Feb. 14 - 16.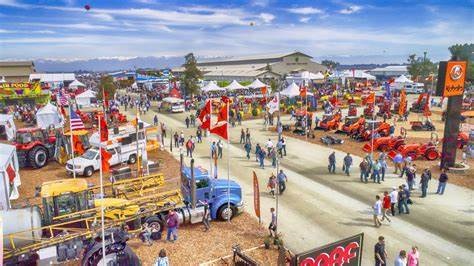 They have lots of big equipment there. Lots of innovation on display, too.
*
Japanese Gardening
J.J. Sefton recommended this YouTube channel on Japanese gardening to us. It was a good recommendation. Thanks, J.J.!
This project includes two videos. Watch them when you think it might make you feel better to see other people working calmly and intelligently:
(Pro.46 - Ep.1) Renovating a Japanese garden in a courtyard in Kyoto. !
A lot of work goes into creating something beautiful sometimes.
(Pro.46 - Final) Cool, stylish! Renovating a Japanese garden in a courtyard in Kyoto.
Inspired to do a little puttering, or even a real project?
*
Adventure
If you're really tough, you can go for a winter walk in the Malott Japanese Garden at the Chicago Botanical Garden.

Gardens of The Horde
Don in Kansas wrote a summary of his 2022 gardening year in a post from which many gardeners could learn a lot. He had some challenges and disappointments.
The experiments were partially successful. Mentzelia lindleyi produced brilliant yellow flowers for a month, but the plants were scraggly and unattractive. Nolana paradoxa had fine blue flowers, but they weren't as profuse as I had hoped.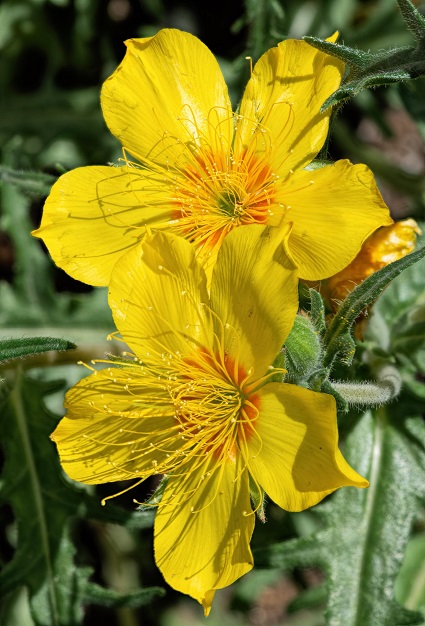 I see a little Portulaca sneaking into that last photo.
Anyway, the whole post makes useful reading.
Hope everyone has a nice weekend.

If you would like to send photos, stories, links, etc. for the Saturday Gardening, Puttering and Adventure Thread, the address is:
ktinthegarden at g mail dot com
Remember to include the nic or name by which you wish to be known at AoSHQ, or let us know if you want to remain a lurker.

Week in Review
What has changed since last week's thread? Gardening, Puttering and Adventure Thread, Jan. 28
Any thoughts or questions? Lots of comments on eggs and chickens last week. Note to CaliGirl: We are in the flatlands, and flood threat generally only comes in spring, during snow runoff from the mountains.
I closed the comments on this post so you wouldn't get banned for commenting on a week-old post, but don't try it anyway.

posted by K.T. at
01:21 PM
|
Access Comments