« Surprise! Biden's Latest Appointment to the Federal Judiciary Doesn't Know What Article II of the Constitution Is
|
Main
|
Strange Doings Cafe »
January 26, 2023
Quick Hits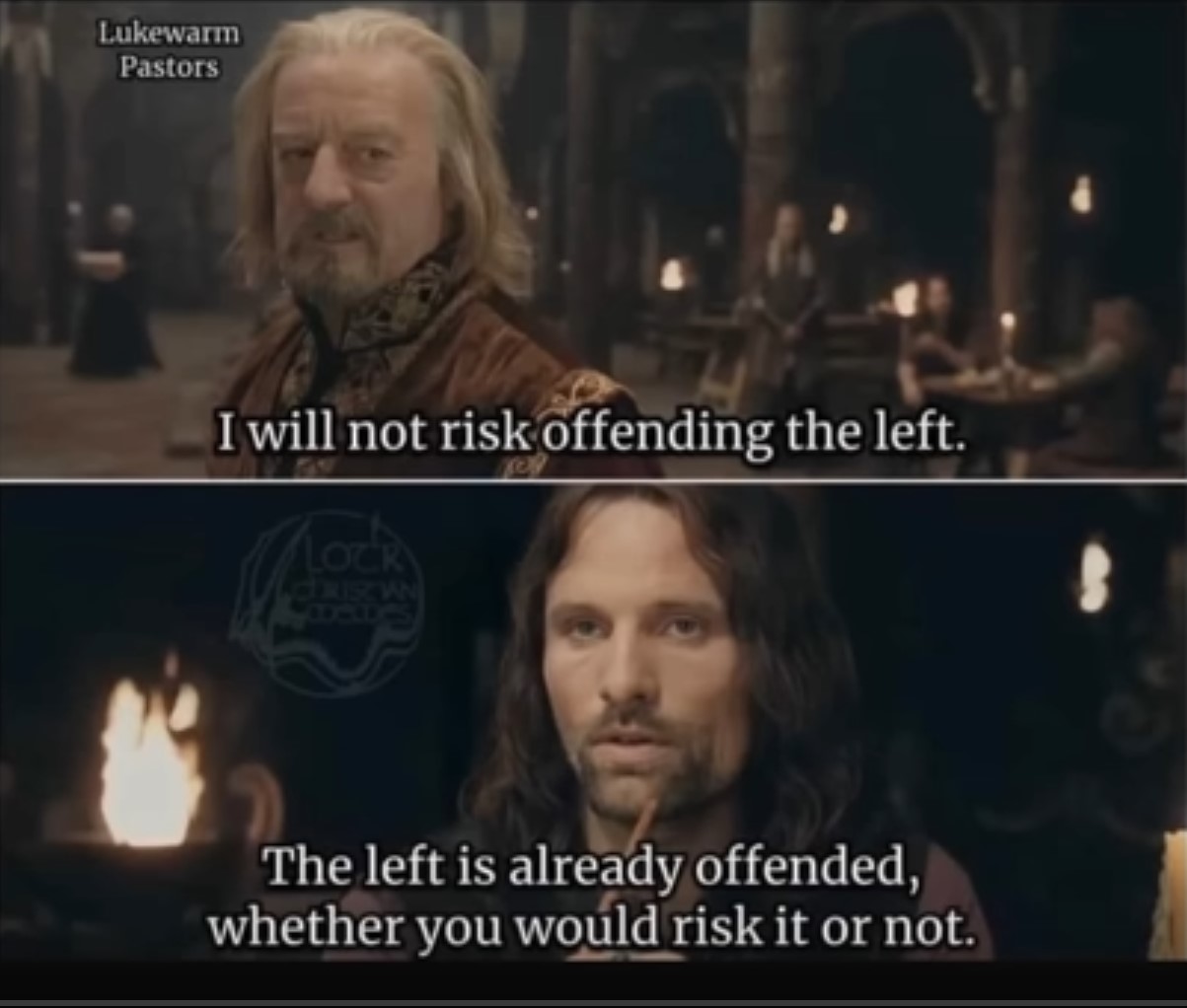 British museums find the term "mummy" culturally insensitive.
What happened? According to CNN Style, a number of British museums have stopped using the word "mummy" to describe the mummified remains of ancient Egyptians on display.

Why? To encourage museum visitors "to think of the individual who once lived," and to combat negative depictions in popular culture of mummies as "supernatural monsters." Additionally, some museums have expressed concern that "mummy" is a relic of "imperial and colonial thinking and actions that were based on racial and racist understandings of the world."

What's the solution? Using alternative terms such as "mummified person" or "mummified remains of [the person's name, if known]" to promote cultural sensitivity and inclusion.
"Person of Mummy."
British universities now sticking trigger warnings on Shakespeare's plays, to warn the brittle little snowflake know-nothings that his tragedies might contain some death and, well, tragedy.
The problem with universities overwhelmingly controlled by faculty on the left is that there are few to offer a dose of reality or rationality. Left to their own devices, some faculty seem to search for new ways to demonstrate woke priorities. British universities have long been ridiculed for policies controlling speech or symbols. Now, The Telegraph is reporting that British universities are adding trigger warnings to Greek and Shakespearean tragedies to protect students from being triggered by tragedy. Indeed, there are now warnings on other classics for everything from "ableism" to "depictions of rural life."

One such warning stated, "Tragedy is a genre obsessed with violence and suffering, often of a sexual or graphic kind, and so some of the content might be triggering for some students."

The University of Aberdeen in Scotland put a trigger warning on "Beowulf" due to its depictions of "animal cruelty" and "ableism." Beowulf had to fear "a creature of darkness, exiled from happiness and accursed of God, the destroyer and devourer of our human kind."
The "ableism" warning concerns the Beowulf text's tendency to treat physical prowess and high intelligence as desirable traits. No, I'm not kidding, that's why it's got that label.
Even the death of an albatross in "Rime of the Ancient Mariner" required a trigger warning at the University of Greenwich as "potentially upsetting."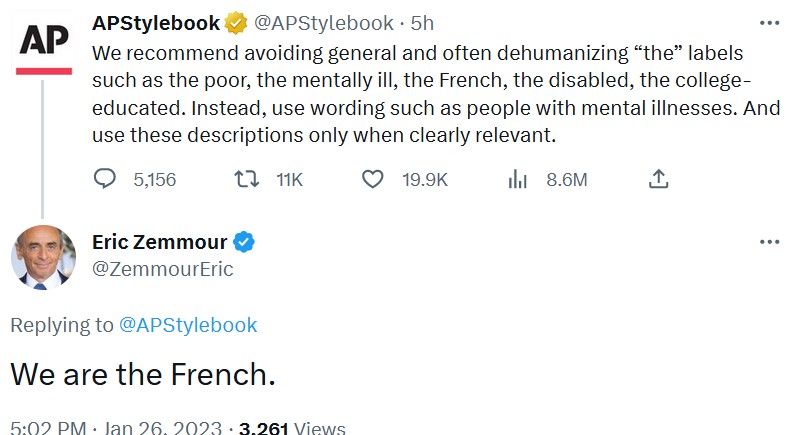 New Hampshire Democrats prefer Mayor Butt over Biden by five points.

Gimme Gimme: Zelensky says thanks for the tanks, now give me jets.
Ukrainian officials last night said they expect Western allies to provide their armed forces with long-range missiles after the UK, US, Germany and several other nations agreed to send battalions of tanks long-sought by Kyiv.

Presidential advisor Mikhailo Podolyak told The Daily Telegraph: 'Right now we are seeing a sharp change in sentiment among the political elites of European countries... we will reach, I am sure, no doubt, an agreement on long-range missiles.'

...

In a nighttime address, Zelensky said: 'I've spoken with NATO Secretary General Jens Stoltenberg today... We must also open deliveries of long-range missiles to Ukraine, it is important -- we must expand our cooperation in artillery. This is a dream. And this is a task.'

...

Russia's ambassador to Germany, Sergey Nechayev, called Berlin's decision 'extremely dangerous,' saying it 'shifts the conflict to a new level of confrontation and contradicts the statements of German politicians about their reluctance to get involved in it'.

France has not yet committed to sending a squadron of its Leclerc tanks, but Emmanuel Macron is now under pressure to match his allies' offer of heavy armour.

Former Arlington, Virginia Teachers Union president arrested in Fairfax County for embezzling $410,000 from the union during her reign, before she and her entire board were forced out.
A former president of the Arlington teachers union, who was ousted last spring, has been charged with embezzling more than $400,000 from the organization.

Ingrid Gant, 54, of Woodbridge, was arrested [Monday] in Prince William County on four counts of embezzlement. She was taken to the county's jail and later released on an unsecured bond, according to a press release from the Fairfax County Police Department [Tuesday].

Fox 5 first reported the arrest.

Gant led the Arlington Education Association (AEA) for six years before being ousted last spring along with her executive board.

...

"Calibre CPA Group was hired to conduct an audit of the funds. After six months of reviewing the activity, it was determined Gant embezzled $410,782.10 throughout her tenure as president," the release said. "Detectives were notified and began their investigation, while working closely with the accounting firm and AEA to review the documentation. Detectives determined Gant provided herself with multiple bonuses and used debit cards for unauthorized purchases."
The Teachers Unions -- They Just Care About the Kids! (TM)
James O'Keefe gets into the face of Deep State Stenographer Adam Goldman of the New York Times, who doesn't like being on the receiving end of hostile press attention.
"You don't seem a good fit for this job," observes African journalist Simon Ateba about Karine Jean-Pierre. Ateba frequently rattles Jean-Pierre -- who refuses to allow him to ask a single question in press conferences.

"You f*cking tyrant!:" Castro's bastard child Justin Trudeau is swarmed by angry protesters.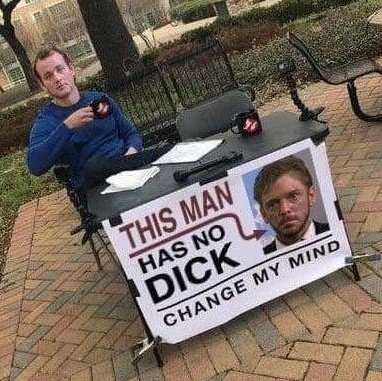 posted by Ace at
06:20 PM
|
Access Comments