« Seasons Beavers Cafe
|
Main
|
Daily Tech News 26 January 2023 »
January 25, 2023
Wednesday Overnight Open Thread (1/25/23) Rock The Cash Bar Edition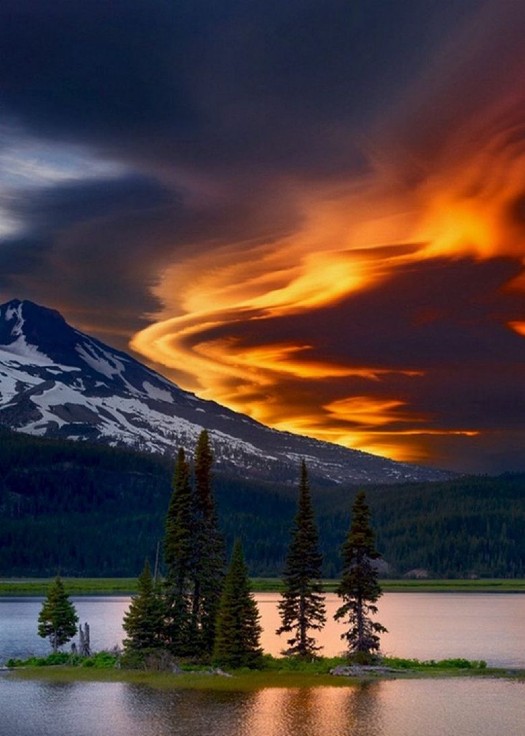 ***
The Quotes of The Day
Quote I

"[W]e need negotiations on specific issues that allow us to eliminate security risks, support stability and bring an end to Iran's interference in Arab affairs." Tariq Al-Homayed, Saudi journalist, former editor-in-chief of Asharq Al-Awsat
Quote II

"So, let me get this straight. You live in your momma's basement, but you got a Coach purse. Here's what's going to happen—you cannot avoid life, it's coming for your butt. Momma can't protect you." Dave Ramsey
Quote III

"Karine, since you don't have any answer on the classified documents, you don't seem a good fit for this job. We do not seem to have any answer from you." Cameroonian journalist Simon Ateba
Uncle Tom accusations in 3.2.1......
*
Quote IV

"You know, we make mistakes,"
Dennis 'Denny' Doyle, the former mayor of Beaverton, OR
Wow, simply wow.
*
Quote V

"I told them that this morning. I said, 'I want you guys to fail because I want to see what you're made of if you fail and when you fail.'" Tom Brady
We need more parents with that attitude.
Quote VI

"The most extreme liberal channels, even with tiny ratings, get fees from AT&T's DirecTV, but Newsmax and OAN need to be deplatformed," Christopher Ruddy, CEO of Newsmax
***

The nice thing about fossil fuels? For one thing we know how to harness them. Renewable energy? Not so much.


Wind Turbines Are Burning, Collapsing in Green Energy Setback

No one's been killed or injured -- yet -- but a rash of wind turbine failures is jarring a key cornerstone of the green energy movement, according to a new Bloomberg report.

The unwelcome trend of malfunctions -- which includes both breakdowns and total structural collapses -- is being witnessed in the United States and Europe alike. As this rare 2008 video of a collapse indicates, the phenomenon isn't brand new, but insiders say the frequency is spiking.
***

I really don't see the problem here. One soulless creature taking on another soulless creature.

A British man who planned to have a "robot lawyer" help a defendant fight a traffic ticket has dropped the effort after receiving threats of possible prosecution and jail time.

Joshua Browder, the New York-based CEO of the startup DoNotPay, created a way for people contesting traffic tickets to use arguments in court generated by artificial intelligence.

Here's how it was supposed to work: The person challenging a speeding ticket would wear smart glasses that both record court proceedings and dictate responses into the defendant's ear from a small speaker. The system was powered by a few leading AI text generators, including ChatGPT and DaVinci.
***

I guess that's one way to save a few bucks.

Woman went on six dates a week to save on food: 'I didn't buy groceries for two years'
***

Southwest Airlines received over $7 Billion from you and me, the taxpayer, during the Kung Flu pandemic. One would hope they spent some of it on running efficiently.

PROBE LAUNCHED Southwest Airlines investigated by feds with questions over 'unfair & deceptive practice' after holiday flight meltdown

THE US Department of Transportation has announced a probe into Southwest Airlines Co's scheduling following the holiday travel meltdown last month.

The agency is looking into more flights being sold than the airline could realistically operate.
***
I guess my portfolio is not diverse enough. Stringed instruments anyone?

There's a lot of money floating around, and stocks are not as secure as they once were. Commercial property isn't so good in many parts of the world. Excepting Old Masters, even art is unpredictable. Crypto doesn't look so smart now," says Steven Smith. "If you want to know where those in the know are investing their money these days, it's in violins."

If that notion has thrown you, Smith can explain. He's the managing director of J & A Beares, the violin dealer founded in London 130 years ago this year. Beares has recently completed an exhaustive study of Stradivari instrument sales from the early 1800s to the 1970s — even acquiring historic dealers W.E. Hill & Sons in order to access their records to do so. The result is the first index of Stradivari prices, one backed by KPMG at that. The result? The provable data shows that prices just keep climbing. And climbing.
****
***

Good on them. They sailed into the sunset.

My wife and I quit our jobs to sail the Caribbean

There's another universe not far from land.

It is devoid of buildings, trees, cars, cellphones and the internet. Seemingly limitless water extends uninterrupted in all directions.

You don't have to travel a great distance to discover this other cosmos. At 10 miles offshore, you're already there. At 100 miles, on a course away from shipping lanes (about a full day's sail in a small boat), the effect is complete: Civilization recedes, along with any sign of humanity.

It's the closest most of us will ever come to the isolation of outer space. And it is why I'm really into sailing.
***

I've always thought Jeremy Clarkson was a top notch guy. My opinion has not changed one iota. We need more people like him in show biz stepping up.

Jeremy Clarkson of "Top Gear" fame faces further risk of cancellation over a December column in which he ridiculed former actress Meghan Markle. It appears he has decided to go out swinging, although his target is of much greater significance this time around.

The 62-year-old Briton penned an opinion piece over the weekend in the Sunday Times concerning his son's recent claim "there's a war going on."

The war his son was referencing was not that waged by Russia against Ukraine but the one allegedly afoot in the United Kingdom — in fields and streets, hills and landing grounds previously thought unconquered. The apparent enemy: the radical left, keen to "unstitch and burn the fabric of Britain."
***

The family of a Jewish couple who had their art work stolen sues the museum where that piece is currently displayed.

The heirs of a Jewish couple that fled Nazi Germany filed a lawsuit on Friday against the Solomon R. Guggenheim Museum in New York City and are demanding restitution for a Pablo Picasso painting they claim their ancestor once owned that is now on display at the museum.

German Jewish businessman Karl Adler was chairman of the board of directors at Adler & Oppenheimer A.G., one of Europe's leading leather manufacturers, and had led a "prosperous life" in Germany before World War II, according to the family's Manhattan Supreme Court lawsuit. They claim that Adler and his wife Rosi purchased Picasso's 1904 oil on canvas painting called Woman Ironing (La repasseuse) in 1916 from Heinrich Thannhauser, a Jewish gallery owner in Munich.
***

Unleash the Herpes! On carp that is. It's not nice to fool with Mother Nature, is it?

With widespread La Niña flooding in the Murray-Darling Basin, common carp (Cyprinus carpio) populations are having a boom year. Videos of writhing masses of both adult and young fish illustrate that all is not well in our rivers. Carp now account for up to 90% of live fish mass in some rivers.

Concerned communities are wondering whether it is, at last, time for Australia to unleash the carp herpes virus to control populations – but the conversation among scientists, conservationists, communities and government bodies is only just beginning.
***
I know Ace Lamont, The Big Dummy wrote about this sterling couple earlier today. I had seen this story after I posted last night's ONT. What a wonderful couple full of love and a sincere belief in diversity. No hate crime here.

A Florida couple was indicted on charges related to the vandalism of pro-life centers with pro-abortion messages after the Supreme Court issued its Dobbs decision ending federal abortion rights.

Pro-life centers across the country became targets of vandalism and other political threats by those angry that abortion rights were curtailed after Roe v. Wade was overturned.
What are the odds that their charges will not be pled down to something very basic and little to no jail time?
***

If you are thinking I needlessly insert filler material into The ONT. You are wrong. Wrong I say.

Meet people who risked it all to get eyeballs inked – like mum who's going blind
From a mum who refused to listen to her daughter's concerns before a tattoo damaged her sight to a woman who sued an ink studio after going blind – meet the people who had their eyeballs dyed
Pete Davidson removes tattoos dedicated to Kim Kardashian 5 months after split
***
The ONT Musical Interlude & Brandy Infused Fruit Cake Emporium
On this day: 25 Jan 1938
Etta James, singer, who had 9 US Top 40 hits during the 60s including the 1996 UK No.5 single 'I Just Want To Make Love To You'. James died on January 20, 2012.
via thisdayinmusic.com
&&&
On this day: 25 Jan 2011
A former Miss Canada finalist became the first person in the world to graduate with a Masters degree in The Beatles. Canadian singer Mary-Lu Zahalan-Kennedy, 53, was one of the first students to sign up for the course on the Fab Four when it launched at Liverpool Hope University in March 2009. The ground-breaking course looked at the studio sound and composition of The Beatles and how Liverpool helped to shape their music as well as examining the significance of the music of The Beatles and their impact on Western culture. via thisdayinmusic.com
***

Drunk on a bus. No problem. Drunk on a bus and taking the wheel. Genius Award Winner.

'Drunk passenger' steals bus forcing those on board to flee
"When people say 'when you've had a drink, take the bus', it isn't meant to be taken literally."

A drunk passenger stole a bus and drove it through a town leaving a "trail of devastation" in his wake, it is alleged.
***

I like stories with happy endings where the hero walks off into the sunset with his gal by his side. Tonight's Feel Good Story of The Day.

Authorities say the woman had just finished her shift at George's Tavern and was walking to her vehicle behind the bar when a man burst out of a Port-a-Potty and began attacking her.

"A man had been waiting in the outhouse for a few hours and come around and had grabbed her and had her on the ground, choking her and beating her in the head, said George's Tavern customer Al Moon.

The father of the victim said his daughter suffered mild injuries to her head after the suspect attacked her. He said she is a bartender at George's Tavern and had just finished her shift. He asked her boyfriend to come by at the end of the night to make sure she got home safely. According to police, when the boyfriend saw what was happening, he removed his gun from his waist and shot the man.

"Thank God her boyfriend is a special ops guy and come out and saved her life," Moon said.
&&&

Kindness to strangers. Tiny Alabama Town Shocked to Learn Farmer had Secretly Paid People's Pharmacy Bills for a Decade

Upon the occasion of the funeral for one Hody Childress from Geraldine, Alabama, it was revealed that for a decade this quiet and humble gentleman was a sort of guardian angel for the town's poor and sick.

A farmer and U.S. Air Force veteran, Childress began his covert charity campaign when he visited the local Geraldine drugstore and learned that all too many of the town's 900 residents couldn't afford to pay for their prescriptions.
***

Tonight's ONT has been brought to you by the Stress Diet.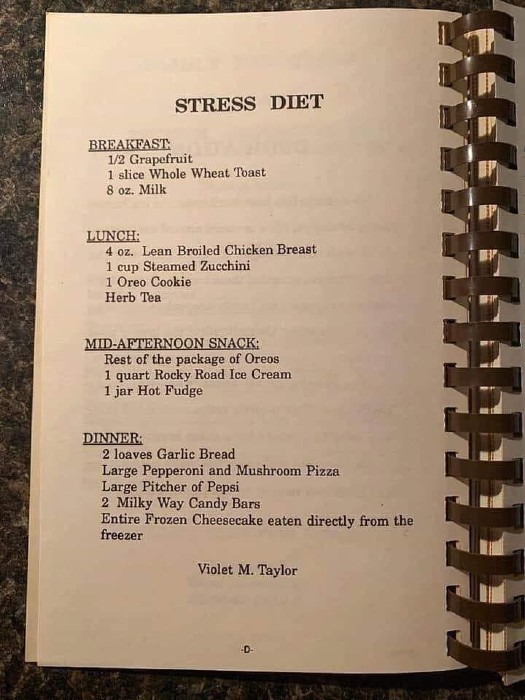 Notice: Posted with permission by the Ace Media Empire & AceCorp, LLC. The Stress Diet is neither endorsed or discouraged by the staff and management. However, I for one would like to try it.

posted by Misanthropic Humanitarian at
09:59 PM
|
Access Comments