« EMT 1/22/23
|
Main
|
Go For It! Freeze...In The Dark...Taking Cold Showers...Watched By Big Brother!
This Is Nothing More Than A Reversion To The Brutal Mean Of Human Existance »
January 22, 2023
Sunday Morning Book Thread - 01-22-2023 ["Perfessor" Squirrel]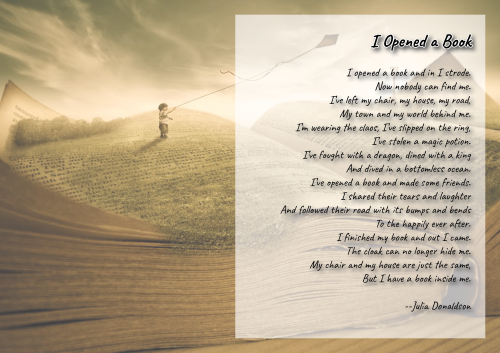 Click image for larger view
(ht - Mary Poppins' Practically Perfect Piercing)
Welcome to the prestigious, internationally acclaimed, stately, and illustrious Sunday Morning Book Thread! The place where all readers are welcome, regardless of whatever guilty pleasure we feel like reading (government has been "EV curious" since at least 1978). Here is where we can discuss, argue, bicker, quibble, consider, debate, confabulate, converse, and jaw about our latest fancy in reading material, even if it's nothing more than a course syllabus (now with extra student learning outcomes!). As always, pants are required, especially if you are wearing these pants...
So relax, find yourself a warm kitty (or warm puppy--I won't judge) to curl up in your lap, open a bag of Cheetos, and dive into a new book (watch out for Cheeto-stains!). What are YOU reading this fine morning?
PIC NOTE
Mary Poppins' Practically Perfect Piercing (or MP4 for short) send me a picture he took of the poem above. The picture he sent me had a bit of glare due to the poem being inserted into a document protector. However, it's a fairly well-known poem, so I decided to create an image from the poem for today's library pic. You can find a lot of similar images out there for this poem. It's a bit different than the usual Sunday Morning Book Thread pic. Enjoy!
I OPENED A BOOK
The reasons why we read are as varied as the books we pick up and the individuals who choose to read them. Right now, I'm mostly reading Star Wars: Legacy of the Force as a bit of a self-imposed completion challenge. I know it's not great, though there are some cool moments here and there. I also know *what* happens, as I've read the sequel series, Fate of the Jedi, but I don't know *how* it happens. I've also heard about Karen Traviss' legendary attachment to Boba Fett and Mandalorian culture. I was a bit curious to see if it was as bad as rumored. SPOILER: It's worse.
Anyway, opening a book and striding inside, as the poem says, is just a great way for me to escape the crazy world we live in. I like to consider myself a bit of a "hyper-realist." I don't have any illusions that dragons or wizards exist in the real world, or that aliens exist throughout the universe (the jury is still out on this). But it can be fun to pretend sometimes. It's nice to forget about my humdrum life for a while. I am not an "extreme sports enthusiast." About the only major excitement I get up to in the real world is traveling to the TXMOME. I lead a very, very boring life. Just not interested in an overly complicated lifestyle.
Through books, I can share in the laughter and tears of characters, and follow their bumps and bends along their roads. I can return to them when I feel a particular emotional need that I am unable to find in the real world. And I can learn so, so much about the human condition, no matter *what* I'm reading, even if it's a scientific book about wormholes. That right there demonstrates the curiosity inherent in all of us to find out what is *really* going on in our universe, even if we lack the tools, materials, and knowledge to fully understand it. Our reality as we experience it is only the tiniest sliver of all creation.
So open a book today. Explore. Find something new to read. Let your imagination soar! And find that book inside YOU!
++++++++++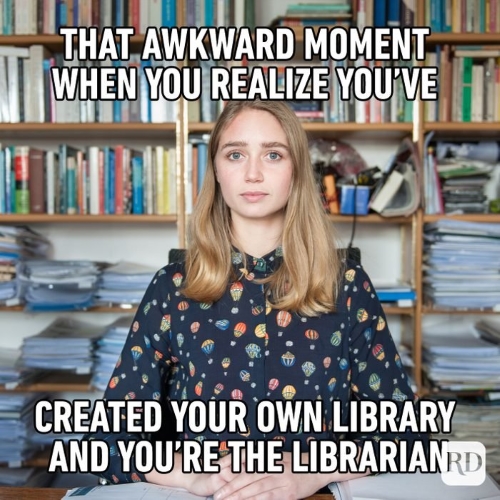 ++++++++++
IT PAYS TO INCREASE YOUR TROPE AWARENESS
Evil is Petty - This is when the villain or antagonist not only engages in very small, petty acts of evil, but actively thrives on it. They enjoy taking candy from a baby. They delight in kicking a man when he's down, especially when they know they are no match for their victim on otherwise even terms. Joffrey, from George R.R. Martin's A Song of Ice and Fire is a good example of a tyrant who loves engaging in petty evil for the lulz.
Well-Intentioned Extremist - This trope refers to a villain/antagonist that may have noble goals in mind, but their methods are questionable at best or downright evil at worst. For example, the idiots attempting to send up balloons full of sulphur dioxide as a method of stopping global warming might fall into this category. Assuming their premise is true (i.e., that the Earth is undergoing cataclysmic climate change), then they may have good intentions in slowing down or reversing global warming, but their method could result in far more devastation than they realize.
MORON RECOMMENDATIONS
There was a distinct historical theme in last week's recommendations, so I thought I'd include some here, along with my comments. Enjoy!
I finished John Keay's India: A History. Keay is the same author who wrote an excellent history of China, and like that book, this one is a general work, covering the entirety of the subcontinent's history. It starts with the Harappan culture along the Indus - modern day Pakistan; one of the earliest civilizations along with the Mesopotamians and Egyptians, and ends in 2000, so it doesn't cover the last 20 years.

I find Keay's writing style very easy to read, yet he conveys enormous amounts of information, so if this is a topic of interest, I highly recommend the book.

One minor quibble: he seems to be inordinately impressed by the Islamic contribution to India, and doesn't give their slaughter of Hindus as much attention as it deserves, but for a modern day author, it's fairly understated. Either that, or I've just become hypersensitive to such bias.

Posted by: Archimedes at January 15, 2023 09:10 AM (eOEVl)

Comment: Hmmmm. Does he talk about the contributions of India to Islamic civilization? Islam was brutal to India, just like it was everywhere else it dominated. Even to this day. Does anyone think that if Pakistan took over India that the native Hindus would be left in peace? Or would they face the standard three options: convert, submit (as dhimmis), or die?
+++++
Special Duty: A History of the Japanese Intelligence Community by Richard J Samuels.

https://tinyurl.com/Special-Duty

Samuels chronicles the ups and downs of post-Meiji restoration Japanese intelligence work. It is dry as non-fiction works on espionage tend to be, but not overly so. The Japanese efficacy on data gathering has waxed and waned with highs, such as their having the mine layout at the Port Arthur attack, to lows more recently, such as an inability to penetrate North Korean actions in the wake of the kidnapping scandals.

Perversely, a bigger fear and reverence shown by the Japanese Intelligence apparatus towards their own constitution than our domestic ones have for ours. I'd say that the at-gunpoint-enforced civic education the occupying authorities delivered to the Japanese and German populace is far more effective than our own apathetic and negligent one.

Happy reading.

Posted by: sven at January 15, 2023 09:29 AM (Lzpvj)

Comment: Not all intelligence communities (IC) are created equal. We have seen recently the constant failure of the American IC and their use as a weapon against the citizens they are supposed to protect. It seems to me that the Japanese are highly patriotic towards their country, much more so than a lot of Americans. I wonder if there is *any* intelligence network that can put together an accurate picture of what goes on in North Korea. It's called the "Hermit Kingdom" for a reason.
+++++
I hope this isn't too political for here. If so, I apologize.

I have just finished Rene Guenon's Theosophy: History of a Pseudo-Religion.

Guenon is a little coy about his conclusions regarding who/what was behind Theosophy. But as he says, it should be obvious to anyone with half a brain: Intelligence (UK(City of London)).

The most fascinating part was the use of front groups. Their technique is what we see now everywhere. NGOs and subversion etc.

The Fabians were intimately involved w/ Theosophy. Besant was a founder.

My conclusion: everything "occult" or "esoteric" is an Intelligence Op.

Blavatsky, Crowley, Hubbard. All of them.

The book is very detailed and is parts tediously so, but glad I read it.

Posted by: Thesokorus at January 15, 2023 10:18 AM (1ais2)

Comment: It honestly wouldn't surprise me too much if occultism was some sort of intelligence op, though for what purpose seems unclear. Gathering info? On whom? Now we have social media to take care of that. What benefit does the government have for persuading people to turn to occultism or theosophy? Or perhaps the government itself is acting upon the direction of *actual* occult forces...There does seem to be strong evidence for that if you believe (as I do) that there is an "unseen realm" filled with Powers and Principalities, not all of which are favorable towards humans. Last week's Book Thread had some interesting debate on the subject.
+++++
About halfway through Dunkirchen 1940 by Robert Kershaw. It covers the Dunkirk battles through the eyes of the Germans. Very well written. Some of the older German soldiers talk about fighting in the same areas in WW1 and they have a feeling that they had best be careful. The younger soldiers, for the most part, have that Nazi mentality that they cannot be defeated as this is how they were trained. I myself kept thinking that the older soldiers knew what was coming. All in all, a good read so far.

Posted by: RetSgtRn at January 15, 2023 10:16 AM (RqUF/)

Comment: The older soldiers, who fought in WWI, have the benefit of experience. They know firsthand what the rest of the world can do when they are riled up. Thus, they were probably more concerned with surviving WWII than actually winning it. The younger generation, never having tasted the bitter ashes of defeat, thought they were invincible. Sounds a lot like today's modern youth who seem to think civilization will roll on forever and will never slide backwards.
More Moron-recommended reading material can be found HERE! (595 Moron-recommended books so far!)
+-----+-----+-----+-----+
WHAT I'VE ACQUIRED THIS WEEK:
I decided I didn't have enough Star Wars novels, especially those involving the main characters from the Original Trilogy, so I ordered some more to fill in a few key gaps...
Star Wars: Children of the Jedi by Barbara Hambley -- Luke Skywalker falls in love with the spirit of a Jedi Knight haunting a Star Destroyer
Star Wars: Darksaber by Kevin J. Anderson -- The Hutts build themselves a Death Star for the lulz
Star Wars: Planet of Twilight by Barbara Hambley -- Princess Leia gets captured (again)
Mad for Decades by "The Usual Gang of Idiots" -- Weak Geek recommended this a couple of weeks ago and I thought I'd get a copy for myself.
WHAT I'VE BEEN READING THIS PAST WEEK:
Still working my way through Star Wars: Legacy of the Force. Although not "great" literature, there's still a lot of interesting points that seem strangely relevant, such as one group of star systems attempting to break away from the Galactic Alliance. And lots of interference from third parties trying to stir up a hornet's nest, causing chaos throughout a galaxy far, far away...
Star Wars: Legacy of the Force 6 - Inferno by Troy Denning
Star Wars: Legacy of the Force 7 - Fury by Aaron Allston
Star Wars: Legacy of the Force 8 - Revelation by Karen "I ♥ Boba Fett" Traviss
That's about all I have for this week. Thank you for all of your kind words regarding the Sunday Morning Book Thread. This is a very special place. You are very special people (in all the best ways!). The kindness, generosity, and wisdom of the Moron Horde knows no bounds. Let's keep reading
If you have any suggestions for improvement, reading recommendations, or writing projects that you'd like to see on the Sunday Morning Book Thread, you can send them to perfessor dot squirrel at-sign gmail dot com. Your feedback is always appreciated! You can also take a virtual tour of OUR library at libib.com/u/perfessorsquirrel. Since I added sections for AoSHQ, I now consider it OUR library, rather than my own personal fiefdom...
PREVIOUS SUNDAY MORNING BOOK THREAD - 01-15-23 (NOTE: Do NOT comment on old threads!)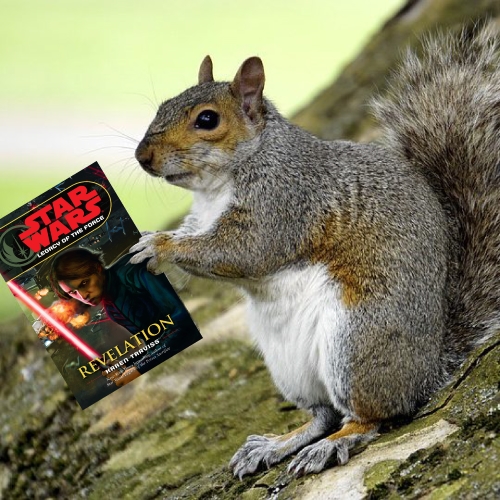 posted by Open Blogger at
09:00 AM
|
Access Comments