« Daily Tech News 19 January 2023
|
Main
|
Mid-Morning Art Thread »
January 19, 2023
The Morning Report — 1/19/23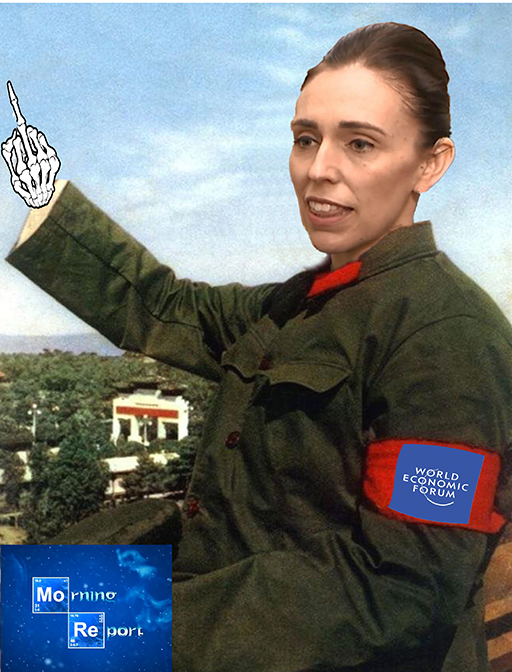 Good morning kids. So, Jacinda Ardern, the grim, anorectic poster-face of 21st century tyranny disguised as compassionate, enlightened governance who, along with far too many others in the supposedly free societies of the Anglosphere stripped the citizenry of their freedom and amassed illegitimate power based on the dubious danger posed by the breakout of the General Tso's Sickness, has suddenly decided to step down from the prime ministership of New Zealand.
To spend more time with her family, natch!


"I'm leaving, because with such a privileged role comes responsibility," she said. "The responsibility to know when you are the right person to lead and also when you are not. I know what this job takes. And I know that I no longer have enough in the tank to do it justice. It's that simple . . ."

. . . The left-wing politician denied that she was stepping down over a yet to be disclosed scandal or because she felt she could no longer command a majority in the New Zealand parliament. . . .

. . . Ardern and her left-wing Labour Party have seen their support among the public fall to its lowest level since 2017. A Kantar One News Poll last month found that the Labour Party had fallen by one per cent to just 33 per cent support, and therefore in the event of an election would likely be forced into forming a coalition government with the Green Party and the indigenous Māori Party. The poll also found that her personal popularity had fallen to 29 per cent, the lowest since before she became prime minister. . .

. . . The Ardern government drew international criticism over its attitude towards individual liberties during the Chinese coronavirus. In 2021, the the far-left prime minister openly bragged about ushering in a two-tiered society, in which those who had taken a coronavirus vaccine were granted more rights.

Ardern, an acolyte of the Davos-based World Economic Forum, also drew some pushback at home, with New Zealanders staging a Canada-style freedom convoy of their own last year, blocking off central Wellington near the parliament building over public sector vaccine mandates and other restrictions being imposed by the government.
Ardern quite literally puts the "Mao" in Māori. She locked down all of New Zealand over one case of Chinese COVID. Not even an alleged death. ONE. CASE. And then when people tried to peacefully protest she set the cops on them with rubber bullets.
Have you seen a photo of this sallow, bony harridan? Honey, eat a fucking cheeseburger. Oh wait. Davos. Cheeseburgers. If these sick fiends have their way, we'll be lucky to have a Pyongyang dirt-burger with a side of silverfish and the 32-ounce urine slushy.


"If a billion people stop eating meat, I tell you, it has a big impact. Not only does it have a big impact on the current food system, but it will also inspire innovation of food systems," Jim Hagemann Snabe, chairman of the Germany-based conglomerate Siemens AG, said during a panel called "Mobilizing for Climate." The WEF's conference in Davos, Switzerland, attended by many world leaders and top business executives, started Monday and runs through Friday.

A study by the Food and Agriculture Organization said that 14.5% of "greenhouse gas emissions" came from raising livestock. Two professors from Indiana University called for an increase in the use of insect protein for human and animal diets in an op-ed published by the WEF in February 2022.

The Netherlands announced it would seize 3,000 farms and shut them down to reduce nitrogen emissions by 50% by 2030 in November following months of protests by Dutch farmers. . .

. . . Eat, a global nonprofit, describes itself as seeking "a fair and sustainable global food system for healthy people and planet" that would "transform our global food system through sound science, impatient disruption and novel partnerships," according to its website.
"Impatient disruption." Nice, little euphemism they got there. Sort of like "Final Solution." Speaking of which, Siemens is yet another German corporation that impatiently disrupted the lives of European Jews to help the war effort.
Just like Klaus Schwab's father who won the Schickelgruber Prize for being the leader of a model Nazi company. In the immortal words of Harry Shapiro, "These Nazi's ain't kosher!" But their progeny, and their spirit, live on in the warped minds of Leftists everywhere.
By the way, this notion of "greenhouse gasses," like that of "anthropogenic climate change" itself, is a complete crock of shit. I ain't no Mr. Spock, but from my admittedly cursory understanding of geology, cosmology and meteorology, (cue Sam Cook's "Wonderful World") I do know enough to know the notion that human activity will transform our atmosphere in a period of mere decades – an atmosphere by the way over 400 million decades in the making and constantly changing on its own – into that of Venus is risible.
And yet, there's Al Gore shrieking that the ocean's are boiling. Al Gore, who claimed we only had six years to save the planet or all life on earth would be wiped out. But that was back around 2004 or 2005. A bloated, venal douchebag whose science fiction snoozer An Inconvenient Truth claimed the sea levels would rise so high by the year 2015 as to swamp the coasts, and yet bought a $9 million condo in Sausalito Harbor. What is the value of real estate these days in, say, the Hamptons, Palm Beach, Malibu or the center of the Lefty universe, Martha's Vineyard? Spoiler alert: it's been rising faster than the sea level, despite Sponge-Brain Shits-Pants' destruction of the economy.
Psaki-psircling back to Jacinda Ardern, you have to wonder that with all the revelations and confirmation now about how the Chinese Lung AIDS was essentially no more dangerous than a particularly nasty strain of common flu, and worse, how the "cure" in the form of the vaccines was at best useless and at worst lethal to tens of thousands of people (that we know of), that there is some sort of correlation. At least beyond that of facing a wipeout in the next round of elections. Meh, Dao-Min Yen is global these days.
Turning our attention back over here, with even more damning evidence, both concrete and circumstantial, showing Biden and his figurative bastard son likely trading secrets for cold cash to everyone including our greatest enemy, the Chi-Coms, suddenly the Junta is pushing for mask mandates on top of last week's extension of the Chinese COVID "emergency" another few months.
Lastly and totally unrelated, yet completely related, is this story of these homosexual fiends sexually abusing their adoptive toddler. If they were dragged out of their jail cell (assuming they've been arrested and not nominated for the Presidential Medal of Freedom), beaten to a pulp and then set on fire on live television, it would be too good for them.
BIDEN CRIME FAMILY REVELATIONS
NOTE: The opinions expressed in the links may or may not reflect my own. I include them because of their relevance to the discussion of a particular issue.
ALSO: The Morning Report is cross-posted at CutJibNewsletter.com if you want to continue the conversation all day.
Follow us on Twitter: @CutJibNews
Follow us on Instagram: @Cutjibnewsletter

posted by J.J. Sefton at
07:46 AM
|
Access Comments