« Karine Jean-Pierre: When I Lied to You on Monday, I Was Providing You With the Most Recently Updated Lies I Had Available
|
Main
|
Quick Hits »
January 18, 2023
The $49,910 Hunter Biden Listed as the Rent He Paid Just Happens To Be the Exact Amount of Money Returned as a Deposit on the Office Space for the Company He Planned to Open with Chinese Partners
Let me explain. No, there is too little time. Let me sum up.
The company that Hunter Biden formed Chinese partners? The one where he had three keys made, one for himself, one for another partner, and one for Joe Biden?
He put down money for offices in a swank office building on the banks of the Potomac: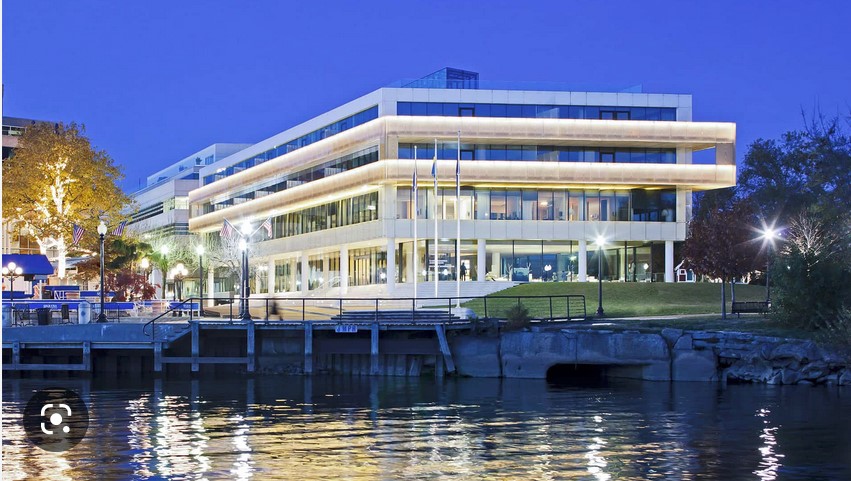 It's called House of Sweden. I assume Hunter accidentally came across it when googling massage parlors. It's actually the Swedish Embassy in the US, and also houses the diplomatic missions of Iceland and Lichtenstein.
But it also houses corporate offices, which is what Hunter Biden rented.
When the deal with the Chinese communist front company fell through, Hunter terminated the lease agreement, and had his deposit for rent refunded to hm.
Hunter had apparently requested the termination of the lease after his deal with CEFC China Energy fell apart. The Biden family had previously negotiated a deal with CEFC whereby President Joe Biden (Big Guy) would receive a ten percent equity stake in the joint venture, whistleblower Tony Bobulinski stated. ...

Hunter's $49,910 deposit matches the amount of money he logged on a 2018 background check document unearthed by the Post's Miranda Devine. Hunter claimed on the form he paid $49,910 in monthly rent from March 2017 to February 2018. The document was signed in July 2018.

The lease dates on the email chain between Hunter and the House of Sweden have not been delineated.

The background check also noted that Hunter's residence was Joe Biden's home in Wilmington, Delaware, where the president kept classified documents alongside his Corvette in the garage.

...

The $49,910 rent amount far exceeds the money recorded on Biden's taxes. Joe Biden's 2017 tax return on Schedule E only listed $19,800 in "rents received." In 2018, Biden listed no rent received.

So what the hell is going on here? It seems impossible that this exact figure, $49,910, is actually just coincidentally what Hunter paid in monthly rent to Scranton Joe and also the deposit at the House of Sweden.
Did Scranton Joe actually front the payment for the offices, which Hunter reimbursed to him in the disguised form of "rent"?
We don't know.
We do know Middle Class Joe has taken down the income tax return information he once ostentatiously displayed on his website, although leftists are quick to defend him saying it's available in other places.
Meanwhile, CNN, of all organizations, reports that the Biden, Inc. influence peddling ring has continued operating even during Middle Class Joe's degenerate "presidency," with his grifter brother Jimbo still collecting on The Big Guy's name. (And maybe for the Big Guy, I'd add.)
On at least two separate occasions, Frank Biden publicly cited Joe Biden as a means by which he has influence, despite holding no government position or relation to the White House other than by having the same last name as the president and being his sibling.

In October, Frank Biden spoke in Venice, Italy, as the keynote speaker at a BioSig Technologies conference about "the future of global health care." BioSig Technologies is a health technology company. The trip was not paid for by Frank Biden, who refused to disclose the financier.

His speech included advice on how lobbyists could influence American policy...

Another case of Frank Biden's influence peddling occurred in Boston in 2021 -- the year after Joe Biden was elected. On behalf of the same company, BioSig Technologies, Frank Biden told health professionals at a dinner that he had a "bully pulpit" due to "my brother Joey."


CNN reported:

At that event, Frank Biden boasted of "the bully pulpit that I have as a result of the privilege of being associated with my brother Joey," and vowed to "do everything in my power to support you to get the job done, to get federal dollars to your research," a video of his speech shows.
RedState finds this suspicious and wants to know why CNN is suddenly discovering the Biden Crime Family story.
[T]he question that sticks out the most from this CNN report is why now? Why, in January of 2023, nearly three years after RedState and other conservative outlets reported this stuff, is the liberal network jumping on the bandwagon? I can only assume the gloves are off with Biden indicating he wants to run again in 2024. Sources have recently claimed the president wants to make that announcement early, possibly in February.

posted by Ace at
05:15 PM
|
Access Comments