« Food Thread: Crunchy Brains and $7 Eggs? Can We Have A Do-Over?
|
Main
|
Sunday Overnight Open Thread (1/15/23) »
January 15, 2023
Gun Thread: January 15th Edition!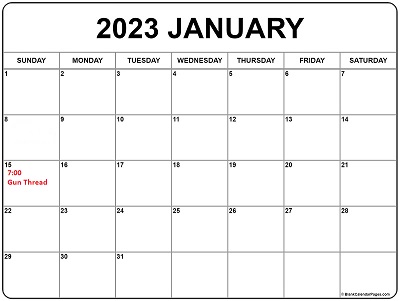 Howdy, Y'all! Welcome to the wondrously fabulous Gun Thread! As always, I want to thank all of our regulars for being here week in and week out, and also offer a bigly Gun Thread welcome to any newcomers who may be joining us tonight. Howdy and thank you for stopping by! I hope you find our wacky conversation on the subject of guns 'n shooting both enjoyable and informative. You are always welcome to lurk in the shadows of shame, but I'd like to invite you to jump into the conversation, say howdy, and tell us what kind of shooting you like to do!
Why, it seems like only two weeks ago we were celebrating the new year! Did anyone try the practice technique of concentrating on fundamentals which we talked about last week?
With that, step into the dojo and let's get to the gun stuff below, shall we?
******
Thank You!
I want to take a minute and offer a bigly WeaselThanks to all of you who have been sending in range reports, gun pictures, and questions for discussion. Thank You! I really appreciate it, and I think it leads to a much more interesting Gun Thread. Wouldn't you agree? I think seeing what other people have in their collections, what they are taking to the range and the results they are achieving there is the most interesting part of what we do here each week. I might not always be able to use your submission right away, but typically try my best to get to them in a couple of weeks; depending on space, time available for editing, other content and the length of the material sent. Please, please, please keep the content coming, and if you think I have forgotten your item, let me know!
Know what else would be nice? To have one or two lurkers send something each week, that's what would be nice. We are interested in what you are doing, so please share a range report with us!
Guns of the Horde
Our pal Nimrod Phinney shares a real family treasure!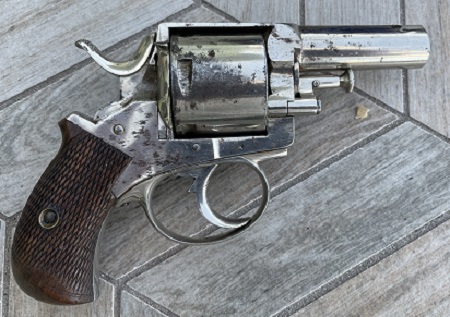 What I have is an 1879/80 .44 Cal. British Bulldog(Lion). As the story goes my Paternal Great-Great Grandfather was born in 1860 in St. Louis, Mo and moved to West-Central Kentucky in 1870 with his father for family reasons. In 1878/79 he moved back to St. Louis with the intention of going to California with his new wife and my 2nd Great Grandmother both at the age of 20.

In St Louis, he purchased this pistol and a pocket watch and set on his way thru the west to California. He lived for a year in Colorado Springs, Durango, and Grand junction Colorado until making their way up to Redding California. There are no stories of them using the firearm in any meaningful way at that time. In 1897, they moved from San Francisco to Detroit. In 1898 my Great-Grandfather was born. At the age of 17 he joined the Army and was assigned to the 32nd Infantry Division as an Engineer and in 1918 he served in the battle of the Marne in France. My grandfather was told that it was used as it just wasn't talked about (as a Veteran, I get it). When My Great-Grandfather returned home to Detroit he became a Constable in the northern suburbs of Detroit for a few years, in which he carried this firearm and eventually worked for Fords (my family either was an auto worker, cop or fireman). As WWII came about, my grandfather was given the pistol as he shipped off to Europe in the 8th Air Force and the way he told me the story when he gave the gun to me, the first time he got into the B-24 as a crewman/tail gunner, it fell out of its holster, broke the loading gate and snapped off the front sight post. He mailed it back home the next day as it could not fire. It sat in his sock drawer until he gave it to me in 2018 (about 140 years after it was purchased)
Holy Shitballs! Holy Atomic Shitballs! Man, this is such a great story! I often wonder where my guns have been over all the years. Very, very cool. Thanks so much for sending this in for us all to enjoy!
******
Range Time!
Let's jump right into range reports with a an absolutely excellent range report from our pal
Nevada Dave
.
One of the best things in my life is having a wife that shoots! I started training her initially but soon found it was better for us both to have someone else train her. I am a Long Range shooting instructor but even so spouses aren't always the best when teaching one another! She's been training with a friend and former 1st SOFD-D Operator, needless to say the training has been better than I could have done. The dynamic of someone else teaching works well for us. I really can't stress how much it helps getting good training not only for novices but those that have been around firearms for a long time. I've been fortunate to be involved in training some really interesting people that have seen and done things and are willing to pass along information. You can always learn if you listen and techniques can always evolve and change.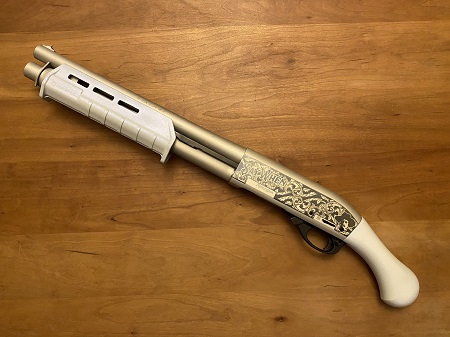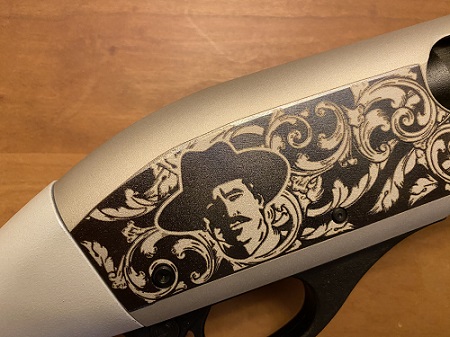 For fun I had this Remington Tac 14 done up for her. As you can probably guess one of her favorite movies is Tombstone, favorite character, Doc Holiday and favorite quote "say when". I wanted it to mimic Doc's revolver. I think we captured it all here, nickel looking Cerakote, Pearl coated stock/hand guard and some floral laser etching on the receiver.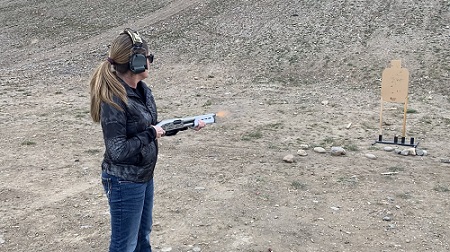 Very nicely done Nevada Dave and Mrs. Nevada Dave! And you are spot on regarding having someone else teach a spouse to shoot. The few times WeaselWoman would come to a match and had an opportunity to get behind a gun, I always had one of the other coaches instructing her!
Um, Mrs. Nevada Dave, have you considered competitive shooting?
******
Next up, our pal Doof shares a range report from qualifying for a carry permit. No pressure!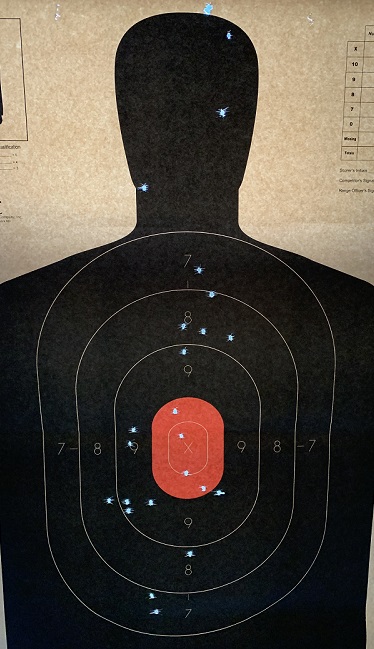 Range Report -- MD Wear and Carry live fire practice / Zombie attack.

Short trip to the range today. Primary objective was practice for my upcoming live fire session as part of my Maryland Wear and Carry permit. Applicants must shoot 25 rounds total at a silhouette target from relatively close distances (5/10/5/5 at distances of 3/5/7/15 Yards). Passing grade is 70% or 18 hits. I hit 23 of 25 (92%). After hitting all 20 of my first 20 body shots, and therefore already having exceeded the minimum to pass, I decided to go for head shots for my final 5. I had 3 hits and 2 identical near misses just above the head. Success overall.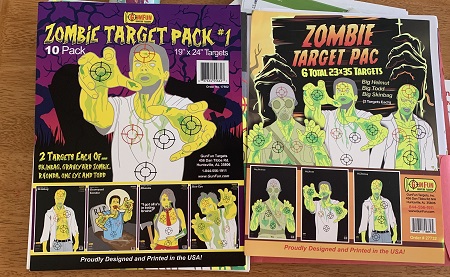 Then I had some fun with two ZOMBIE targets I got from son of Doof for Christmas. I received 2 sets - one set has 6 targets approx 2'x3', the other set has 10 targets approx 1.5'x2'. At the range, 10 rounds fired at"Big Skinbag" followed by 15 rounds at"Rhonda". Both at approximately 20 yards from the firing line. These targets are good quality and a fun change of pace from the usual circles and silhouettes. Relatively inexpensive from the behemoth online retailer which shares it's name with a South American river.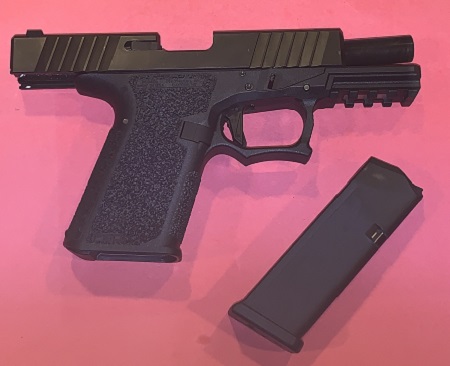 Weapon of choice was a 9mm "ghost gun" (nicknamed Beetlejuice). It is a Glock 19 replica from Polymer 80. This is the one I brought to the most recent Texas MoMe, which a handful of Hordelings (such as nurse ratched and Weasel Buddy) fired and seemed to enjoy.
Sounds like a worthwhile and fun outing! Congratulations, Doof!
******
Next up our pal
Frank
shows us the results of his hard work at the range.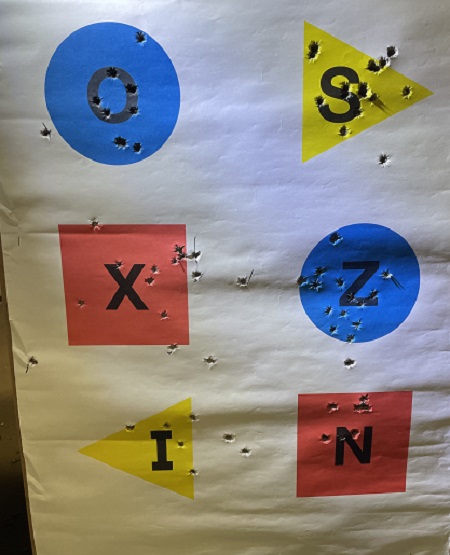 I had a lucky day, though still lots and lots to work on. I'm a sucker for the HK LEM trigger; it's just plain fun to shoot. It takes real concentration and involvement with the gun and I love that! Here's a description.

Did a variety of drills today. I've be traveling in some high-risk areas this past week and thought it prudent to brush up on my smaller, more concealable Kahr K9. This is the all-steel version with the DA trigger. The goal was to shoot one handed, first right and then left on the 'I', 'X' and 'N' from both 15 and 20 feet. Then I shifted to two-handed shooting at the 'Z': two handed double-taps, working toward triples within a four second window,

'O' and 'S' were fun using my new HK 45 with the LEM trigger, some rapid fire on the 'S'. I really like this new gun. It's a natural pointer for me and I already know the LEM from my P2000. I know people either hate or love these triggers. I just find them fun.
I'm inclined to think it's not luck at all, but rather the concentration you mentioned. Nice shooting, Frank!
******
Essentials of Lubrication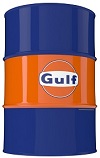 Buy in bulk and save!
Our pal BifBewalski is back from the range with a great question.
I picked up another 22LR for cheap grip and aim practice. When I got it, it was obviously used but quite well maintained. When I did a field strip to inspect wear & tear, I noticed that while clean it was kind of runny with lube. Function check was clear and the weapon worked as expected with no function failures.

Range Report: It's a Walther p22 with the locked barrel, and dead accurate. Even with my tendency to peek over the sites while pulling the trigger. No photos, but i was able to put repeatable 10 round mags through the bulls' eye at 10 yards. Weapon worked just fine rounds one through sixty. Rounds sixty-one through one hundred it had several failures to fire which were actually failures to fully cycle and eject the spent cartridge. When I got home and deep cleaned it, it was sticky and gummy. Explains the failure to eject in my mind.

Bottom line, I grew up in the swamps of Louisiana and NEVER had extra lube on any of my weapons and that became a 100% success rate for fire when i pulled the trigger. Question I have for the Horde is how much lube after cleaning does the average Moron or 'ette use, and has anyone experienced failure to fire from too much of a good thing?
This is a great topic for discussion. In my opinion, too much lubrication can cause as many problems as not enough lubrication. When a firearm is dripping with oil, it can capture and hold gunpowder residue and turn into a gunky mess. How much is enough? With oil, think film and not puddle.
Let's take another look at a Gun Thread favorite, The Story of Lubricating Oil!
What has your experience been? Are you an over-oiler, and under-oiler, or do you have it just right?
******
Next our pal Joe Doakes finds a solution to a problem many of us must contend with. The problem? Old eyeballs.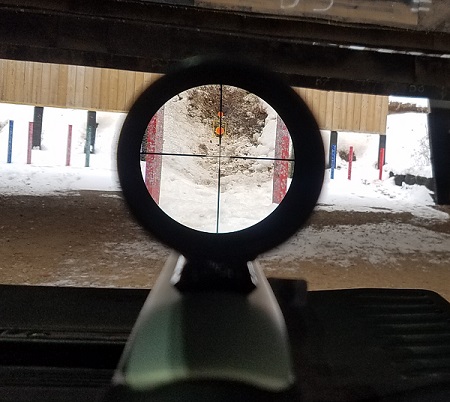 Started off the new year right - at the range. As I've gotten older and my eyes have gotten more and more out of whack, I've gone through dozens of pairs of thicker and thicker glasses. That doesn't help anymore, but a $50 4x scope makes a world of difference on the Ruger 10/22. Cabellas' spinner at 25 yards: plinking just became fun again.
Happy to hear you found this solution, Joe! Remember, this is supposed to be fun!
I know we talk about serious self-defense issues here sometimes, but I like shooting for a bunch of reasons; it's therapeutic and challenging and involves mechanical stuff which provides hopefully instant gratification with rounds on target. If time has been unkind to your eyesight, take a look at corrective lenses (Weasel uses readers) or optics of some sort. Remember, make the adjustments necessary to be comfy and have a good time. Another example is setup, if you're more comfortable shooting from a bench, then shoot from a bench!
******
Ax the Gun Thread
Next, our pal JerseyDevilRider has a question for the group.
Q: My buddy had an old Mossberg Model 1831 in 410 with a 3-inch full choke barrel. I'm trying to confirm that we can shoot slugs through it.
A: Weasel don't know.
Can you check that model number again? I'm not finding a Model 1831 in the Standard Catalog of Firearms, 32nd Ed. Is it a bolt action like the example below, and could it be a Model 183x where 'x' is a letter (D, K or T)?

Having said that, Weasel still don't know. Anyone out there with shotgun and shooting slugs knowledge?
******
Norma Factory Tour
Ever wonder how all the ammo you're buying is made? Here's a look at a Norma Plant tour. You are buying ammo, right?
******
Musical Interlude
Here is Joe Bonamassa with a great live version of
"The Ballad of John Henry"
. I may have linked this before, and if I have, I am invoking WeaselPrivilege and including it again. Great tune and this guy is an amazing musician and performer. If you ever get a chance to see him live, do yourself a big favor and go!
******
Gun Basics 101
Here is the She Equips Herself gal with Day 5 of her 12 Days of Carry series!
******
Cigar of the Week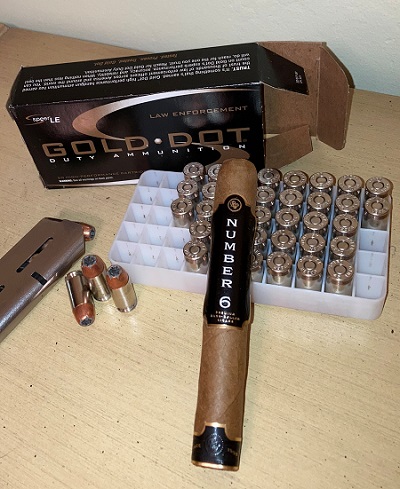 This week our pal rhomboid scores again with this excellent review of the The Rocky Patel Number 6
The Rocky Patel Number 6 is a gem of an easygoing medium bodied cigar. Unlike most premium cigars today, this one is nearly a Honduran "puro" - only some of the filler comes from Nicaragua, the rest of the filler, the binder, and the wrapper are all sourced from Honduras. A nice medium-brown color from the corojo wrapper. Reviewers report flavor notes of vanilla and citrus, among others, but for me it is generally just an overall sweet tobacco flavor, smooth and easy. Pictured here is the corona size (6 X 44), which is the vitola I usually seek out in cigars I buy. It has received very high ratings from prominent review sources, which usually doesn't affect my choice but is nice to see in a stick I already liked a lot. Online, Number 6 coronas can be found for around $8 each, of course for less on sale, which is the only way I generally buy cigars. A solid choice for those who are looking for a medium cigar experience
Excellent, rhomboid! Thank you!
******
Here are some different online cigar vendors. You will find they not only carry different brands and different lines from those brands, but also varying selections of vitolas (sizes/shapes) of given lines. It's good to have options, especially if you're looking for a specific cigar.
Cigarsinternational.com
Cigarpage.com
Famous-smoke.com
Cigarsdaily.com
Neptunecigar.com
Smallbatchcigar.com
Bobalu Cigar Company
Cigarbid.com
A note about sources. The brick & mortar/online divide exists with cigars, as with guns, and most consumer products, with respect to price. As with guns - since both are "persecuted industries", basically - I make a conscious effort to source at least some of my cigars from my local store(s). It's a small thing, but the brick & mortar segment for both guns and tobacco are precious, and worth supporting where you can. And if you're lucky enough to have a good cigar store/lounge available, they're often a good social event with many dangerous people of the sort who own scary gunz, or read smart military blogs like this one. -rhomboid
Anyone have others to include? Perhaps a small local roller who makes a cigar you like? Send me your recommendation and a link to the site!
******
Ammo Link-O-Rama
I'm really very seriously not kidding around anymore. Buy Ammo
AmmoSeek - online ammo search tool
GunBot - online ammo search tool
SG Ammo
Palmetto State Armory
Georgia Arms
AmmoMan
Target Sports USA
Bud's Gun Shop
***Mail Bag***
This week's mailbag entry is from our pal WTM. Great one!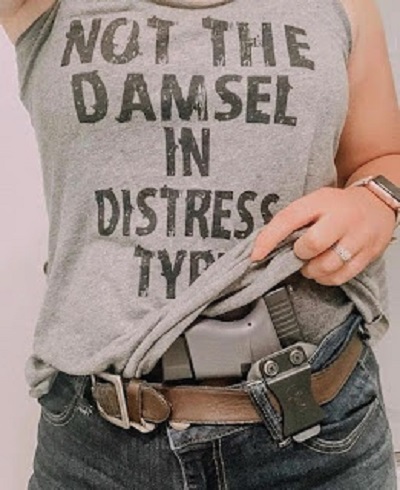 Nope! Not the Damsel in Distress type, at all!
******
Please note the new and improved protonmail account gunthread at protonmail dot com. An informal Gun Thread archive can be found HERE. Future expansion plans are in the works for the site Weasel Gun Thread. If you have a question you would like to ask Gun Thread Staff offline, just send us a note and we'll do our best to answer. If you care to share the story of your favorite firearm, send a picture with your nic and tell us what you sadly lost in the tragic canoe accident. If you would like to remain completely anonymous, just say so. Lurkers are always welcome!
That's it for this week - have you been to the range?


posted by Weasel at
07:00 PM
|
Access Comments