« Randi Weingartner: Hey Serious You Guys, Remote Learning Didn't Work
|
Main
|
Prison Break Cafe »
January 10, 2023
Quick Hits
Here are some Disinformation Bots that were never censored by Twitter -- a network of four bot accounts, claiming to be doctors but all using fake names and fake pictures (AI generated pictures, or pictures stolen from other people), all pushed maximalist covid social distancing and masking nonsense.
They linked to each other and reported on each other's covid tragedies, making up stories about the other covid bots falling into covid comas. Or dying from covid.
Spreading maximum covid panic.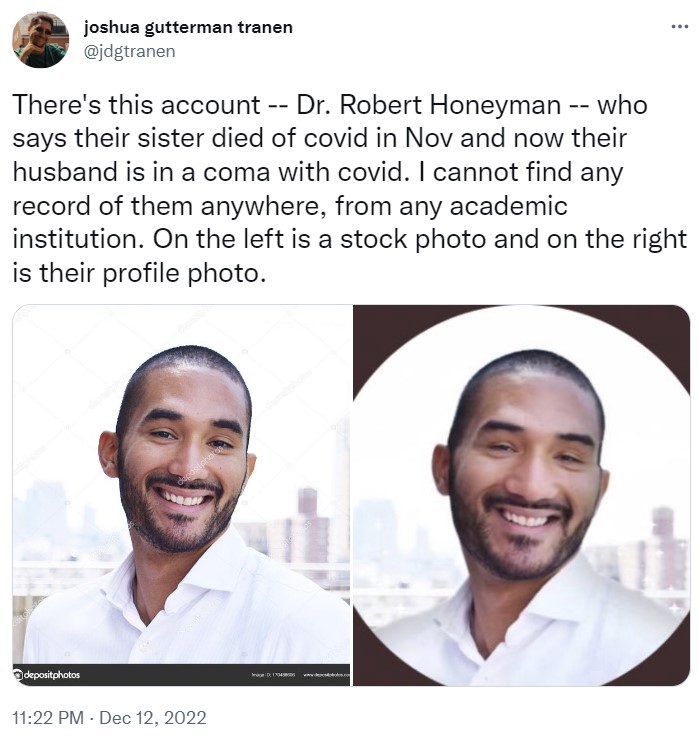 These fake accounts were actually detected back in November. But no one acted to ban them.
Because lies in favor of the Regime's propaganda and psyops are always permissible.
The Post-Millennial reports all the fake accounts decorated themselves with the Ukrainian flag emoji. Of course.
Biden is considering banning gas stoves because he just isn't fucking with your lives enough yet.
The Biden administration is exploring the possibility of a nationwide ban on gas stoves because some studies say that emissions from these appliances are toxic, according to a new report.

About 40% of American households use gas stoves, despite the fact that the EPA and WHO say they emit dangerous levels of nitrogen dioxide, carbon monoxide, and fine particulate matter. These emissions are reportedly associated with a variety of adverse health outcomes, including sickness, cardiovascular issues, cancer, childhood asthma, and others.

"This is a hidden hazard," Richard Trumka Jr., the commissioner of the U.S. Consumer Product Safety Commission, told Bloomberg News. "Any option is on the table. Products that can't be made safe can be banned."

Apparently, the problem is not just that the emissions from gas stoves are allegedly toxic. According to some Democrats, gas stoves are also racist.

Last month, Sen. Cory Booker (D-N.J.) and Rep. Don Beyer (D-Va.) wrote a letter to the U.S. Consumer Product Safety Commission, claiming that gas stove emissions are a "cumulative burden" on black, Latino, and low-income households, which, they claim, disproportionately experience air pollution.
Members of the Politburo and their cronies will still have access to gas stoves, of course.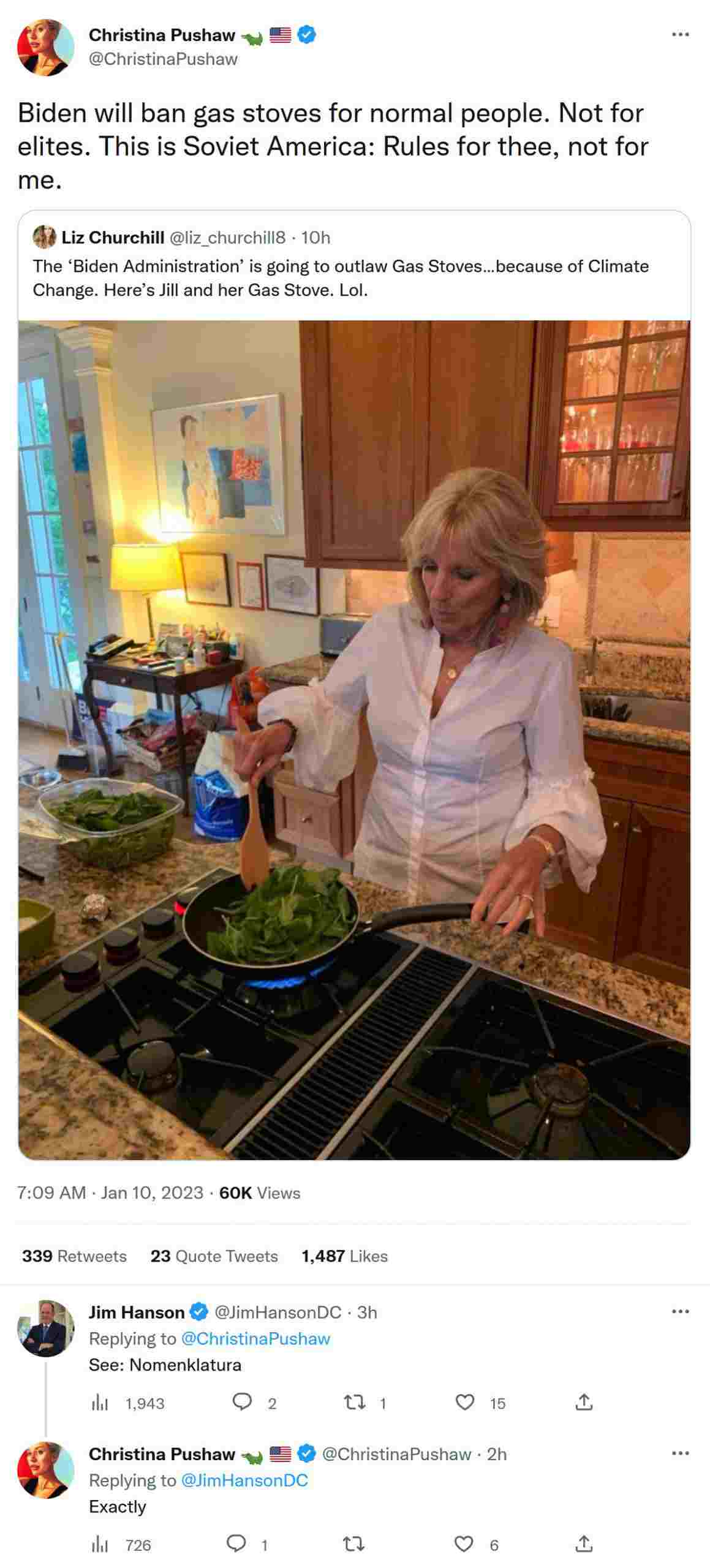 Politico fired one of their Fake Reporters for publicly sharing the standard Politico take on Pope Benedict.
A Politico reporter who called Pope Benedict XVI a 'homophobic pedophile protector and Hitler Youth alumnus' after he died last month appears to have been fired, according to his LinkedIn profile and personal website.

Eric Geller, who wrote about cybersecurity for Politico for more than six years, caused controversy after sharing a news story about late Pope's death on Twitter with an offensive caption on December 31, hours after his passing was announced.

'Homophobic pedophile protector and Hitler Youth alumnus dead at 95,' Geller said in full, in a since-deleted tweet.
Okay, Groomer.
In the UK, cases of pedophilia committed by "females" is skyrocketing now that police have begun recording crimes not according to the actual sex of the perpetrator, but according to the perp's claimed "gender identity." Police claim they cannot say if the huge increase in pedophilia by "females" is due to actual women suddenly becoming pedohphiles, or due to men-claiming-to-be-women committing the crime. They say they just don't know and just can't tell.
The BBC claimed that there really might be a huge increase in pedophilic predation by actual women, and this might be down to "better reporting."
The number of female pedophiles in the U.K. appears to be rising dramatically, but there is a crucial piece of information that is being overlooked. That is that many police forces around the U.K. are now recording crimes based on self-declared gender identity rather than the material reality of biological sex, leaving some to question the validity of the data.

Between 2015 and 2019, the number of cases reported to police of female-perpetrated child sex abuse in the U.K. increased by 84 percent, according to a report by the BBC. These figures were discussed in a 35-minute BBC Radio 4 segment, but at no point during the broadcast did anyone mention the possibility that many of the female pedophiles were very likely to be male.


This very point was raised during a parliamentary debate at the time by Labour MP Tonia Antoniazzi, who stressed the need for "accurate records of the biological sex of the victims and the perpetrators of crime, in addition to data on the gender identity of victims and perpetrators."

Given the fact that at least 16 regional police forces in the UK "record suspects' sex on the basis of gender identity," Antoziazzi pointed out there was no way of knowing whether the "large increase is due to an increase in female offenders or those identifying as women, and that detail matters."

But the BBC, in the Women Who Abuse program, chose not to even consider that possible cause, instead suggesting the increase could be down to "better reporting and a growing awareness."

Women make up such a tiny minority of sex offense convictions, so any misrecording of the sex of the perpetrator can skew the data very quickly. Antoniazzi said during the debate that "where offense categories are very rarely committed by women, the addition of just one or two people can have a significant impact on data."
11 states are moving to criminalize gender "transition" treatment (spoiler: they wind up the same gender) for children.
More than twenty bills aimed at criminalizing child sex changes have been introduced at the beginning of the 2023 state legislative sessions, reports the Associated Press.

Republican state lawmakers are seeking to ban so-called gender-affirming care for youth due to the complete lack of quality evidence to support it, the invasive and irreversible nature of the interventions, and the sharply rising rates of detransition and regret.

Eleven states - Kansas, Kentucky, Missouri, Montana, New Hampshire, Oklahoma, South Carolina, Tennessee, Texas, Utah, and Virginia - have proposed legislation to protect children and adolescents from what one pediatric neurosurgeon recently called "an extraordinary medical atrocity."

Lawmakers in South Carolina and Kansas seek to ban doctors from performing experimental sex changes on anyone under 21, while similar legislation in Oklahoma would ban sex changes for all youth under age 26.
Stacy Abrams claims she will continue running futilely for high office.
Probably for the grifting opportunities.

Lynette Hardaway -- "Diamond" of the Diamond and Silk comedy duo -- has passed.
The left is lying and claiming she died of COVID, because all they do is lie and slander, and then demand that other people be deplatformed for "disinformation."

posted by Ace at
06:32 PM
|
Access Comments