« Food Thread: Bones, Hominy And Yorkshire Pudding?
|
Main
|
Sunday Overnight Open Thread (1/8/23) »
January 08, 2023
Gun Thread: January 8th Edition!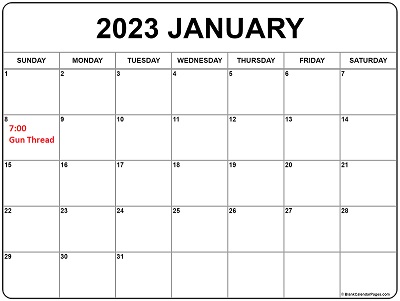 Howdy, Y'all! Welcome to the wondrously fabulous Gun Thread! As always, I want to thank all of our regulars for being here week in and week out, and also offer a bigly Gun Thread welcome to any newcomers who may be joining us tonight. Howdy and thank you for stopping by! I hope you find our wacky conversation on the subject of guns 'n shooting both enjoyable and informative. You are always welcome to lurk in the shadows of shame, but I'd like to invite you to jump into the conversation, say howdy, and tell us what kind of shooting you like to do!
Welp, we made it through the first week of the new year. For those of you lucky people that received gun and shootin' stuff for Christmas, have you been to the range to try it out? If it wasn't range stuff but say, gun cleaning stuff, have you had a chance to dirty up a gun and see if it works? Have you written all your thank-you cards?
Poor ol' Weasel is deep in the pit of Hell that is year-end at work, so there has been no time to think about going to the farm and doing fun things like farm chores and shooting. I am so far behind on my chore list, I might as well throw away the 2019 list and just start a new one. The next few weeks will be busy, busy, busy at the office and then I can resume my preferred slow to moderate pace of exertion, as far as office work is concerned. Then maybe I can do some shooting! Do you have a particular time of year where life gets in the way of fun stuff?
With that, step into the dojo and let's get to the gun stuff below, shall we?
******
Assuming I ever do get back to the range to do some shooting, what exactly am I going to start with? It's been a while since I was behind a gun, so what am I going to focus on? Fundamentals, Man! Fundamentals!
That's right. Fundamentals. Every. Single. Time. I start by focusing on fundamentals with the ultimate goal of, at some point during the range session, having nice tight groups on the target. I do not get all ready and say to myself "shoot small groups" but rather review and then focus on proper breathing and grip mechanics, sight alignment and trigger pull. I cannot emphasize this enough. Focus on the steps necessary to reach the goal, and the goal takes care of itself.
You can say "shoot small groups - shootsmallgroupsshootsmallgroupsshootsmallgroups" until the cows come home, and guess what? You'll still be a mess. What you need to do is concentrate and focus on the individual components of good marksmanship. Rythmic breathing, solid grip with all your fingers and toes in the right place, proper sight alignment and a nice smooth trigger pull. When I am practicing, especially if I have not been to the range in a while, I will start by focusing on each single component until I feel I have regained good solid fundamentals as they relate to that component, before moving on to the next. After a bit, the whole thing comes together.
Remember, it's not a race to see who shoots the quickest. Approach shooting as you would any other complex task, and that is slowly and methodically. Stop to analyze each shot and try to determine which fundamental element(s) might be keeping you out of the center of the target and focus on that. When starting for the day, concentrate on whatever was giving you trouble the last time. If you are trying to improve, for heaven's sake don't just stand there plinking and hope the X-Ring Fairy pays you a visit.
Q: Weasel, so what you're saying is to concentrate on fundamentals and the small groups will take care of themselves? That small groups are a byproduct of solid fundamentals?
A: Precisely.
But say you are having trouble. How do you analyze your results? Our pal Dr_No sent in a pistol correction chart to help you diagnose problems.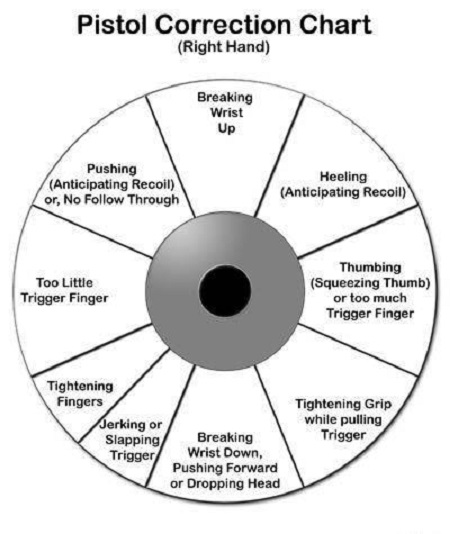 This is a chart I used to refer to often (esp. after participating in a match) when my outcome was adversely affected by my input.
Thanks Dr_No! Why don't you guys and gals give the methodology described above a try on your next range outing, and let us know if it seems to help. Just take a pic of your gun and a target and send it along with your thoughts on what went well and what you think might need work next time. The feedback you receive might just help someone else with the same issue.
******
Guns of the Horde
Next up, our pal
496
comes through with the promised range report on his trip with
Mrs. 496
and
Screaming in Digital
.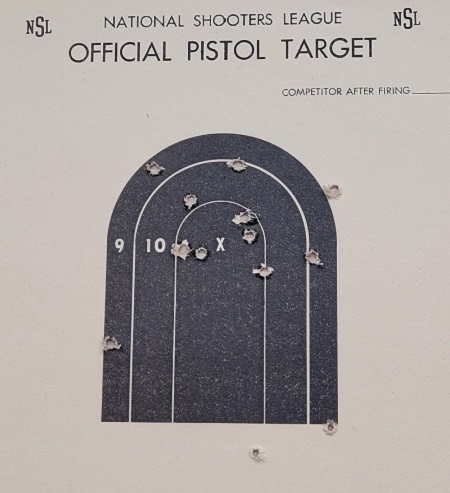 I'm filing a mini range report to brag about a couple of people I was shooting with:

Mrs. 496 joined me to the range. The excellent range master gave her a 40 minute course in the fundamentals of shooting/gun safety and then took her out to the range with a Ruger Mark III. Above is her target, from 7 yards. She done real good! And if anyone is anywhere near Laramie, WY, do yourself a favor and stop in at the range at the Albany County Fairgrounds. Even if you don't shoot, meeting the range master is worth the trip. He's a great guy, to which I am sure SiD will attest!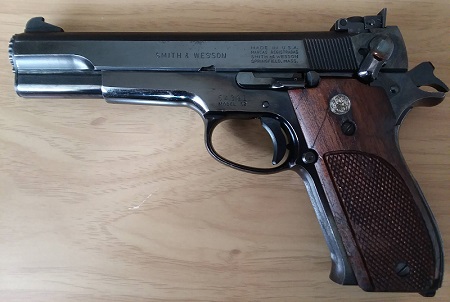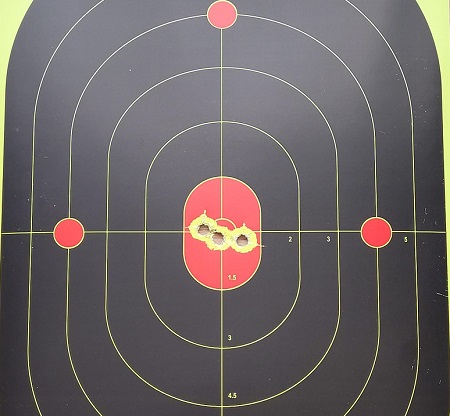 Holy Shitballs! - Weasel
I sat in on the fundamentals course too. The biggest thing I learned was that the front sight should not be blurry (don't laugh). I wear readers but haven't at the range. When I put them on, it really made a difference! When I finally got ready to shoot, Screaming in Digital handed me her beloved S&W Model 52. It shoots only wadcutters and has a fantastic trigger. Anyway, I took 3 shots at 7 yards - first one a bit right, second one a bit left, and third one right down the middle. Needless to say, it's a fantastic gun, and glasses really do work! Also, wadcutters make nice, neat holes, don't they? Thanks for letting me try it SiD!

Finally, I haven't received the spring for my 303 British, but thank you to everyone who weighed in. I'm looking forward to fixing it up and shooting it again!

P.S. I'm pretty sure SiD lost that S&W while canoeing home last night!
Nicely done, 496! Congratulations to you, the missus, and SiD! It does my heart good when Morons get together for a range day.
***
You may recall a couple of weeks ago we featured CBD's new CZ, shown again below, and made us all jealous.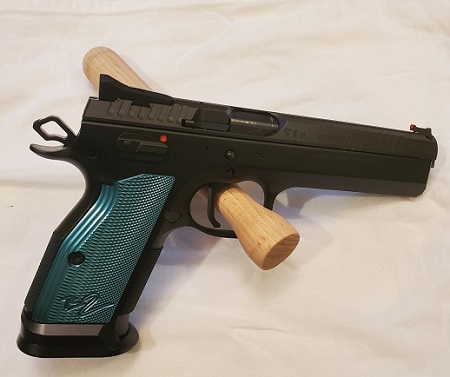 Well evidently Mr. D has been sous viding his Wheaties or something because he's sure making targets look stupid!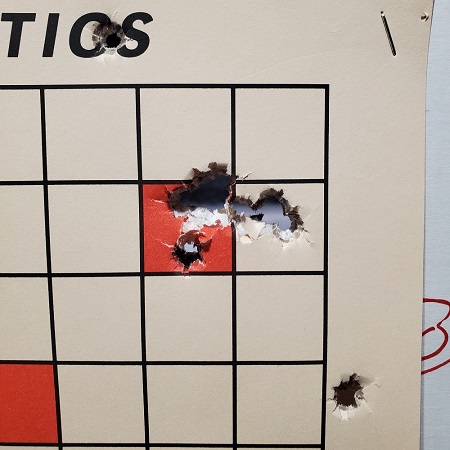 10 rounds at 30 feet. I like my CZ!
Man, I'd like it too! Nicely done, Mr. D! Were you focusing on fundamentals that day?
******
Training Corner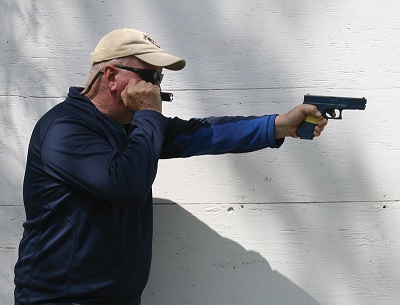 image courtesy American Handgunner
We reviewed my approach to fundamentals on the range, but what if you need to drill on a more specific application? Our pal Duncanthrax shares a very good article on training for a violent encounter from American Handgunner.
Thank you for sending this in, Duncanthrax!
******
Dillinger's Full Auto 1911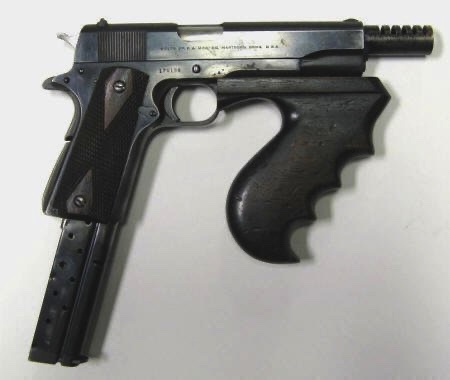 Yes, that is a Thompson foregrip - WTM
Next, our pal WTM shares the story of John Dillinger's full-auto 1911 in this article from Gun Digest.
Thanks WTM!
******
Musical Interlude
Here is CCR with a couple versions of
Run Through the Jungle
.
American Bandstand w/ Dick Clark in 1970. No live shots of the band but look at those crazy cats dance!

******
Gun Basics 101
New video, Day 4 in the 12 Days of Carry from the She Equips Herself gal! This week's video has SEH Gal trying on sweaters!!
******
Cigar of the Week
This week our pal Diogenes makes his Gun Thread cigar review debut with these excellent notes on the H. Upmann 1844 Blue Label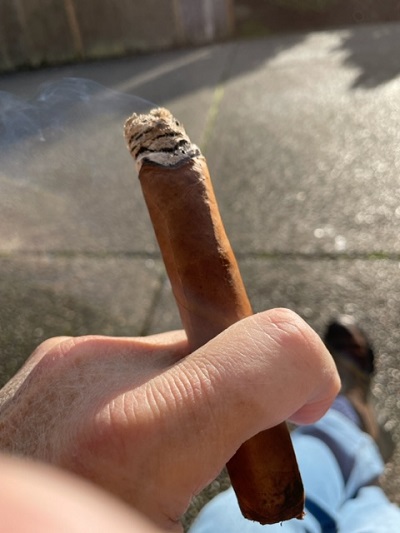 Santa was good to me this year. In my stocking was a 20 cigar sampler. All excellent brands and I will be forwarding some reviews as I enjoy them.

The first stick to see fire was one of my favs, the H. Upmann 1844 Blue Label out of Nicaragua. Bottom line up front: it is a great cigar. A good feel, easy to light and a nice draw. I always grade my cigars by thirds. The first third is where it gets warmed up, the smoke blends into the tobacco, and you can check the burn of the ash. The 1844 did well. The second third is the sweet spot. Mild, aromatic, and just a down-right pleasant smoke. Fairly neutral of flavors, it has a slight cedarish background which worked well with the bourbon.

Now smoking a cigar is heavily influenced by one's surrounding. In my case, it was 35 degrees and I was sitting in the garage with the door open. When a cigar can overcome that ambiance, you know it is doing its job. And happily the last third was just as good as the first two. I was sad to put it out.

I give it five matchsticks up!
Excellent, Diogenes! Thank you very much for this!
******
Here are some different online cigar vendors. You will find they not only carry different brands and different lines from those brands, but also varying selections of vitolas (sizes/shapes) of given lines. It's good to have options, especially if you're looking for a specific cigar.
Cigarsinternational.com
Cigarpage.com
Famous-smoke.com
Cigarsdaily.com
Neptunecigar.com
Smallbatchcigar.com
Bobalu Cigar Company
Cigarbid.com
A note about sources. The brick & mortar/online divide exists with cigars, as with guns, and most consumer products, with respect to price. As with guns - since both are "persecuted industries", basically - I make a conscious effort to source at least some of my cigars from my local store(s). It's a small thing, but the brick & mortar segment for both guns and tobacco are precious, and worth supporting where you can. And if you're lucky enough to have a good cigar store/lounge available, they're often a good social event with many dangerous people of the sort who own scary gunz, or read smart military blogs like this one. -rhomboid
Anyone have others to include? Perhaps a small local roller who makes a cigar you like? Send me your recommendation and a link to the site!
******
Ammo Link-O-Rama
I'm really very seriously not kidding around anymore. Buy Ammo
AmmoSeek - online ammo search tool
GunBot - online ammo search tool
SG Ammo
Palmetto State Armory
Georgia Arms
AmmoMan
Target Sports USA
Bud's Gun Shop
***Mail Bag***
This week's mailbag entry is from our pal CBD. Great one!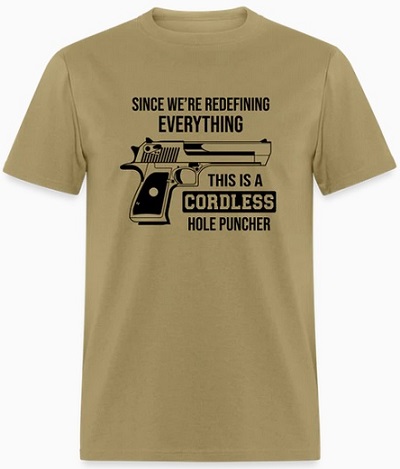 ******
Please note the new and improved protonmail account gunthread at protonmail dot com. An informal Gun Thread archive can be found HERE. Future expansion plans are in the works for the site Weasel Gun Thread. If you have a question you would like to ask Gun Thread Staff offline, just send us a note and we'll do our best to answer. If you care to share the story of your favorite firearm, send a picture with your nic and tell us what you sadly lost in the tragic canoe accident. If you would like to remain completely anonymous, just say so. Lurkers are always welcome!
That's it for this week - have you been to the range?


posted by Weasel at
07:00 PM
|
Access Comments