« First-World Problems...
|
Main
|
Gun Thread: January 8th Edition! »
January 08, 2023
Food Thread: Bones, Hominy And Yorkshire Pudding?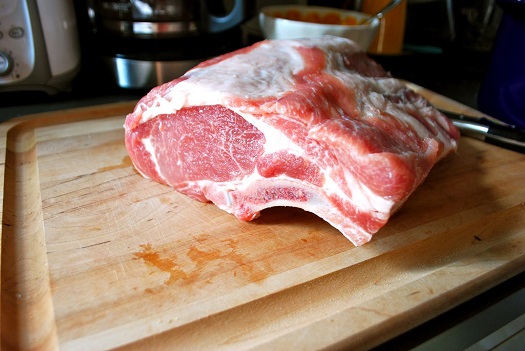 Anything with a bone is a good thing. Don't let them cut it off, charge you more, and then use the bone for products that they sell to you again! Sure, sometimes the boneless ve4rsion is less expensive because it is on sale, so you have to make that calculation. But it usually isn't and bones are wonderful things for cooking. I almost never buy cut-up chicken because I uses the carcasses for stock, and I think chicken cooks better with the bones anyway...all of that connective tissue and collagen and fat around the bones flavors the meat.
And that is also true of other meats like pork and beef. All of that stuff makes the meat taste better, and even if you want to trim it off you can make stock from the bones. A good beef stock is a delight, and while pork stock is quite rare in recipes, it is fantastic to use as the liquid for cooking beans.
And don't toss those bones after you have eaten. I pride myself on being able to clean off a bone so that it shines, but most people don't do that, and a chicken stock made from roast chicken bones is glorious!
Yes, it is frugal, but it also makes for good food, and isn't it wonderful when those two come together! By the way, that pork roast in the photo looks fantastic! I wish I could regularly get pork that well marbled. But the one I picked up a few days ago (10 bones!) looks pretty good, and has a nice thick fat cap so it will baste as it cooks. Or Sous Vides, then gets finished on the grill.
******
Food Stamps Update: 28 States Extend Additional Emergency SNAP Money Through January
Every year, SNAP is adjusted for inflation through a cost-of-living adjustment (COLA). SNAP benefits were boosted by 12.5% for the 2023 fiscal year. The COLA kicked in on Oct. 1, 2022, and will run through Sept. 30, 2023. Because of the recent COLA, benefits increased by $104 each month for the average family of four. The maximum benefit for a four-person household is now $939 a month, up from $835.
Wow! That is a lot of money for just four people. I would have no problem feeding a family of four on that amount of money, and I think we would eat well.
Assuming for the moment that food stamps are a good idea, one would think that the amount of money provided should be carefully chosen to make it difficult to feed one's family. But that amount of money makes it effortless and provides no incentive to do anything other than continue to receive food stamps.
Just sayin'.

******
One of the advantages of higher-end butchers and fish mongers is the time they spend on cutting portions that are of consistent size and thickness. It is frustrating to buy a chunk of beef or pork and discover that it is angled from one side to another, so that there is no way to cook it evenly. And fish is worse! I have seen Berkshire pork chops that go from 2" on one side to 1" on the other. Who was running the saw? Helen Keller?
Yes, we pay for the extra time they spend on cutting, and they charge us for the loss of the uneven pieces. That's why I like to buy larger pieces of...whatever...as much as possible and butcher it myself. I have a vacuum sealer that allows me to preserve the unused pieces with just a few minutes of work. I will often seal them for use just a few days into the future and not even bother to freeze...it really works well!

******
Last week I featured a charcuterie board that I served for New Years Eve. Really fancy shit! sliced cheeses and nicely displayed stuff, and I promise I ate it all with at least one and sometimes two fingers elegantly pointing up!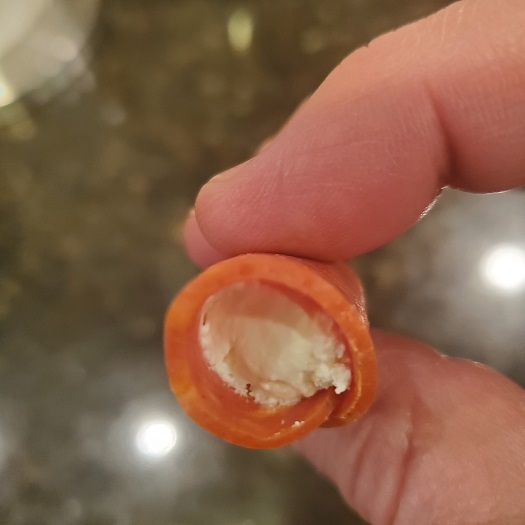 The next day was slightly different! That's pepperoni rolled around a gob of cream cheese. No, I didn't call Weasel for the recipe, but I think that he would have approved.

******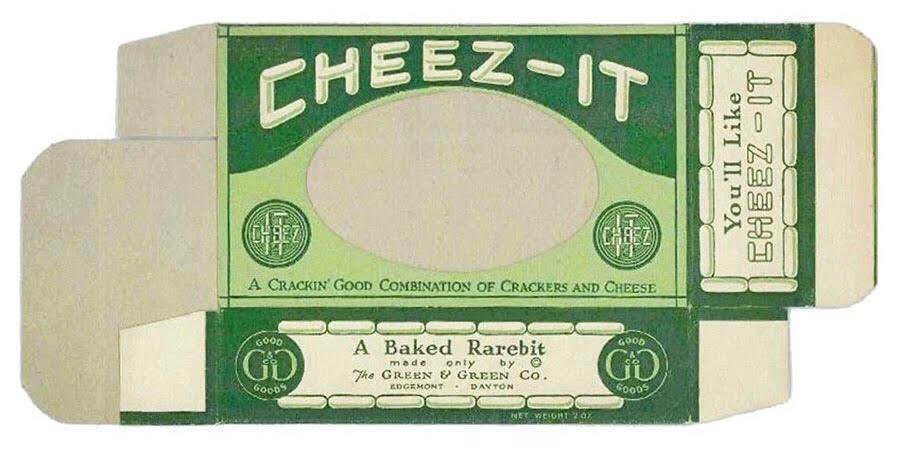 A Brief History of the Cheez-It

In the early 20th century, inside a foregone factory on the corner of Concord and Cincinnati Streets, Green & Green cracker company cooked up its Edgemont product line, a collection of grahams, crackers and gingersnaps that were shipped across the region. But of the company's four Edgemont products, only one, in particular, a flaky one-by-one-inch cheese cracker, would revolutionize snack time. On May 23, 1921, when Green & Green decided to trademark the tasty treat's unique name, the Cheez-It was born.
While I will eat them when offered, and I wouldn't throw Margot Robbie out of bed for eating them, they are not my go-to cracker snack. In fact, I don't really have a cracker in my snacking rotation, and haven't for mumble-mumble years, when i used to eat Triscuits with cheddar cheese.
THAT is a cheese cracker!
[Hat Tip: Weasel]

******
This is the largest can I have ever purchased for my own use. It is a 110 ounce portion of hominy that I used for Pozole, which if you haven't had it is a delicious Mexican soup.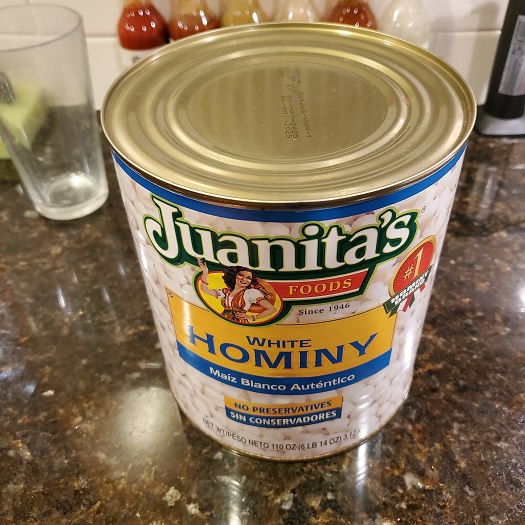 Chicken, hominy, chicken stock, some garlic, oregano, and my twist on it...roasted tomatillos. Fun and easy to make, and it is delicious.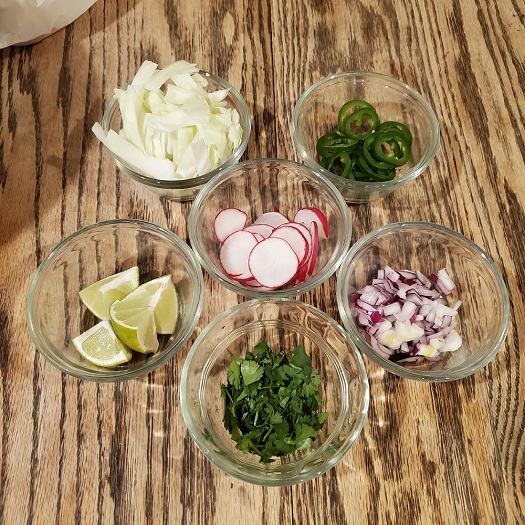 Those are the various condiments that make Pozole so much fun. It's odd, but a squeeze of lime really adds to the dish. And radishes are definitely not my go-to for what is essentially chicken soup, but damned if they don't go really well.

******
Chez Dildo is hosting a traditional English Sunday Roast, and it would not be authentic without Yorkshire Pudding! I have been experimenting with various cooking techniques, and while they always taste good, there has been significant difference in the loft and airiness of them.
But it is a hoot making them, and since the batter is easy to make -- just plop everything into the blender -- I can experiment all the time. So that Pozole I mentioned? Yes, I served it with Yorkshire Pudding, and that might be the first time in history.

******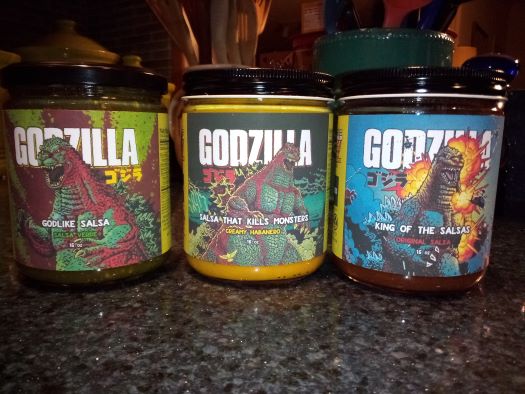 [Hat Tip: fd]

******
Just send me oysters. Lots of oysters, and I will provide special dispensation for those without taste who insist upon maple syrup with their French Toast. And pork rib roasts from the front end of the pig where all the good and fatty meat lives, carrots that don't taste like stalky chalk, spare bottles of Van Winkle Special Reserve 12 Year Old Bourbon, an herb garden that actually produces herbs (but no basil!), well-marbled NY strip steaks and elk backstrap to:
cbd dot aoshq at gmail dot com.
And don't think that the rest of you are off the hook with maple syrup and French Toast: I'm still watching you! And I am watching you perverts who shake Manhattans and keeping a list for the Burning Times.

posted by CBD at
04:00 PM
|
Access Comments