« Daily Tech News 6 January 2023
|
Main
|
Mid-Morning Art Thread »
January 06, 2023
The Morning Report — 1/6/23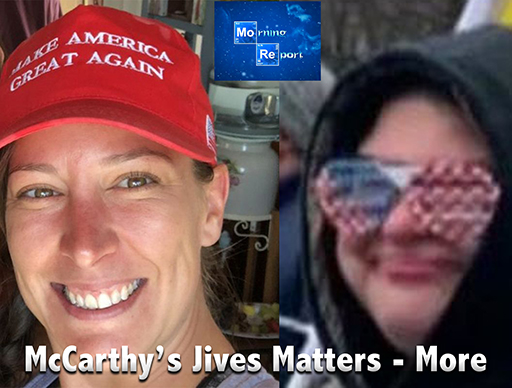 Good morning, kids. Friday and two years ago today, America as we had known it, or believed it to be was overthrown. I will have more on this horrible anniversary a little later.
For now, I've got to say, the powers that be must really want Kevin McLuntz installed as Speaker. Actually, its not that they want him, per se. It's that they do not want anyone who they perceive as beyond their control or worse, who will actively lead the charge against the American destruction agenda. This entire episode serves to underscore my assertion that the nation as founded is for sure dead, and yet the illusion of so-called "regular order" goes on.
While I am heartened by the 21 holdouts in the House . . .
Rep. Andy Biggs (Ariz.), Rep. Dan Bishop (N.C.), Rep. Lauren Boebert (R-Colo.), Rep.-elect Josh Brecheen (Okla.), Rep. Michael Cloud (Texas), Rep.-elect Eli Crane (Ariz.), Rep. Andrew Clyde (Ga.), Rep. Byron Donalds (Fla.), Rep. Matt Gaetz (Fla.), Rep. Bob Good (Va.),Rep. Paul Gosar (Ariz.),Rep. Andy Harris (Md.), Rep.-elect Anna Paulina Luna (Fla.), Rep. Mary Miller (Ill.), Rep. Ralph Norman (S.C.), Rep.-elect Andy Ogles (Tenn.), Rep. Scott Perry (Pa.), Rep. Matt Rosendale (Mont.), Rep. Chip Roy (Texas), Rep.-elect Keith Self (Texas), Rep. Victoria Spartz (Ind.)
. . . I have to say I am a bit irked that there is talk that they are ready to strike a deal with that stooge because of alleged concessions he's willing to make if they agree to put him over the top and give him Pelosi's goofy clown gavel. Nancy's, not Paul's. Somewhere out there in the great beyond, Neville Chamberlain has got to be shaking his head.
Putting aside my aforementioned declaration that what's going on in Congress is all kabuki-bukkake theater at this point, do any of these 21 folks really believe at the very first instant that the quo has to pay off the quid, McCarthy won't laugh in their face and declare "You fucked up! You trusted me!"
And as all this bullshit plays out, we still have scores of innocent Americans who were set up and taken down by the combined FBI/Capitol PD/DOJ false flag operation of January 6th, 2021. I am particularly irked at Louie Gohmert (ugh, I forgot he had retired, so apologies to Go-Go Gohmert - jjs) and Marjorie Taylor Greene who, along with Matt Gaetz, were turned away at a DC jail where said innocent Americans were held as political prisoners. And yet, the former two have voted in favor of Kevin McCarthy, who actually criticized President Trump for helping foment the disturbances that were entirely of the Deep State's making.
While Americans are silenced, their nation and children's futures (and innocence) are stolen from them, and their fellow citizens languish in the Garland Archipelago, Congress engages in this farcical, spurious demonstration of "participatory democracy" without a peep for the actual citizens they claim to be defending.
Geri Perna is the aunt of Matthew Perna from Sharpsville, Pennsylvania. She told me that Matt went to the Capitol with a group of friends "thinking he was going to be part of a celebration." When his face appeared in a public FBI list, Matt turned himself in and was arrested on January 19, 2021. According to the DOJ's press release, Matt walked into the Capitol, "filmed and chanted with the crowd," and left after 20 minutes. The same press release reads, "Later, he posted an eight-minute video to his Facebook account in which he stated, among other things, 'It's not over, trust me.'"

The DOJ's counterterrorism division contributed to the prosecution of Matt's case. After delays to the proceedings, Geri thought in February of this year that Matt's case was going in a positive direction, "but Matt couldn't see it. He thought doom and gloom." His family found out that a terrorism enhancement to his charges would have added five to six years to his sentence. After this development, Geri said that her brother called her and said, "'Geri, book another plane ticket.' I said, 'what's going on?' He said, 'Matt just hung himself in his garage.'" Matt died at the age of 37. After teaching English in South Korea and Thailand, he returned to his hometown to take care of his mother suffering with leukemia. Matt was critical of the pharmaceutical industry; he made a living selling CBD oil online and spent part of his free time researching holistic treatments for his mom's cancer. . .

. . . Ella Blythe's son Jonathan Copeland traveled to the Capitol from his trailer park home in Fort Shawnee, Ohio. The FBI's statement of facts connected to Jonathan's case makes it clear that he entered the Capitol through an open door, walked around while inside, and was directed by police to exit through a window. He was arrested in a raid on his home in August 2022. While an indictment has not yet been filed in his case, Ella says that "they're charging him with 25 to 30 years in prison. . . "

. . . Ella Blythe says that she is concerned that a D.C. jury for her son's case, if one is called, will be biased: "Over 90 percent have voted for Biden…They see on the media, the mainstream media, is already biased. So, we see not a positive end result because there's no fair trial. There's no fair trial at all." 
Kevin McCarthy on 1/6/21 – "The violence, destruction, and chaos we saw earlier was unacceptable, undemocratic, and un-American. The President bears responsibility for Wednesday's attack on Congress by mob rioters."
Kevin McCarthy on 1/13/21 – "The president bears responsibility for Wednesday's attack on Congress by mob rioters. He should have immediately denounced the mob when he saw what was unfolding. These facts require immediate action by President Trump, accept his share of responsibility, quell the brewing unrest and ensure President-elect Biden is able to successfully begin his term."
Putting aside the issue of Trump's 2024 candidacy, while I agree with those that the events of Election Day 2020 culminating in 1/6/21 should not be the main focus and thrust of his candidacy, those events cannot, should not and must never be forgiven nor forgotten. There is no person in this nation, in and out of politics, who is more innocent of the charges levied against him than Donald J. Trump. He was dead right; they're not necessarily after him, they're after all of us, and he just stood in the way.
UPDATE: Now all that said about Trump, I am particularly incredulous at the fact that he is going to the mattresses to support the man who blamed him for the violence of 1/6. That makes zero sense, but I digress.
And as the circus over Kevin McCarthy continues, real lives continue to be destroyed by truly twisted, malignant tyrants. Once again, an absolute stalwart and national treasure, Julie Kelly:
The newly-appointed head of the FBI's Washington, D.C. field office warned this week the agency's work on January 6 cases will continue for "months and years to come." Attorney General Merrick Garland released a statement to commemorate the second anniversary of the "attack on the Capitol" with a similar sentiment. "Our work is far from over," Garland said, boasting how the prosecution "continues to move forward at an unprecedented speed and scale."

And why shouldn't it? After all, 18 GOP senators voted to pass the $1.7 trillion omnibus bill last month, which included a $3.5 billion raise for the Justice Department, millions of which will be spent on hiring more government lawyers to prosecute January 6 cases. The FBI won a $570 million boost, bringing the bureau's total annual budget to more than $11 billion.

Nothing like feeding the wolves eating your herd.

Joe Biden continues to fixate on January 6 in an attempt to brand Trump supporters, or any American who does not blindly embrace the Dear Leader, as "insurrectionists" and "terrorists" endangering the safety of the country. To honor the second anniversary of January 6, Biden will make remarks and hand out Presidential Citizens Medals to individuals who gave televised performances before the January 6 select committee.

The family of Capitol Police Officer Brian Sicknick will receive a posthumous medal for "[losing] his life protecting our representatives." Biden, who has difficulty telling the truth about the circumstances of his own son's death, shamelessly perpetuates the falsehood that Sicknick and several other police officers died as a result of January 6. (In his statement, Garland claimed five police officers died.)

Of course, January 6 propagandists have to lie about what happened to justify comparisons to Pearl Harbor, the Oklahoma City bombing, and 9/11. Their hope is to rally support around the new war on terror, one taking direct aim at Americans on the Right. If Trump supporters are truly America's version of ISIS, as the regime and the news media insist, then no amount of funding is too much and no criminal prosecution is too excessive to defeat the sworn enemy. Any dissent is unpatriotic.
On a somewhat more positive note, some measure of justice has been delivered to an innocent American:


A Loudoun County father, whose arrest at a June 2021 school board meeting was used by the Biden administration to justify a politicized attack on concerned parents, was found not guilty of trespassing on Wednesday.

Law enforcement arrested Jon Tigges at a Loudoun school board meeting on June 22, 2021, after he tried expressing concerns about the school district's "moral decay." A Virginia district judge found Tigges guilty in October of 2021. Loudoun Circuit Judge Douglas Fleming Jr., however, cleared Tigges of any wrongdoing.

Fleming determined that Tigges not only had a First Amendment right to attend the heated meeting but also that the superintendent who shut down the official gathering last summer had no right to declare it an "unlawful assembly."

"My thanks to God for justice," Tigges wrote on Twitter on Wednesday afternoon. . .

. . . Tigges' arrest in June of 2021 was used by the National School Boards Association (NSBA), in collusion with the Biden White House, to justify the smearing of concerned parents as "domestic terrorists" who required punishment from federal law enforcement. . .

. . . "Despite this victory, I have serious concerns about where we are as a country. We've been subverted by a darkness that is spilling out in rot at all levels and in both political parties," Tigges tweeted after the decision. "Nothing will change until We the People value conviction over comfort."
This was not a "riot" nor an "insurrection," real or in the case of 1/6/21 a phony, Junta-concocted sting operation, this was a parent speaking, or attempting to speak at a school board meeting, as is his right to do so. Or was.
What do you suppose Jon Tigges' net worth is? How much does he have left after hiring lawyers and probably (I'm guessing here) being either let go from work or having to take serious time off to defend himself? They can silence you via censorship or silence you permanently with a bullet or with fists and truncheons as they did Ashli Babbitt and Roseanne Boyland. Or they can wear you down to the point where you commit suicide. One less "white supremacist tea-bagger ultra-MAGA scum" to stand in the way of paradise on earth, is the Enemy's calculus.
What happened to Jon Tigges and all the political prisoners still being held TWO YEARS LATER is the message.
Trump was right. They really are after us after all. We now return you to the regularly scheduled meshugas of the next round of votes against Kevin McCarthy.
Have a good weekend.
ABOVE THE FOLD, BREAKING, NOTEWORTHY
NOTE: The opinions expressed in the links may or may not reflect my own. I include them because of their relevance to the discussion of a particular issue.
ALSO: The Morning Report is cross-posted at CutJibNewsletter.com if you want to continue the conversation all day.
Follow us on Twitter: @CutJibNews
Follow us on Instagram: @Cutjibnewsletter

posted by J.J. Sefton at
07:38 AM
|
Access Comments