« Happy Fun Thread!
|
Main
|
On The Eleventh Vote, The ONT Has Been Elected Speaker Of The House »
January 05, 2023
Fast Food Restaurants Are Broken; Is Convenience Store "Grab and Go" Dining Now The Best Fast Food Option? (plus other thoughts related to fast food and culture)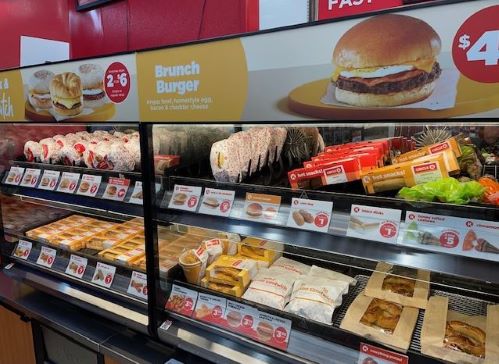 If you're like me, you rarely step inside a convenience store. You pay for your gas at the pump and then get on down the road. Well, that's changing for me – I just realized that C-stores are the answer to how hopelessly broken fast food restaurants are.
I'm not a food snob. There is plenty of fast food that I like. But even before Covid, fast food joints were broken. They suffered from understaffing, high turnover, worn out facilities, slow service (usually related to big and complex menus), long lines, etc.
Because of crime, staffing challenges, and street people, most downtown locations of prominent fast food chains have long since closed. I work downtown, and quick lunch options have been vanishing in recent years. I've been wishing that someone would bring back the Automat concept, whereby I could put money in a machine and immediately get a burger or a dog, without having to order or wait in a line.
I recently found myself out running errands at lunchtime, and needing to get a quick bite to eat. In quick succession I pulled into a Taco Bell, Popeyes, Krystal, and Wendy's. The one thing all of these had in common was that there was no way to quickly get food. The problems included closed dining rooms, minimal staffing, drive-through lines that stretched to the street, and dining room lines that didn't move at all.
In desperation, I finally pulled into a C-store thinking I'd just grab a dog off of the hot dog roller. Instead, I saw a beautiful spread of ready-to-eat grab-and-go food. Hungry and desperate, I felt like a Soviet citizen who had just stepped into an American grocery store for the first time. It was beautiful!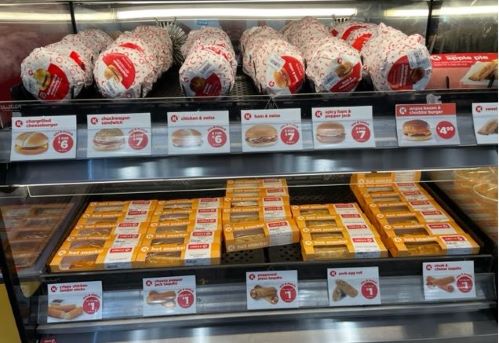 Since then, I've been venturing out to various C-stores and finding that there's a nice selection of offerings, without being unmanageably large. Best of all, the options are real simple – you can take it or leave it, but you can't customize it. "Have it your way" and fast food are not compatible. Grabbing a pre-made burger, however it might be prepared, is good enough for me.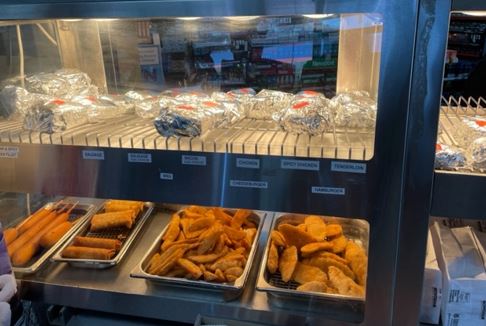 Straying a bit from the topic, is there anything more excruciating than offering to make a fast food run and to get food for others, and then they give you complex, very customized orders?
"Hey Pete, I'm running to Whataburger, can I get you anything?"
"Yeah, that would be great. Could you get me a Whataburger with cheese, no pickles, easy on the mayo, with jalapenos on the side. No mustard unless its brown mustard. I'd like Coke for my drink, but don't overfill the cup with ice, and if they don't have Coke, I don't want Pepsi. Just get iced tea instead. Be sure to get the yellow sweetener, not the blue."
Continuing to stray from the topic – while keeping it related to fast food restaurants – what if elite universities required that all applicants had experience during their high school years of working in an entry level, "minimum wage" type of job?
A great many college applicants have a puffed-up resume full of faux-community service and accomplishments. Wouldn't it be great if instead of "I created a charity that teaches composting to homeless people in Costa Rica." these privileged kids had to discuss how they worked the deep fryer at a McDonalds? A fast food job would provide more exposure to "diversity" and other cultures than a childhood full of "philanthropic" rich-kid vacations.
OK, let's circle back to C-stores. As much as they are better than fast food restaurants for quickly obtaining a meal, the checkout process can still be a challenge. Back when everybody paid cash for small-dollar transactions, the checkout process flowed very quickly. Somehow it seems that there is always a problem now with the credit card transaction of someone in front of me. And God forbid I'm stuck behind someone trying to decide which scratch off lottery tickets he wants to buy, as he asks questions about the price and prizes on all the selections.
That said, a C-Store meal is still so much quicker and easier to obtain than a traditional fast food lunch.
What are your favorite C-store food offerings?
(buck.throckmorton at protonmail dot com)

posted by Buck Throckmorton at
08:06 PM
|
Access Comments