« THE MORNING RANT - Herb Kelleher's Prophecy Fulfilled: "The biggest threat to Southwest Airlines will come from within, not from other airlines"
|
Main
|
I didn't invite these people into my house [TJM] »
January 02, 2023
What's A New Year Without Uncle Sam Taking More?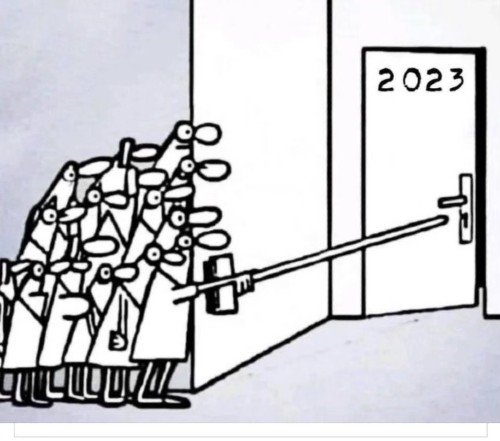 (H/T bluebell via Jane D'Oh)
***
Unless you have been living in a cave or in a delusional state of mind (See JJ's 'The Morning Report' commentary about actress Mira Sorvino) we have been besieged with inflation.
True to form the grifters, thieves and whores of Capitol Hill saw this spiraling inflation as an opportunity to come up with a "fix". Remember the Inflation Reduction Act of 2022? Congress's attempt to fix inflation they caused. The back room deals were spectacular. (I would have liked to been a fly on the wall to see all of the cash spreading, not so sure about the denture filled mouths accepting the flaccid penis, but I digress.........)
True to form they lined their pockets, received their perks and stuck it to the American taxpayer and consumer. Let's take a look at how inflation will be reduced.
$6.5 Billion Natural Gas Tax Which Will Increase Household Energy Bills

Think your household energy bills are high now? Just wait until the three major energy taxes in the Inflation Reduction Act hit your wallet. The first is a regressive tax on American oil and gas development. The tax will drive up the cost of household energy bills. The Congressional Budget Office estimates the natural gas tax will increase taxes by $6.5 billion.

And of course, this tax hike violates Biden's pledge not to raise taxes on Americans making under $400,000 per year. According to the American Gas Association, the methane tax will slap a 17% increase on the average family's natural gas bill.

$12 Billion Crude Oil Tax Which Will Increase Household Costs

Next up - a .16c/barrel tax on crude oil and imported petroleum products which will end up on the shoulders of consumers in the form of higher tax prices.

The tax hike violates President Biden's tax pledge to any American making less than $400,000 per year.

As noted above, Biden administration officials have repeatedly admitted taxes that raise consumer energy prices are in violation of President Biden's $400,000 tax pledge.

As if it weren't bad enough, Democrats have pegged their oil tax increase to inflation. As inflation increases, so will the level of tax.

$1.2 Billion Coal Tax Which Will Increase Household Energy Bills

This one increases the current tax rate on coal from $0.50 to $1.10 per ton, while coal from surface mining would increase from $0.25 per to to $0.55 per ton, which will raise $1.2 billion per year in taxes that will undoubtedly be passed along to consumers in the form of higher energy bills.

$74 Billion Stock Tax Which Will Hit Your Nest Egg — 401(k)s, IRAs and Pension Plans
Oh there is more. But, you get the idea. Raise taxes, spend more, cause misery so we can come to them on bended knee and be under their care. Spits.
If they want to raise taxes on their brethren 1%ers so be it. If they want to hit up the fat cats on Wall Street so what. But leave the people who work and make this country great alone.
I buy a few bucks of my company's stock each pay day with money that has been taxed. I pay taxes on the capital gains. Now I'm going to be taxed again.
Democrats are now imposing a new federal excise tax when Americans sell shares of a stock back to a company.
So much for my planning on this retirement asset.
So Washington, D.C. has hit us hard again. If you live in the land of sunscreen and nuts you got hit hard as well on January 1st. New California laws continues the states full plummet to Wokeness Gone Wild.
Five Radical, Woke California Laws Go Into Effect Today

Sen. Scott Weiner (D-Calif) said that the bill offers "refuge" to trans minors and their families "if they're being criminalized in their home states."

Abortion was on the top of many governors' minds in 2022 with Republican states banning the procedure and Democrat states welcoming it with open arms.

SB 1375 will allow nurses to perform abortions without the help of a medical license doctor, which was passed alongside a referendum guaranteeing the right to abortion and contraception.

Under the new law, nurses will be able to perform the procedure without a doctor supervising in the first trimester of pregnancy.

My wish for you, A Prosperous New Year in 2023, even with the government reaching for your wallet.

posted by Misanthropic Humanitarian at
12:13 PM
|
Access Comments