« Is This Something?
|
Main
|
Quick Hits »
December 30, 2022
Media: Exercise and Fitness Are Racist Now
Also: RAZZZIST GAINZZZ
Time Magazine: Exercise is founded in white supremacy, you know.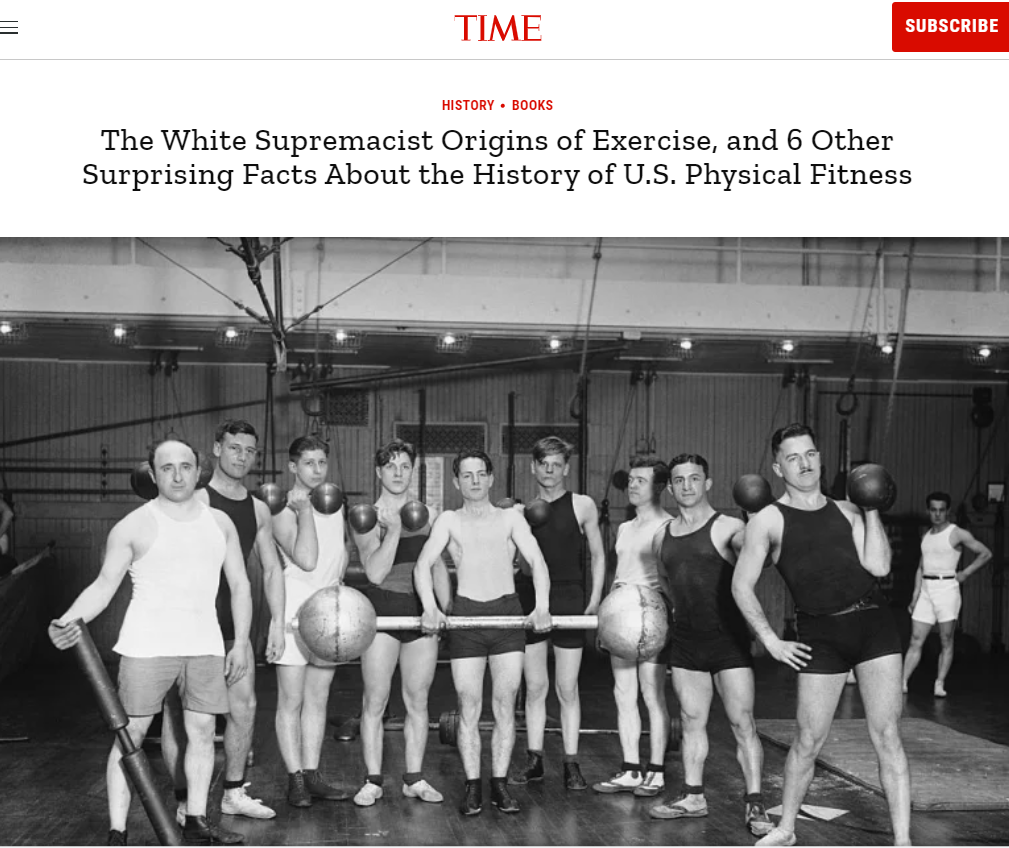 BY OLIVIA B. WAXMAN


How did U.S. exercise trends go from reinforcing white supremacy to celebrating Richard Simmons? That evolution is explored in a new book by a historian of exercise, Natalia Mehlman Petrzela, author of the book Fit Nation: The Gains and Pains of America's Exercise Obsession, out Jan. 2023.

...


Your book Fit Nation starts out by talking about how fat was something to aspire to and that was a sign of wealth and healthiness. How did Americans go from a mentality of "fat is good" to "skinny is better?"

One of the things I set out to do in this book is to look at the change in how we think about our bodies and what's considered attractive. Until the 1920s or so, to be what would be considered today fat or bigger, was actually desirable and actually signified affluence--which is like the polar opposite of today, when so much of the obesity epidemic discourse is connected to socio-economic inequality and to be fat is often to be seen as to be poor.

How did that happen? Well, in a moment when actually there wasn't a lot of access to caloric foods, to be fat showed that you could afford these things that were out of the reach of most people and also you could afford to rest, like you weren't out there doing manual labor all day. As that caloric food became more accessible, and as more people were doing sedentary white-collar work and had access to cars and leisure, somebody who could resist those caloric foods, exercise, and have a thin body, was seen as more desirable.

What's the most surprising thing you learned in your research?

It was super interesting reading the reflections of fitness enthusiasts in the early 20th century. They said we should get rid of corsets, corsets are an assault on women's form, and that women should be lifting weights and gaining strength. At first, you feel like this is so progressive.

Then you keep reading, and they're saying white women should start building up their strength because we need more white babies. They're writing during an incredible amount of immigration, soon after enslaved people have been emancipated. This is totally part of a white supremacy project. So that was a real "holy crap" moment as a historian, where deep archival research really reveals the contradictions of this moment.

The article was widely jeered.
"Honestly, I want them to keep pumping articles like this out to eviscerate every remaining shred of their credibility and perceived legitimacy," British rapper Zuby tweeted. "It doesn't anger me at all. It's so goofy I consider it satire."

Ed Latimore, a former heavyweight boxer, tweeted, "First math was a tool of white supremacy. Now it's exercise. Pretty soon, food is gonna be a tool to continue systemic racism oppression."
At about the same time, Scientific American decided to tweet out a fresh link to a 2020 article of theirs in which they claimed that the concept of obesity itself is "racist."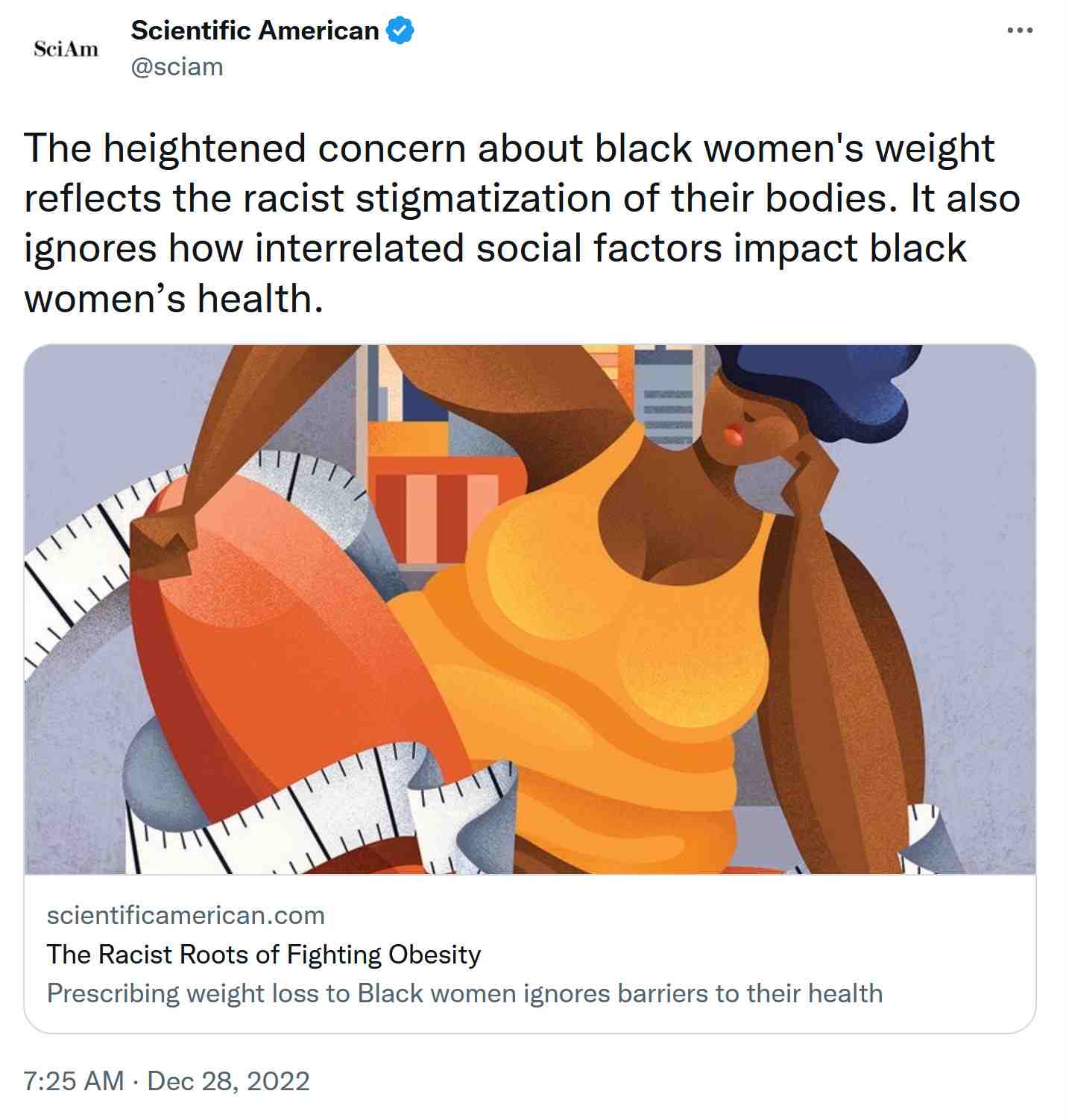 The article claims that no doctor should ever tell a black woman to lose weight. Even if she's morbidly obese; even if she's diabetic.
Because, Racism against Black Women's Bodies.
It turns out this was published in 2020, but Scientific American thought they'd tweet it out again. Sabrina Strings and Lindo Bacon explain that "prescribing weight loss to black women ignores barriers to their health."

Black women have also been identified as the subgroup with the highest body mass index (BMI) in the U.S., with four out of five classified as either "overweight" or "obese." Many doctors have claimed that Black women's "excess" weight is the main cause of their poor health outcomes, often without fully testing or diagnosing them. While there has been a massive public health campaign urging fat people to eat right, eat less and lose weight, Black women have been specifically targeted.

This heightened concern about their weight is not new; it reflects the racist stigmatization of Black women's bodies. Nearly three centuries ago scientists studying race argued that African women were especially likely to reach dimensions that the typical European might scorn. The men of Africa were said to like their women robust, and the European press featured tales of cultural events loosely described as festivals intended to fatten African women to the desired, "unwieldy" size.

Strings has also published a book entitled, "Fearing the Black Body: The Racial Origins of Fat Phobia," if you want to know more.
All of this "Healthy At Any Size" propaganda comes on the heels of a Fatfluencer who just proved that no, you're not "Healthy At Any Size," because she died of cardiac failure at the very young age of thirty-seven.
At her heaviest, she had been over 800 pounds. She had lost weight and gotten down to 400, but living with so much strain on her heart and organ had take their toll.
But Healthy At Any Size, you guys!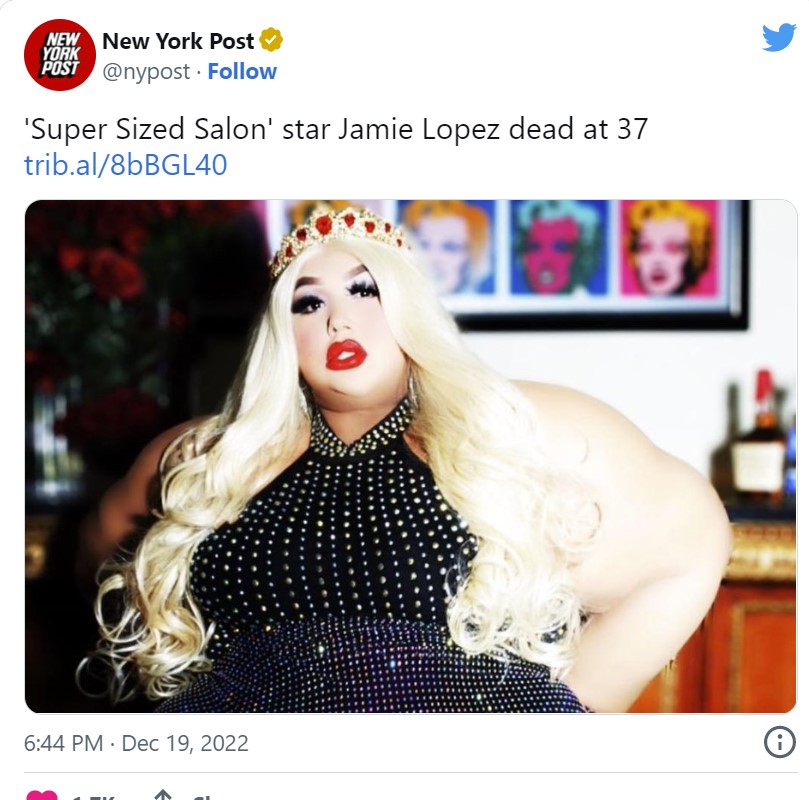 Jamie Lopez, the founder of a Las Vegas salon for plus-size women and a model for the "body positivity" movement, died last weekend at age 37.

Lopez, according to TMZ on Monday, was hospitalized for heart complications. Her salon, Babydoll Beauty Couture, which became the center of a reality television show on WE tv, published a statement on Instagram announcing her death.

"We ask, on behalf of the Babydoll family, that you allow us time to process this tremendous loss," the statement read. "Please keep our Babydoll family & team lifted in your hearts and prayers."

Her show, "Super Sized Salon," which launched this summer, only lasted a single season before the main star's death.

At her heaviest, Lopez weighed 846 pounds and designed her company while confined to bed. She lost 400 pounds to turn her dream into reality.
Matt Walsh pointed out that it's only recently that women have begun eating themselves into gargantuan proportions based on this "Fat is Healthy" delusion. He predicts that Lopez will not be the last Fatfluencer dying before age 45.
But no matter how many Healthy At Any Size women die young, the media will continue repeating: "Healthy At Any Size! Healthy At Any Size!"
The media likes to pretend it's "pro-science," but when members of the leftist coalition begin making wildly anti-scientific claims -- such as leftwing obese women claiming that obesity has no linkage to disease -- the media not only refuses to rebut these false claims, but actively assists in spreading the false "science."

Might as well make this a GAINZZZ/New Years Resolution thread.
I know one resolution for myself: I have to start stretching every day. I let my legs get so tight and cramped up that they pulled my back out of whack.
How about you guys? GAINZZZ? REZZZOLUTIONZZZ?

posted by Ace at
05:42 PM
|
Access Comments