« First-World Problems...The World Has Too Much Time On Its Hands Edition
|
Main
|
Gun Thread: January First! 2023 Edition! »
January 01, 2023
Food Thread: Truncated New Years Day Edition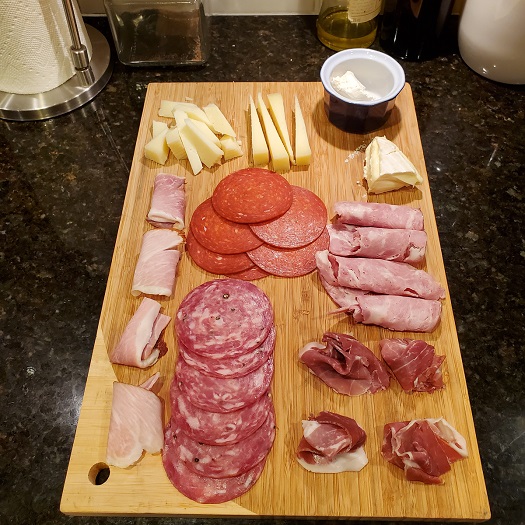 Simple, fun to prepare, and absolutely delicious! I love platters like this, mostly because they are infinitely malleable. Put whatever floats your boat on the platter and people will love it! Meats and cheeses and olives and pickles and jams and anything else that goes together.
I have no rules other than to cut the hard cheese into pieces that can be wrapped in whatever meat seems to go well. Oh...I have another rule...pile the meat up into little mounds so that it looks neat and can be plucked easily off the platter. Unfortunately not every meat can be piled. The firmer salamis and pepperonis and such always unfold, so I have resorted to arranging them in neat little patterns. Flat but nice.
Yes. This is what I obsess over.
******
The arrogance of NYC is rivaled only by its stupidity. The pompous, clueless, wannabe social engineers have been trying to ban the sale of Foie Gras in NYC for years. Fortunately the NY state regulators aren't quite as maoist in their approach, and they have been consistent in saying, 'Nope!"
New York City's Foie Gras Ban Once Again Deemed Illegal by New York State
This is the epitome of anthropomorphism. The idiotic wine moms and the aging, wealthy hippies and the post-modern vegan retards who seem to populate NYC look at ducks being force fed and put themselves into that situation, ignoring the pesky little facts. Like, for instance, that ducks don't have a gag reflex like humans. And that they don't seem to mind at all, and will even line up...like ducks in a row!...for feeding.
Oh...it's also a business, employing hundreds of people and creating wealth in NY State. You know...disgusting commerce that actually makes things.

******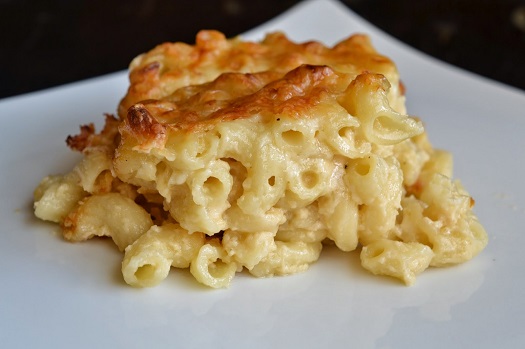 I love cooking with cheese! From a sprinkle of grated Parmesan to gooey and rich Mac & Cheese or a ton of cheddar in some gently scrambled eggs...cheese maketh the dish (apologies to Erasmus).
And sometimes the cheese can be the centerpiece, like the delicious Greek cheese called Halloumi when it is toasted in a pan, or a cheese fondue, or in this case some nice melty Fontina broiled for a few minutes and devoured with some crusty bread. Baked Fontina is from Ina Garten, but it is uncharacteristically simple.
Just don't spend a ton of money on the cheese. There are ridiculously expensive cheeses that are delicious, but a total and complete waste of money when used in cooking. For instance, my Mac & Cheese, which is justifiably famous far and wide? Yeah, I use whatever cheese I have on hand. Scraps and shards and rinds and cheapo cheddar and leftover mozzarella and whatever else is in the refrigerator. It turns out great every time. Different every time too!

******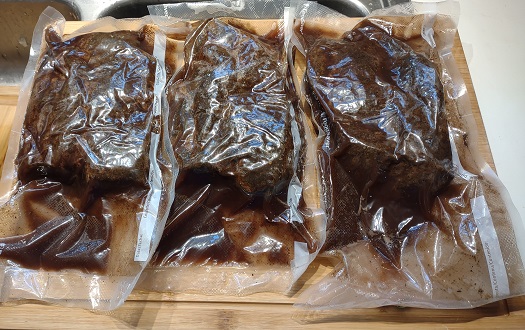 From commenter "RedChief," a very nice sounding dinner, whose star was Sous Vided! Have I mentioned Sous Vide?
Did chuck roast for Christmas Eve dinner. Started it on Thursday and did a 48 hour soak @ 135 degrees. Because of the length of time and the sub-140 temp, I set the water to 190 degrees and started the meat at the temp then and turned it down to 135 immediately. This took care of the issue with lactobacillus (which is a problem for long cook times under 140degrees). Searing was done with a full size weed torch (which works a lot better then a hand held searing torch). Served the chuck w/ bacon brussel sprouts, carrots sauteed in butter and brown sugar, and mashed potatoes.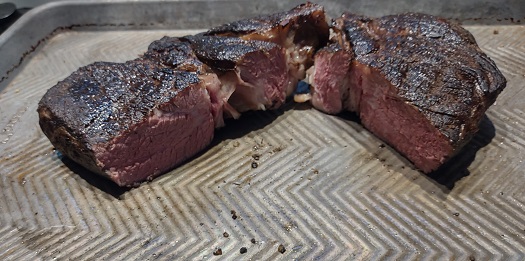 The lactobacillus issue is interesting, and RedChief and I have discussed it. I don't think it is an issue, but I haven't seen any research that makes me certain.

******
Pete Bog, who is no slouch when it comes to
cooking,
alerted me to the
ThermoWorks
inventory reduction sale. I have mentioned their products many times, unfortunately without compensation from the company! I use their thermometers and BlueTooth stuff and even some of their silicone cooking equipment, and I am pleased with both the quality of their products and their customer service.
******
A Pie Hierarchy:
Pecan Pie
.
.
.
Blueberry Pie
Apple Pie
Everything else.
But...what is a pie? Is it a crust with a filling? In that case cheese cake is actually a pie, and I want that #2 on the list.
Or am I dipping into "Is a hot dog a sandwich?" territory, in which case, just shoot me now and get it over with.

******
Just send me oysters. Lots of oysters, and I will provide special dispensation for those without taste who insist upon maple syrup with their French Toast. And pork rib roasts from the front end of the pig where all the good and fatty meat lives, carrots that don't taste like stalky chalk, spare bottles of Van Winkle Special Reserve 12 Year Old Bourbon, an herb garden that actually produces herbs (but no basil!), well-marbled NY strip steaks and elk backstrap to:
cbd dot aoshq at gmail dot com.
And don't think that the rest of you are off the hook with maple syrup and French Toast: I'm still watching you! And I am watching you perverts who shake Manhattans and keeping a list for the Burning Times.

posted by CBD at
04:00 PM
|
Access Comments