« Mike Lindell: I'm Going to Prove That the Elections In Miami/Dade County Were Rigged... By Ron DeSantis
|
Main
|
Dog Christmas Cafe »
December 21, 2022
Quick Hits
Former NYT and CNBC partisan -- and Republican debate "moderator" -- John Harwood is so egregiously partisan he believes that this obvious parody is actually real: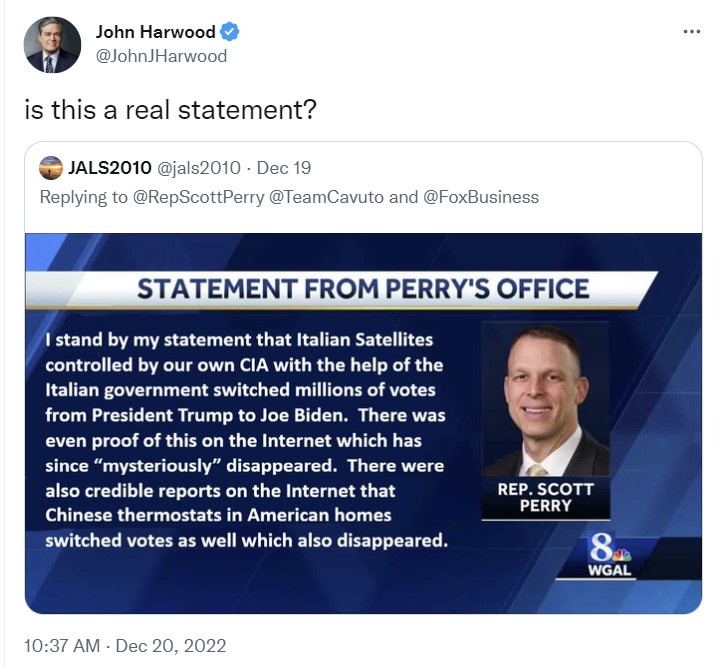 Lake Titicaca Dispatch: 168 new geoglyphs discovered in Nazca, Peru, including one of Homer Simpson. (The Simpsons already did it.)
I guess this is supposedly "Homer Simpson"?
I feel cheated.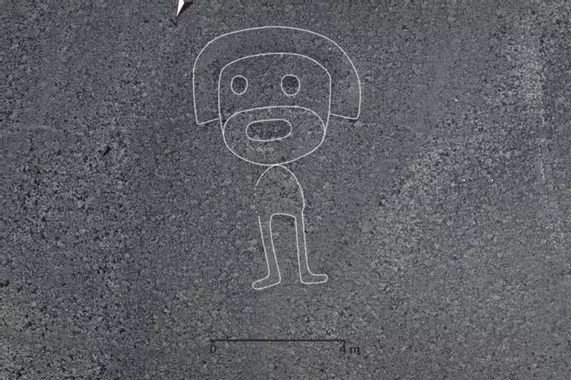 A new fully-automated McDonalds.
A test location for a fully-automated McDonald's location in Fort Worth, Texas has drawn a variety of reactions from viewers after being shared to TikTok by a food blog.

Posted by user @foodiemunster, the video shows a new McDonald's location that uses automated food ordering and a cashless payment system, with employees in the kitchen cooking the orders. According to The Street, the location is about half the size of a regular McDonald's location and has no area for indoor dining.

Some viewers love the idea, with many complaining about the attitude of employees when they do go to order at the counter.

"Finally, my order will be quick and accurate," one commenter wrote.

"Awesome," another commenter wrote. "No more attitude at the counter."

"Well the people that work there act like they don't wanna be there," a commenter wrote. "This solves that problem!"
Instagram video of the all-robot McDonald's here.
I mean, there must be some people working there, if only to supervise the machines, right?
And I'm not sure I believe that the cooking is fully automated. We don't see the robot kitchen in the video, just the public areas.
As Instapundit snarked: #FightFor15. This is what #FightFor15 is delivering. And also, what people deciding they just don't want to work any longer is delivering.
Lauren Boebert knocks Marjorie Taylor-Greene for backing Kevin McCarthy, saying that she doesn't believe in everything MTG does, like "Russian... Jewish space lasers."
Then MTG "clapped back," as old people think young people still say on Twitter.
I've supported and donated to Lauren Boebert. President Trump has supported and donated to Lauren Boebert. Kevin McCarthy has supported and donated to Lauren Boebert. She just barely came through by 500 votes.


She gladly takes our $$$ but when she's been asked:

Lauren refuses to endorse President Trump, she refuses to support Kevin McCarthy, and she childishly threw me under the bus for a cheap sound bite.

The country is facing extremely difficult times. Americans expect conservative fighters like us to work together to Save America and that is the only mission I'm 100% devoted to, not high school drama and media sound bites.

Save America!
Defeat the Democrats!
So I'm not sure how supporting Trump is now the the One True Loyalty Oath for proof of conservative credentials, but okay. The attack by Boebert was a bit harsh.
A new book says that Joe Biden almost immediately realized he'd made a mistake in picking Kamala Harris as vice presidential nominee.
That's a lie, he still hasn't realized it, the man's brain is a half-boiled eggplant, but here's what Politico claims:
In the first months of his presidency, Joe Biden vented his frustration about Vice President Kamala Harris, telling a friend that she was "a work in progress."

According to an upcoming book about the Biden presidency obtained by West Wing Playbook, "The Fight of His Life," word got back to him that second gentleman Douglas Emhoff had been complaining about Harris' policy portfolio -- which her allies felt was hurting her politically. "Biden was annoyed," wrote author Chris Whipple, who obtained extensive access to Biden administration officials while writing the book. "He hadn't asked Harris to do anything he hadn't done as vice president -- and she'd begged him for the voting rights assignment."

Biden wasn't alone. A senior White House adviser vented that "[Harris'] inner circle didn't serve her well in the presidential campaign -- and they are ill-serving her now."
A senior White House adviser adopted Kamala Harris' spin and blamed Kamala Harris' failures on Kamala Harris' handpicked staff?
Kamala Harris is always excusing her failures by saying her staff "failed to position her for success." What senior White House advisor is repeating that obvious horseshit? And expecting us to believe this is his unvarnished, authentic take on Kamala Harris' never-ending failures and embarrassments?
I like how Politico offers up that self-serving spin as if it's a confidential admission. Those are two different things, you know. You don't write an article with the headline, EXCLUSIVE: McDonalds Admits That the McD.L.T. Packaging Keeps the Hot Side Hot, and the Cool Side Cool.
That's not a "scoop." That's not an "admission." That's their entire advertising campaign.
And Harris' entire excuse has been that she is forever "poorly served by her staff," no matter who they are, no matter how many times she fires and replaces them. Even though they have all been replaced three times by now, she claims she continues being "poorly served" by them.
The only consistent figure in the Kamala Harris/Staff grouping is... Kamala Harris herself.
But Politico is going with the "admission" from a White House adviser that it's all the staff's fault, huh?
By the way, I've seen this claim before. In every article about Kamala's Staff Failing to Position Her For Success, I see a White House adviser being quoted, anonymously, saying, "Oh yes, those nameless, faceless people who are fired or who quit every six months are the ones responsible for Kamala Harris' failures."
Too bad the border isn't Willie Brown's dick, because she could clear that all up in ten minutes.
Physics Geek @physicsgeek

She's browsing the "Sorry for your upcoming suicide" cards in the Hallmark store.

posted by Ace at
06:38 PM
|
Access Comments