« Mid-Morning Art Thread
|
Main
|
Twitter Begins Banning Leftwing Accounts For Doxxing His Current Location and Bird-Dogging Him for Antifa Attacks
Update: NBC Suspends Its Chief Deplatforming & Censorship Officer Ben Collins for "Editorially Inappropriate" Attack on Musk »
December 16, 2022
THE MORNING RANT: Scientific Fraud & Journalistic Fraud - A Rare Australian Turtle Once Thought Extinct Is Imperiled Because of Perth's Urban Sprawl Climate Change!!
Obedience to the Climate Church has so completely corrupted science and journalism, that even the simplest of stories gets reframed in ways that make them exercises in fraud. This occurs across all media all day long, but this story struck me as particularly offensive.
Let me briefly summarize the tale of the Western Swamp Tortoise. After that we'll discuss the disinformation campaign being employed to fit the story into the climate change agenda.
Here is what an honest journalist might write: Always rare, the Western Swamp Tortoise was assumed to be extinct through the first half of the 20th century, until it was rediscovered near Perth, Australia in 1953. Its very limited range stretched from near the Perth airport, just east of downtown, to an air force base a few miles away on the northeast side of metro Perth. With such a limited range, and no room to expand, since that small area is surrounded by metro Perth and its industries, an effort is being made to create a new breeding population at a location 200 miles south. Although the Western Swamp Tortoise is threatened with extinction, there is still concern about introducing an "invasive species" into territory where it is not native.
That is the story. By the way - and for context - the entire historic range of the turtle is outlined in yellow in the Perth map below.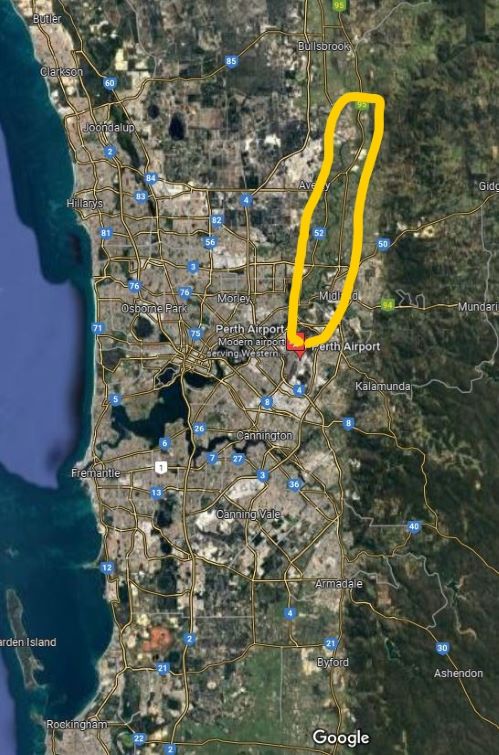 Now listen to how the NY Times reports this story, as fed it to by climate cultists who identify as scientists.
Can Australia Save a Rare Reptile by Moving It to a Cooler Place? [NY Times – 12/12/2022]
There are a few paragraphs buried in the middle of this story that actually flirt with the truth, such as:
Long believed extinct before a chance rediscovery in the 1950s, western swamp tortoises now number about 800 in the wild
Only one self-sustaining population exists in the wild, containing about 70 adult turtles. That population, on the outskirts of Perth, faces the dual threat of habitat loss from the city's growth and of climate change, which has shrunk the cool, wet periods the tortoises need to feed and breed, before they hibernate through the hot summer months.
Surrounded by the city, the tortoise cannot move to a new habitat on its own. It lives for 100 years, so its life cycle is too long to be able to naturally evolve to adapt to the changing environment.
But most of the story dutifully follows the "climate crisis" template in a most dishonest fashion.
The western swamp tortoise's natural habitat in Australia is becoming increasingly unsuitable as temperatures rise and rainfall decreases. So conservationists are moving some of the animals 200 miles south, to a cooler place where they have never lived before. Experts say it could be the only way to ensure the tortoises' survival in the wild.
The inconvenient "surrounded by metro Perth" aspect of the story quickly went away, didn't it?
And who is leading this relocation effort? A professor of conservation physiology at an Australian university. If you're wondering what "conservation physiology" is, there doesn't seem to be a clear definition that I could find. It is apparently "an emerging discipline" focused on conservation and physiology, where "physiology" can mean anything the "scientist" desires. Frankly, it looks to me like it is the "Intersectional Studies" of science, giving environmental activists cover to call themselves scientists.
To Nicola Mitchell, an associate professor of conservation physiology at the University of Western Australia and the project's lead scientist, the central question is: Do we let nature run its course and "let our species die because of climate change? Is that a natural ending? Or do we have an ethical responsibility to save these species?"
Sadly, nature didn't give these turtles much of a course to run in the first place, but it is incredibly dishonest to say that this always-on-the-brink species is in peril because of climate change.
There is, however, some comic relief to be found from this merry band of conservation physiologists. They "painstakingly" glued trackers onto the shells of the baby turtles released at the new location. You'll never guess what happened next.
"Off he goes," Nick Rodriguez, a masters student at the University of Western Australia, said as one tortoise started to swim. But after seeing that the fingernail-size tracker on its back was causing the animal to tilt sideways, the scientists spent the evening gathering all the babies back up and returning them to a zoo.
What's worse for the turtles? Encroachment from the city, erratic weather, or activists gluing transponders to the turtles' backs, causing them to list. (And yes, "The Listing Turtles" would be a great name for a band…even better if they had an upright bass in it.)
The article returns time and again to what is an outright lie – that the turtle is imperiled due to climate change rather than because it inhabits a minute range that lies within a metro area.
Other scientists worry that the approach will distract from addressing the root cause of the threat: global warming.
Of course, introducing non-native species into a new range often goes terribly wrong so not everyone is on board.
Some biologists who study invasive species have likened assisted colonization to playing "ecological roulette." Because of the difficulty of forecasting introduced species' effects, ecologists are unable to ensure that they will "avoid serious, irreversible consequences," said Anthony Ricciardi, an invasive-species biologist and a vocal critic of assisted colonization.
On the other hand, a "conservation scientist" from UC-Davis says that "gene editing" animals may be an option to help them deal with the angry climate God.
While Professor Schwartz, the University of California scientist, had some reservations about assisted colonization, he noted that it was the least invasive of a host of new technologies that are becoming available, including gene editing, to make animals more climate-proof.
Thank God those mad scientists weren't gene editing alligators back when they were considered an endangered species.
The New York Times prints this type of climate misinformation on a daily basis, and taxpayer funded NPR broadcasts the same. It's a shame that university science departments and journalism are both so hopelessly broken, but I did learn something from this article. If I happen to see someone out in a pond tying a walkie-talkie on to the back of a turtle, I might be witnessing a conservation physiologist trying to engage in science.
*****
Scientists of today who challenge the state-mandated climate religion are the modern-day versions of Copernicus and Galileo, risking retribution from government, social media, and corporate America for committing heresy against the state religion. Such scientists have every reason to fear cancellation, de-banking, and harassment from the Deep State.
The two I'm most familiar with, and whom I've been reading for many years, are Steve Milloy (JunkScience.com) and Anthony Watts (wattsupwiththat.com).
I'm excited that I am going to see them in person, along with many other brave "climate realists," at The Heartland Institute's climate conference in Orlando on Feb 24th and 25th.
If any Ace readers will be attending, I'd be delighted make your acquaintance while there. Here is a link to the event "The True Crisis – Climate Change or Climate Policy?"
(buck.throckmorton at protonmail dot com)


posted by Buck Throckmorton at
11:00 AM
|
Access Comments