« THE MORNING RANT: Scientific Fraud & Journalistic Fraud - A Rare Australian Turtle Once Thought Extinct Is Imperiled Because of Perth's Urban Sprawl Climate Change!!
|
Main
|
Of Course: Luggage-and-Ladies-Underwear Sneakthief Sam Brinton Helped Craft School Policy Telling Schools to Lie to Parents About Childrens' Sexual Identities »
December 16, 2022
Twitter Begins Banning Leftwing Accounts For Doxxing His Current Location and Bird-Dogging Him for Antifa Attacks
Update: NBC Suspends Its Chief Deplatforming & Censorship Officer Ben Collins for "Editorially Inappropriate" Attack on Musk
Antifa has promised violence against Tesla in retaliation for Twitter finally banning antifa accounts which threaten and organize violence, which the previous regime had permitted.
From November 25:
Antifa members are promising a night of violence on Friday in response to Twitter's recent crackdown on their various accounts. Elon Musk's businesses are their main target, with Tesla dealerships in Portland being on the hit list.

The threats emerged after Musk began enforcing Twitter's policies on harassment and violence fairly, leading to several prominent Antifa accounts being banned from the social media site.

I guess we are about to find out just how far these lunatics are willing to go.
From The Post Millennial:
Portland Antifa are planning arson attacks at Tesla locations on Friday night after Twitter owner Elon Musk started suspending accounts that call for violence.

The Post Millennial Editor-at-Large Andy Ngo tweeted, "As revenge for @elonmusk suspending violent extremist accounts on Twitter, #Antifa in Portland are organizing arson attacks on @Tesla locations tonight. This is just a drop in the ocean of years of violent organizing on Twitter."

Ngo points to Twitter user AshRedacted, whose profile states he uses "he/they" pronouns and identifies as an "Anarchist."

AshRedacted posted, "Tonight in Portland! Every city, every town! Show up at your local Tesla dealerships in protest of Elon Musk! This will be a thread with other flyers that pop up and other notable Tesla locations across the so called 'US'."
Bonchie at RedState comments:
For years, one of the worst parts of Twitter was how unevenly the TOS was applied. If you had an account on that was right-leaning, even non-violations of the rules would lead to a permenant suspension. That often happened when a conservative would question a prevailing Democrat narrative, whether on the origins of COVID-19 or the Hunter Biden laptop.

Meanwhile, leftwing accounts that actually called for violence were consistently ignored. Over the last summer, a group called "Jane's Revenge" continually used Twitter to organize attacks on pro-life individuals in public. Despite them being reported thousands of times, their account was never banned. For years before that, Antifa accounts became notorious for posting their plans to commit violence, using the platform to deliver calls to action.

Finally, under Musk's leadership, things have changed, with leftwing accounts being subject to the rules for the first time in recent memory. And what happens when a bunch of spoiled brats stop getting their way? They lash out, and that's what they are promising to do with fire-bombing attacks on Tesla dealerships in Portland on Friday night.
A cyberstalker is seemingly attempting to bird-dog Elon Musk's location -- possibly so that antifa can physically harm him. An account has been posting which planes he's flying in on, which of course tells potential assassins exactly where he'll be and at what time.
Elon Musk @elonmusk

Any account doxxing real-time location info of anyone will be suspended, as it is a physical safety violation. This includes posting links to sites with real-time location info.

Posting locations someone traveled to on a slightly delayed basis isn't a safety problem, so is ok.
Apparently this isn't just some fake concern, like every lefty claiming they're "endangered" by criticism seems to be. A car carrying "Lil X," Musk's two-year-old-son was stopped and climbed upon, apparently in the mistaken belief that Elon Musk was driving it.
Elon Musk @elonmusk

Last night, car carrying lil X in LA was followed by crazy stalker (thinking it was me), who later blocked car from moving & climbed onto hood.

Legal action is being taken against Sweeney & organizations who supported harm to my family.

The antifa attacker wore a mask -- but he didn't cover up his license plate.

Leftists are constantly shrieking that they feel "unsafe" when they're criticized, because you're "putting them in literal danger."
This is a lie, as they're now demonstrating, because leftists "journalists" are gleefully publishing Elon Musk's whereabouts even knowing that antifa is literally hunting him in the streets.
He's banned leftwing "journalist" (and frequent Allahpundit linkee) Aaron Rupar for publishing his whereabouts.
And a CNN "journalist," a WaPo "journalist," and a NYT "journalist" too.
Do you think they also published Musk's physical location in order to intimidate him and possibly bird-dog him for an antifa attack?
Charlie Kirk
@charliekirk11


BREAKING: Twitter has suspended the account of progressive social media activist Aaron Rupar who has nearly 800k followers.


UPDATE: Rupar posted screenshots of the location of Elon Musk's private plane

UPDATE #2: Twitter has also suspended "prominent reporters" including CNN's
Donnie O'Sullivan (@Donie), WaPo's Drew Harwell (@drewharwell), New York Time's Ryan Mac (@rmac18)

All of them cover Twitter directly or tech more generally.

Hey guys -- let's all make sure we never, ever endanger journalists or compromise their safety, huh?

I wonder if this lunatic's suspension could have anything to do with intentionally trying to endanger a political "enemy's" life?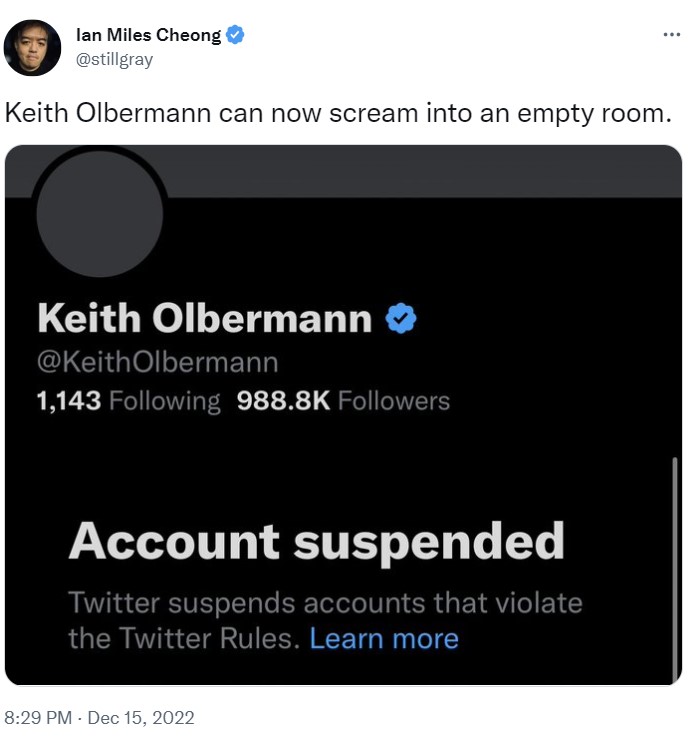 I didn't see the tweets, but I'm 99% sure they're saying something like, "Free speech, huh?! I thought you said you liked free speech?! Well here's some free speech doxxing your family's physical location, guess you don't love free speech so much now, huh?"
This is the tantrum of a mental defective. Musk has repeatedly said there would be some rules. He has repeatedly denied that there would be "no rules." "No rules" is the left's stupid parody of his policy.
And among the rules he's said he's going to enforce: The rule against doxxing.
Also, the rule against Child Exploitation Material, which also seems to rub them the wrong way, for Reasons.
Maybe that's what they're really mad about.
Justine @BruinJustine

It's odd how lefty Twitter isn't screaming from the rooftops that Twitter is a private company and can ban who they want.

Apparently Rupar has been permanently banned, which will hurt his ability to spread propaganda for patrons and grift money.
That's a shame.
A lot of conservatives have had their earnings really stunted by being banned by tech platforms.
As Tom Cotton said, "I'm sorry this is happening to you. Good luck with that."
Pedro L. Gonzalez @emeriticus

I'm not going to pretend that I care lib journos are getting suspended on Twitter -- I'm glad it's happening and I hope it drives them insane

I never did "imagine if the roles were reversed" because I wanted them reversed, yes this is good
What a terrible thing to say, Pedro. We're supposed to fight for the rights of our enemies while we eagerly strip away the rights of our allies. That's what being a Polite Company Conservative (TM) is all about. Have you no manners. Have you no breeding.
Update, via Jack Straw:
@greg_price11

BREAKING: Ben Collins has been suspended by NBC News for criticism of
@elonmusk that was "not editorially appropriate"
LOL:
Jason Kint @jason_kint


I don't know what happened here but if @elonmusk doesn't fix this within the hour with an explanation by morning, I'll be on Capitol Hill tomorrow demanding that he be hauled in front of Congress.

posted by Ace at
12:05 PM
|
Access Comments