« Trump Sues the Pulitzer Prize Board for Rewarding the New York Times and Washington Post for Their False Reporting on "Russia Collusion"
|
Main
|
One Night In Chennai Cafe »
December 15, 2022
Quick Hits
Senate passes bill banning TikTok on government devices.
That's good; it's spyware for the Chinese communist party.
TikTok will, however, be permitted to continue warping the minds of America's girls.

Sleepy Joe turns into Salty Joe when he's reminded of his age.
Age is nothing but a bleepin' number, according to President Biden.

The oldest-ever commander-in-chief, who turned 80 last month, has "vented to allies" about how much the topic is discussed in the media as he sizes up a bid for a second term in 2024, Politico reported Tuesday.

"You think I don't know how f--ing old I am?" an exasperated Biden -- who reportedly has a penchant for profanity -- ranted to one of his acquaintances earlier this year, according to the outlet.

Biden, who has said he expects to run for another four years in office but has pushed a final decision back until early next year, would be 86 years old when he leaves office if he completes a full second term.

"I just hope and pray that when I am in my 80s, I still have that kind of energy," Rep. Mike Levin (D-Calif.) told Politico when asked about the wisdom of re-electing an octogenarian president.
So much energy. He works five hours a day, four days a week. What a fireball.
Speaking of the morally and physically decrepit, elderly spinster TikTok gossip columnist Taylor Lorenz, who was born into privilege few even dream of and attended an elite Swiss boarding school, says "Bring me the peanut butter, because I'm bringin' nothin' but jelly" and attacks Bari Weiss.
She's mad that Bari Weiss is getting attention for her Substack journalistm startup, and whines that it was easy for Weiss, because Weiss was allegedly born rich.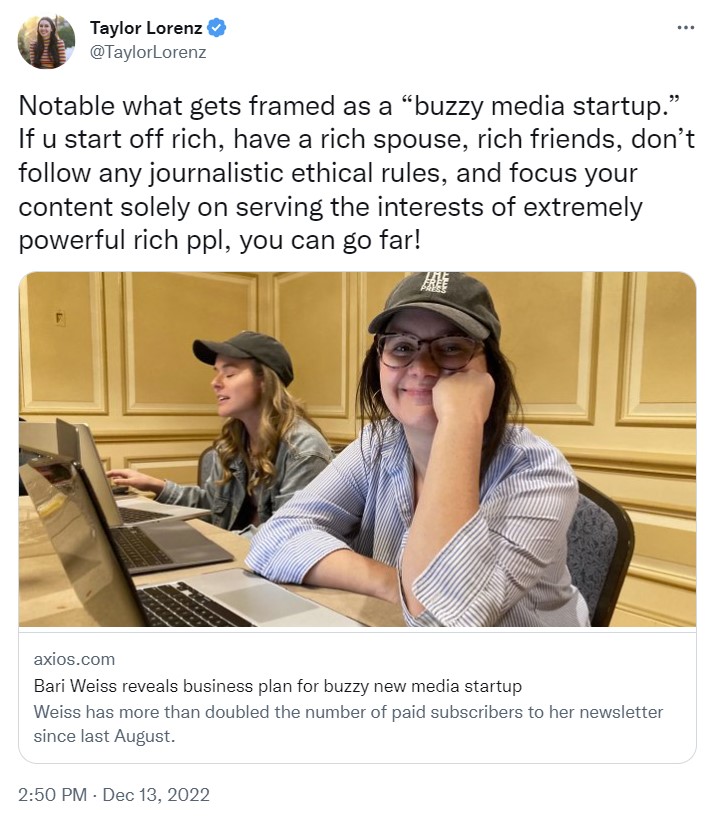 CandidReflection

The best is she silenced any debate about her pure hit piece. Bari is from Pittsburgh from a middle class family

I don't know anything about Bari Weiss, but I know it's insane for this lunatic old bat Taylor Lorenz to attempt to Wealth Shame anyone.
This just in: Not only did Taylor Lorenz attend a boarding school in Switzerland, which is preposterous enough, but she attended a boarding school... in the Swiss Alps?!?!
To be fair, I guess most of the country is Alps, so, lot of wiggle room in that claim.
Lorenz is now claiming she went to public school her whole life, and that she never exploited Kellyanne Conway's teenage daughter for clicks. People are confronting her with evidence that those are more Elderly Lies, but she has everyone in the world blocked so she doesn't see that.
A mother of a child victim of r4pe sues a Soros-backed prosecutor for letting the criminal walk. She alleges that by botching the case so badly that the r4pist is now not only free, but not required to register with a sex offender database, her child is endangered and emotionally traumatized.
Amber Reel in November filed the federal lawsuit on behalf of her son after Fairfax County commonwealth's attorney Steve Descano (D.) let the rapist walk. Court filings show Descano was months late in sharing necessary evidence before a September trial, dooming the case and forcing his office to enter into a lesser plea deal with the rapist the same month. Ronnie Reel, who was released on time served, had faced life in prison for forcibly sodomizing the minor. Reel is the victim's uncle.

This is the second high-profile case in the last month where the Soros prosecutor freed a dangerous offender. In December, Descano struck a plea deal that would clear the record of a man who fired his gun into a crowded Virginia bar. Soros donated more than half a million dollars to Descano's 2019 campaign.

A grand jury had already indicted Reel in February for sodomy and aggravated sexual battery, and the case was set for trial in September. But Descano's office didn't share evidence with the public defender before trial, bungling Reel's prosecution with its "woefully, woefully missed" deadlines. The case's presiding judge said Descano's office did a "disservice to the victim" and was "very concerning to the court."

Because he dodged a felony sex crime conviction, Reel won't have to register as a sex offender and won't be barred from holding jobs in schools or other places that would put him near children. The victim and his mother in their suit say Descano's "deliberate indifference represents egregious conduct that is shocking to the conscience."

...

The victim also claims Descano lied by saying it was the first time his office had failed to submit evidence for a case. The prosecutor missed deadlines for evidence in January on a case involving a man who solicited a minor online for sex. The case was dismissed in July due to Descano's failure.
This feels like more than an "oopsie."

A few days ago, the Daily Beast reported that White Supremacy was becoming more racially diverse, which is nice.
It's a Feel Good Story for the Ages.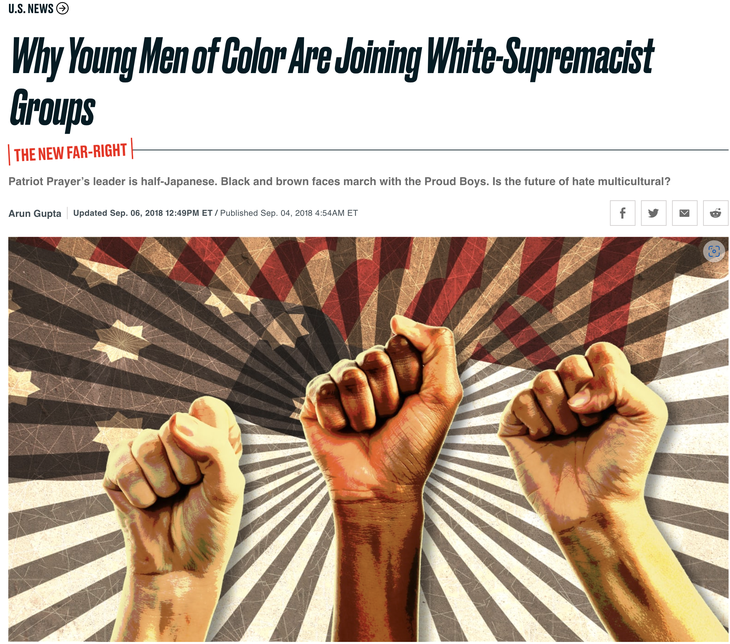 As I am sure you have realized, language is a weapon for the Left, not a tool intended to help people communicate. As a weapon it is extremely useful, since most people still believe in reality.

You are about to get a quick and dirty lesson on how Critical Theorists screw with your mind.

Most of us have a pretty clear idea of White Supremacy means and who White supremacists are. White supremacists believe that white people are racially superior to other racial groups and thus have a right to dominate them. It share a basic genealogy with eugenicism--a belief that a specific group of people have or can acquire an intellectual, moral, or physical superiority through breeding.

...

That is what normal people understand by the term, more or less.

Not the critical theorists at the Daily Beast, who inform us that "young men of color" are becoming White supremacists. In a sane world that is impossible.

By this they do not mean that these young men of color actually believe they are inferior to and should be led by Whites. Oh no. That would be ridiculous, but at least fit the definition you and I have of the term.

Instead they mean that these young men of color are joining young white men in rebelling against the ridiculous "anti-racist" critical race theory ideology that has swept the cultural Elite.

In other words, "White supremacy" is simply a group of syllables that means "people I hate." They are counting on normal people hearing those syllables assuming that they have the same meaning that everybody else uses.
Similarly, "conservative" now includes people of the left and declared socialists like Matt Taibbi, Bari Weiss, and Glenn Greenwald, who simply refuse to carry the water for the shitlib media establishment any longer.
A bunch of shitlib media organizations are choosing their words of the year, so Don Surber decided he'd decide the real word of the year, and I think he nailed it: The word of the year for 2022 is "groomer."
Groomer is the word of the year because it serves as the dividing line between the sane who live in this country and the insane people who run its government.
Apparently these jokes in the style of Jerry Seinfeld were written by an AI chatbot called GPT-3.
They're not funny, and are barely jokes, but... you know, it's AI, and it is getting very close.
I don't know who's reading it aloud. If that's also some kind of AI "Jerry Seinfeld Deepfake Voice Modulator," then, wow.
Even funnier:
And with that, Scooter declared his undying commitment to the ideals he held most sacred: Honor. Duty. Gay Foot Fetish Videos.

posted by Ace at
06:37 PM
|
Access Comments