« Another Kennedy Assassination Conspiracy Theory: Lee Harvey Oswald Was Contracted for CIA Operation Three Months Before Killing, Reporter Claims
|
Main
|
Breaking: Sam Bankman-Fried Arrested in the Bahamas Based on Warrant from the U.S. »
December 12, 2022
Quick Hits
Abortion-crazed maniac Jessica Valenti -- wait, have I stepped into a time-machine back to 2005 when Jessica Valenti was "blog relevant"? -- is aghast to see diapers locked up behind plexiglass at her local drug store.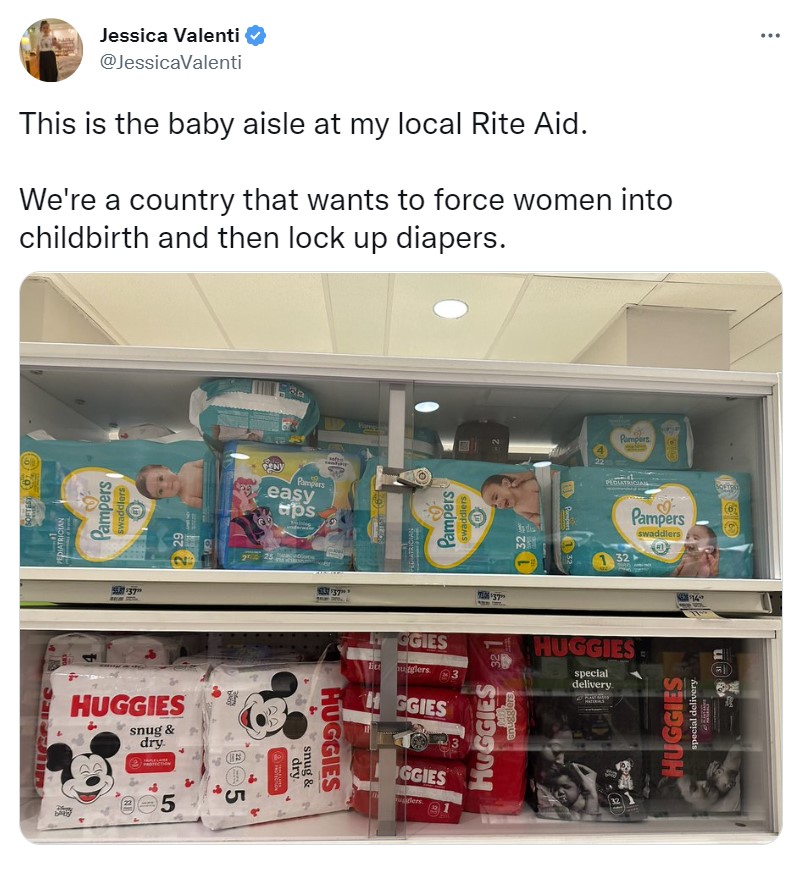 Jessica Valenti
@JessicaValenti

It really is such a perfect encapsulation of American motherhood.
What a sad smelly c*nt.
When she's told the diapers have to be locked up now because the politicians she votes for have legalized theft and this is the only way to keep diapers from being mass-stolen by thieves, she just answers that the store should let the diapers be stolen then. And just, I guess, order such a tremendous supply that thieves can never out-steal the store's supply of diapers, thus keeping diapers available for actual customers.
Jessica Valenti
@JessicaValenti


On a more practical level: How about you just let people steal the fucking diapers if they need them? I would hope that ensuring babies don't sit in their own filth is a universal value

Law enforcement (esp in NYC) would like us to believe that there are roving gangs of shoplifters who are interested in diapers for reasons beyond keeping babies clean. It's disgusting.

I'd be curious to know if diapers are locked up in other parts of NYC. I don't think it's a coincidence that my local Rite Aid happens to be the closest one to a public housing development
Hey Jessica, you're a useless twat who's paid to just exist. How about you take responsibility for this new Free Diapers for Thieves program you've created on a whim on Twitter, instead of just demanding that other people carry out your Virtuous Dream-Noodling for you?
How about you actually contribute for once in your useless life?
By the way, Megan McArdle informed Jessica that in fact, diapers were one of the top targets for shoplifters, given that they're always in demand and easily resold. Jessica Valenti ignored that, preferring to insist that the only people who steal diapers are those who need them for the baby they're carrying on their hip.
The idea that thieves steal things they personally don't want or need to sell them to fences for pennies on the dollar is just a concept that eludes our, ahem, "Cognitive Elite."

Biden invites a drag queen, "Marti G. Cummings," to a White House bill signing.
President Joe Biden invited drag queen Marti G. Cummings to attend the signing of the Respect for Marriage Act at the White House.

Both the House of Representatives and the Senate have greenlit the legislation, which enshrines same-sex marriage protections into federal law in accordance with the Supreme Court's opinion in Obergefell v. Hodges. Democratic lawmakers recruited 39 Republicans in the lower chamber and 10 in the upper chamber to support the bill, which is expected to be signed into law on Tuesday.

Cummings shared a screenshot of the White House invitation on social media and expressed thankfulness toward the Biden administration.

"To be a non-binary drag artist invited to the White House is something I never imagined would happen," the drag queen said. "Grateful doesn't begin to express the emotions I feel."
Content warning/nudity for this video that Marti Cummings proudly posted.
Update in the Idaho murders: An "army of analysts" are combing through "hours and hours" of videotapes submitted showing the environs of the house on the night of the murder, searching for clues.
Police say they want to talk to the owner of a 2011-2013 white Hyundai Elantra seen in the area around the time of the murders.
Meghan Markle is so completely not the papparazzi-haunted super-celebrity she complains of being -- and wishes to be -- that the Netflix trailer for her terrible show had to use footage of the media staking out Michael Cohen and pretend it was the media stalking Meghan Markle.
They also used scenes from the premiere of a Harry Potter film, which Harry attended, before he met this gritty grifter, to show the media having any interest in Harry.
They just didn't have any real footage of the media mobbing the no-power couple.
They're complaining that the media just won't stop hounding them, but the real complaint is: The media refuses to start hounding us! Please make the media hound us!

Alexander "Lieutenant Bearclaw" Vindman's Ugly AF wife freaked out because NBC correctly called her a "liberal activist."
From NBC "News," discussing how rage-filled leftwing Twitter addicts are dealing with Twitter not censoring all of their enemies for them.
TL;DR version: Not well.
"I'm just coming up with coping mechanisms for how I can still use this thing," said Alex Vindman, the former Army lieutenant colonel and National Security Council official who was at the center of former President Donald Trump's first impeachment.

Vindman first joined Twitter while working in the Trump administration because it was often the way his then-boss, the president, made policy.

But he's now become a pseudo-celebrity on the platform, with almost 850,000 followers interested in his views on Trump and the war in Ukraine, where he was born. His wife, liberal activist and podcaster Rachel Vindman, has almost 400,000 followers, making them a progressive Twitter power couple.
What would you call her? She seems to have no job except shrieking on Twitter. I think she would have objected to being called a "femcel Twitter obsessive."
Rachel Vindman @natsechobbyist

Are you attacking me because I have so many more followers than you? Sorry that makes you sad.

You know nothing about me which is apparent by your description of me as a "liberal activist." Pathetic journalism, bruh.
She's a man, baby. Actually, she's a manbaby.
This fat little turnip was having a normal one:
Alexander S. Vindman @AVindman

.@Twitter is dying. That's okay. If anything it needs to be killed off soonest. @elonmusk cannot be allowed to promoted dangerous radical views... hate speech. Imagine Geobbles with a bigger platform and wider reach.
The whole left melted down because Musk said his pronouns were Prosecute/Fauci. They didn't just melt down because their Gnomic God Fauci had been insulted, but because Musk was daring to spoof the idea of Designer Pronouns.
Here's Michigan's Attorney General, for example:
Dana Nessel @dananessel

I'm really gonna miss Twitter, but this is just too much.

Suggestions for best alternative platforms to share politically informative news, consumer protection alerts and pics of my cats occasionally wearing unicorn and shark costumes?
Well, it turns out if you're a fat little leftwing turnip like Lieutenant Bearclaw, you're allowed to joke about pronouns.
You're also allowed to call for your Deep State pals to prosecute private citizens because you're in a twitter beef with them.
Alexander S. Vindman @AVindman

My pronoun is prosecute @elonmusk !
Red Steeze caught "real Journalist" Matt Binder saying that the Twitter Files revelations about shadowbanning were a big nothingburger, because we already knew all about that.
Except that a few years ago, he explicitly denied twitter shadowbanned conservatives.
His new spin seems to be that he always knew Twitter shadowbanned people, and that he only meant to deny Twitter shadowbanned them for being conservative per se.
Sure, pull the other one. It has testicles.
This is the Democrat weatherman who was just elected to Congress. He's the one who just told people that if their positions conflict with what leftist politicians have affixed "The Science (TM)" trademark on, then you don't have an opinion, you're just wrong.
We're from the government, and we're here to help. (Content warning, violence.)

posted by Ace at
06:07 PM
|
Access Comments